This filling was created to be used in a savory rustic tart. It's a quintessential taste of fall, with so many good umami flavors going on. (The filling is also good with a bit of bacon added in.) Cook and cool the cabbage, apples, and onions before combining with the cheese. And reserve a few tablespoons of cheese to sprinkle on the base of the tart and then again around the edges.
To make the finished tart, you can find the easy food-processor dough recipe here and the tart assembly and cooking instructions here.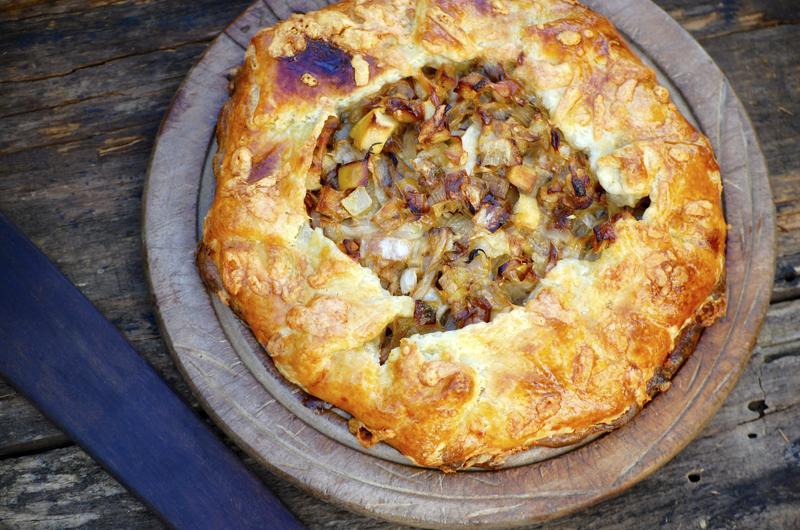 Yields enough for 1 regular or 2 small tarts
1 teaspoon apple cider vinegar
1 teaspoon honey
1 tablespoon olive oil
1 1/2 tablespoons unsalted butter
1/2 medium onion, diced (about a generous half-cup)
1/2 Golden Delicious or other baking apple, peeled and diced (about 1 cup)
Kosher salt
7 to 8 ounces savoy or green cabbage, diced (about 3 cups)
1/2 to 1 teaspoon chopped fresh thyme
1 generous cup grated sharp cheddar or Gruyère cheese (about 3 1/2 ounces)
In a small bowl, whisk together the apple cider and honey.


In a large (12-inch) nonstick skillet, heat the olive oil and 1/2 tablespoon butter over medium heat. When the butter has melted, add the onions, the apples, and a pinch of salt, and turn the heat to medium high. Sauté, stirring frequently, until lightly browned, about 5 minutes. Transfer to a shallow bowl.



Reduce the heat to medium and add the remaining 1/2 tablespoon of butter. When the butter has melted, add the cabbage and a pinch of salt and cook, stirring frequently until the cabbage is limp and browned in many places, 8 to 10 minutes. Add the vinegar-honey mixture and the thyme, stir, and remove the pan from the heat.

Transfer the cabbage to a plate to cool, and then combine it with the apples and onions. Mix gently. Let cool, stirring occasionally, to room temperature, 30 minutes or so. (To speed up cooling, turn out onto a baking sheet or large plate). Add all but 3 to 4 tablespoons of the cheese to the mixture and mix well.