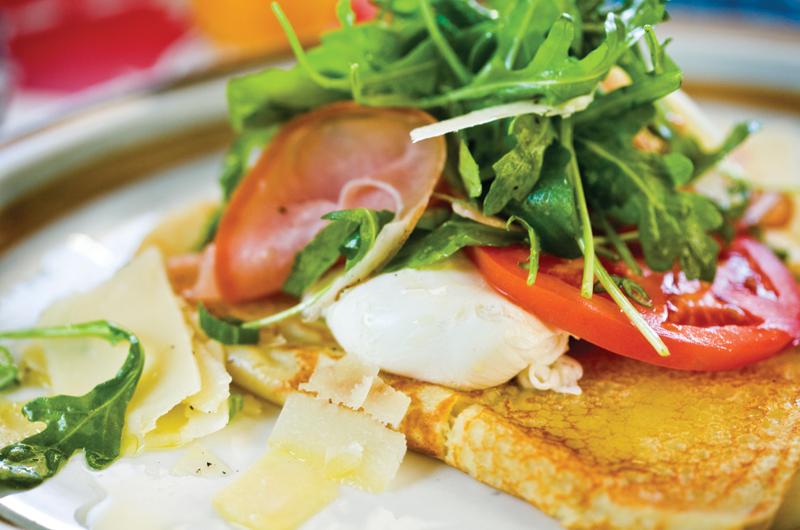 This is one of many egg specials that chef/owner Gina Stanley serves at the ArtCliff Diner in Vineyard Haven. A strong advocate of using local ingredients, Gina always has Island eggs at her restaurant, usually from Blackwater Farm in West Tisbury.

Makes 12–16 crêpes to serve 6–8
1 cup all-purpose flour
1 tablespoon sugar
Pinch salt
2 eggs
1 1/4 cups milk
1/3 cup heavy cream
5 ounces baby arugula, washed and spun dry
1/4 cup olive oil
Cracked black pepper
Melted butter for cooking
24–30 pieces prosciutto di Parma
3 tablespoons white wine vinegar
12–16 eggs (2 eggs per person)
1 cup shaved Parmigiano Reggiano cheese
3–4 tomatoes, sliced
1. Mix together the flour, sugar, and salt. Beat in the eggs, milk, and cream until the batter is homogenous. Let the batter rest.

2. Toss arugula with olive oil and black pepper.

3. Heat a nonstick skillet or griddle over medium-high heat and brush with melted butter. Pour roughly 1/4 cup batter into pan and cook until underside is spotty golden brown, just a minute or two; flip and cook another minute or so. Slide finished crêpe onto a serving plate, top with 2 or 3 pieces of prosciutto, and fold in half. Repeat with remaining batter and prosciutto.

4. Meanwhile, fill a wide pan about four inches deep with water. Add the white wine vinegar and bring to a simmer. Carefully break eggs into the water and poach for about 1 1/2 minutes. Using a slotted spoon, lift out one egg and check if it is cooked to your liking.

5. For each serving, top 2 folded crêpes with Parmigiano Reggiano cheese, 2 poached eggs, sliced tomato, and arugula, and serve immediately.
This recipe was originally published with the article, The Coop Scoop.