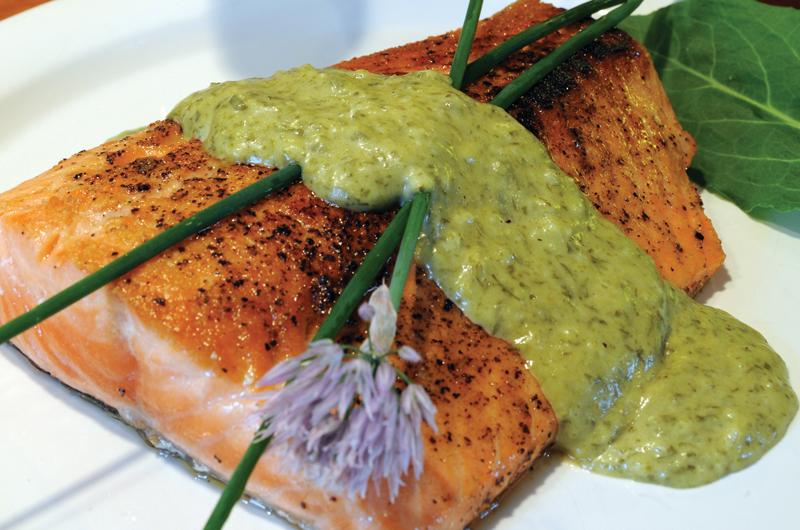 Fresh sorrel leaves have a tangy, slightly sour flavor that complements fish and cream sauces. Susan Feller found this recipe online at Washington's Chateau Ste. Michelle Winery. If you prefer not to fry the salmon, bake the fillets in a preheated 375-degree oven for 8 to 10 minutes instead.
Serves 8
4 tablespoons olive oil, divided

3 shallots, finely chopped

1/2 cup Chardonnay

1

1/2 cups heavy cream

1

1/2 cups chopped fresh sorrel

Salt to taste

White pepper to taste

Fresh lemon juice, if needed

2 pounds salmon, preferably wild center-cut, cut in 2 pieces

Black pepper to taste
1. In a small saucepan, heat 2 tablespoons olive oil, add shallots, and briefly sauté. Then add the wine, bring to a boil, and reduce the liquid to 1/4 cup. Whisk in the cream and bring to a boil, then reduce the heat and simmer until the liquid is reduced to sauce consistency. Add the sorrel and simmer to wilt.
2. Using an immersion blender, purée the mixture until smooth. Add salt and white pepper to taste, and lemon juice if needed (the sauce should be slightly tart from the sorrel).
3. Meanwhile, generously season the salmon fillets with salt and black pepper. In a large skillet, heat 1 tablespoon of remaining oil until shimmering. Add one piece of salmon skin-side down and cook 4 to 5 minutes (the skin should be golden brown). Gently flip salmon and cook another 3 to 4 minutes. Transfer the fillet to a plate and repeat with the remaining oil and second piece of salmon.
4. Cut the fillets into individual servings and serve either topped with the sorrel sauce or with the sauce on the side.
This recipe was originally published with the article, Home-Grown Veggies.