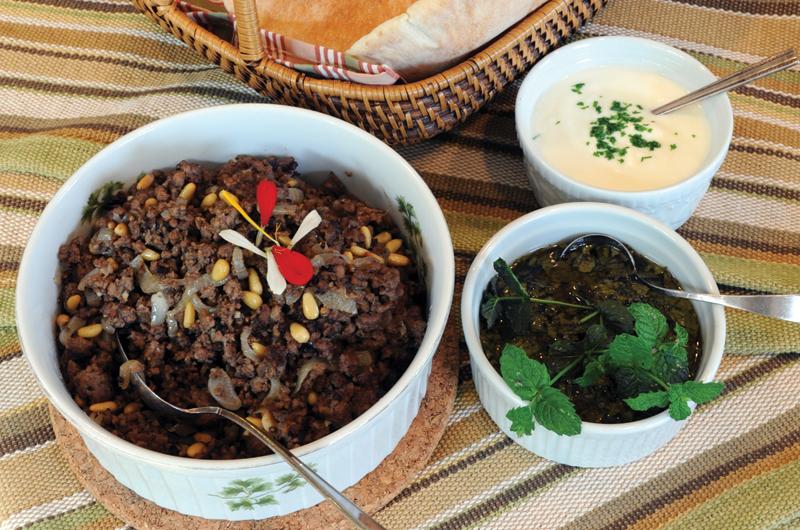 Susan has been making this recipe ever since she first purchased Diane D. MacMillan's The Portable Feast when it was published in 1973. Island lamb is often available at farms such as Allen Farm and Mermaid Farm in Chilmark.
Serves 8
2 large onions, sliced very thin

3 tablespoons olive oil

2 pounds ground lamb

2 garlic cloves, mashed and minced

1/4 teaspoon whole coriander seeds (optional)

1/2 teaspoon cumin

1/8 teaspoon ground cloves

1/2 teaspoon cinnamon

1 teaspoon salt

Pepper to taste

1/2 cup chopped pine nuts, toasted

Mint sauce, recipe follows

Fresh pita for serving

Yogurt for serving
1. In a large skillet, sauté the onions in the oil; drain and set onions aside.
2. In the same skillet, brown the lamb until all redness is gone and the meat is crumbly but not dry, about 8 to 10 minutes. Pour off excess grease. Add sautéed onions, garlic, and spices; cook for 25 to 30 minutes.
3. Stir in toasted pine nuts, and serve with the mint sauce, fresh pita, and yogurt.
Mint Sauce
1/2 cup white wine vinegar or malt vinegar

1/4 cup water

1/4 cup sugar

1

1/2 cups chopped fresh mint leaves, stems removed
1. In a small saucepan, heat the vinegar, water, and sugar together, and stir until the sugar is dissolved.
2. Put the mint in a medium bowl, and pour the mixture on top. Allow to stand for several hours.
This recipe was originally published with the article, Home-Grown Veggies.