In between rain drops on Sunday evening, I dashed over to the Whippoorwill Farm stand for some salad greens and got the most colorful surprise: tulips of all colors and shapes for sale in buckets and bunches — and growing in the field next to the stand (thought not pick-your-own, just to be clear). I know, I know, tulips aren't edible, but they are cheery and such a needed jolt of color this time of year. And these are not your grocery store tulips!
I only recently learned that professional tulip growers harvest the flower with the bulb attached. This allows them to hold the flower for a lot longer if they are selling the flowers wholesale. Whippoorwill had some tulips with bulbs attached, so I bought a few of those knowing they will last much longer in the vase. Of course I also bought salad greens, including a beautiful red mizuna which I think is a variety of mustard called Ruby Streaks that I used to grow.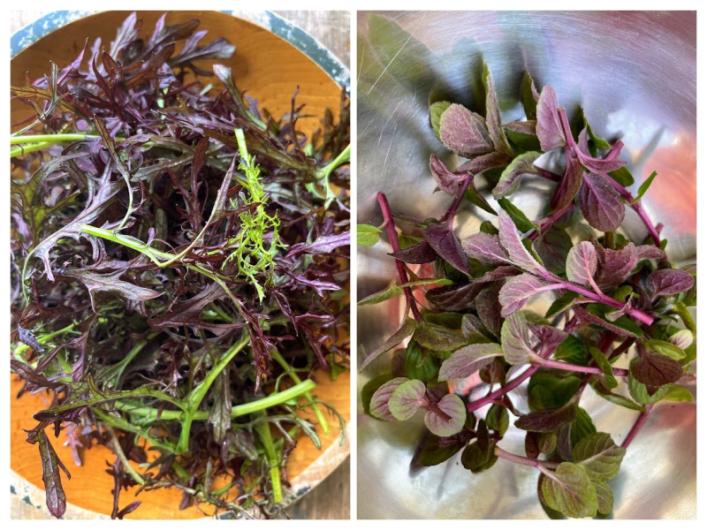 You can follow the tulip trail back to the porch of North Tisbury Farm & Market on State Road, since Rose Willett is the proprietor of both. Good news: North Tisbury (the inside - not just the porch!) reopens for the season on Friday. And at Rose's third property, The Larder in Vineyard Haven, there's a special Cinco de Mayo menu still available for Friday if you pre-order soon.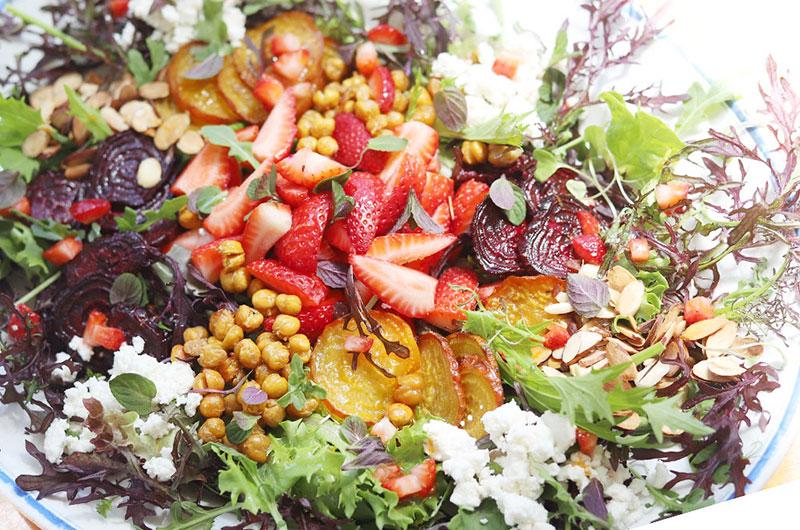 I decided to use my red mizuna in a variation of my Beet and Strawberry Salad with Goat Cheese and Local Greens. I replaced most of the arugula with mizuna and mixed greens and swapped in roasted chickpeas for the wheatberries. I also gave the salad dressing a hit of orange juice and orange zest. I added the first purple leaves of peppermint from the garden.
I know that I'm really pushing the early strawberry window this year (That French toast!), but I am growing strawberries under cover this year and I already have a few ripening.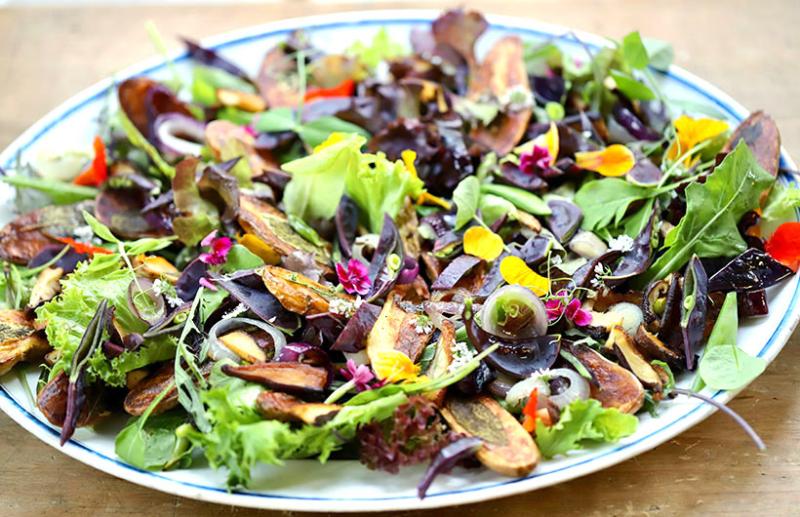 With all these beautiful salad greens around right now, you can eat main-dish salads all week. Start with this Farm Stand Salad with Roasted Fingerlings, Spring Onions, Shiitakes and Snow Peas. Replace the onions, shiitakes or snow peas with other veggies you have on hand, but keep those centerpiece sage-infused roasted fingerling potatoes.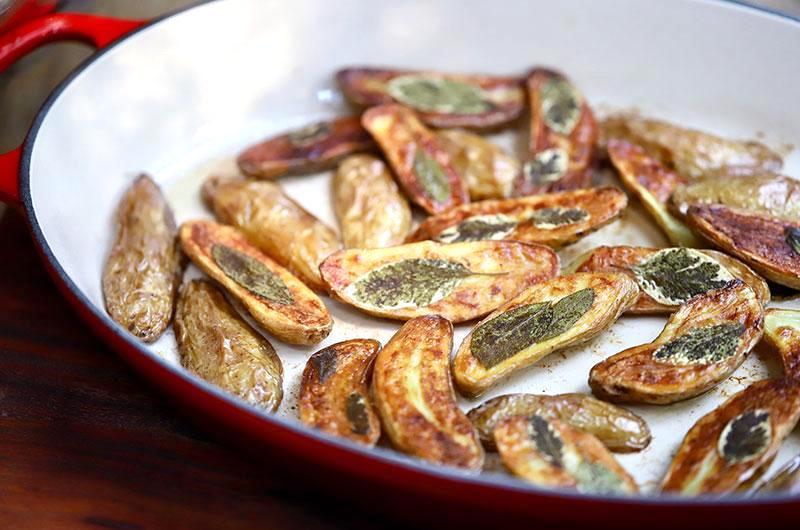 For a change up, use this Herbed Buttermilk Dressing on that salad. And save the rest to use for a side salad – Bibb, Pea & Bacon Salad – later in the week.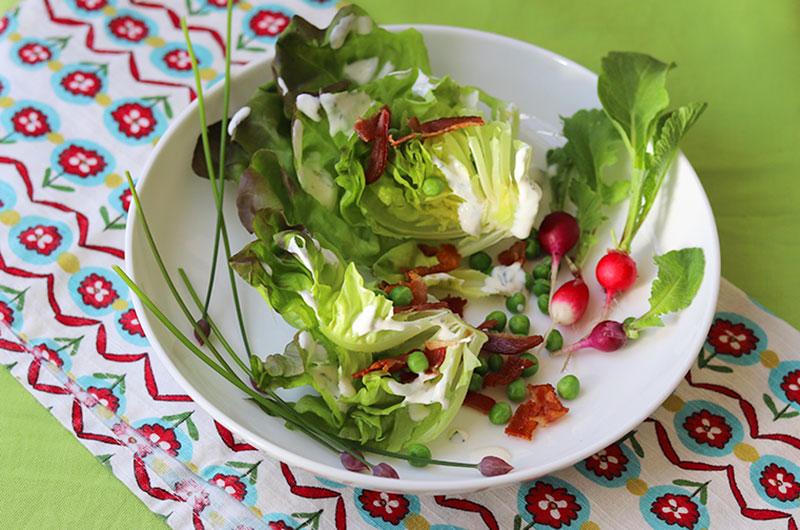 I'd also make room on this week's menu for this Spinach Cobb Salad with Bacon, Blue Cheese, Avocado & Derby Dressing. And here's our entire archive of salad recipes.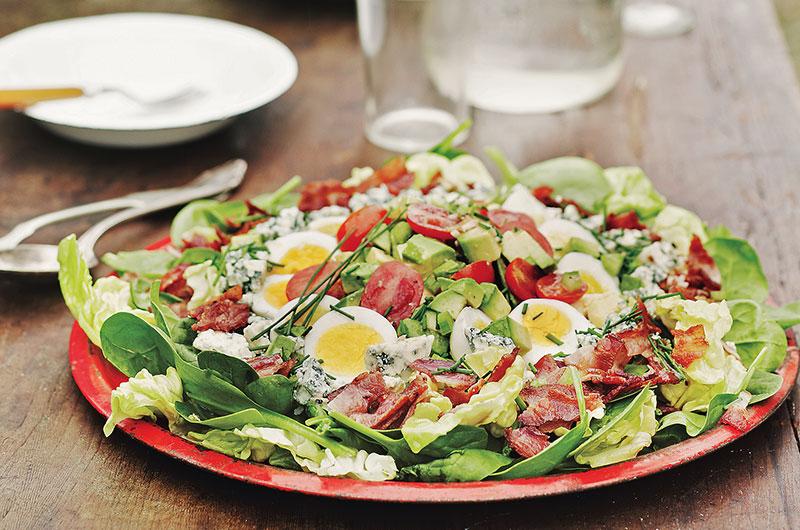 By the way, if you're planning a Cinco de Mayo celebration at home, we've got you covered: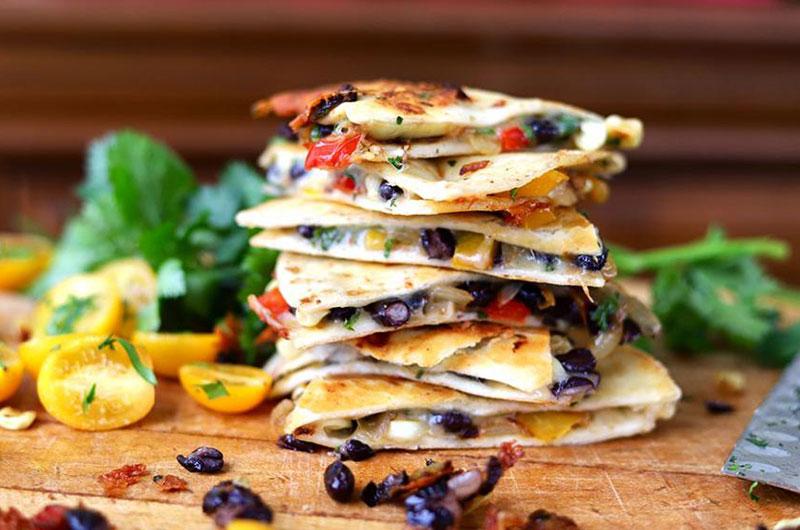 Butternut, Corn & Black Bean Quesadillas; Slow Cooker Pork Tacos; Sam Sifton's Fish Tacos; Shrimp Tacos; Grilled Swordfish Tacos; Salsa Fresca with Serranos, Cilantro and Lime; Double Cilantro Guacamole…even Peachy Margaritas!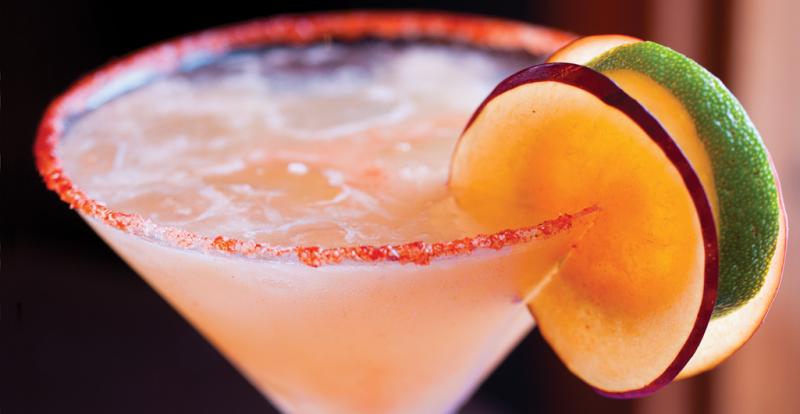 And if you want to get your Cinco de Mayo cooking off to an early start, sign up for Tacos, Tortillas and Mocktail Margaritas at The Farm Institute tomorrow, Thursday, May 4 from 5:30 to 7 p.m. Chef Charles Granquist is the instructor.
Happy colorful May, and we'll see you on Instagram @cookthevineyard. Be sure to follow us if you haven't already.
---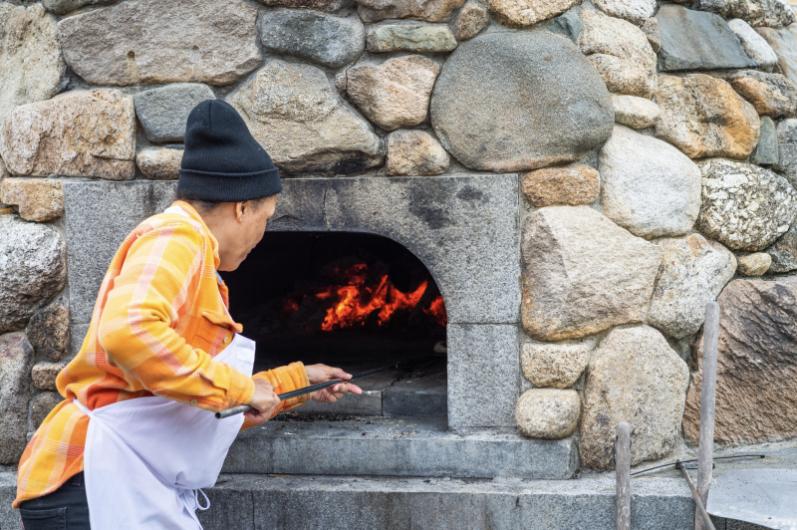 If you're looking to make a dinner reservation or wondering which farm stands and markets are open, visit What's Open on Martha's Vineyard for regularly updated listings. If you have restaurant, farm, or food news you would like us to share, please email us.