Hey, we had a chilly spring. Nice, wasn't it, to have those gray skies and arctic blasts along with the extra time indoors? Is there a single one of us who isn't now determined to get as many hours outside as possible? And preferably hours that do not involve suiting up for the challenging grocery store expedition. Seems like building a little veggie garden – or maybe plowing up the entire back (or front) yard – is a really good idea this year. You can get outside, grow some of your own food, and maybe even preserve some for the off-season.
The upside of all that cool weather is that it's not too late to get started in late June or early July. Our growing season stretches all the way into October, so if you pick vegetables that will mature in sixty to ninety days, and that lend themselves to preserving, you could be eating your own food for months. You'll also need to start with vegetable seeds that happily germinate in warm weather, or you'll want to buy seedlings that have already been started for you.
By the way, if you're new to gardening and still trying to figure out where your garden is going to go and how big to make it, read Holy Homegrown for tips and three sample kitchen garden plans.
So what are the veggies that love warm weather, grow relatively quickly, and have some keeping qualities? Beans, cucumbers, hot peppers and pickling peppers, and many tomatoes – especially paste tomatoes and cherry tomatoes – top my list (and I'll explain why). Beets, carrots, and turnips can also be started in warm weather for an early fall harvest.
What you don't want to start in warm weather are leafy greens and radishes, which don't like the heat (unlike us). If they do germinate, they will "bolt," or send up a flower very quickly. Just be patient; arugula, mustard, baby bok choy, and many lettuces are fast growing. You can seed them in early September for an October harvest. You can do the same with radishes and Japanese turnips. You can also grow a fall crop of peas (which won't set flowers in high heat). Choose a variety that matures in fifty days.
If you can't wait for greens, you've got two options: plant in an area that gets total afternoon shade and harvest your greens young and frequently. Or you can plant Swiss chard. It's the most heat tolerant of all the leafy greens, though I've found that in high summer it will begin to taste bitter if it isn't really well-watered.
But back to the summer stars: beans are winners for many reasons. They're easy to grow for new gardeners and kids, and they grow fast. (Remember Jack's beanstalk?) They're prolific. They're available in many cool varieties. And they are incredibly versatile both for immediate use in the kitchen and for keeping and storing.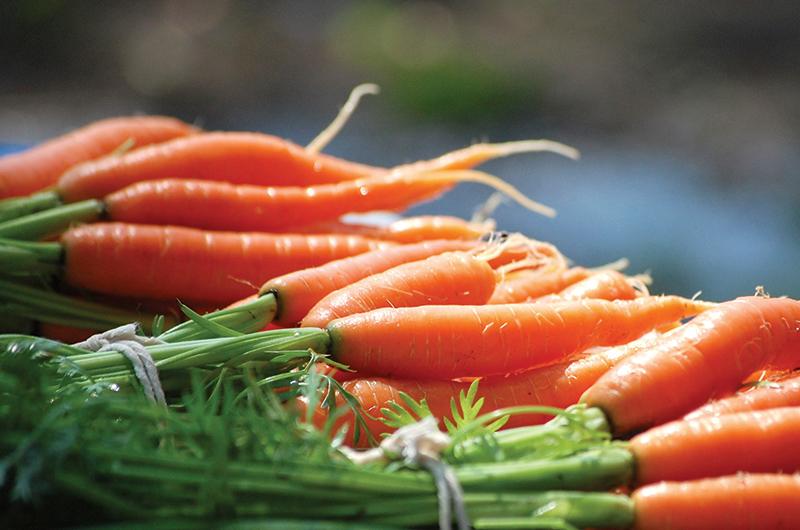 You can grow bush beans (they don't get more than a couple of feet tall so they don't need staking) or you can grow pole beans (they will need a trellis or structure of some sort).
I like to start bush beans as soon as the weather warms. My favorite variety is a filet bean called Beananza from Burpee. I also love a yellow wax variety called Gold Rush. The filet beans stay very thin and tender even when you forget to pick them. They're the perfect ingredient for a summer bean salad, such as the one I've included on the following page, but you can also toss them in a grill basket with shiitake mushrooms and peppers or turn them into a stir-fry with garlic and ginger. Bush beans are compact and quick to yield, though they do peter out at a certain point.
Pole beans, on the other hand, grow and grow and grow until a hard frost kills the vine. (I often plant pole beans as late as mid-July when the peas are finished; I reuse the pea trellis for the pole beans.)
And then there's the question of flavor. Old-timers wouldn't be caught dead growing bush beans because pole beans have historically been tastier. Their flavor is more, well, bean-y. And while bush bean hybrids are plenty tasty these days, my favorite pole beans, a variety called Rattlesnake, are probably the best tasting beans I've ever had. They're also pretty. They're delicious young and when they get a little too big, perfect for minestrone or for braising with bacon. If you leave them alone on the vine, they make wonderful shelling beans, too.
Speaking of shelling beans (those grown not for their pods but only for the seed inside), if you want something beautiful in your garden and delicious on the plate, please plant cranberry beans (also called borlotti beans). I'll admit I'm crazy about these beans partly for their pretty pink and white pods, but the creamy texture and nutty flavor of the beans themselves (which are, more accurately, the edible seeds within the pod) is outstanding. When fresh, they can be simmered for twenty minutes until tender and dressed in good olive oil and garlic and served over arugula with lemon, Roman style. You can also make a delicious dip by puréeing them with roasted garlic and a little bit of bean-cooking liquid. (Or you can add them to the bean salad recipe below.) If you leave them to dry, you will have your own dried beans to cook over the winter – a truly excellent way to extend the season if you plant a lot of beans.
Next on my list is everyone's favorite: tomatoes. But not just any tomatoes. Two kinds, cherry tomatoes and paste (or plum) tomatoes, are easier to grow and earlier to yield than many beefsteak tomatoes. My favorite cherry tomato is the prolific and sweet orange Sungold, but I like hefty Black Cherries for roasting. Sungold yields earliest. I like small varieties of paste tomatoes too. Juliet is a nice variety, not prone to diseases. But meatier paste tomatoes like San Marzano and Roma are best for making tomato sauce to can or freeze. They're also great for roasting and then freezing – my favorite way to preserve summer tomatoes (Read about the technique on cookthevineyard.com). Cherry tomatoes can be roasted or pickled for keeping too. Or you can cook them down into a cherry tomato jam.
Buy your tomato seedlings at nurseries and farm stands. While you're there, look for pepper seedlings too. Any of the small hot peppers like jalapeños or serranos start producing and ripening fairly quickly. Banana peppers are easy to grow and nice for pickling. Bell peppers take a very long time on the Vineyard to turn red (October is red pepper month), so unless you have lots of room in your garden or you love green bell peppers, don't grow them.
Cucumbers, like beans, are easy to grow. The big fat seeds go directly into the ground or you can buy seedlings to transplant. They need some support but are happy to hitchhike on a bean trellis or deer fencing. And, of course, they're a prime pickling candidate. Before I found out I was allergic to cucumbers (even touching the plants is a problem), I grew a pickling variety called Calypso that was also good in salads. Cukes like the heat, so get them in the ground now and water them frequently.
While tomatoes, beans, and cucumbers are most juicy and delicious soon after picking, root crops such as carrots, beets, and turnips – all of which must be direct-seeded in the ground and will germinate in warm weather – have a double life. You can eat them and cook them as soon as they're harvested, or keep them for months in cool storage. Use crisper drawers or bins and arrange single layers of roots, separated by very slightly damp (but not wet) dish towels.
If all goes well with your garden this year, next spring you can tackle onions and potatoes. They take up a bit of space, but are rewarding to grow and to have on hand. They, along with beans, tomatoes, peppers, cucumbers, carrots, beets, and turnips, meet my criteria for doing double duty in the garden: eat now or enjoy later!