Before you start cursing Thanksgiving, let me just calm you down with this easy, delicious, slow-cooked, time-honored recipe for meat sauce. It was my mother's. You'll love it. The houseguests who stay too long will love it. And that's all I have to say about that, to quote Forrest Gump.
Now, to back gently into this huge cooking holiday, I'm offering you the best first: An entirely make-ahead pumpkin tart that has everything going for it: the filling is a luscious cross between pie and cheesecake; it has a crisp, salty, crushed pretzel crust; and there's a (super-stable) white-chocolate whipped cream to go with. You can do it! We're quite sure, because it's an Abby Dodge recipe, with famously detailed instructions, and it's our next Baking Together project. So please chime in with feedback after you make it.
About the rest: Last week we rolled out our Thanksgiving Feast Menu From Chef Michael Brisson, so be sure to check that out if you haven't, especially if you're still deciding on how to cook your turkey and make your gravy.
This week, we're introducing you to our index of Thanksgiving recipes on Cook the Vineyard. You'll find recipes here for everything from appetizers and soups to sides and desserts.
Naturally, I have a few favorites — starting with gratins! This Sweet Potato-Potato Gratin with Caramelized Leeks, Spinach and a Pecan-Crumb Topping is top of the list. Two other gratins could easily hit the Thanksgiving table, though you might want to double the recipes: Cauliflower, Leek, and Fontina Gratin and Fall Corn and Yukon Gold Potato Gratin.
How about a soup to start? Carrot Ginger? Apple and Celery Root with Cider Swirl? Buttercup Leek or Butternut with Curry and Coconut?
Lots of veggie options, from simple Green Beans with Lemon Oil to Slow Sautéed Green Beans with Shiitakes and Prosciutto.
And then there are the three recipes I always trot out this time of year with much gratitude for the fact that I will not be demonstrating them on the Martha Stewart show as I anxiously did in 2010:
Roasted Brussels Sprouts with Orange-Balsamic Butter Sauce is one; Maple-Vanilla-Cardamom Glazed Acorn (or Delicata) Squash Rings the second; Roasted Turnips and Pears with Rosemary-Honey Drizzle (Martha's favorite), the third.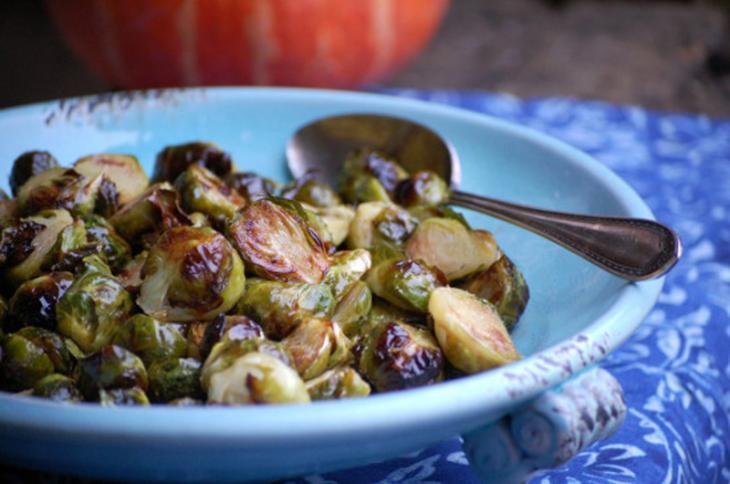 The great thing about these three side dishes is that they cook so quickly that you can roast them at the last minute while the turkey rests. You could do the same thing with Crispy Smashed Potatoes by boiling and smashing them ahead and roasting at the last minute, but they'll need a few minutes more than the other veggies.
For dessert, why not add a Rustic Apple Tart or a Cranberry Tart with Walnut Streusel to the table along with that pumpkin beauty?
What to drink with everything? In his latest column, Drink Wine. Not Too Much. Stay Happy., our wine writer Jim Malkin has some suggestions for wines to quaff as the meal progresses — and the conversations get more interesting.
For those of you who will be feeding a lot of people over the long weekend, try filling them up at breakfast time with Popovers, Savory Bread Puddings, French Toast with Berry Syrup or (not and) Puffy Oven Pancakes. Make meatloaf and deviled eggs to have around for supper.
Lastly, keep a sense of humor. Eileen Maley recounts a memorable Thanksgiving, one of her first on the Island as a young wife, that involved Two Too Many Turkey Feet. Food for thought until we see you next Wednesday, just before the big day. Until then, join us on Instagram and FaceBook.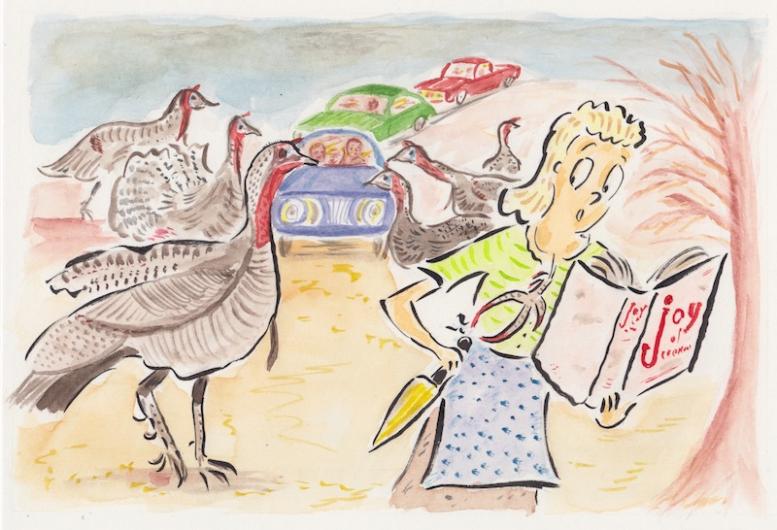 — Susie Middleton