In The Cook and The Book, we put the spotlight on cookbook authors — and photographers — we love by taking a look at their latest work.
THE COOK
Ellie Krieger
Television host and cookbook author Ellie Krieger's approach to cooking celebrates the marriage of healthy and delicious. As a registered dietician with degrees in nutrition from Cornell and Columbia, Ellie is all about taking a positive approach to cooking and eating.
Currently Ellie is the host and executive producer of the public television show Ellie's Real Good Food. Formerly, she was the host of the Food Network's hit show Healthy Appetite. Her cookbooks include You Have It Made, Weeknight Wonders, Comfort Food Fix, So Easy, The Food You Crave, and Small Changes, Big Results.
Those books have landed Ellie on The New York Times Bestseller list twice, and Ellie has received awards from the prestigious James Beard Foundation and from the International Association of Culinary Professionals (IACP).
For her latest book, Whole in One, Ellie chose Vineyard lifestyle and food photographer Randi Baird to photograph all of the one-pan meals, and the two collaborated with food and prop stylists on the colorful and approachable photos.
Ellie lives in New York City with her husband and daughter.
Follow Ellie on Instagram @ellie_krieger
Find out about Ellie's public television show, Ellie's Real Good Food.
Find Ellie on FaceBook at Ellie Krieger Official and watch a video about Ellie's Satellite Media Tour for Whole in One.
Read our interview with Ellie below.
---
THE PHOTOGRAPHER
Randi Baird
Randi Baird is an editorial and commercial photographer based on Martha's Vineyard. Whole in One marks the third cookbook for Randi, who photographed Simple Green Suppers: A Fresh Strategy For One-Dish Vegetarian Meals with author and chef Susie Middleton in 2017, and Chef Deon's Island Conch Cookery by chef Deon Thomas in 2018.
This time around, Randi is working with a childhood friend— Ellie and Randi grew up together! Randi notes, "I have been a huge fan of Ellie's astute approach to nutrition and food philosophy for years, and have always hoped I'd have the opportunity to work with her. When she selected me to collaborate on Whole in One I was beyond thrilled. Working with Ellie has truly been an honor. If you follow her work you know she is a consummate professional, who brings a deep passion and palpable energy to every project (and plate!) she takes on."
Randi is a regular contributor to Martha's Vineyard magazine and Martha's Vineyard Island Weddings. Randi Baird Photography images have also been published by the Associated Press, United Press International, Food + Wine Magazine, Edible Manhattan, Edible Vineyard, Vineyard Style, Martha's Vineyard Home & Garden, Cape Cod Home, Yankee Magazine and more.
Randi is a founding member and board president of Island Grown Initiative. She lives in West Tisbury with her husband and two sons.
Follow Randi on Instagram @randibairdphoto.
Visit Randi's FaceBook page.
Read our interview with Randi below.
---
THE BOOK
Whole in One: Complete, Healthy Meals in a Single Pot, Sheet Pan, or Skillet
Hachette Book Group, 2019, Hardcover $30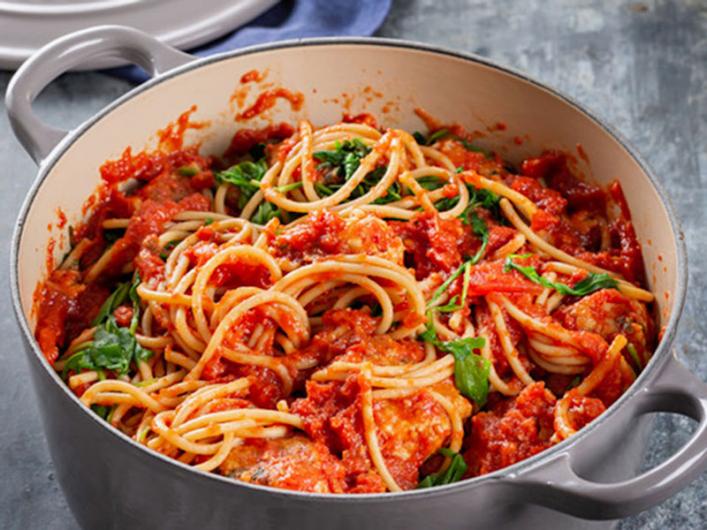 A Few Things We Love About Whole in One:

• Top of our list: Each recipe is a whole meal, not just one dish that's cooked with one piece of equipment.
• Every recipe has a box at the end of it that gives a suggested serving size, all the nutritional information for that serving, and a list of nutrients you'll find in that dish.
• Ellie has done the hard work for us of deciding how to balance ingredients with different nutritional profiles in one meal. (See Ellie's "Usually-Sometimes-Rarely" philosophy below.)
• From Falafel Burgers and Chicken Shawarma to Brazilian-Style Seafood Soup and Ginger-Soy Marinated Pork Loin, recipes have a fun attitude and travel the globe for flavor.
• The photos of finished dishes are vibrant and appealing, but we also love that many dishes are photographed in the skillet, on the sheet pan, or in the pot — and that favorite pieces of equipment are photographed, too.
---
THE SOURCES

Whenever possible, it's always a good idea to purchase your cookbooks through an independent bookstore, like our local Bunch of Grapes bookstore in Vineyard Haven. Independent bookstores can always order a book for you if they don't currently have it. If you need to find out where your nearest independent bookstore is, check out IndieBound.org's Bookstore Finder.
Whole in One
is also available online from: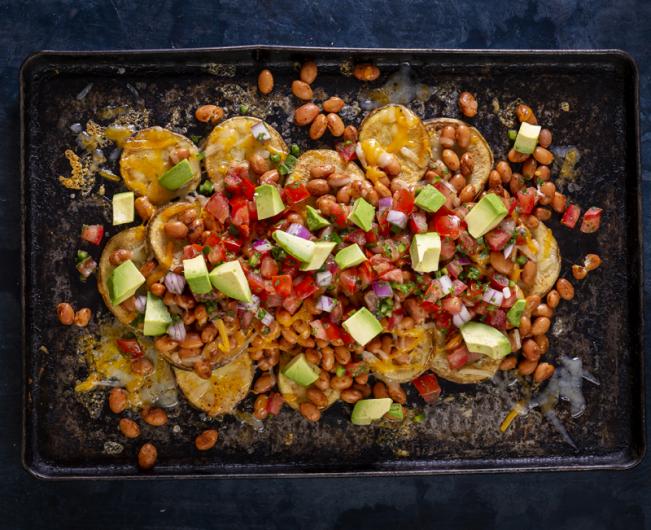 ---
THE RECIPES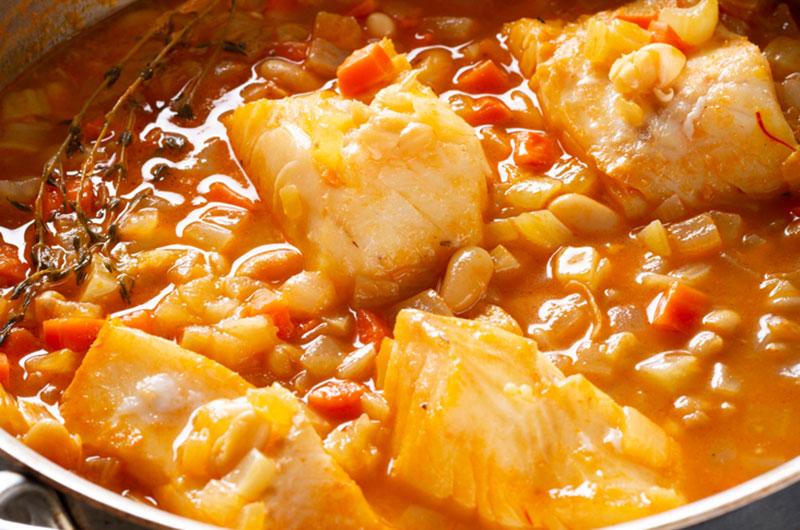 On Cook the Vineyard:
• Loaded Potato Nachos
• Cod in Saffron Broth with White Beans
Other recipes in the book that we love:
• Coconut Curry Carrot Lentil Soup
• Flatbread Pizzas with Spinach and Egg
• One-Pot Spaghetti and Turkey Meatballs
• Masala Chicken with Cauliflower and Chickpeas
• Sheet Pan Steak Fajitas
• Maple Bourbon Dark Chocolate Fondue
---
Cook the Vineyard Q&A with Ellie Krieger, October 2019
CTV: The idea of one pot or one pan cooking sounds so soothing…we all love simplicity. How did you decide to make this the concept for your latest cookbook – and who is the reader you were creating it for?
Ellie: I often joke that I write these books for myself — and I am only half-kidding! I am a mom with a demanding job, and I come home and cook for my family each weeknight. I personally love meals that simplify the process, but without sacrificing flavor or nutrition. I want the food I make to have a WOW factor, without the work. I aim to reach those who want the same — and that is everyone, really. Who doesn't want to eat great food, be healthy and do fewer dishes? I say in the book that the whole idea of one-pot cooking seems to reign in the chaos of the day, and I have found it to be so true.

CTV: One of the most awesome things about this book is that each recipe is a meal in one. Was that challenging, or did it open up new ways of looking at dinner for you?
Ellie: The word "whole" in Whole in One has multiple meanings. First, it refers to the whole foods I use as the backbone of the recipes. Secondly, it connotes the fact that each dish is a nutritionally complete "whole" meal. (Except the desserts of course.) That is one thing that really sets this book apart from other one-pot books. Every dish here is nutritionally balanced, with plenty of protein in the vegetarian dishes, and plenty of vegetables and (often) whole grains in the meat and poultry dishes. So it's really one-and-done easy. This both challenged me and opened up new ways of looking at dinner for me. That is the work — and fun — of creating 125 recipes, and why it is so rewarding to have the resulting book to hold in my hand and share with others!
CTV: In working on the recipes here, did you fall in love with any new ingredients or with a particular piece of cooking equipment?
Ellie: Ingredient wise, I have fallen in love with tahini. Drizzling on a bit of a quick tahini-lemon combo adds a dreamy, creamy, savory richness, while adding plant protein and healthy fat to dishes, too. In the book I drizzle tahini on my butternut squash soup and onto roasted eggplant, and I use it to make a dressing for a one-skillet chicken grain bowl.
Cookware-wise, I am over the moon that Circulon created a cookware set inspired by Whole in One! There are five pieces that are all you need to cook every single recipe in the book and it comes in a gorgeous, elegant merlot color. But the thing about the book overall is that you don't need any fancy electronic gadgets that take up your whole counter to make these one-pot meals. You use regular, versatile, pots and pans.
CTV: As a dietician, you stress in all your books that restrictive diets that forbid certain foods never wind up being healthy. You have a rule you call the "usually, sometimes, rarely" rule. Can you give us just a quick explanation of that and how it applies to Whole in One?
Ellie: I developed my "usually, sometimes, rarely" lists way back when I was in private practice as a registered dietitian, and they have been the foundation of every recipe I have ever created since. The lists were instrumental in helping my clients escape the damaging all-or-nothing diet mindset that pervades our culture, and when I use them to guide recipe development I inevitably wind up with a healthy, balanced and amazingly tasty result. Notice I have no "never" category. There is no "forbidden fruit," deprivation, or guilt in my food world.
The idea is to make the "usually" foods — delicious choices with the most health benefits — the backbone of what you eat each day, so I use them most plentifully in my recipes: Vegetables, whole fruit, beans, nuts and seeds, lean proteins, seafood, whole grains, healthy oils and dairy products like yogurt. I sprinkle in "sometimes" foods here and there for flavor and variety. Those are somewhat more processed like a French baguette, a little higher in saturated fat like chicken thighs, or best used in modest amounts like honey or maple syrup. "Rarely" foods — such as refined sugar, cream, bacon, and butter — are those many nutritionists forbid but many cooks use with a heavy hand. I have found the ideal balance by using them strategically in small amounts for maximum impact.
CTV: How did you and Randi and your food stylist approach working together on the photos for Whole in One?
Ellie: The images in the book bring the recipes to life in the most sumptuous way I could imagine. They make you wish you could jump right into the page, and they communicate the casual stylishness, beauty, and ease of the recipes. Creating the images was a true collaboration of amazingly talented people with photographer Randi Baird, food stylist Suzanne Lenzer, and prop stylist Maeve Sheridan all working together with me to capture the most visually compelling expression of the recipes. We collaborated on the concepts and overall style before we got together for the shoot, and then we worked several very long days cooking, propping, and shooting to make it all happen! Then Randi and her team worked their magic in the post-production stage, making everything perfect. It was a whirlwind, but I think the photos really reflect the talent and passion of everyone involved.
---

Cook the Vineyard Q&A with Randi Baird, October 2019

CTV: Once you all had decided to work together, how did you come up with a "look and feel" for the book?" What was your goal?
Randi: My approach in any collaboration is to first understand the goals of my client and how I can translate those goals into a cohesive visual story. Ellie's concept for Whole in One was to demonstrate that cooking nutritious, delicious dinners can still be convenient, especially with her brilliant theme of using one single pot, pan, or skillet to prepare each recipe. Ellie also wanted the photos to feel clean, with an overall modern look, while still remaining authentic. She wanted her food to appear both attainable and delicious, knowing that her readers were looking for approachable recipes that would still yield impressive results. These intentions informed my approach, and I began building the visual elements that would make up the look and feel of each photograph. I successfully translated Ellie's goals into a visual language using shapes, colors, and textures to surround her already beautiful food.
Color is especially important to me. I began mixing cool and warm colors as needed, depending on the colors in the recipe, and added texture with napkins, plates, stemware and surrounding props. This allowed the recipe to remain as the star of the shot while being complemented by a plethora of other thoughtful and appropriate elements as needed. Creating the overall look for a cookbook is bit like being a sculptor; you have to keep building, adding and removing, but also know when to stop.
CTV: The photos are bold, colorful, and tightly cropped, making them really appetizing. How did you achieve that look?
Randi: First the food itself, and then how I light my set, are the biggest contributors to the initial mood of each shot. Then careful consideration goes into choosing what we pair with the food. The vessel it sits in, the backdrop behind it, and the supporting elements that surround it all work together to build the finished product. Those other elements hug and hold the plate, and my close crop approach makes you feel as if you can smell and taste the food, making it that much more attainable. That's what I am after.
CTV: Did you have a food stylist and a prop stylist for the photos? How many people were on the set and how many photographs did you do take in a day?
Randi: We had a fabulous all female team on set. Food stylist Suzanne Lenzer worked tirelessly on each shot and was well organized. Prop Stylist Maeve Sheridan brought her talent when it came to the textures and surfaces once a color palette was chosen. Arletta Charter assisted me on set with lighting, composition and in post production- getting the final images to look just right. Ellie was involved and consulted on every shot, and we were able to produce and finish 50 shots in four days. Our last day of shooting was reserved for the cover image of Ellie in her kitchen and all the vessel shots portrayed as stars for the chapter openers and extra pages in the book.
CTV: We know you love to cook, too. How did working on Whole in One inspire your cooking routine – have you added any new dishes or new ingredients to your line-up?!
Randi: Ellie's approach to food has always resonated with me. Her "usually, sometimes, rarely" philosophy implies that our way of eating should be driven by joy and balance rather than deprivation and fear. I stand by that and am strategic about my food choices but I do not allow food to be forbidden; it's about eating thoughtfully.
Since working on Whole in One, I've definitely been more conscious of the dishes I create in the cooking process and have tried to minimize the tools and vessels I use. I have a bit of a reputation around our house as the messy cook, so I'm working on that. Our family has a rule that whoever cooks dinner does not have to clean up, and I am famous for making a mess and creating a lot of dishes. Needless to say, my family is hoping the Whole in One method is something I can continue to embrace.
---
Ellie's "Usually-Sometimes-Rarely" Philosophy
In an excerpt from the introduction to Whole in One, Ellie outlines how she approaches eating delicious food judiciously.
Each recipe in this book follows my tried-and-true Usually-Sometimes-Rarely food philosophy, which I put forth in my very first book Small Changes, Big Results, and has been the underpinning of every recipe I have created since. Notice there is no "never" category. That's because ruling out foods entirely—as many diets have us do—tends to fuel an unhealthy, all-or-nothing mind-set that in most cases prevents us from being truly, holistically healthy. When you let go of the notion of a forbidden fruit, you invite a way of eating driven by joy and balance rather than deprivation and fear.
There is no one ideal diet (despite what many marketers like to tell us). The truth is, humans can thrive on a wide spectrum of different eating patterns when they have a selection of wholesome foods to choose from. Instead of forcing you into a single, narrowly defined dietary lane, the Usually-Sometimes-Rarely approach gives you the freedom to enjoy the full spectrum of wonderful foods available and tailor your choices to what works best for you at any given time.
The idea is to make the "usually" foods— delicious choices with the most health benefits—the backbone of what you eat each day, so I use them most plentifully in my recipes: vegetables, whole fruit, beans, nuts and seeds, lean proteins, seafood, whole grains, healthy oils, and dairy products, such as yogurt. I sprinkle in "sometimes" foods here and there, for flavor and variety. Those are somewhat more processed, such as a baguette; a little higher in saturated fat, such as chicken thighs; or best used in modest amounts, such as honey and maple syrup. "Rarely" foods—such as refined sugar, cream, bacon, and butter—are those many nutritionists forbid but many cooks use with a heavy hand. I have found the ideal balance by using them strategically in small amounts for maximum impact.
Once you start to eat (and think) this way you realize there is no need to deprive yourself or go to extremes to be healthy. If you are enjoying mostly nutrient-rich, whole foods, there is room for a dab of butter in a pan sauce, a little chorizo tossed into a shrimp dish, or a piece of chocolate cake now and then.