In The Cook and The Book, an ongoing series brought to you by Martha's Vineyard magazine's Cook the Vineyard, we put the spotlight on cookbook authors we love by taking a look at their latest book.
The Cook
Cathy Barrow
Cathy Barrow is the fabulous "Bring It" columnist for the Washington Post's food section and a food writer with creds from The New York Times to Saveur, Food52 to NPR. She lit up the cookbook world with her first book, Mrs. Wheelbarrow's Practical Pantry, which won the presigious IACP award for best single-subject cookbook in 2015.
After literally writing the book on preserving, Cathy turned her attention to pastry. She wrote Pie Squared: Irresistibly Easy Sweet and Savory Slab Pies in 2018 and followed right up with When Pies Fly: Handmade Pastries from Strudels to Stromboli, Empanadas to Knishes, which arrives in bookstores September 17, 2019.
While Cathy lives outside of Washington, D.C., with her husband Dennis and two dogs, Louie and Morty, we've also spotted the foursome on the mean streets of Edgartown during their annual seasonal visits to the Vineyard.
Follow Cathy on Instagram @cathybarrow
Visit Cathy's website and events page for information on book tour locations and dates
Listen to Cathy on the Salt + Spine Podcast
---
The Book
When Pies Fly: Handmade Pastries from Strudels to Stromboli, Empanadas to Knishes
Grand Central Publishing, September 2019, Photographs by Christopher Hirshheimer and Melissa Hamilton
Hardcover $30
A Few Things We Love About When Pies Fly
(See more in our chat with Cathy below)
It's all here: The depth and range of hand-held pastries (and the thirteen different dough recipes!) is astounding
The design, the photographs: For a book that begs to be used, not just flipped through, it offers a clean, modern, easy-to-read design and those wonderfully authentic photographs by Christopher Hirsheimer and Melissa Hamilton
There's a wide range of recipes, from easy to pro; all generously layered with tips and advice and Cathy's trademark attention to detail
The flavors, both sweet and savory, span the globe, from Chicken Tinga Half Moons to a Banh Mi-Style Caramel Pork Tart
The wow-factor includes showstopper recipes like the Millionaire's Tart and Sunday's Lox and Schmear Tart
---
The Recipes
On Cook the Vineyard:
-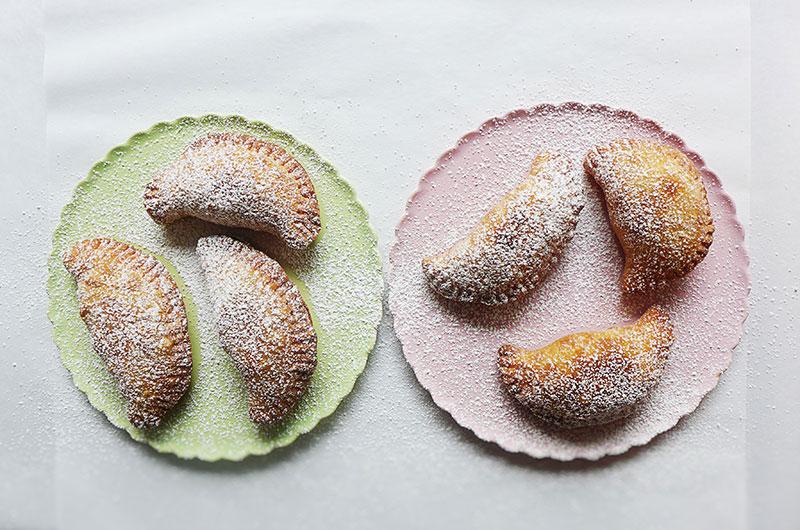 Other recipes in the book that we love
All-Butter Pie Dough
Strawberry Jam Tart with Toasted Streusel
Cream Cheese Pie Dough
Sweet, Salty, Spicy Dipping Sauce
Broccoli Cheddar Hand Pies
Caramelized Onion and Cheese Pie Dough
Oozy Cheese Fried Empanadas
Empanada Dough That's Fit to be Fried
---
The ORGANIZATION
Chapters in the Book
1 Galettes and Rustic Pies
2 Hand Pies and More — Single Serving Pies
3 Pie Poppers — Snacking Pies
4 Framed Tarts — Decorated Pies
5 Strudel, Puff, and Phyllo Pastries
6 Empanadas — Hand Pies of Central and South America
7 Filled and Fried — Pie Meets Hot Oil
8 Kolache — Filled Buns By Way of Eastern Europe
9 Knishes — Deli Case Pies
10 Fearless Pie and Pastry Doughs
---
THE SOURCES
Whenever possible, it's always a good idea to purchase your cookbooks through an independent bookstore, like our local
Bunch of Grapes bookstore
in Vineyard Haven. Independent bookstores can always order a book for you if they don't currently have it. If you need to find out where your nearest independent bookstore is, check out IndieBound.org's
Bookstore Finder
.
When Pies Fly is also available online from: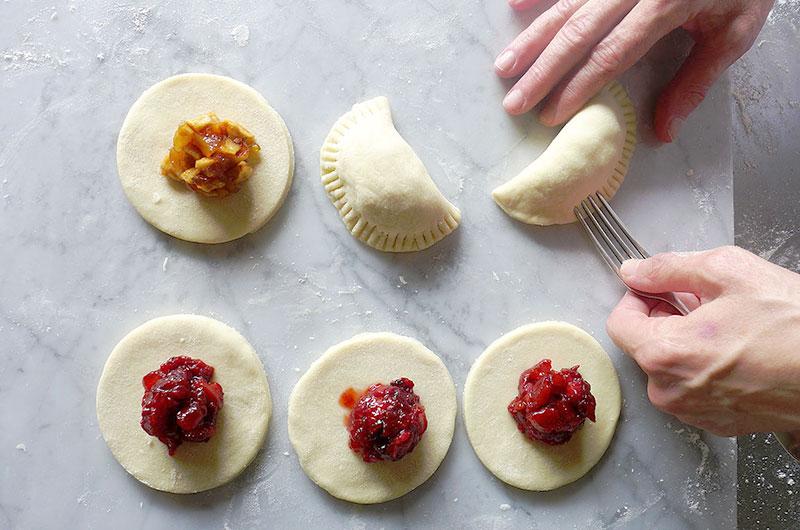 ---
The Q&A
Cook The Vineyard chats with Cathy Barrow, September 2019
CTV: After Pie Squared, why this book? What was your mission and who were you creating the book for?
Cathy: I guess I just love pie. I'm a pie-vangelist. I love to encourage people to learn to cook and to become really competent at some part of cooking. And pie-making — once you learn how to do it — you are like the star of the show, and you can whip up a pie at any moment. And this book — and I say this with my tongue firmly placed in my cheek — redefines pie. I just wanted to think beyond the crust. What if pie was just filling surrounded by pastry? Think of all the ways you could define pie. And that's how it happened.
CTV: We love the front section of your book — The Aeronautics of Pie. Check Your Equipment. Earn Your Pie Wings — so packed with tips. What is your favorite feature in the book?
Cathy: I love this idea we came up with called Carry On. It's a little sidebar that comes at the end of the front of every chapter, and I saw it as this great double meaning — your carry-on bags when you're off on your adventure flying with pies — but also, just, "Carry on." How do I fix a mistake? My hand pie exploded. What did I do wrong? There's a lot of technique that goes into making these finely shaped smaller pies. And if you get it right, they're perfect, and if you don't, they can be frustrating.
CTV: So how do you help people deal with that potential frustration?
Cathy: Well, I guess I come at it from two directions. One is by being extremely precise in the technique part of every recipe or section. 'This is how big the dough should be rolled." Because telling me the dough should be ¼-inch thick is not as informative as telling me what size it should be. It's about being precise, and it's also about having these tips, the "carry on" sections to help identify what might have gone wrong and why.
And also, my headnotes, I try to identify anything that might pop up or anything that might ensure your success.
The other part of it is getting away from the idea that things have to be perfect. I think we spend a lot of time on Instagram with these carefully styled photographs and [my photographer and stylist] Christopher and Melissa and I have bonded on the idea that we show food the way it looks when it comes out of the oven. It looks real. I admire the people who do those fancy crusts and all of that, but I just want the food to be delicious, easy and approachable. And well, we're not producing for a bakery here.
CTV: One of the impressive things about this book is the range of flavors. How did you decide to pursue both savory and sweet?
Cathy: I feel so fortunate to have been able to taste so many different kinds of food. I just think about these flavors all the time. Korean food, which I first tasted about 8 years ago, I just loved that gochujang [fermented red chili paste].Then I wanted to figure out how to get it in everything, even popcorn!
I get inspired by flavor.
When I sit down to think about how to put a book like this together, I want it to be as diverse in flavors as possible and that's what I was going for. I did the sweet and savory thing with Pie Squared. The response was so positive that it never occurred to me to do a book that was just about sweet pies.
When you talk to Brits — they're the funniest — they say, 'Why would you have a sweet pie?' I have all these British readers now and they write to me and say, 'We didn't think you Americans knew anything about a savory pie!' It's really just what you're used to.