It turns out that humidity is good for something: growing shiitake mushrooms.
That familiar wet clamminess, along with black or white oak, also found abundantly on the Island, are key components that Truman French and Tucker Pforzheimer needed to launch Martha's Vineyard Mycological (MVM), a start-up specializing in the growth and sale of shiitake mushrooms that grow on logs. Their Chilmark-based operation, now in its fifth season, has become one of the largest wood-based mushroom growing operations in the country, according to French, with 10,000 logs supporting a crop of nearly 15,000 pounds yearly. The mushrooms make their way to restaurants in Boston and New York City, as well as on Martha's Vineyard.
"We have oak and we have this crazy humidity and shiitakes thrive on that," explains French, a 2008 Martha's Vineyard Regional High School graduate and the son of stonemason Lew French. The Island's climate mirrors that of Japan, the native home of the shiitake and where the fungi has been prized and perfected for centuries. The word shiitake itself means oak mushrooms in Japanese.
Shiitakes, which were first cultivated in the U.S. in the mid- to late-1970s, are tannish-brown, high-protein mushrooms known for their immune-boosting and tumor-suppressing qualities from a substance in the caps known as lentinan. Lentinan also gives the shiitake its woodsy umami, or pleasantly savory profile with hints of garlic. Most commercial shiitakes, and mushrooms in general, are grown indoors in vast rooms of sterilized manure or sawdust. You often get a sanitized, bland flavor to match. By contrast, MVM mushrooms mimic natural outdoor growing conditions. They feed on the minerals and complex sugars in the oak itself and because of this contain up to three times the amount of lentinan, boosting flavor sky-high.
"This is the best mushroom product I've seen in the country," says Dominic Giardini, executive chef at The Cardboard Box in Oak Bluffs, who was touring the mushroom farm on one of the days I was there. Giardini says the mushrooms are so meaty that they almost always appear with the vegetarian entrées, or as a topping for steak, with which they have an affinity.
Some fifty restaurants now serve the mushrooms, says Pforzheimer. On-Island, in addition to The Cardboard Box, the list includes The Covington, which shared its popular shiitake ragu recipe with us; Détente; The Port Hunter; 7a Foods; Atria; and L'étoile, among others. Pforzheimer's weekly drop to Boston restaurants also includes an independent distributor who then delivers them to New York City.
O Ya is one of the top high-end restaurants in Boston that sources shiitakes from MVM. One reason is Nathan Gould, who operated kitchens at Edgartown's Harbor View Hotel and Menemsha's Beach Plum Inn before becoming chef
de cuisine at O Ya about three years ago. In one dish he grills the whole shiitakes, cap side down to retain the moisture, adding a bit of soy sauce, miso, and rosemary-garlic truffle oil. Completing the dish is sesame brittle and a sesame foam. "It's one of the most iconic O Ya dishes we have."
He also quickly braises the shiitakes with soy, sake, and garlic butter and wraps them around sushi rice as a bite. When patrons get the check, they might also get a chocolate bon bon with shiitake caramel. "It's really tasty," Gould says. "I make a shiitake soy from their mushrooms, which is insanely good."
"Honestly, they are the best shiitake mushrooms I've ever had. They are absolutely delicious."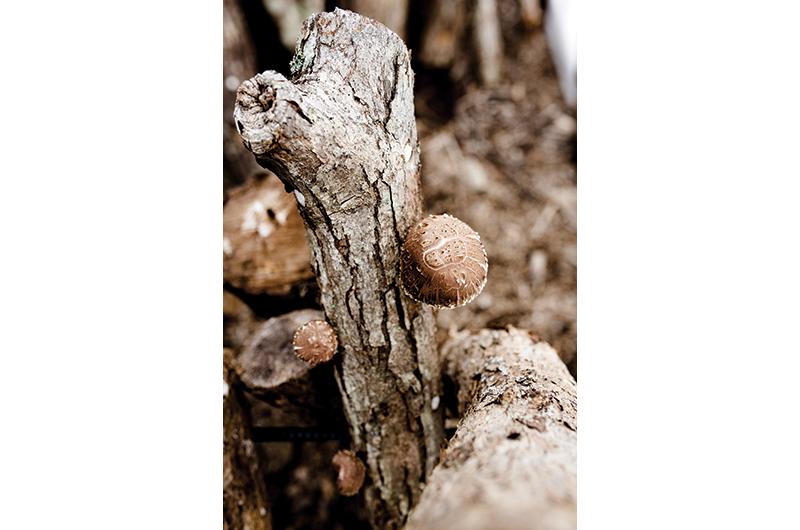 French, who is twenty-nine, and Pforzheimer, twenty-eight, met in a biology of fungi class at Harvard University in 2013 and launched their business not long after. French was majoring in economics but says he had always had an interest in biology, which has certainly come in handy.
The whole operation, located on five leased acres down a dirt road off Tabor House Road in Chilmark, doesn't look much like any of the other thirty or so farms on Martha's Vineyard. These mushrooms grow on logs, after all, not in soil, and mostly in the shade, not the bright sun. Pulling in, you pass by large storage areas of stacked logs, and another with logs in the process of being cut. You then reach a series of large shade tents without sides filled with row after row and hundreds of four-foot inoculated logs leaning against rails. There's also a refrigerated locker and work area.
French runs the day-to-day workings of the farm, while Pforzheimer, who grew up in the restaurant business in Boston, manages off-Island sales. He takes samples to chefs and makes weekly deliveries from the Island to Boston restaurants and beyond during the shiitake season, which runs from April through November or December. Pforzheimer's two brothers, Ross and Jack, round out the main crew of four.
The whole process starts with cutting oak trees into specified four- to five-foot lengths. Next, French and the crew hand-inoculate each log with mycelium, a special shiitake heirloom cultivar imported directly from Japan and packaged in the U.S. The inoculated logs sit stockpiled, at least for a year, while the shiitake strain colonizes the wood. When they are ready to go, the crew removes a section of logs, soaks them overnight in water, and sets them out in the shade tents leaning upright. In about six days, mushrooms start bursting through the bark of the oak.
Once the mushrooms are harvestable, the crew spends a good portion of their days picking the caps at just the right size, and then rotating out those logs to maintain a continuous production until the weather gets too cold to grow shiitakes. They might pick between 120 to 200 pounds a day, sometimes working from 6 a.m. to 7 or 8 p.m. The caps are sorted into Grade A or Grade B, with the A's going to restaurants and the farmers' market and B's selling at a slightly lower retail price at Morning Glory Farm in Edgartown.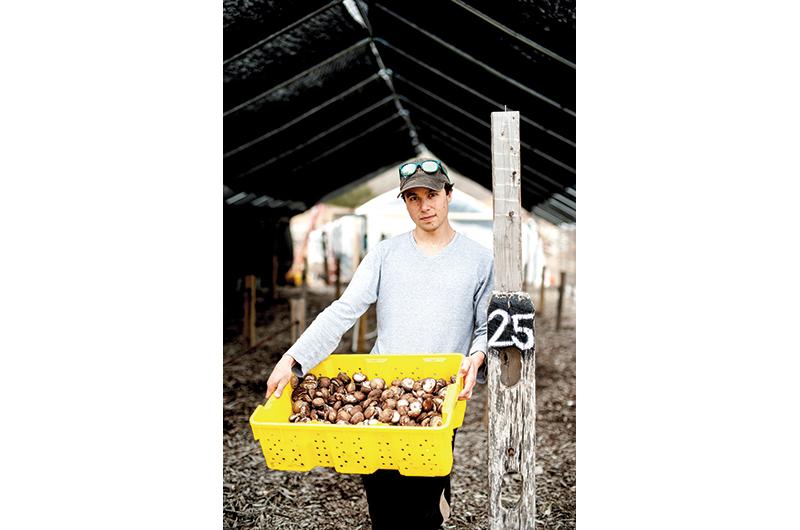 "This is farming; this is every day," says French.
The two sound somewhat like evangelists on the ecological benefits of growing mushrooms, especially as an alternative and sustainable source of protein. "There needs to be a better source of less impactful protein," says French, who is a vegetarian. Whereas the production of beef is often cited for the tremendous resources used for each pound raised, the production of shiitakes requires very little fuel or water and no fertilizer or feed. For their supply of logs the team works with Island businesses and construction companies to salvage Island oak trees. After being used multiple times, the spent logs are practically composted and easily turn into topsoil.
"The Vineyard's unique ecology makes our mushrooms the most efficient form of local protein production, both in land and water use," says French. "We utilize only five outdoor acres to produce thousands of pounds of protein per season."
The health aspects of shiitakes are also impressive. In addition to the protein content and lentinan touted for those tumor-suppressing qualities, shiitakes contain B6, B12, selenium, potassium, and fiber. They also contain a natural source of vitamin D absorbed from the sun.
"Plant-based is here to stay," adds Pforzheimer, "and it's time to find nonmeat alternatives that aren't highly processed and that don't compromise on flavor."
While the chefs and restaurateurs were initially drawn to the mushrooms for their flavor, most also appreciate the low environmental impact.
"Their farm is a model for sustainable agriculture," says Ted Courtney, co-owner of The Covington. "Truman and Tucker are wonderful people. Using our local resources such as these is what makes our industry fun."
You can buy Martha's Vineyard Mycological mushrooms at the West Tisbury Farmers' Market each Saturday morning, where both fresh and dried shiitakes, as well as jars of their berbere-spiced mushrooms, are for sale. Dried mushrooms are available year-round from mvmycological.com, LeRoux at Home, and Cronig's Market.