Excuses, excuses. That's what I had when it came to pickles. Or I should say, that's how I avoided making pickles. I'm a farmer! I'm busy at pickling time! Who has time for canning? No place to put those jars! The list went on and on. Good Lord, I even turned down an opportunity to write a preserving cookbook (and this was several years ago before the Return of the Age of Preserving – which of course never went away on the Vineyard), because, I told the editor, I am not a preserving expert. That same editor tried to get me to write a slow-cooker cookbook, which I also wiggled out of, for the same reason. Proof that I am destined to stubbornly avoid all publishing ventures that might actually make me money.
There was this other nagging little problem: I thought I didn't like pickles. At least not those squidgy creatures that live under the droopy white bun on a McDonald's Big Mac. And I didn't grow up on the Lower East Side of Manhattan – or even eat enough sandwiches at the Carnegie Deli when I lived in New York – to understand the subtleties of those pickle spears in the big jars on the counter. (They sure looked enticing, though.) Sour?
Half-Sour? Sweet? Kosher? German? Polish?
But then one day I realized that there was a kind of pickle I actually really liked. I was making one of my favorite salads with radishes that I always "quick-pickle" (soften in lime or lemon juice and salt) before combining them with bitter greens, salty cheeses, and a little honey. It occurred to me that I often do this with onions, too; quick-pickling (or what I call "almost-instant" pickling – see recipe at right) takes the sting out of onions and turns them into a versatile condiment at the same time. Pickled peppers? Heck yeah, by the peck. Hey, I thought, I actually like pickled vegetables.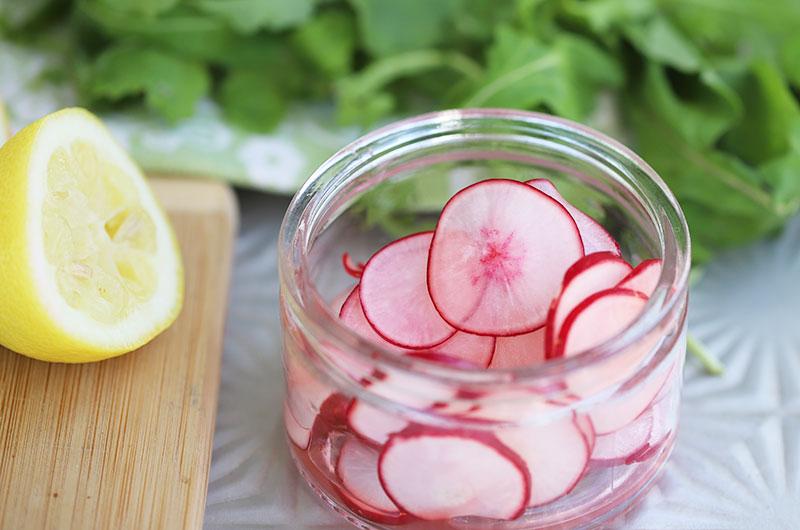 And what I like about them, from a cook's point of view, is their acidity and brightness. In cooking, acidity – lemon juice, vinegar, hot sauce – is crucial for picking up flavors in dishes and for waking up your taste buds. Every good cook loves a bright acid because a drop or two of it makes anything taste better. (Always finish your soup with a splash of vinegar.) Once I started considering the versatility of pickled vegetables as a cooking ingredient, I got pretty excited. Beyond salads, I could use them in pan-sauces and salsas, in tacos and burritos, atop soups, on scrambled eggs, or mixed into a dip (see sidebar on page 65). Lately, I've seen roasted and pickled vegetables paired together on restaurant menus; if you think about it, the sweet-tart pairing is classic.
It was only a matter of time before I took the next step – from "almost instant" pickles to quick "refrigerator" pickles – brined veggies with lots of aromatics that are ready to use in a few days (sometimes less) and that keep in the fridge for three or fours weeks. You make a simple brine, heat it up, pour it over cut-up veg, cool them down, and pop in the fridge.
It was harvest time when this urge took hold, and I started quick-pickling Morning Glory Farm sweet corn with coriander seeds from our spent cilantro; I pickled our own Red River onions with thyme sprigs and lemon; I pickled jalapeños … and carrots … and beets … and green beans. They were all tasty – so bright and fresh, crisp and cool. I even embraced cucumbers, since I'd decided to grow some pickling cukes on the farm. I loved these "quick" cucumber pickles because they stayed crunchy.
And the whole process took less time than my usual morning chore (washing and packaging up thirty dozen eggs), and was a lot more fun. So now the "I don't have time for pickles" excuse melted away.
I poked around for quick refrigerator pickle recipes. Well, I didn't just poke around, I pretty much eviscerated the preserving section of the West Tisbury Library. (Don't worry, if you're looking for something, I've returned most of the books now.) I began to notice that there were fundamental similarities between all the recipes, and I began to think that I might be able to make up a master recipe for vinegar-brined pickles that you could customize with your favorite veggies and seasonings.
Then a happy thing happened – my cook-writer friend Cathy Barrow's new book, Mrs. Wheelbarrow's Practical Pantry: Recipes and Techniques for Year-Round Preserving, was published. The book not only immediately won accolades and awards for Cathy's thorough and friendly approach to preserving, but it conveniently fell into my hands around the time I was going to start emailing Cathy on a daily basis with questions. (Cathy frequents the Vineyard, so if you have a chance to go to one of her book signings, don't miss it!) I read Cathy's recipe for quick-pickles and was relieved to see that she not only suggests customization, she encourages it.
Now I had permission (in my mind anyway!) to write my "create-your-own" refrigerator pickle recipe. Because of my background as editor of Fine Cooking magazine, I am kind of obsessed with these "master" recipes, as we featured them a lot as a way to show readers one great technique that could be customized to your own taste. It turned out to be a fun approach with the pickles, as you can use whatever vegetables you've got on hand, and you can make a few different kinds of pickles with one batch of brine by putting a different veggie and different aromatics in each jar. You can also combine more than one kind of veggie in one jar, too, but I like single-vegetable pickles, because I'm going to use them as ingredients. Whatever you choose to make, be sure to do some pickled jalapeños. And, corn – my favorite. And, well the carrots are damn good. And you can't not do beans. Okay – try them all.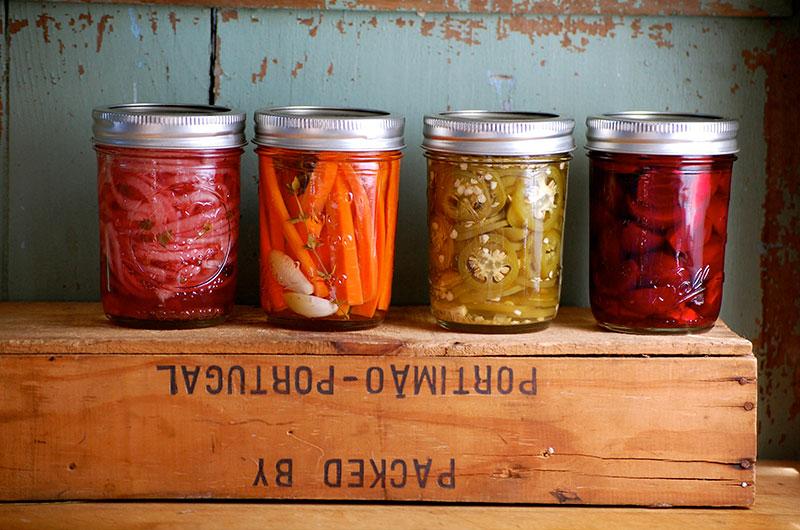 Eventually, following step-by-step instructions in Mrs. Wheelbarrow's Practical Pantry, I even canned my pickles. This turned out to be much more straightforward than I thought, and then I had pretty jars on my pantry shelves that would keep for months until opened. The canned pickles do lose some crunch and their fresh color, though. I'd recommend canning for preserving summer corn, jalapeños, and onions, but I still prefer the quick refrigerator pickles for their flavor, texture, and convenience.
There was only one down-side to my pickle journey. Along the way, I discovered that vinegar-brined pickles are only half of the story. Fermented pickles – vegetables that are fermented naturally at room temperature by making use of the ubiquitous lactobacilli that are everywhere around us – are a different thing altogether. Lactobacilli metabolize sugars into lactic acid, which lowers the pH of the solution and both preserves the vegetable and creates a sour flavor (sauerkraut and dill cucumber pickles being just two).
Naturally good for your digestive system, fermented foods (which include not just pickles, but yogurt, miso, and kombucha, among other things) are very popular right now for their health benefits. Alas, there are many routes to lacto-fermentation, and for vegetables alone, there are at least three approaches that include dry-brining, wet-brining, and a combination of both. So, yeah, I think it would take years to become an expert on this subject. I couldn't help myself, though, I had to try one thing: I made a batch of kimchi (and it was delicious) with the help of my neighbor Katherine Long, who lent me her Perfect Pickler air-lock system (perfectpickler.com) and another great book, this one called Fermented Vegetables, by Kirsten K. Shockey and Christopher Shockey.
I'm sure there's more fermenting, and more canning – and definitely more pickling – in my future. But in the mean time, I hope I can help you enjoy your summer harvest a little longer with the pickle recipes featured here.
My Favorite Brined Pickle Combos
Jalapeños + Garlic
Fresh Corn + Coriander Seed + Garlic
Carrots + Thyme + Garlic
Beets + Orange + Ginger + Garlic
Cauliflower + Lemon + Mustard Seed + Coriander Seed + Garlic
Fennel + Black Pepper + Lemon + Garlic
Beans + Dill + Lemon + Garlic
Cucumbers + Dill + Garlic + Mustard Seed
Destination Pickle: How to Use Them
Toss in a green salad, especially one with sweet, salty and bitter elements
Serve as a condiment for make-your-own tacos or use on nachos or chili
Mince and stir into a cold or hot soup
Spread on crostini with goat cheese or feta
Top or fold into scrambled eggs or omelets
Stir into pan-sauce for scallops or crab cakes
Make a hearty vegetable side dish with roasted vegetables tossed with toasted nuts, a creamy cheese, and sliced pickles
Fold into cooked rice or other grain dishes
Serve with olives, charcuterie and cocktails
Dice and add to tomato sauce for pasta

Mix with yogurt, sour cream, and fresh herbs to make a dip

Add to fruit salsas
The following recipies that were originally published in this article and can be found here:
Almost-Instant Veggie Pickles