On July 3, the sun high over a pristine, electric-green marshland, Deici Cauro was enjoying a quintessential American Fourth of July beach scene. She had just returned from her first clamming expedition in the shallows of Shear Pin Pond – a remote oasis on the tip of Cape Pogue in Chappaquiddick, accessible only via oversand vehicle or boat. Off in the distance, her brother, Daniel Cauro, and cousin Eliud Aguilar had taken off in kayaks, followed by an eager Airedale terrier in a red doggie life jacket.
Legs still wet from the endeavor, Deici pointed to the wire bucket, proudly displaying a sizable harvest of quahaugs. Despite being a novice with a clamming rake, she insisted that her arms weren't sore.
"It wasn't that hard," she shrugged.
She had certainly endured more grueling tasks. Less than a year earlier, Deici, Daniel, Eliud, and another cousin, Jhorman Vasquez, had trudged through the Central American wilderness on foot, a harrowing journey that took several weeks and saw them crossing hostile territories, the infamously dangerous Darien Gap in Panama, and finally the Rio Grande before arriving in San Antonio, Texas, that September. They had fled their home country of Venezuela, leaving young children and other family behind, in search of a way to make a living. Shortly after arriving in San Antonio, they met a woman named Perla, who convinced them and forty-five other asylum seekers to board a flight to a place they had never heard of before – Massachusetts. There, she told them, jobs and housing would await them.
The story of how two chartered planes full of Venezuelan migrants came to land on Martha's Vineyard on a quiet September afternoon without any warning or preparatory resources in place has been told countless times – in local and national papers, on social media, Fox News, CNN, MSNBC, and other major news outlets. Shortly after the news broke, Florida Governor Ron DeSantis took credit for the flights – part ploy, perhaps, to drum up attention for his upcoming presidential run, part an attempt to expose the supposed hypocrisy of "sanctuary states and cities" that claim to welcome migrants but rarely contend with the steady influx of asylum seekers seen in border states. Partly, it was just a political stick in the eye – a jab at the perception of Martha's Vineyard as playground for the liberal elite.
Regardless of the motivation, Deici, Daniel, Eliud, Jhorman and their fellow asylum seekers didn't initially realize they were part of a political stunt. Not when they landed at the airport and were transported to Martha's Vineyard Community Services in Oak Bluffs, where a pamphlet they had been given incorrectly told them they would receive aid. Nor when the first helpers and officials on the scene tried frantically to suss out the situation, calling in Spanish teachers and AP students from the high school to help interpret. Many of the migrants had been too shocked to speak. But as the camera crews and reporters began to arrive in droves outside St. Andrew's Parish House in Edgartown, where volunteers set up makeshift accommodations for them, reality began to set in.
After forty-eight hours at the parish house, then-Massachusetts-Governor Charlie Baker made the call to transport the migrants to Joint Base Cape Cod, which had dorm-like facilities and better access to health and immigration services. From there, many dispersed to immigration appointments or to reunite with family in Boston, New York, or elsewhere around the country. Others remain still in shelters. It looked as if that would be the end of the Martha's Vineyard chapter of this saga – a brief blip in forty-nine individuals' stories that began thousands of miles away. And yet, with no knowledge of English, no family elsewhere in the United States, and no solid idea of where else to go, Deici, Daniel, Eliud, and Jhorman decided to return to the Island. They have remained here for the past year.
Now settled into their life on Martha's Vineyard, word of their continued presence has prompted renewed criticism from mostly right-wing camps, many of whom argue that Governor DeSantis did the migrants a favor by sending them to a wealthy enclave for liberal do-gooders. In that moment on the shores of Chappaquiddick, it certainly looked like they may have a point. But while the four have benefited from the generosity of a small group of Island residents and enjoyed opportunities that their forty-five fellow migrants have perhaps not, the past year has been far from easy.
"They're here because they're survivors," Rachel Self, an immigration lawyer who was deeply involved in the initial migrant response on the Vineyard, said of the four asylum seekers she's come to call friends. "No one did them any favors. They're still missing their families. They've still suffered incredible trauma. They escaped a repressive regime in Venezuela, traveled on foot through some of the most dangerous territory on the planet, and they were taken advantage of by people who claimed to help them."
Self, who has practiced immigration law for almost twenty years, continues to represent several of the migrants affected by DeSantis's flights, but describes her relationship to the four asylum seekers here as strictly personal. In fact, it was her home that Deici, Daniel, and Eliud were visiting over the holiday weekend. (Their cousin Jhorman was away visiting friends in Providence.) Before the two planes landed on the Island where she lives year-round, Self had felt out-of-step with her work while grieving the death of her brother. She's since found a renewed calling, she said, in part inspired by the events she witnessed in those days and weeks since.
"Despite being persecuted repeatedly, they have now put down roots and are enduring because of their own fortitude," she said. "No one will ever be able to take credit for that resiliency except for them."
Looking out across the pond, she watched as Eliud capsized his kayak, his double-pronged oar bobbing next to him as he tried to pull himself back up. "He's never going to get himself back up out there," she laughed, shaking her head. And yet, in a not-so-graceful swoop, Eliud had righted himself.
Back on the shore Eliud, like many others who know his story, said he cannot quite believe how events have unfolded since. "When we got to Texas, I had been hoping that our lives would get better," he said in Spanish. "I never imagined it would end up like this."
When word began to spread last September that two planes of migrants had landed at Martha's Vineyard Airport, Jacqueline and Larkin Stallings, co-owners of The Ritz Café, a raucous bar and live music venue in Oak Bluffs, were some of the first volunteers tapped to help. Drawing upon her Spanish language skills as a Mexican American, Jacqueline served as translator between the stranded asylum seekers and the Island officials trying to give them care.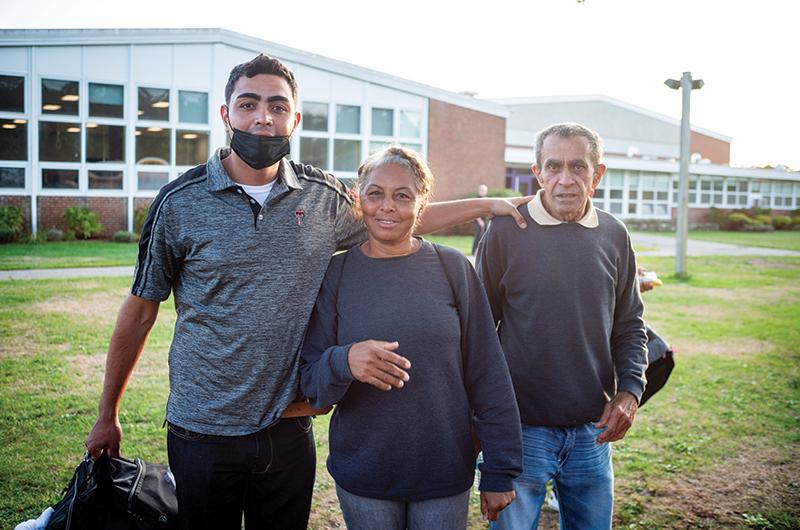 Deici was one of the first people she spoke to at St. Andrew's Parish House that night. "Some people you just click with," Jacqueline said one summer afternoon on her porch in Vineyard Haven. "It was just an immediate connection."
The group was being divided by gender to get ready to sleep, and Deici was adamant that she not be separated from her brother, Jacqueline said. She exchanged phone numbers with the family and continued to stay in touch via WhatsApp throughout their stay on the Vineyard and at Joint Base Cape Cod. When the asylum seekers were moved off Island, Jacqueline and Larkin visited them to see the accommodations for themselves.
"After what had happened in Texas, there was a lot of distrust," Eliud said. "From the beginning, they [the Stallings] worked to make sure we were okay."
A few weeks later, back on the Island, Jacqueline received a phone call from Deici, Daniel, Jhorman, and Eliud. "They had made their way on the ferry and were coming back to the Island," Jacqueline laughed. "At the time I was surprised. But then I thought, these people have traveled here across countries. Of course they can figure out how to get on the ferry!"
"They were one of the few people we knew, and we knew there was work," Eliud said, explaining the decision to return to the Island and to call the Stallings. "We were willing to do anything – anything anybody asked."
"They're like our family," he added. "[At the time] we had no idea if we would be able to stay."
The four ended up crashing with the Stallings for two weeks while Larkin and Jacqueline asked around for a more permanent living situation, which even in the winter can feel impossible to come by. "It was tough explaining to them the housing situation here," Jacqueline said. "We can't even find housing for our employees."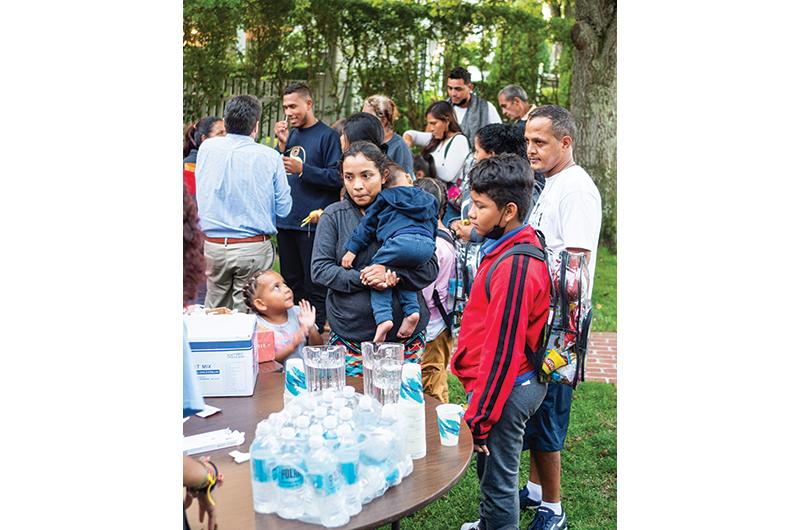 A temporary answer appeared in the form of Island musician Mike Benjamin, who had some winter rentals available at his property at the old dairy co-op in Edgartown that he was willing to let them have at a discounted price. It was the only option available that allowed the family to live together, Larkin explained.
Settling into the Vineyard off-season, their lives that fall were the closest thing the four had felt to normalcy in several months. Larkin and Jacqueline hosted "the kids" in their home many times, from holiday dinners to pizza nights. All in their mid-to-late twenties, they are around the same age as the Stallings' children and share many of the same generational quirks.
"We'll be eating dinner one moment and then the next moment they'll all be on their phones," Larkin said. "They're very Gen Z."
During quiet weeknights at the Ritz, Eliud, a talented percussionist, sat in with Benjamin and his bandmate, Jodie Treloar. It was there that Eliud, once besieged by press vans and cameras, could slip into the background of the bar's wood paneling, his soft, rhythmic patter falling on the ears of just a few locals.
Benjamin also took the men out on his boat in Menemsha Harbor to fish for bonito – a notoriously elusive species even for experienced fishermen. Eliud, Jhorman, and Daniel had never been fishing before.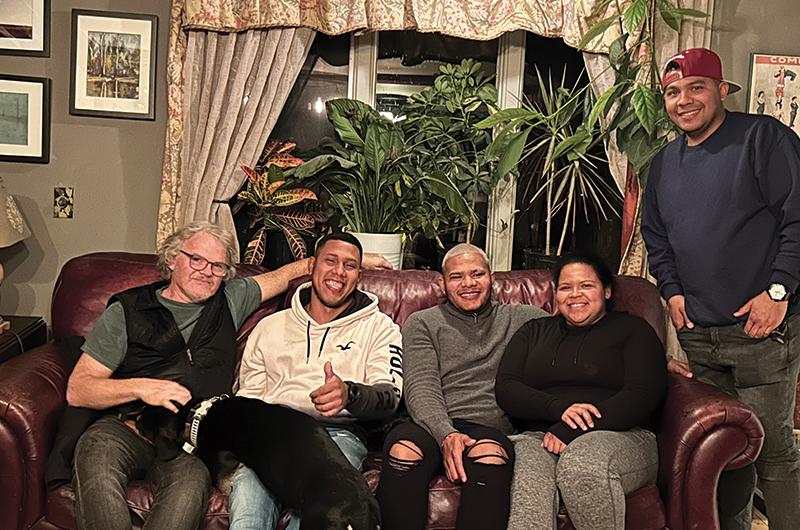 "I caught one this size," Eliud said, holding his fingers about six inches apart.
"That's a black bass," Benjamin smiled. The bonito had lived to see another day.
In November, they attended Thanksgiving dinner at Self's house on Chappaquiddick, trying whole roasted turkey and cranberry sauce for the first time. They returned to Chappy during a deep winter freeze in February – their first taste of true New England winter.
"We had a big sleepover," Self said. "We watched Top Gun and listened to '80s music."
"They knew all the words to 'Take On Me'," she added.
"I couldn't believe it." One particularly cold, rainy night this winter, the four gathered in the Benjamins' main house to have dinner with the family and, speaking in Spanish – as they did in all their conversations with the magazine – began to open up about what they endured, and the people who they had to leave behind. Deici, Jhormun, and Daniel arrived late straight from the English class they had been attending after work three nights a week. Benjamin's rescue dog, Cowboy, greeted them at the door, licking their fingers.
"Leaving your country – your culture – is one of the most difficult things you can do," Eliud said. "To leave your spouse, your kids, your grandmother…your community…the only life you have ever known.
"The life that I thought existed did not exist." Although their reasons for leaving were myriad, the root cause likely began in 2014, when the collapse of global oil prices threw oil-dependent Venezuela into an economic tailspin. Anti-government protests erupted a year later, and by 2015, an estimated 3.4 million Venezuelans had fled the country. In 2018, Deici, Daniel, Jhorman and Eliud joined the exodus, emigrating to Peru and taking on whatever work they could find. The family moved back to Venezuela in 2021. It was a decision the four still regret deeply. Less than a year later, they left again.
"Why did I ever go back to Venezuela," Deici exclaimed, shaking her head. "What the hell?"
As life in Venezuela became increasingly restricted, they made the difficult decision to leave their country – and their families – behind once more. In August, they embarked on their weekslong journey toward Texas.
"It was very ugly," Daniel said of their trek through Central America. "There's thunder above your head. Your feet hurt, every part of your body hurts, the rain's pouring down, and you're so tired but you can't stop. You don't have an option.
You just have to keep going."
He went on to share stories of the children who joined the journey, some as young as two years old. He watched a dog die after drinking a can of Red Bull by mistake, he said, and suffered painful rashes from the weeks spent in the damp jungle without a fresh change of clothes.
Eliud had left behind his girlfriend, a child, and his grandmother, whom he still calls and sends money to when he is able. Daniel had left behind a wife and two children: Daniela, eight, and Reynaldo, two. The youngest, he said, is still too young to understand where his father has gone.
"He just knows that I'm traveling," he said, his eyes beginning to take on a misty lacquer. "He always asks, 'When will Dad be home?' and we just tell him that I'm traveling. I don't know how much longer until he starts to understand. He's very smart for his age."
"We're lucky to be alive," he added. "There were people who didn't make it. Many people died."
In many ways the four have also been lucky compared to most asylum seekers' experiences in the U.S., having received an unusual amount of attention on the Island and beyond.
In March, they were featured in the short film Waiting to Continue: The Venezuelan Asylum Seekers on Martha's Vineyard, about the migrants' first forty-eight hours on-Island and the community response that ensued. The film, produced by local nonprofit Circuit Arts, premiered at the opening night of the Martha's Vineyard Film Festival at the Grange Hall in West Tisbury. Deici, Jhorman, Daniel, and Eliud were guests of honor, sitting front row in the theater.
"It touched me deeply because I lived it," Eliud told the audience through a translator. "All the memories came back…in that moment it was hard, but it was astonishing to see the support we received."
Later that spring, the four were honored again when they graduated from the first level of their English Language Learner (ELL) class at the Martha's Vineyard Regional High School. Three nights a week from January until April, they attended classes, learning the basics of English vocabulary and grammar.
"I can't do anything in this country until I learn English," Deici said with a laugh. "That's step one."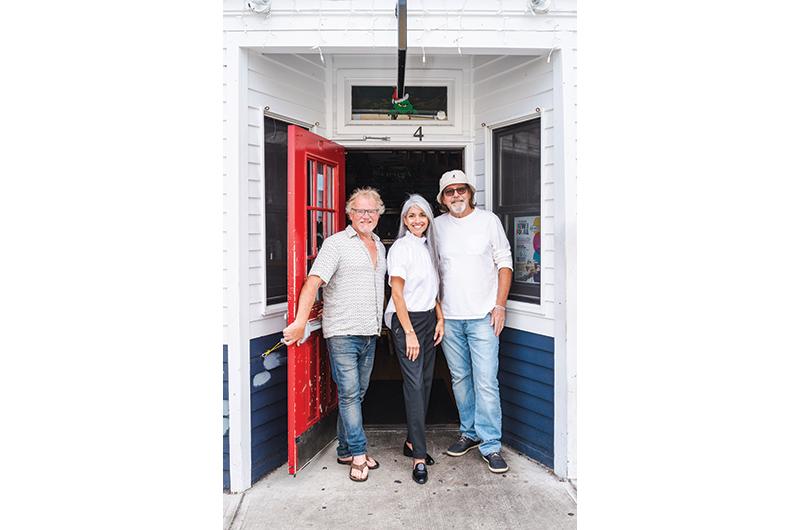 In late June, they were the subject of a New York Times profile, renewing national interest in their story.
The spotlight that was thrust on them has helped them forge connections and opened doors that aren't readily available. Even the four's tenuous living situations set them apart from many other Island immigrants and even multi-generational residents who can no longer find available housing, affordable or otherwise, on the Island. As year-round housing becomes more and more scarce, it's increasingly common for workers to commute from Falmouth and other parts of the Cape.
And yet the four have also had to navigate the negative aspects of such attention, concerns that they had an unnecessary leg up compared with fellow migrants, and the fallout of being lied to. Both Daniel and Eliud said they haven't gotten over that sense of betrayal.
They've muddled through those circumstances on an Island that has almost no existing Spanish-speaking immigrant community to provide support. In fact, Spanish-speaking immigrants are so rare on the Island that their English teacher, Catherine Doiron, said they are the only Spanish-speakers in the adult class she began teaching this year. Prior to taking on adult classes, Doiron worked as an ELL instructor at the Edgartown School, where 40 percent of students speak a first language other than English. On the whole, Portuguese-speaking Brazilians constitute 20 percent of the Island's year-round population.
For her part, Doiron said she never approached Deici, Jhorman, Daniel, and Eliud's education any differently than she would with her other students. "You have to be aware or ready to back off, or be aware of trauma," she said. "That isn't limited to high-profile legal cases. Some of the students at our school have come here under similar circumstances."
She also observed similarities in their primary languages. "There are enough similarities between Portuguese and Spanish that if they slow down a bit and make accommodations…they could understand a good portion of it," Doiron said. "They ended up being friends with everyone in the class."
Doiron said she emphasizes practical vocabulary when teaching adults – things to buy at the store, words and phrases you'd use at the job site. But while the emphasis in the classroom is on students' current situations, the four are also finding the words and opportunities to look toward the future.
For the past year, most of their time has been spent working odd jobs in landscaping and construction to make rent and send money back to their families in Venezuela. Even though they had the legal right to remain in the country, they did not have the license to work. In the United States, individuals seeking asylum must wait 180 days before applying for a work permit, and applications have been known to take up to seven months to process – if they're accepted at all. All told, asylum seekers could wait up to a year before they can legally work, leaving an already vulnerable class even more vulnerable to exploitation.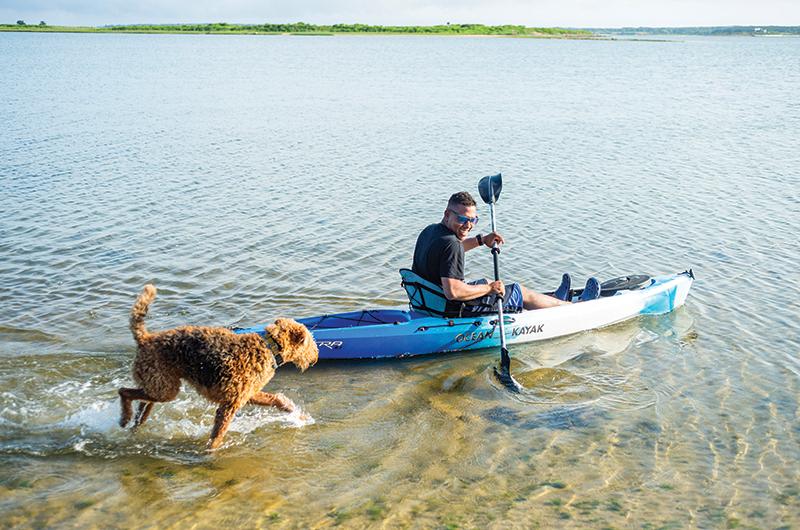 If all goes well, however, the four should be receiving their work permits this fall, and they've tentatively begun mapping out their career plans. When Deici was living in Peru, she worked as a caretaker to a child with disabilities. Back on the porch on that July summer day, she imagined what her life might look like in the coming years. "I'd like to one day go to school and study childhood development and learn more about kids with autism and other special needs," she said.
Daniel had spent eight years working as a cheesemaker back in Venezuela. Last fall, he took advantage of the Island's ample agrarian community and volunteered to work in the creamery at the Grey Barn, a Chilmark dairy farm, for a day.
"I would love to do something like that here, if the opportunity presented itself," he said. "It's my passion."
Eliud is still holding out hope that he can continue to play music, even if it's just as a part-time gig. "Many people who have gone through similar circumstances, they let their motivation die," Eliud explained. "I've been playing music my whole life, but it's a very difficult way to make a living."
He paused for a moment and smiled.
"But it's not impossible," he said. "It's not impossible."
As for Jhorman, Larkin Stallings laid out his own expectations for the man he said gets along with everyone.
"That man is going to be president one day," he said.
As dinner time approached and the sun dipped over the Chappaquiddick shoreline, its golden light casting long beams over the dunes, Deici, Daniel, and Eliud opted to return to the water one last time. Self, about to go inside and make linguine with clam sauce, watched from the banks as Eliud and Daniel climbed into kayaks and took off farther into the pond. Eliud had seemingly recovered from his fall earlier that day.
"They've done it once and now they're experts," Self said. "That's just how they roll."
A few days after Deici, Daniel, and Eliud's beach day, Californian and Texan officials sent a letter to the U.S. Attorney General calling for a federal investigation into Governor DeSantis's migrant flights. A plane much like the ones chartered from San Antonio to the Island last September had landed in Sacramento this past June, prompting California Governor Gavin Newsom to call DeSantis a "small, pathetic man."
Like most legal matters, progress is slow-moving, meaning the victims of those flights could wait years before any justice is served.
The four on Martha's Vineyard, however, have other, more immediate concerns. Since moving out of the dairy co-op this past spring, they have stayed in an Airbnb on Chappaquiddick, bunked at the Stallings' home for another few weeks, and finally found a longer-term rental in Vineyard Haven through October, at which point they will have to find winter housing once again. It's a familiar experience for many on the Island who could never hope to afford the $1 million median home price.
And although it may look like an itinerant existence to some, for them, it's the closest thing to home they've felt in a while.
"We passed through eight countries not knowing anyone, not getting help from anyone," Eliud said. "Here, we made friends…we found a community."