Best Beach: Lambert's Cove Beach
Lambert's Cove Road, West Tisbury
Runner-up: Lucy Vincent Beach
South Road, Chilmark
If you don't like big waves, but you do like soft sand, calm waters, beautiful views of the Elizabeth Islands, and a family-friendly atmosphere, you'll love voters' top beach pick: Lambert's Cove in West Tisbury. At Lucy Vincent Beach in Chilmark, the clay cliffs might be the main attraction, but a dip in the ocean is certainly a plus. Both require a valid pass to enter during the summer months.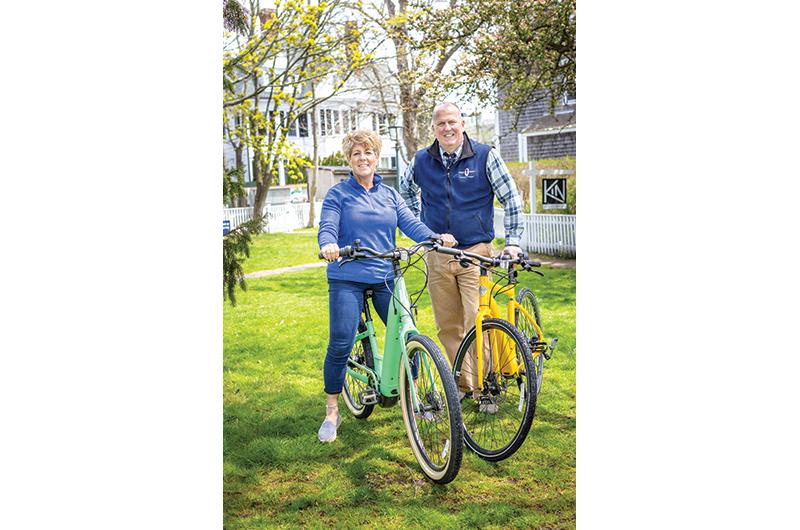 Best Bike Rental/Shop: Wheel Happy
8 South Water Street, Edgartown, 508-627-5928, wheelhappybicycles.github.io
Runner-up: Edgartown Bicycles
212 Upper Main Street, Edgartown, 508-627-9008, edgartownbicycles.com
Bicycle races are coming your way, so forget all your duties and head to Wheel Happy. Whether you're looking to buy, rent, or get your two wheels repaired, this is the place. On top of rentals and gear, Edgartown Bicycles has a website that shows maps of all the best biking routes.
Best Fishing Charter: Skipper/Vineyard Sound Charters
Slip 74, Oak Bluffs Harbor, 508-693-1238, mvskipper.com
Runner-up: Tomahawk Charters
Menemsha Harbor, 508-645-3201, tomahawkcharters.com
Skipper captain John Potter and his trusty crew provide an unforgettable Island experience while on the hunt for scup, fluke, and black sea bass. For Captain Buddy
Vanderhoop of Tomahawk Charters, who leads private charters out of Menemsha, fishing is a sport for all ages.
Best Nature Walk: Cedar Tree Neck Sanctuary
Obed Daggett Road off Indian Hill, West Tisbury, 508-693-5207, sheriffsmeadow.org
Runner-up: Felix Neck Wildlife Sanctuary
100 Felix Neck Drive, Edgartown, 508-627-4850, massaudubon.org/felixneck
Think of it as one-stop walking: Cedar Tree Neck has all the hallmarks of up-Island beauty combined in a single property. There's a stunning shoreline, stunted American beech trees, and a rocky stream that runs to the sea. Felix Neck offers miles of trails through woodlands, meadows, salt marshes, and shore.
Best Place to Kayak: Sengekontacket Pond
Runner-up: Edgartown Great Pond
Sengekontacket isn't just a picturesque pond; it's the ideal setting for a memorable day or evening paddling trip. Circle Sarson's Island while identifying the birds that inhabit it, or watch the moon rise over the pond's waters. Edgartown Great Pond is home to eelgrass, bass, and bluefish, and its shoreline serves as a spot for piping plovers and nesting terns, all best viewed from the water.
Best Sailing Charter: The Black Dog Tall Ships
20 Beach Street Extension, 508-693-1699, theblackdogtallships.com
Runner-up: Catboat Charters
1 Dock Street, Edgartown, 508-524-6903, catboatcharters.com
Sail into maritime history with a day trip, sunset sail, or private charter aboard the Black Dog's tall ship, Alabama, which leaves out of Vineyard Haven Harbor. For a traditional and memorable Edgartown experience, book a trip on Catboat Charters' Tigress, a restored 1927 catboat.
Best Summer Camp: Camp Jabberwocky
200 Greenwood Avenue Extension, Vineyard Haven, 508-693-2339, campjabberwocky.org
Runner-up: The FARM Institute
14 Aero Avenue, Edgartown, 508-627-7007, thetrustees.org/tfi
Camp Jabberwocky, which turns seventy this year, is more than a sleep-away camp for people with disabilities; it's a treasured Island institution known for appearances in the July 4 parade and sold-out musical theater mash-ups. At the FARM Institute, young farmers tend to barnyard animals and take part in agricultural learning activities.