Best Dentist: Hélène Schaeffer of Island Dentistry
23 Airport Road, Edgartown, 508-696-8426
Runner-up: Annie Le of Amity Dental
258 Edgartown– Vineyard Haven Road, Edgartown, 508-687-9752, amitydental-mv.com
Dr. Hélène Schaeffer is passionate about keeping her patients' incisors in top shape. It's no wonder she frequently nabs the top prize. Dr. Annie Le knows how to build a bridge, craft a crown, and make her patients smile.
Best Doctor/ Nurse Practitioner: Beth Donnelly, MD
Runner-up: Julia Stunkel, MD
Martha's Vineyard Hospital, 1 Hospital Road, Oak Bluffs, 508-684-4500, mvhospital.com
Real superheroes wear white coats. This year's number one healthcare hero is Dr. Beth Donnelly, an internal medicine practitioner who works tirelessly to give her patients the best care possible. Dr. Julia Stunkel specializes in family medicine and is loved by all her patients, especially children.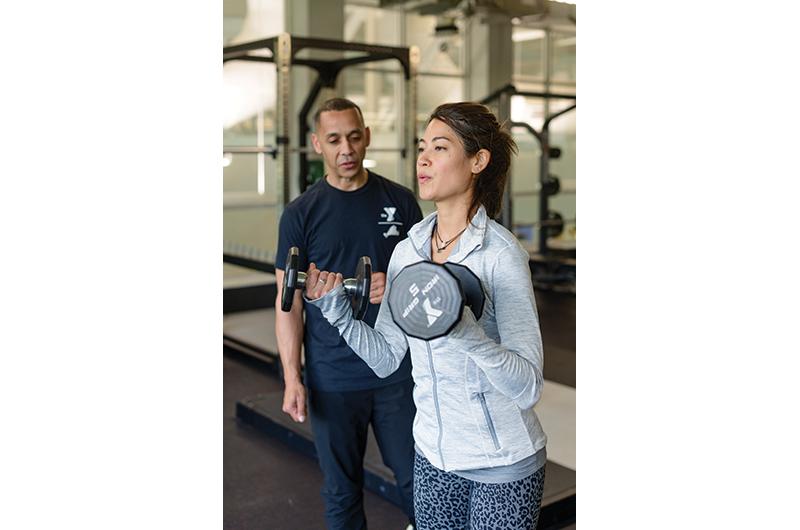 Best Fitness Center: YMCA of Martha's Vineyard
111R Edgartown– Vineyard Haven Road, Oak Bluffs, 508-696-7171, ymcamv.org
Runner-up: Mansion House Health Club
9 Main Street, Vineyard Haven, 508-693-2200, mvmansionhouse.com
Picking a workout at the YMCA is hard – there are just so many options. You could swim in the pool, enjoy a game on the basketball court, or partake in a yoga, barre, or kickboxing class. Feeling especially energetic? Try them all. The Mansion House offers a pool, gym equipment, and classes, plus a sauna.
Best Hair Salon: Maggie's Salon
31 Beach Road, Suite 104A, Vineyard Haven, 508-693-2875, maggiessalon.com
Runner-up: Circuit Style Salon
47 Circuit Avenue, Oak Bluffs, 508-693-7542, circuitstylesalon.com
Owner-operated Maggie's Salon wins rave reviews from voters every year, thanks to a roster of experienced stylists and a full list of color, cut, and texture services. Plus, the phone number is easy to remember: 508-693-CURL. Circuit Style Salon boasts legions of loyal fans.
Best Mani/Pedi: Caleen's Day Spa
31 Beach Road, Suite 103, Vineyard Haven, 508-693-2898, caleensdayspa.com
Runner-up: Hollywood Nails
13 Union Street, No. 2, Vineyard Haven, 508-696-6197 40 Circuit Avenue, Oak Bluffs, 508-338-2482
Come for the polish, stay for the pampering at Caleen's Day Spa. Owner Caleen Abraham and her team can pull off any shape, style, or shade with a long-lasting finish. Hollywood Nails offers flawless mani- pedis in every color of the rainbow at two convenient locations.
Best Massage Therapist: Pamela Williamsof Unalome Bodywork
20 Surveyor's Lane, Unit 102, Vineyard Haven, 570-772-6588, unalomebodywork.com
Runner-up: Allyson Cook Metell of Allyson Cook Metell, LMT & Associates
Woodland Center, 455 State Road, Vineyard Haven, 508-696-1863, allysonlmt.com
Gone are the days of stressing out and feeling physically uncomfortable. Book a massage with first- place winner Pamela Williams to escape from reality and be cured of your everyday aches. Allyson Cook Metell specializes in a variety of techniques, such as deep tissue, pregnancy, and sports massage.
Best Yoga Studio: The Yoga Barn
1 Red Barn Road, West Tisbury, mvyogabarn.com
Runner-up: Hot Yoga MV
497 State Road, West Tisbury, 774-327-1287, hotyogamv.com
There's no better way to downward dog than in the Yoga Barn's studio overlooking a picturesque up-Island field. Book your classes early – spots are in demand. Hot Yoga MV gives a whole new meaning to the phrase "sweat equity," helping you build muscle and improve flexibility in a sauna-like environment.