If you've spent any amount of time on the Island, you've probably compiled a list of favorites. Me? I've got a preferred sandwich, beach, farm stand, plumber, electrician, bakery,and two categories of restaurants – one where I go to tithe my paycheck,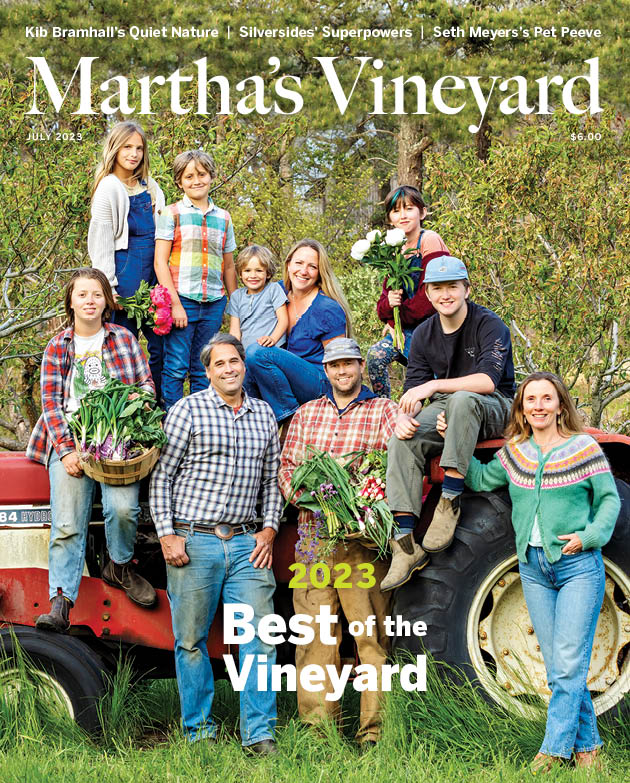 another that serves what qualifies on this Island as an inexpensive meal. If I were to declare magazine martial law, I could probably award all ninety-seven Best of the Vineyard categories based solely on my predilections and personal experience.
I have all sorts of favorites for which there is no prize too: a favorite place to avoid July crowds, a favorite dog-walking trail, even a favorite roadside view. The latter is a blink-and-you'll-miss-it section of Aquinnah where the road dips and rises again until a few homes jut from the trees. On the right, vines tumble toward the Sound.
I had been coming to the Island for several years, visiting the home of my future husband, when I first encountered the sight. We were recent college graduates then and spent our days biking through the state forest and hitching into town. Nights were spent at house parties down long dirt roads or lighting bonfires on the beach. I enjoyed the Vineyard – I certainly had a lot of fun – but I didn't know it well. I likened its winding roads to my hometown in Connecticut. I didn't entirely intend it as a compliment.
The late artist Richard Lee, a close family friend, could tell. Sensing that I was missing out, and that my husband wasn't the best tour guide, he took it upon himself to show me what he loved most about the Island. We hopped into his old BMW convertible and headed to West Chop to gawk at the stately manors and gargantuan new builds. We checked out the lighthouse and overlook, sure, but Richard was equally excited to show me Groomingdales, where he took his aging Shih Tzus to be bathed. The name of the business always made him laugh.
Our routine continued over several weekends, to East Chop and Edgartown, onto West Tisbury, until one sunny day we made our way to a beach in Aquinnah. "This is still the Vineyard!?" I exclaimed as we crested the hill, the view spreading around me.
I return to this memory every year as we prepare the July issue. For me, it symbolizes what the Best of the Vineyard awards are all about. The Island is not one thing: it is up and down, fast and slow, casual and cosmopolitan. It is rows of candy-colored houses with ornate Victorian trim and deep green woods with bittersweet vines twisting in the trees. It is the upscale boutiques of Edgartown, and the West Tisbury Dumptique, and the Vineyard Haven pet salon with a funny name. It is big and small in the best of ways, filled with businesses whose owners we know and successes we cheer.
There are so many wonderful choices, in fact, that your personal best-of list might have little in common with that of a friend or family member or even this year's results. The numbers bear this out. Each year, those of us who work behind the scenes to oversee the contest marvel at the sheer number of nominees – nearly 3,000 in total. Did you know that voters recommended forty-one cups of coffee, from the artfully drawn lattes at Behind the Bookstore in Edgartown to the buck-a-cup stuff at Cumberland Farms in Vineyard Haven? Want sushi? You have eleven choices, including those pre-packaged options at Stop & Shop that some agent of chaos always champions.
As you flip through this year's awards, take a moment to appreciate all the winners – the people who keep our cars running, our gardens humming, and our bellies full of lobster rolls – as well as the many nominees who haven't yet mastered the electoral college. The polls are now open for next year's competition, so cast your vote and rally supporters. Democracy – at this magazine, at least – is alive and well.