During the fishing season you'll have to book early to hook the big one known as Captain Scott McDowell. One of the deans of the Island's charter fishing community, he's the fin finder that sport fishermen across the Island want at the boat's helm, especially during Derby season. Setting out on any given morning from Menemsha, his North Shore Charters clients bring in bluefish, striped bass, or tuna. According to his own calculations, he has been charter fishing longer than anyone else on the Island, which makes him a kind of twenty-first-century Captain Quint.
But in the off-season, McDowell doesn't put his feet up for a rest or head to the Cayman Islands. He slips happily back into a full-time existence as a metalwork artist – the practice that originally brought him to the Vineyard.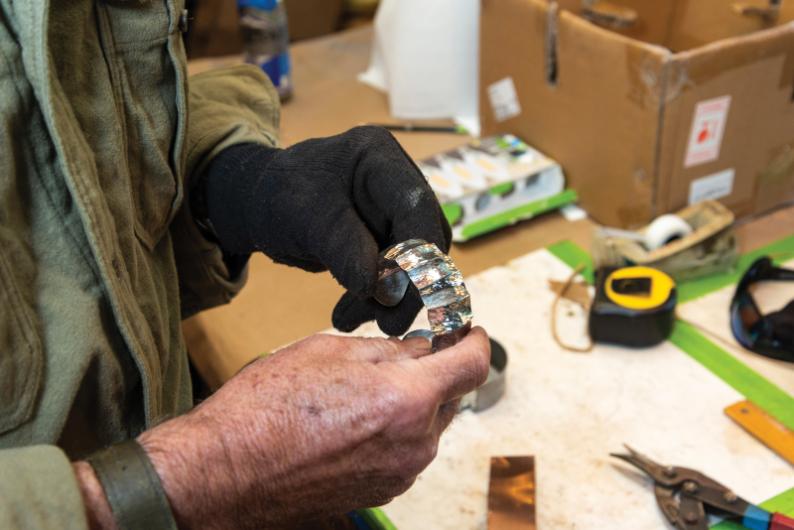 "It all started with something to make. I've always made things. I'm happy making things," he said on a wintry afternoon in his Menemsha Basin studio and gallery, surrounded by tools, sheets of metal, work benches, and works-in-progress.
McDowell is a self-taught artist from a family of artists – his mother, father, and stepfather were all painters. In the 1960s he was living in Nyack, New York, near the Tappan Zee Bridge, when he began working with metals, creating silver bracelets and necklaces. One of the mallets he continues to use dates back to 1966, when he was working from a desk in his bedroom – a desk that became the workbench where he eventually taught himself to solder.
During a vacation to the Island in 1971, like many others of his generation, he decided to stay. He worked in downtown Edgartown, repairing jewelry, before buying the store and selling works made by him and a friend from New York named Gino Powell. Handmade artisan leather goods and jewelry were popular, particularly on the Island where so many creative people expressed themselves through the unique ornaments made here. McDowell recalls that his silver bracelets, cuffs, and bangles sold like hotcakes.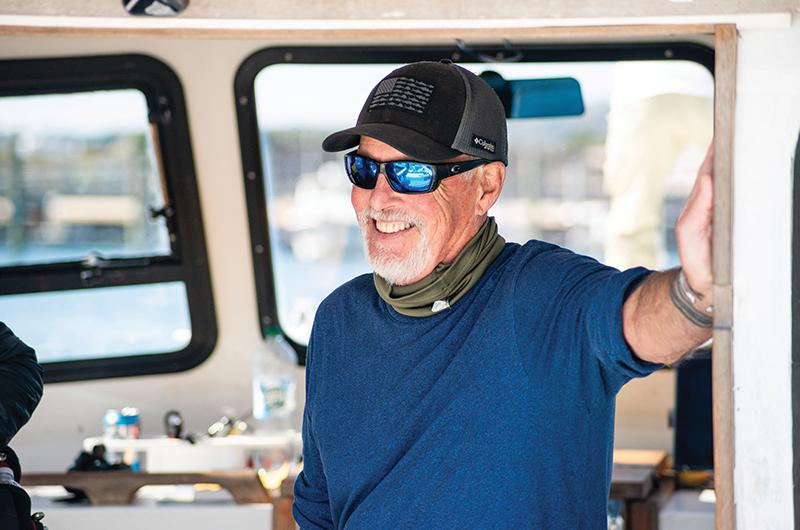 But it turned out jewelry making wasn't lucrative enough to make a year-round living, so McDowell shifted the focus of his livelihood to carpentry and then construction. It was a time just before the Island's mid-80s building boom and most projects weren't built with the large crews and quick time frames that now dominate the market.
"During the winters back then, you had to have a hammer, holster, a dog, and a pickup truck," he recalled. "That was the only way to make money. I'd work for people and then I would always hang with the old-timers, who taught us young guys what to do. Right away, I just picked it right up."
One of his first jobs was constructing a house on Abel's Hill in Chilmark for builder Spencer Hilton. "It paid $2.25 an hour – plus, he took taxes out. So, I think I was making about $18 per day. That was just enough to go down to The Ritz and get a pitcher of beer with your buddy. You'd down the pitcher of beer, go home, eat something cheap, then get up and do it again," he remembered.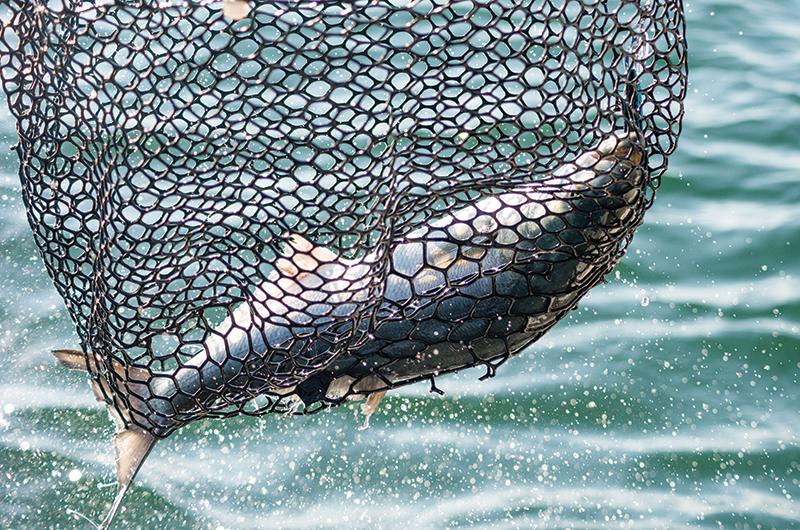 "It was a very different time. You didn't have to pay rent. You could just stay in people's houses because they wanted caretakers to keep an eye on things. If you paid rent, you paid about $100 a month. Which, back then, was tough."
McDowell's finances changed when he began working on his own as a contractor. He was hired to build the Edgartown Post Office structure at the Triangle, but his heart wasn't in the construction business. He'd gotten the fishing bug, and in the early 1990s he started his charter business, specializing in trolling for big bass and blues inshore or heading offshore to deeper water for tuna, marlin, and sharks.
But he always continued creating art. Perhaps not coincidentally, as his fishing business grew, his art became steadily more nautically influenced. He became known for copperworking, in particular for the copper fish that have since become his signature. His pieces got a boost in the mid-2000s when they were spotted by actor Robert Redford. The actor's Sundance catalogue business, as well as another home goods catalogue called North Style, ordered his copper trout. In total, McDowell created about 2,500 pieces for the two companies, which took him three seasons to make. They sold out quickly.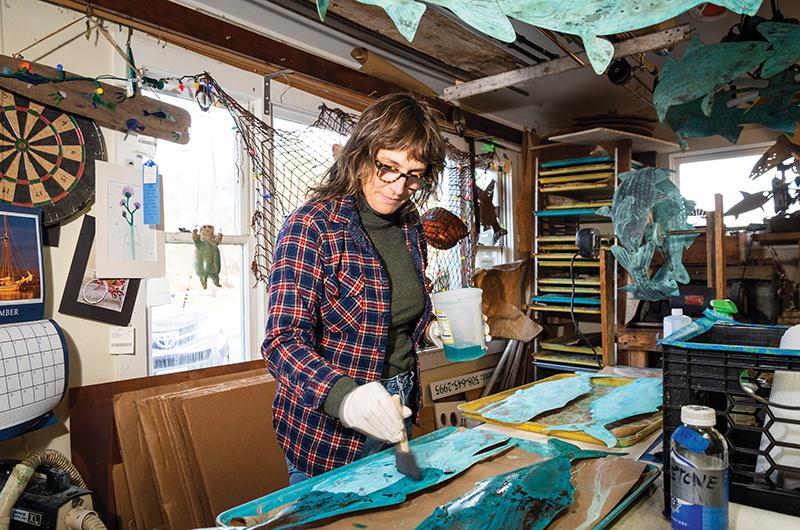 Mostly, though, he sells his pieces directly from The Copperworks, his gallery and workshop on Basin Road in Menemsha, which is where he can usually be found if he is not on the water. The low-slung building is nestled alongside the Chilmark Chandlery, and after the death in February 2022 of the Chandlery's owner and Chilmark fixture Everett Poole, McDowell said the Copperworks became "the social thing in town" for the winter months.
The Copperworks combines an art gallery with antiques and cases of jewelry featuring silverwork by McDowell, such as bracelets in various shapes, sizes, and designs, as well as the work of other local artists. The gallery is curated by Annette Cingle, McDowell's partner in art, business, and life, and who is a popular charter boat fishing captain in her own right, operating Annalee Charters from the slip next to McDowell's Lauren C. They share the metal shop on site and together create the maritime copper sculptures, wall sconces, and light fixtures that are in high demand. Wall sconces tend to be fashioned as a single creature – a squid or mermaid, with their elongated tails, are the perfect shape for this purpose. Chandelier-style hanging fixtures are typically composed of four to six fish, such as striped bass or cod, joined together in a circle, almost as though they are eating each other's tails.
McDowell begins his pieces by choosing the fish or creature he wants to depict. Though he has seen many varieties pulled into his own boat, he uses pictures and illustrations that can provide the needed detail. Tisbury Printer blows up the photos to the size he wants, which gives him a template he can work with to create a pattern from particle board or cardboard. These are placed onto flat sheets of copper. McDowell traces the fish onto the metal, which he then cuts with shears, marking out the gills, gill plates, and fins. According to Cingle, who has seen McDowell create an ocean of fish, once he starts cutting the copper, he never stops until the entire shape has been cut and he can pull the whole fish from the flat sheet.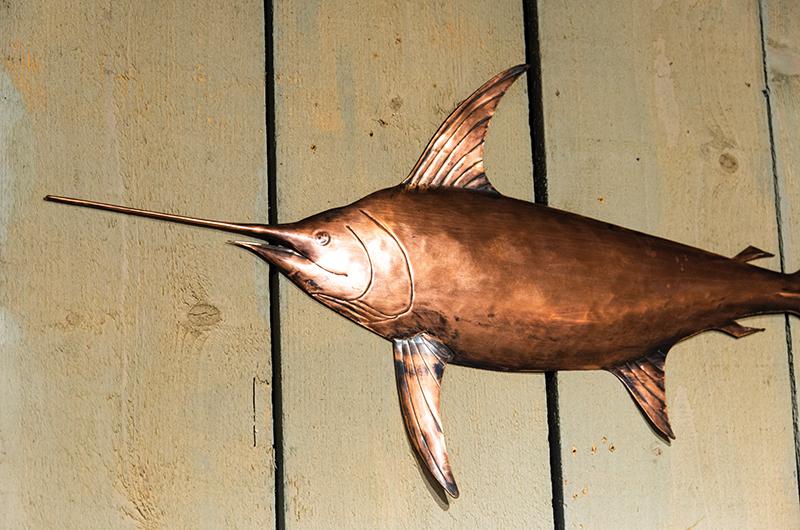 Perhaps surprisingly, given that they are a freshwater species, the pike is one of McDowell's particular favorites to create, but in general he likes all of the species he works on. The squid and the horizontal swimming mermaids take the most time because of their intricate tails. When asked how he files the metal's sharp edges without cutting himself, McDowell responds quickly: "You don't."
When he is satisfied with the shape of the work in progress, Cingle takes over. It is she who creates the greenish-blue or brown patinas that are arguably as much a part of the finished piece as the raw form. She scrapes the copper with a wire brush and applies the acid with a paintbrush. Achieving the desired effect can take between five to fourteen days of application, drying, and filling in spaces or adding layers. Applying liquid by spray bottle can add new dimensions. Heat and wax are then applied and set. The results are distinctive, either for the gleaming sheen of golden copper or for the sea-like blue and green veneer that results from the acid wash.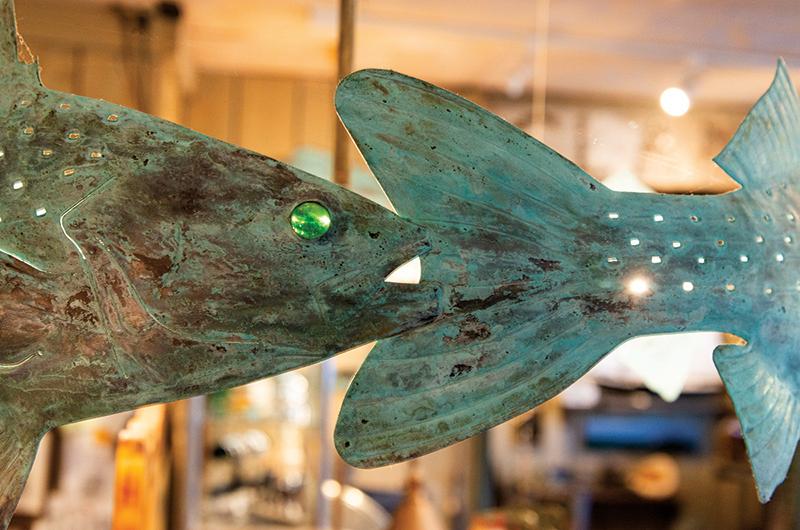 By the end of the winter, as the days lengthen and striped bass and bluefish begin to make their way back up the coast, a veritable school of copper creatures surrounds McDowell and Cingle at the Copperworks. There are stripers and bluefish, mermaids and squid, pikes and permits, all waiting for the arrival of spring and the seasonal migration of customers angling for art with their credit cards.
By the time they arrive in force, chances are good McDowell himself, and quite possibly Cingle too, will not be in the shop. They'll be out at sea, casting for the real thing.