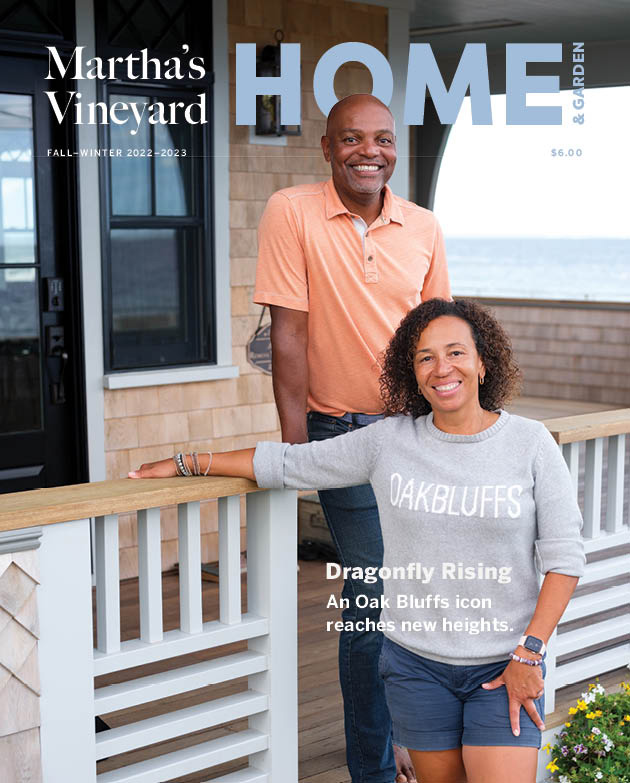 The week of my ninth birthday, my best friend's family rented a house in Ogunquit, Maine, and took me along for the ride. It was a stately house with a second-floor balcony and mahogany curios. If memory and lore are to be believed, it once welcomed the likes of Benjamin Franklin.
That week we spent hours exploring its secrets with large eyes and small hands, filling shelves with beachcombing treasures and tossing flowers off the balcony in a child's interpretation of Romeo & Juliet. We climbed jetties and swam in a wind-whipped ocean. We gorged ourselves on ice cream and picked and ate mussels off rocks.
I've been blessed many times in this life – with a long list of wonderful vacations for one, and a poor memory for another. Yet unlike so many other vacations, that magical week in that dream of a house holds fast in my mind.
It's been many years since I learned that the magic of the Vineyard surpasses Ogunquit, and many years since I made this Island my home. Through it all, I've longed to share a similar experience with my family – to allow them to make their own Vineyard memories, and to understand why I have sacrificed so much to stay here, far from so many of the people I love. But part of that sacrifice has involved the rigors of the housing market, which has seen me bounce from one rental to the next with no spare room. Family visits came infrequently, in the off-season, when an affordable short-term rental could be found.
So when I lucked into a year-long lease this spring at a beautiful home with a generous yard and bedrooms to spare, filled with Island lore and history, and its own bookshelves and curios of delights, I made the call to my family before we had even unpacked our bags.
Over the next few months, plans were drawn, planes booked, ferries wait-listed and rejiggered. I made the beds and mopped the floors and taped a list of attractions to the refrigerator: Things to do if you're bored.
We never were.
For ten days we swam in the ocean and hiked in the woods, grilled bluefish, and went clamming. My nieces, ages five and eight and not yet familiar with Shakespeare, performed interpretive dances to Imagine Dragons songs on a huge tree stump of a stage. We watched fireworks and shooting stars from the beach and entered contests in the Ag Fair – the oldest, following in my footsteps, winning a blue ribbon for best cake. She called it her most prized possession.
We took time to rest when needed, and another day when we didn't need it when a final skimboard run of the day resulted in a sprained – thankfully not broken – wrist and a tour of the Martha's Vineyard Hospital.
We picked tomatoes and flowers in the garden, and blueberries in the woods, and dozens of tick nymphs off the youngest. And we knew, even as it was unfolding, in that way that rarely happens, that these moments were special. That in this gift of a house, for this brief moment in time, memories were being made that would not soon be forgotten.
We talk a lot about Island homes and gardens in this magazine – about properties acquired and improved, and dream houses attained, and which contractors and landscapers aided in the process. We rarely talk about what we're trying to build, and why.
We should. The dream of an Island home is getting harder for so many. We need to remember to speak the important parts of the dream out loud.