Heidi Raihofer, dive instructor and co-owner of Vineyard Scuba, one of the oldest operating dive shops in America, has seen plenty of marine animals in Island waters: "seahorses, stingrays, brown sharks, blue sharks, thresher sharks, dogfish." But the most incredible animal she said she's ever seen wasn't a shark or a whale or a headline-grabbing specimen. It was a shame-faced crab. The size of a roll of toilet paper, the crustacean has claws that fold up to cover its face to complete the tubular shape. She spotted it during a dive in Sengekontacket Pond.
"We have more marine life than people realize," Raihofer said as she led a group of divers through the motions of strapping on tanks, masks, and fins for a trip below the surface of Vineyard Haven Harbor.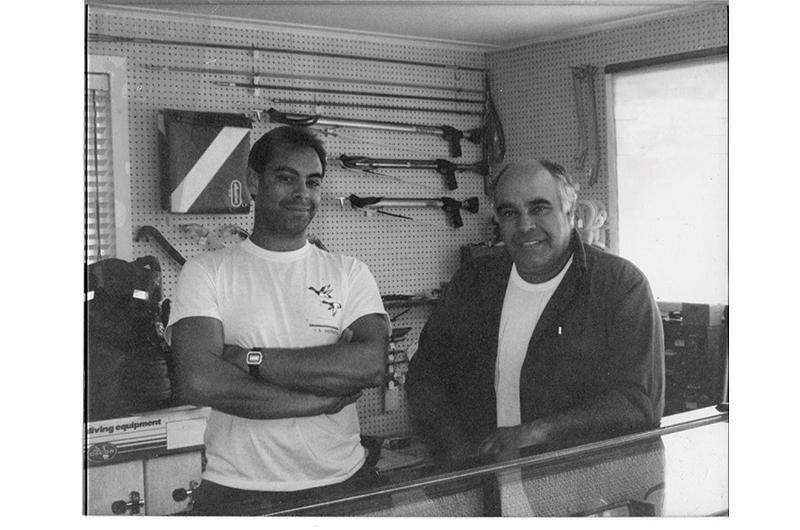 The fact that the shop, located across from Veira Park in Oak Bluffs, has such longevity – or even exists at all – may come as a surprise since the Island is not particularly known as a destination for recreational diving. But in the late 1950s Joe Leonardo Jr., a formally trained hard hat diver from Oak Bluffs – think heavy brass helmets and an oxygen hose running to the surface – came back to the Island and set up shop. In addition to the usual mix of salvage and construction jobs, Leonardo Jr. had previously worked as a safety diver for French explorer Jacques Cousteau's underwater film crew documenting the Blue Hole in Belize, which was once thought to be the location of the lost city of Atlantis. Underwater programs for film crews were relatively new at the time.
Today, the old shop is run by Raihofer and her husband Joe Leonardo III, who started working there around the 1980s when he was in his early twenties. More precisely though, Leonardo III was born into the business. In fact, he was practically born in scuba gear. His father made him his first diving suit when he was only two, and Leonardo III clearly remembers diving beside the seawall by Harthaven beach in Oak Bluffs when he was eight. "I told the other kids at school about my dive trips, but they didn't believe me. So I stopped talking about it and just did it," he recalled with a chuckle.
As an adult, Leonardo III has dived at nine wrecks around the Vineyard. He used to dive with a screwdriver and hammer, which helped him to salvage a grapnel hook from a Navy floating salvage derrick that sunk around Noman's Land in 1957. In the late 1980s he participated in a state survey for the Massachusetts Board of Underwater Archaeological Resources to verify the locations and depths of various wrecks.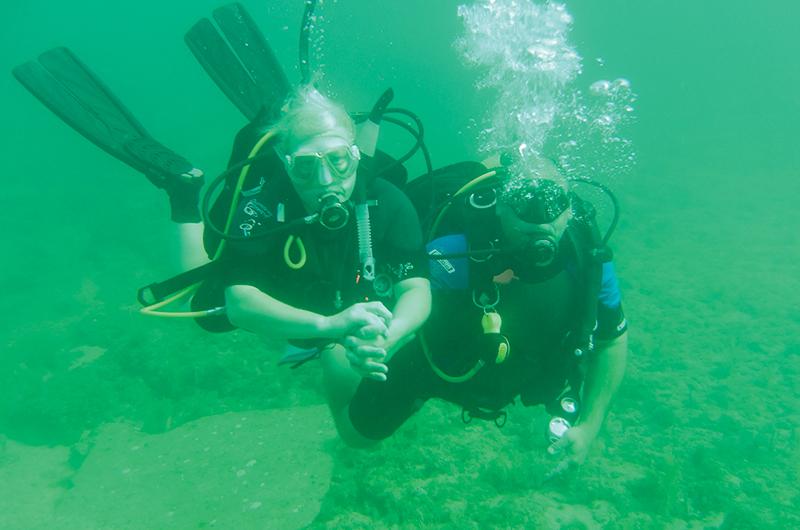 He recalls in particular diving four or five times with a salvage crew on the wreck of the Taussig, a coal ship schooner that sank in 1929 in sixty-six feet of water between East and West Chops, directly beneath the Steamship Authority's ferry lane. "It was really wild hearing what the Islander sounded like," he recalled with enthusiasm of the ferry crossing above them. "It kinda had a chugging diesel sound to it."
Leonardo III still dives, but most of his day-to-day work for the shop now involves managing the inventory of masks, fins, wetsuits, spear guns, and the many rows of air tanks he sells and rents. Dive equipment costs $100 for full gear rentals and $75 for partial gear rentals, such as a cylinder or regulator. Complete gear rentals last for twenty-four hours, which, depending on the person's skill level, could allow them to get in as many as four dives. Leonardo III also maintains the compressors and filters used to pump dry air into dive tanks. The air is first pumped through a filter to dry it, as moist air in pressurized tanks leads to mold growing inside that is dangerous to breathe. "It's like being an astronaut, except you're on Earth," he said over the loud hissing sound of the compressor filling up the air cylinders.
During the past sixty-plus years, Vineyard Scuba has attracted celebrities and customers with unique backgrounds. Notable treasure hunters, including Islander John Potter Jr., who wrote a book on the subject, and Barry Clifford from Wellfleet, Massachusetts, who had a hand in authenticating the first pirate treasure wreck in North America, have visited the shop. As has shark biologist and Discovery Channel "Shark Week" mainstay Greg Skomal. The actor Christopher Reeve made a dive trip with Leonardo III two days after he landed the role of Superman in the 1978 titular film. "I didn't know who he was. He just walked in and told me I was diving with the future Superman," he recalled. Perhaps even a bigger deal than Superman on this Island, it was a tank from Vineyard Scuba that was used for the scene in the 1975 movie Jaws in which Roy Scheider, a.k.a. Chief Brody, blew up the shark.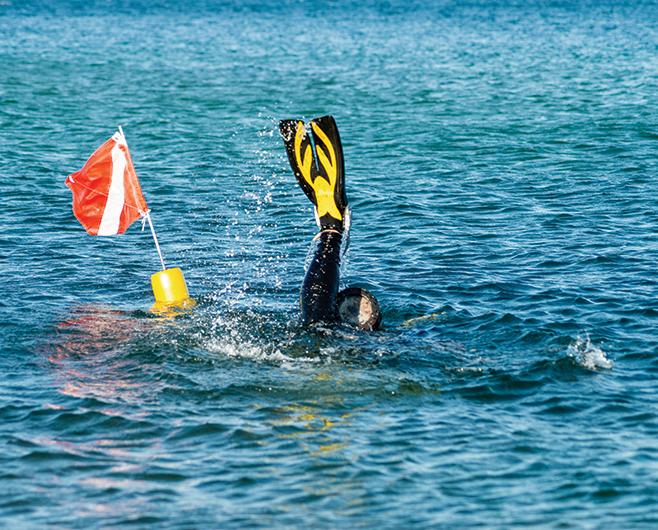 But the person who came into the shop and made the biggest difference in Leonardo III's life was Raihofer. She first began visiting the shop in 1992, the year she received her open water certification, which is the basic level for would-be divers. Though Raihofer grew up in the Adirondack Mountains, it was clear from early on that water was her preferred environment. "My parents couldn't keep me out of the pool or the ocean," she said. "[Diving is] so completely different from land." She soon became a regular at the shop and the two married in 2004.
Over the years Raihofer has dived on nine wrecks around the Island, including the Port Hunter, which sunk in 1918 on Hedge Fence Shoal in Nantucket Sound, and the Herman Winter, which went down in 1944 near the Gay Head Cliffs. Since 2000 she has helped raise six boats for both on- and off-Island crane and salvage companies. For those jobs she dives down to a sunken boat, hooks up rigging, and signals the crew to lift it to the surface. She also performs dock inspections around the Island and maintenance on hulls for ships.
In 2003, she became a certified dive instructor, a process that involved passing exams on dive theory, physics, physiology, decompression theory, and recreational dive planning for equipment, skills, and environment. She also completed more than sixty dives to gain experience in night diving, deep water diving, and underwater navigation.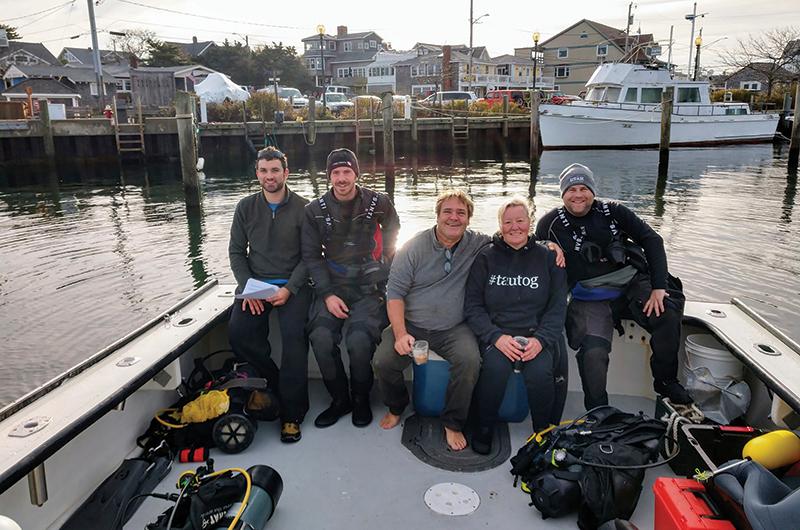 Though she trains divers at all skill levels, Raihofer often takes her novice students out to shallow, sandy water around State Beach no deeper than four feet to practice underwater emergencies, hand signals, and to run through drills on what to do when running low on air or if a mask fills with water. It was a dive training such as this that brought her to Vineyard Haven Harbor last summer, when the wind and current at State Beach were not to her liking for novices.
Visibility was about twelve feet and the group of students swam close together, discovering an abandoned lobster trap, which Raihofer opened to reveal two purple starfish, a couple of mating blue claw crabs, and a bottle partially covered in shells. The waters around Martha's Vineyard are rich in nutrients, she had explained earlier, which allows marine life to thrive but makes for poorer visibility than in, say, the Caribbean. According to Raihofer, visibility varies between six and twenty-five feet depending on the wind and water temperature.
For more advanced divers, Raihofer runs charters for four to six people at a time out of the Oak Bluffs Harbor with Captain Joe Diodati of My Brother Charters. On a clear and sunny day, a group of five, including divemaster Jim Osmundsen, recreational diver James King, divemaster candidate and Raihofer's student Laurie Lavigne, and recreational diver Gavril Lourie, set out to dive on the wreck of the Port Hunter, a coal ship that collided with the tugboat the Covington. About one-and-a-half miles from the East Chop Lighthouse they dropped anchor at Hedge Fence Shoal.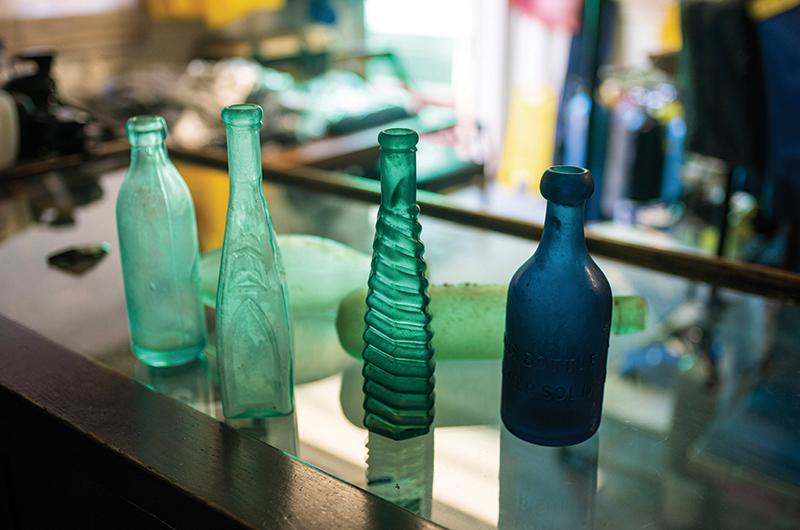 Breathing underwater is like being transported to another dimension. Descending from the charter, the group split in two: Raihofer leading one and Osmundsen the other. Down they went, thirty-five feet to the wreck's bow, regulating the water pressure on themselves by holding their noses closed and breathing into them, causing a loud squeaking sound within the ear. Butterfish, black sea bass, and tautog swam between the wreckage as Raihofer guided her students around the ghostly Port Hunter.
Eventually, the group descended to eighty feet, traveling along the wreck to the large, rusted rudder and propeller shaft down at the stern. Along the way they picked up floor tiles, pieces of coal, and a collection of lures lost by fishermen over the years. The dive lasted about forty-five minutes, with the current picking up toward the end. On the ascent, the two groups bunched together on the charter's anchor line fifteen feet below the surface and held onto the line for three minutes to work the nitrogen out of their bloodstreams and prevent dive sicknesses, such as the bends.
Back on board the boat, rocking in the waves from the boat traffic, everyone shared the treasure collected from the wreck. Nothing precious, just a momento of a brief journey into another world. One was a tile, this one with cement on it, which Raihofer said was a rare find.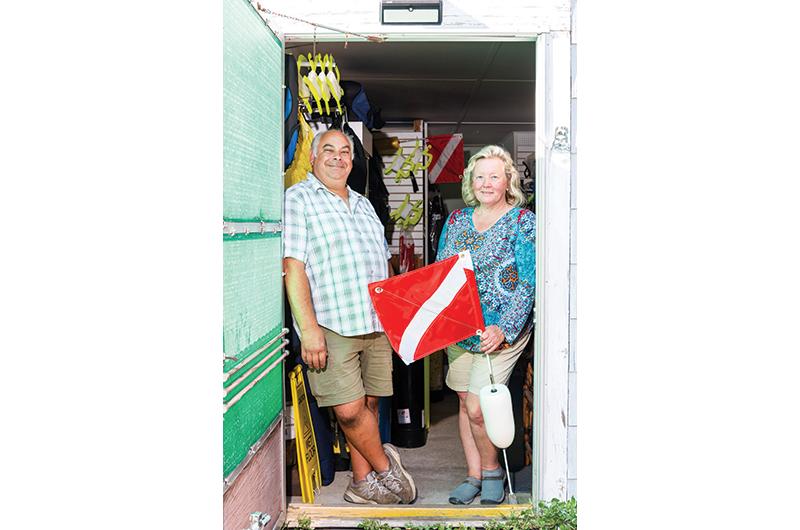 "It varies from year to year between the number of classes and the number of charter trips we take the divers out to the wrecks," Raihofer said. Since Covid, the dive shop has been open only on weekends or by appointment. But while the old shop may be slowing a bit, it's still running and will continue to do so. At their busiest time, Raihofer and Leonardo III arrange one dive charter per week. Recently, the shop has seen an influx of people looking for scuba classes, which has kept them busy with open water dive certifications and divemaster training.
"We love diving, and the dive business will always operate in some capacity," she said, sitting in the front yard of the shop. The air compressor made a loud rumbling sound from inside.
"I love the ocean and being in the ocean," Raihofer said. "It's like a little vacation from land."
Vineyard Scuba is located at 110 South Circuit Avenue in Oak Bluffs, across from Veira Park. For more information, visit facebook.com/VineyardScuba or call 508-693-0288.