Best Dentist: Hélène Schaeffer of Island Dentistry
23 Airport Road, Edgartown, 508-696-8426
Runner-up: Richard McNulty of Amity Dental Studio
258 Edgartown–Vineyard Haven Road, Edgartown, 508-687-9752
Dr. Schaeffer is committed to providing the utmost quality in personalized care, and the proof is in her patients' big, sparkly smiles. Dr. McNulty offers cosmetic, family, and restorative dentistry.
Best Doctor: Beth Donnelly, MD
Runner-up: Aletheia Shannon Donahue, MD
Martha's Vineyard Hospital, 1 Hospital Road, Oak Bluffs, 508-684-4500, mvhospital.com
In a crowded field, Dr. Donnelly's reliability and responsibility to her patients make her the top choice for medical care on Martha's Vineyard. Runner-up Dr. Donahue has earned a
reputation for putting the patient first.
Best Fitness Center: YMCA of Martha's Vineyard
111R Edgartown–Vineyard Haven Road, Oak Bluffs, 508-696-7171, ymcamv.org
Runner-up: Mansion House Health Club
9 Main Street, Vineyard Haven, 508-693-2200, mvmansionhouse.com
If purchasing at-home workout equipment over the past couple of years made you feel like you didn't need to hit the actual gym, take a trip to the YMCA and you'll likely change your mind. With a spacious indoor aquatics center, clean circuit floor, outdoor basketball court, spin studio, and exceptionally friendly staff, the Y makes it effortless to put wellness first. The Mansion House Health Club stands out for its whirlpool, sauna, and steam room.
Best Hair Salon: Maggie's Salon
31 Beach Road, Suite 104A, Vineyard Haven, 508-693-2875, maggiessalon.com
Runner-up: Circuit Style Salon
47 Circuit Avenue, Oak Bluffs, 508-693-7542, circuitstylesalon.com
You'll look and feel your best after a trip to Maggie's, where the eponymous owner and her team of stylists win rave reviews for color, cut, and texture. From mom bobs to neon mohawks, Circuit Style Salon has a stylist that can make your dreams come true. You can book appointments online too.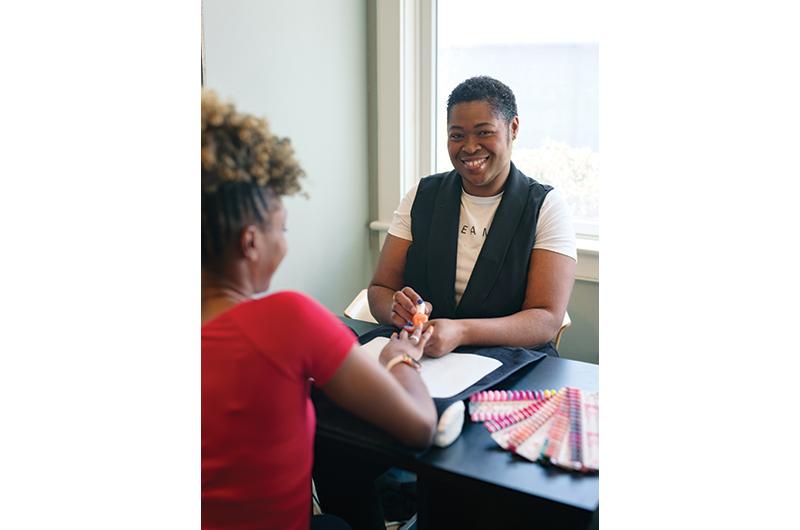 Best Mani/Pedi: Caleen's Day Spa
31 Beach Road, Suite 103, Vineyard Haven, 508-693-2898, caleensdayspa.com
Runner-up: Hollywood Nails
13 Union Street, No. 2, Vineyard Haven, 508-696-6197, 40 Circuit Avenue, Oak Bluffs, 508-338-2482
In a year where bold colors and ombré tips dominated nail trends, Caleen Abraham delivered, and had customers spreading the word about her long-lasting manicures and relaxing pedicures. Nothing but "me time" happens inside Hollywood Nails, but arrive early to pick your color – there are a lot to choose from.
Best Massage Therapist: Allyson Cook Metell – Allyson Cook Metell, LMT & Associates
Woodland Center, 455 State Road, Vineyard Haven, 508-696-1863, allysonlmt.com
Runner-up: Pamela Williams – Unalome Bodywork
20 Surveyor's Lane, Unit 102, Vineyard Haven, 570-772-6588, unalomebodywork.com
Allyson Cook Metell and her team of experienced associates have garnered a devout following for their luxurious massages that allow for a temporary escape from reality. A gift card here is always a good idea. Runner-up Pamela Williams can help with all your decompression needs, including aromatherapy sessions.
Best Yoga Studio: The Yoga Barn
1 Red Barn Road, West Tisbury, 508-645-9642, marthas-vineyard-yoga-barn.com
Runner-up: Hot Yoga MV
497 State Road, Vineyard Haven, 774-327-1287, hotyogamv.com
It's not a stretch to say The Yoga Barn has one of the most beautiful studios on the East Coast. Of course, practitioners also love the professional teachers, who offer classes in a wide range of practices including anusara, restorative, slow vinyasa, and yin yoga. A trip to Hot Yoga MV will leave you feeling strong, powerful, and centered.