Best Beach: Lambert's Cove Beach
Lambert's Cove Road, West Tisbury
(TIE)
Runners-up: Lucy Vincent Beach
South Road, Chilmark
South Beach
Atlantic Drive, Edgartown
When it comes to naming the best beach on Martha's Vineyard, there are no losers, just favorites. This year, the gentle waves and majestic view of the Elizabeth Islands that make Lambert's Cove Beach a perennial family favorite moved this quiet North Shore spot to the top of the list. It's open to West Tisbury residents and visitors with a valid pass. Public South Beach has free parking, well-trained lifeguards, and a younger vibe. Lucy Vincent Beach has the feel of an exclusive restaurant where you go to see and be seen, only in this case you also get to swim. A Chilmark resident sticker is required to enter.
Best Bike Rental/Shop: Edgartown Bicycles
212 Upper Main Street, Edgartown, 508-627-9008, edgartownbicycles.com
Runner-up: Wheel Happy
8 South Water Street, Edgartown, 508-627-5928, wheelhappybicycles.com
Edgartown Bicycles is committed to keeping cyclists of all levels rolling around the Island, whether you plan to rent a bike for the day to pedal to the beach, need to diagnose a problem, or want to purchase a top-of-the-line mountain bike to explore the Island's trails. Family-owned and operated Wheel Happy has what it takes to put all the cyclists in your family on the path to a fun Island experience.
Best Fishing Charter: Skipper/Vineyard Sound Charters
Slip 74, Oak Bluffs Harbor, 508-693-1238, mvskipper.com
Runner-up: Tomahawk Charters
Menemsha Harbor, 508-645-3201, tomahawkcharters.com
The Skipper with Captain John Potter at the helm is your passage to a genuine, fun-filled Island experience. Catch scup and black sea bass with a crew that shares your enthusiasm for a tug on the end of a fishing line. Daily fishing trips and charters are available. A trip with Captain Buddy Vanderhoop of Tomahawk Charters is the whole package. Fish for striped bass and bluefish in the rips and deep holes past the picturesque Gay Head Cliffs and hear entertaining fishing tales.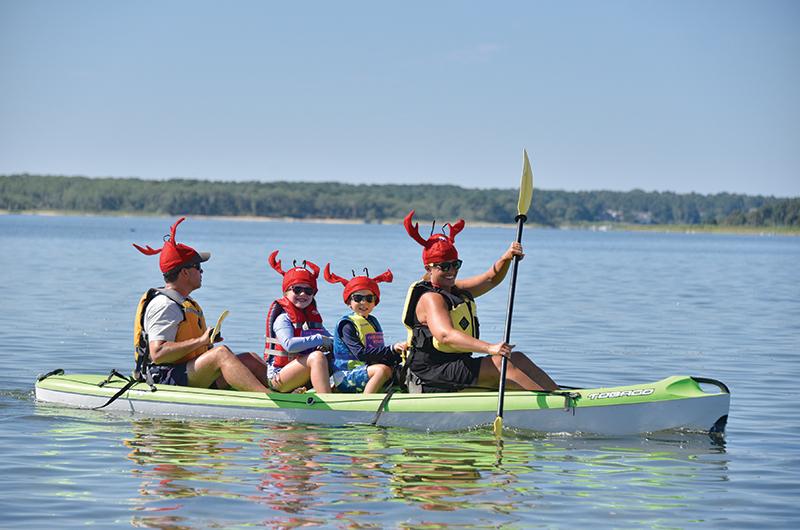 Best Place to Kayak: Sengekontacket Pond
Runner-up: Edgartown Great Pond
You'll find lots of public places to launch a kayak and explore the 745-acre Sengekontacket Pond shared by Oak Bluffs and Edgartown. If you have the space for a fishing rod or clam rake (and the required permit), you can cast to striped bass that cruise the shallows or rake up dinner on the flats. A kayak is the best way to explore hard-to-reach Edgartown Great Pond and admire the variety of shorebirds that nest along
its shore.
Best Nature Walk: Cedar Tree Neck Sanctuary
Obed Daggett Road off Indian Hill, West Tisbury, 508-693-5207, sheriffsmeadow.org
(TIE)
Runners-up: Felix Neck Wildlife Sanctuary
100 Felix Neck Drive, Edgartown, 508-627-4850, massaudubon.org/felixneck
Menemsha Hills Reservation
North Road, Chilmark, 508-693-3678, thetrustees.org
Cedar Tree Neck encompasses the variety of the Island's natural beauty in a 400-acre property that juts into Vineyard Sound. A walking trail winds through thick woodlands and opens to a rocky shoreline that evokes the Island's glacial birth. Felix Neck is a down-Island escape from the busy summer scene. The Trustees' Menemsha Hills property offers spectacular views across Vineyard Sound, trails to the beach, and the remnants of a nineteenth-century brick factory.
Best Sailing Charter: The Black Dog Tall Ships
Vineyard Haven Harbor, 508-693-1699, theblackdogtallships.com
Runner-up: Catboat Charters
1 Dock Street, Edgartown, 508-524-6903, catboatcharters.com
Raise the sails of the Alabama and feel yourself transported back in time to the age of the tall ships. Day trips, sunset cruises, and private charters are available. The rich history of Edgartown Harbor's sailing traditions come alive when you step aboard Tigress, a restored 1927 Cape Cod catboat, with its distinctive stars-and-stripes sail.
Best Summer Camp: Camp Jabberwocky
200 Greenwood Avenue Extension, Vineyard Haven, 508-693-2339, campjabberwocky.org
Runner-up: The FARM Institute
14 Aero Avenue, Edgartown, 508-627-7007, thetrustees.org/tfi
Amid the glitter and glitz associated with the Vineyard lies the little-known jewel that is Camp Jabberwocky, the oldest sleep-away camp for adults and children with disabilities in America. Since 1953, a dedicated group of staff and volunteers has helped campers make indelible memories. The FARM Institute offers farm-based educational programs and events, with plenty of animals.