It's a very specialized and kind of rarified art form….Tapestry weaving, the need to build images, is ancient.
Julia Mitchell started on the path to becoming an artist at a young age. Growing up on Martha's Vineyard, she remembers being surrounded by artistic types, many in her own family. "It was always something to be," she said of her future career choice. "Something that my family encouraged [me] to aspire to be.
"
Mitchell discovered her medium of choice – tapestry weaving – while attending the Windsor Mountain School, a private boarding school in western Massachusetts.

"There was a woman there who had been at the Bauhaus," the famous German art and design school that combined fine arts and crafts. "And she taught me weaving, art history, and design.
"
She's been weaving ever since. For more than fifty years, Mitchell has created tapestries for commissions, juried shows, and personal use. In her home studio in West Tisbury, two looms are always ready for their next project.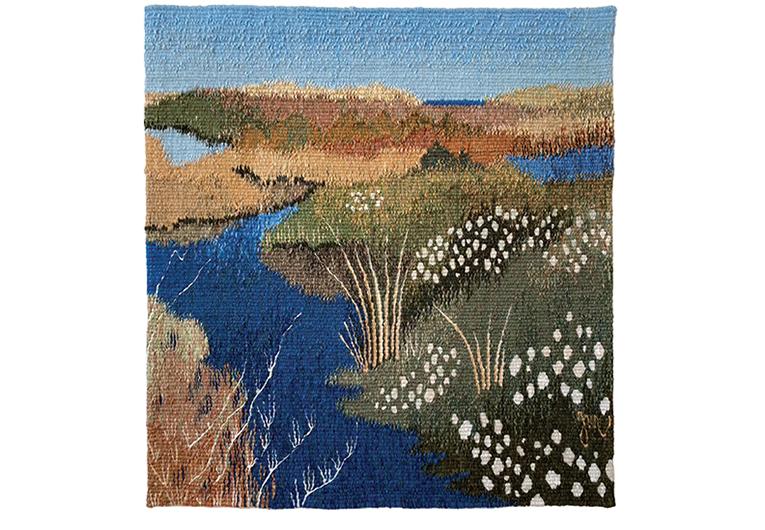 One such project was the piece at left, which she created on commission. The client "wanted it to be a bit of a landscape, a little vignette," she said. After producing drawings with ideas for the piece, the two came to an agreement and she got to work.

"There is a lot that goes into it before and after it's on the loom," she said of the overall process. The warp ("the longitudinal strands of yarn") must be strung on the loom before the weaving of the weft ("the part that you see in the end") can begin.

Using wool, silk, and linen, Mitchell weaves from side to side to create detail and texture. "Every part of the image is interdependent on the next part that I'm going to do," she explained. The process can take months. To keep track of where she is, she places a "cartoon" underneath the warp, "which is an outline drawing of the piece that keeps me on track in terms of position.
"
Once the weaving of the weft is finished, Mitchell still has plenty of work in front of her – she has to fix any splits, trim the back, hem the edges, flatten it, and create a wooden frame for it to hang. "It takes a long time to make one of these things," she said.
To view more work, visit juliamitchelltapestry.com.