When Teri and Lloyd Trotter began looking for a home on Martha's Vineyard, they had three simple goals in mind: waterfront views, plenty of sunlight, and, most importantly, ample space to host their parents, their children, and a fast-growing band of grandchildren.

"We built this with children and family in mind, so my main requirement was a lot of 
spaces for gathering. Everything was geared toward kids," Teri said, seated in a chair in her tastefully appointed living room.

Teri and Lloyd, who both grew up in Ohio, met through their work at General Electric, where Lloyd eventually rose to become the president and CEO of GE Industrial and Teri worked as a corporate attorney. In the 1990s they began making an annual summer pilgrimage to a condominium in Oak Bluffs from their home in Farmington, Connecticut, but by 1998, with their family growing quickly, the time had come to expand. They began shopping, touring scenic properties in Edgartown and around the down-Island area.

A three-acre lot on Kuffies Point Road, tucked off the banks of Lake Tashmoo, finally stole Lloyd's heart. "I liked it because it had a very active waterfront," he said, describing the constant bustle of summertime kayakers, shellfishers, and boaters out on the water that first drew him to the lot.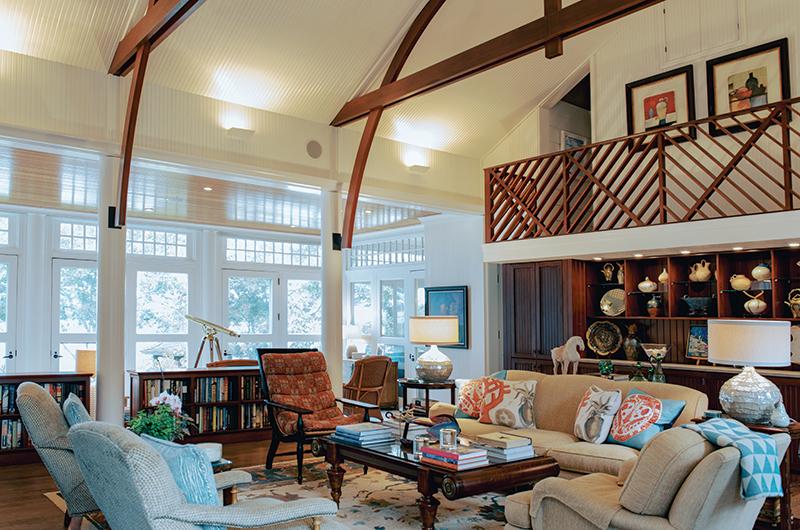 With plans for screened-in porches and sunlit rooms, the couple decided to tear down the small cottage already on the property and build a larger house inspired by it. Enlisting the help of architects David Handlin and John Garrahan of the Belmont-based firm Handlin, Garrahan & Associates, they set to work on a four-year project to build the house of their dreams: a sunny New England–style home with a modern flair.

"I wanted a classic Vineyard shingle house," said Teri of her vision. "We ended up with something a little bit contemporary that still has that warm, cozy Vineyard cottage feel.
"
The cream shingled house – affectionately called Sandy Lane for its dusty driveway – has three gable-roofed structures linked by a series of porches and a brightly lit breezeway. Each section is designated for a different part of the Trotter clan, with a wing for Teri and Lloyd, one for their grandchildren, and one for their guests.

Just beyond the front door, the house opens to its central artery, an expansive, open-concept room with a living area, dining area, and, just below it, a sunny seating area. Around the room, a double-sided stone fireplace stretches from floor to ceiling, while the room's white walls are framed by four mahogany support beams that arch gracefully over the room. The overall effect is grand, but it also gives something of a homey feel, like a dramatized take on classic cottage architecture.
The arching theme is carried through the rest of the house in small touches, from rounded reading nooks and curved kitchen cabinets to a bold, sloping staircase leading down to the basement. The design was thought up by Handlin, with guidance from Teri, as part of their vision to blend contemporary and classical New England styles.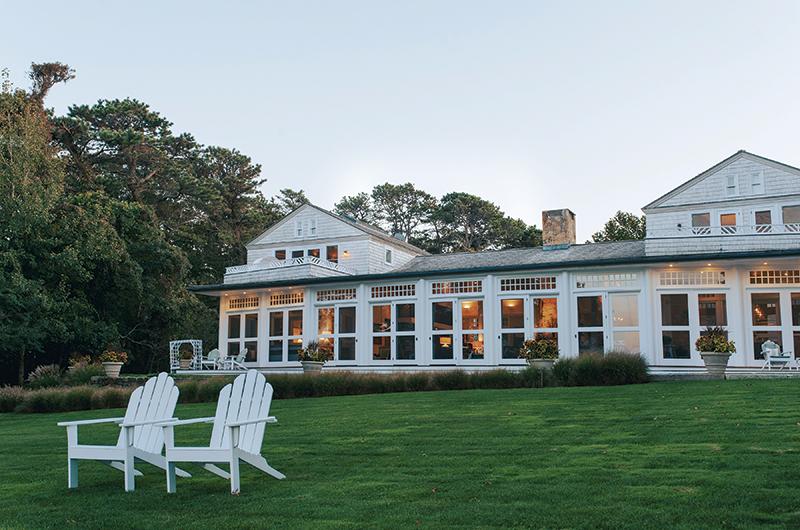 The interior décor, composed of eye-catching paintings and statement artifacts, such as vases and seashells, is similarly refined. The design, which is at once eclectic and cohesive, came almost entirely from Teri with help from designers at Vineyard Decorators and Connecticut-based decorator Lisa Davenport.

"I love interior design," said Teri. "I don't ever want anyone to come in my house and for it to 
feel like a decorator decorated it. I like things to feel collected, and I like it to feel really curated so everything has a meaning."

Around the living room, the walls of the main room are outfitted with paintings of all sizes, which Teri and Lloyd have collected in their many years of marriage. Art has been an important feature of the couple's decorating style – and their relationship – since the start, Teri said. "Having spaces for art was one of the things that drew us together. We both love art and we started collecting together right from the beginning of our relationship," she said.

Many of the paintings displayed in the house were collected on Teri and Lloyd's travels around the world. The vibrant palettes and energetic brush strokes of pieces discovered in Shanghai, New Zealand, and Italy give the space a unique feel.
The couple has made a particular effort to highlight Black artists, featuring work from lesser-known painters, such as Mason Archie, as well as world-renowned artists, such as Loïs Mailou Jones, whom the Trotters met on the Island before her death in 1998.

One piece in particular, by Black painter Faith Ringgold, stands out as a favorite, Teri said. Hanging over the dining room table, the piece is a blocky print inscribed with writing in the style of a children's book – part of Ringgold's Coming to Jones Road series. "Folks say they don't know how we made it," the print reads. "The truth is we put one foot front the other and just keep coming 'till we got here. Lord let this don't be no dream and we wake up chopping cotton."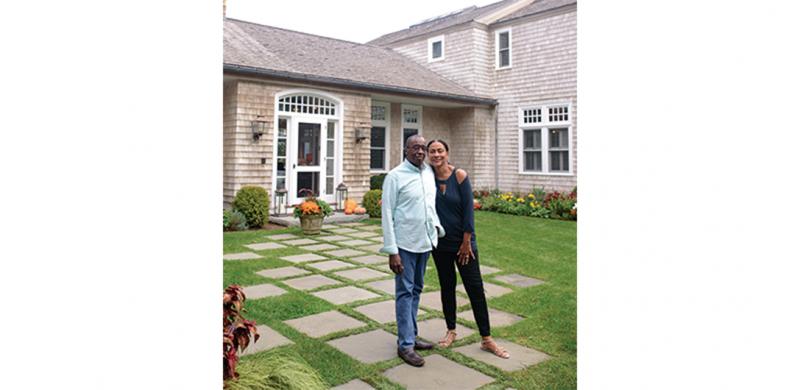 The couple has also featured work from artists closer to home, spotlighting scenes of wooden piers and bucolic up-Island landscapes from local painters, including their neighbor, John Philip Hagen, and Heather Neill. A selection of Teri's photography also hangs on the walls, including photographs of the house and landscapes at the Inkwell and Gay Head.

The house's main room expands to Teri and Lloyd's wing on the right, complete with a master bedroom, his and her bathrooms with a shared shower, and an office for Lloyd. To the left, a warm chestnut-colored kitchen and a series of wallpapered bedrooms make up the guest wing.

The real heart of the home, however, is just beyond, at the extreme left of the house. That wing, linked to the main house by a breezeway, was built specifically for the extended family, with suites originally intended for both of their late mothers and a spacious bunkroom with four wooden bunks and a secret loft for the grandkids.

For years, Teri and Lloyd's children would come to the Vineyard each summer from their respective homes across the country, bringing their children and their children's friends and filling the house with a cacophony of little feet and little voices. "They grew up on the Island," Lloyd said.

One grandchild in particular, Spencer, was an infant when the house was first completed, Teri recalled. "My daughter was pregnant with him, so it's sort of like the house was born with him," she said. Today, his wicker baby chair still sits in a corner of the living room, a reminder of younger years.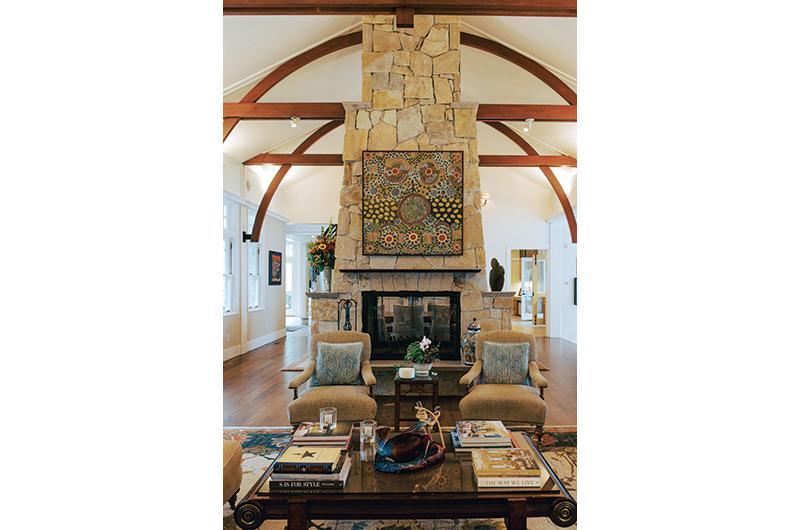 A basement complete with a popcorn machine, arcade games, and a large TV has become a crowd favorite among the grandchildren, but there's plenty of fun to be had for adults downstairs too, including a full bar and a vaulted wine cellar to house Lloyd's extensive collection.

For a family-friendly home, the house has a remarkable range of nooks and crannies, perfect for sneaking away for a quick read or quiet conversation. Among them is a private balcony just off the master bedroom, with views of the backyard and waterfront. On warm summer mornings, Teri said she often comes out to the deck with a steaming cup of coffee to watch the grandchildren as they play, but picking a favorite nook in the house is nearly impossible.

"I guess it sort of depends on the time of day, where I want to be depending on how the light is," she mused.

True to their word, the Trotters made waterfront views a focal point of their home. Lake vistas are visible from most inside vantage points.

In the house's main wing, a sun-soaked solarium with large glass doors filters light into the house, bringing with it views of Lake Tashmoo, Vineyard Sound, and Cape Cod beyond it.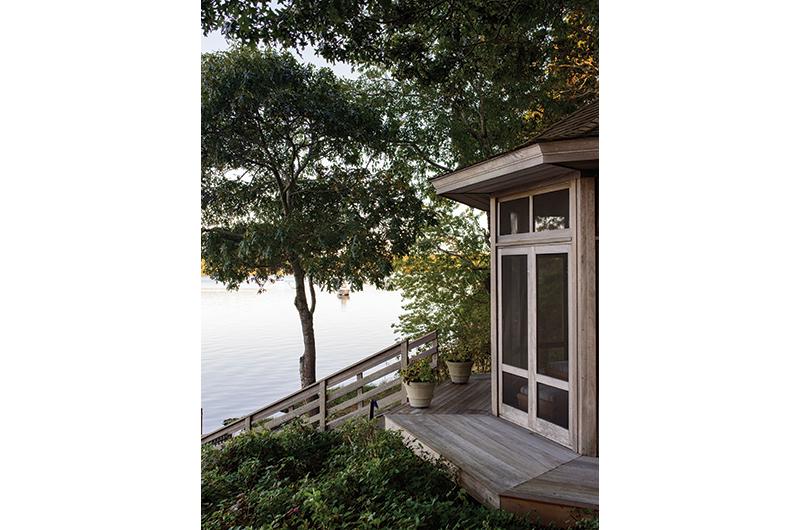 The room, fitted with a telescope and a small seating area, looks down at the backyard and 
beachfront, displaying the view as if it were the background of a painting. "Everywhere I go, I'm looking at the water and I get mesmerized by it," Teri said.

Outside, a flower garden and a cutting garden designed by Clara Couric Batchelor of Cambridge, and maintained by Donaroma's Landscaping and Floral Design of Edgartown, bursts with local plant varieties and bundles of blue hydrangeas – wild yet controlled, just like the house's design. Long decks, a sloping yard, and, most recently, a fire pit have been the venues for many of the Trotters' famous social gatherings. And then, of course, there's 
the gazebo.

"When we first bought the property, I saw that gazebo in my mind," Teri said. "You can hear the water lapping, and you see people out clamming. It's just an amazing spot.
"
Perhaps the most striking aspect of the house's scenic outdoor space, however, is a small wooded path that loops around the driveway toward the house. The garden, dotted with blossoming daisies and wind chimes that coo gently in the wind, is called Kathy's Path. It was created by Teri shortly after her mother's death.

"The Vineyard was her favorite place in the world," said Teri. "I wanted something that wasn't sad to remember her, something that was cheery and positive and reflected her.
"
Over the years, the Trotters have tweaked and updated the house, including a recent renovation that brought new light fixtures to the kitchen and swapped the once dark wooden walls to a lighter white color. Other changes might still be in store, but both Teri and Lloyd agreed that one thing will always remain the same: the house will always be a favorite gathering place for them, their friends near and far, and, of course, their family. "Everybody feels like this is their home," said Teri.