For angling devotees, it's all about reeling in the winning fish during the Martha's Vineyard Striped Bass & Bluefish Derby. But those less inclined to spend hours in search of the big one can still support the cause, thanks to a different school of fish heading for downtown Edgartown.
This year's Bass in the Grass fund-raiser and auction will exhibit three-foot-long wooden fish silhouettes – some painted with seascapes and landscapes; others possibly adorned with shells and rocks. Each will be a unique work of art.
The art installation came about when the Edgartown Board of Trade wanted to find a way to celebrate and support the annual Derby while also highlighting local artists. "We had seen other similar ideas across the Cape," said Erin Ready, who is the board of trade's executive director.
Using donated materials from E. C. Cottle Inc., Zach Pinerio of the Chappaquiddick Wood Company handcrafts each bass. Board of trade members then sponsor a fish for $250 and secure their artist. Come mid-September, the wooden fish are displayed in the Alfred and Marjorie Hall Park (a.k.a. the mini park) on Main Street in Edgartown, and the online auction begins at bassinthegrassmv.com.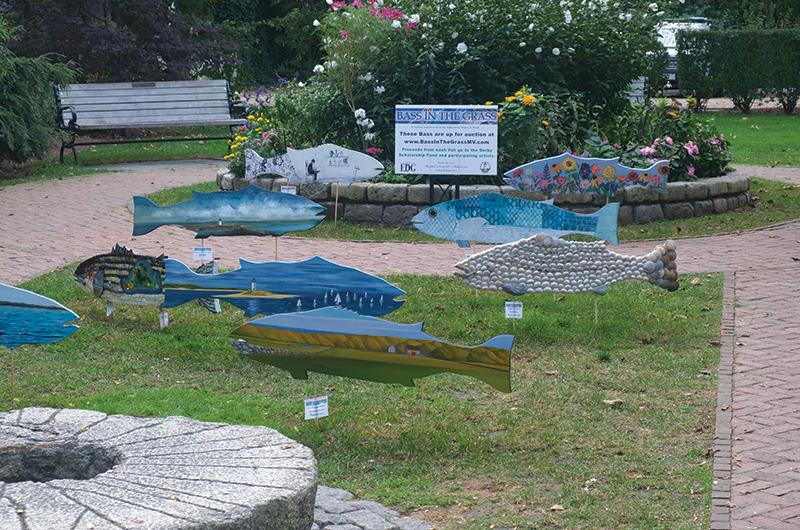 "Each year they get more and more interesting, whether it's content or themed," said Ready. "Last year we had a ceramic fish [by Jessica Kovack]; we had a wooden fish [by Brad Tucker and Liz Ragone]." Other designs in 2020 included a mermaid by Margot Datz, a lone fisherman casting off the shore by Marjorie Mason, and a double-sided fish by Terry Crimmen that had a buoy on one side and
a female swimmer on the other.

The way it works is that 50 percent
of the auction price goes back to the artist, 25 percent goes to the Derby's scholarship fund, and the other 25 percent goes to the board of trade. "It's just really fun to highlight the talent we have here," said Ready. "And it all goes to a good cause."
For more information on the Bass in the Grass fundraiser and auction, visit bassinthegrassmv.com.