You have to get up pretty early in the morning to go fishing with my friends Buddy and Lisa Vanderhoop. My husband, Hal, and I own a restaurant in Oak Bluffs and deal more with acquiring, preparing, and selling the local catch, sometimes late into the night. Which is to say we don't typically begin our workday at dawn. But when the chance comes on a dewy summer morning to jump aboard Buddy's boat, Tomahawk, and see the seafood business from a different vantage point, we don't need to be asked twice. We set the alarms and head to Menemsha, sometimes bringing the kids along. When we arrive, Buddy is invariably already on the dock preparing the gear and tinkering with the boat, which this year is a new (to him) beautiful thirty-five-foot Viking Express. A legendary fisherman and a gracious host, he's loaded the refrigerator with a supply of soda, water, iced tea, and baked goods from his sister Juli's Orange Peel Bakery.
It's so easy to fold into the boat's vinyl seats with nothing to do but look – at the early morning sunlight dancing on the water, the waves, the birds, and the Island receding. The Rolling Stones wail over the boat's sound system loud enough to be heard over the din of the engine, which is to say they are wailing quite loudly. When we unexpectedly slow down just a bit, Lisa explains why. "Most people go around Devil's Bridge," she says of the treacherous maze of barely submerged boulders and rocks that stretch out from below the Gay Head Cliffs. "Not Buddy. He goes through."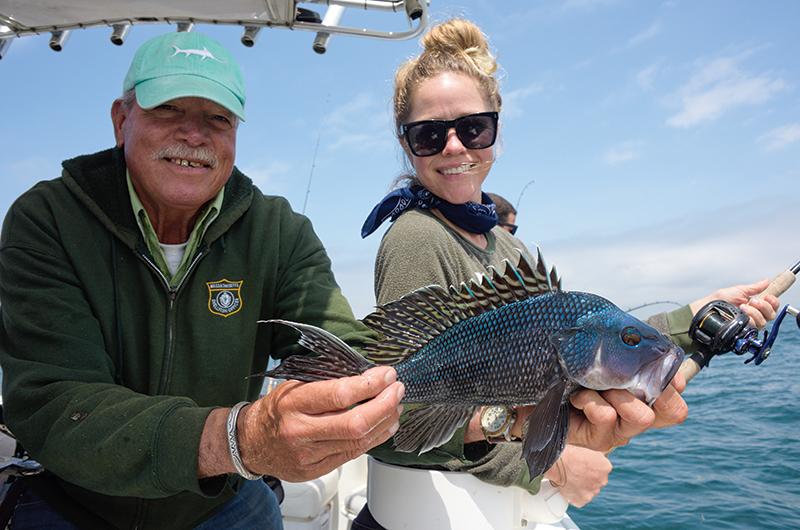 Buddy aims the boat toward a blitz and takes a few casts. Mick Jagger sings "ain't it time we said goodbyeeee?" But it's not. "This is just playtime," says Buddy. "We're just getting started."
He puts the boat back into gear and, directed by instinct or internal sonar or a combination of both, wordlessly heads off in search of black sea bass.
Black sea bass? When hopeful fishermen and women book a charter with Buddy – a list that over the years has included more than a few summer celebrities, including an actual Rolling Stone or two – they are usually looking for striped bass, the holy grail of East Coast sport fishing. Or perhaps for the elusive bonito or voracious blue. But once they catch their allowance of stripers, Buddy often gears them toward his favorite fish to eat: the unglamorous but unbeatably eatable black sea bass. Suffice it to say that for a couple of professional foodies, there was no reason not to go in search of the generally bottom dwelling Centropristis striata, which despite its common name is more closely related to groupers than to true bass.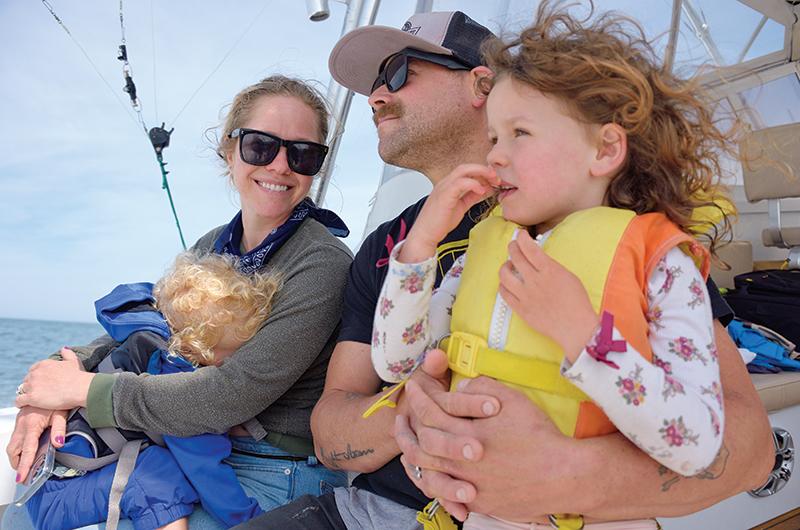 Buddy comes from as long a line of Island fishermen as you can get. As a child, he spent a lot of time visiting his great-uncle Amos Smalley, the famed Wampanoag harpooner who killed Moby Dick – or at least got the only white whale known to have been killed by whalers. "I was so intrigued by his stories. He was an incredible boatman, journeying all over the world. I couldn't believe that I wasn't out there doing that," he says.
Thinking he was on his way, when he was sixteen years old he took a job on a commercial boat for the summer. But when they got stuck in a hurricane, he decided that was not the life for him. After a stint building houses, he decided that working on land wasn't for him either, so he started flying airplanes and spotting swordfish from the air. When he finally realized that people would pay him to take them fishing, he started his charter business. That was some thirty-five years ago, and he's adamant that it absolutely never gets old. "There's nothing like a little kid catching the first fish of his life," he explains.
"He'll never forget it. Ever."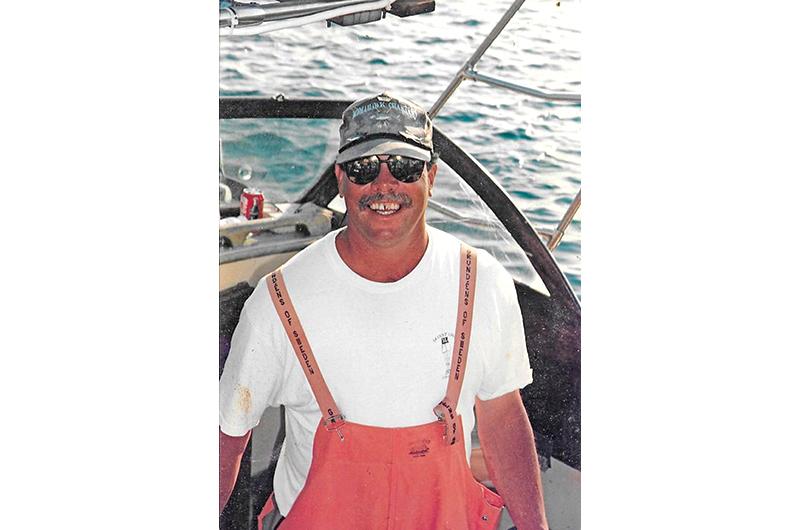 He hasn't forgotten his own first fish, after all. He was six when he took his dad's brand-new rod and four-year-old brother Ricky and went to the beach. "It was totally against the rules to take that rod," Buddy says. "Totally." But on his second cast he reeled in a twenty-pound striped bass. After jumping up and down with Ricky in celebration, he dragged it a mile home. "That fish didn't have a tail left on it by the time I got home."
Such was the reverence for fishing in the Vanderhoop home that he didn't get in trouble for taking his dad's rod. Instead, his dad bought him his own. That commenced the part of his after-school life that revolved around fishing. "I'd get off the bus, dump off my bags, make a peanut butter and jelly sandwich, run to the Aquinnah Shop and down the cliffs, and catch bass after bass after bass after bass." Eventually his dad told him he couldn't catch one more fish until he learned to clean and fillet them himself. Cleaning and filleting slowed him down a little, but not entirely.
Going fishing with Buddy, or one of his fellow charter skippers, is doubtless the best way to catch black sea bass. But the fish are abundant enough that almost anyone with access to a boat can probably find a spot to catch one. "I always look for structure, such as rock piles, pinnacles, or wrecks," Buddy says. "And I always like quite a bit of tide because you cover more ground, and fish generally don't eat very well during the slack tide." He uses diamond jigs or four-ounce SPRO bucktail jigs with teasers above the jig. Squid strips are effective too for someone wanting to use bait.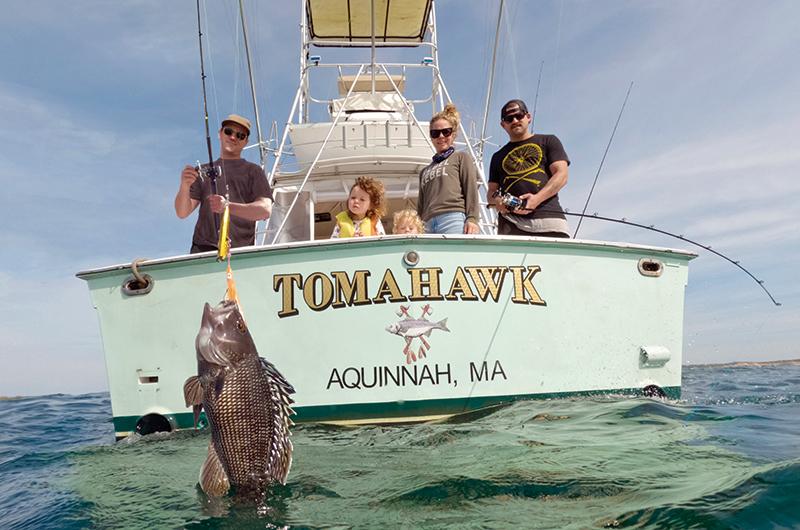 "Jigging is fun," he says. "When you get hit, you really know you're on. They hit like a ton of bricks, and they give you a great fight. The big ones, called jumbos, will take line – an awful lot of fun to catch!"
The jumbos are generally male, but weren't always. One of the more unusual things about the species is that most black sea bass are born female and then transition to male when they get to be about nine to thirteen inches long. Everyone in the fish world, it seems, is pretty chill.
Fresh from the water they're beautiful creatures, black and opalescent with feathery dorsal fins. Out of the frying pan, they're white, flaky, and mild. They are also an environmentally conscious choice. According to the National Oceanic and Atmospheric Administration, black sea bass are sustainably managed, responsibly harvested, and a smart seafood choice. They're fished from Maine to Florida, a range that appears to be expanding northward as the ocean warms. They migrate offshore and south in the winter and return inshore to northern bays and coastal areas in the spring.
Black sea bass usually start to pop up on Island menus in the late summer. The season runs from May till September. At our Oak Bluffs restaurant, the Sweet Life, chef Hal Ryerson looks forward to the return of black sea bass, his favorite fish to both cook and eat. "It's perfect for ceviche, makes a great fumet, and pan seared or broiled it can stand up to almost any flavor pairing."
At home, much like on the water, Buddy never tires of fish. It's what's for dinner most nights of the week. His favorite way to eat black sea bass is seared in a cast iron pan with sesame oil, garlic, and butter. Or in a taco: "5 percent lettuce, 95 percent fish" is what he suggests.
Hal Ryerson's Black Sea Bass Tacos