People love pie. Even dysfunctional families who gather for Thanksgiving stick around long enough for the dessert pies, says Chrissy Kinsman, owner of the new Pie Chicks Bakery.
"You either love to bake pies, or you love the person you are baking it for," she says. "It's so much work, you wouldn't do it otherwise."
Clearly, that puts Kinsman in the loves-baking-pies category. In 2019, she made and sold 10,000 pies. Now that she's moved from baking wholesale to owning a storefront bakery with more space in Vineyard Haven, she surpassed even that number – and during a pandemic.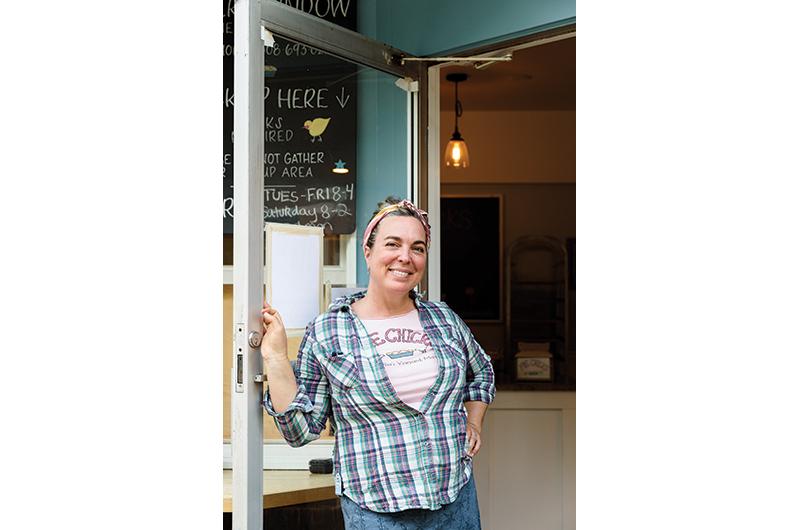 If a college course existed on the philosophy of pie, Kinsman would probably be teaching it. Her website includes a 495-word manifesto on the subject, and her business logo reads, "saving the world one pie at a time." "People think I'm kidding when I say pie can save the world. But I'm not," the manifesto states. "Pie is a magical food."
Kinsman baked her first pie with her mother at the age of six at her childhood home in Ohio. She remembers thinking that her mother was not making the crust correctly because she was using cold butter instead of soft butter, which is typically used to cream with sugar for cookies. When her grandmother died, Kinsman inherited her pie rolling pin.
Yet, as many good stories that wind up on the Vineyard go, the forty-six-year-old business owner took a circuitous route to get to today. She graduated from Ohio State University with a degree in finance and worked in "pantyhose jobs" for several years. Leaving the corporate world, she enrolled in Ohio's National Institute of Massotherapy in 1999 and then found her way to Martha's Vineyard working with Sharon Strimling, who had a massage business.
After the summer season here, she headed to Key West. But she missed the Island and came back again the next summer. Watching the ax throwing contest at the Agricultural Fair that August helped clinch her decision to stay. "These are my people," she thought. "This is so weird and great. I loved the vibe and feeling."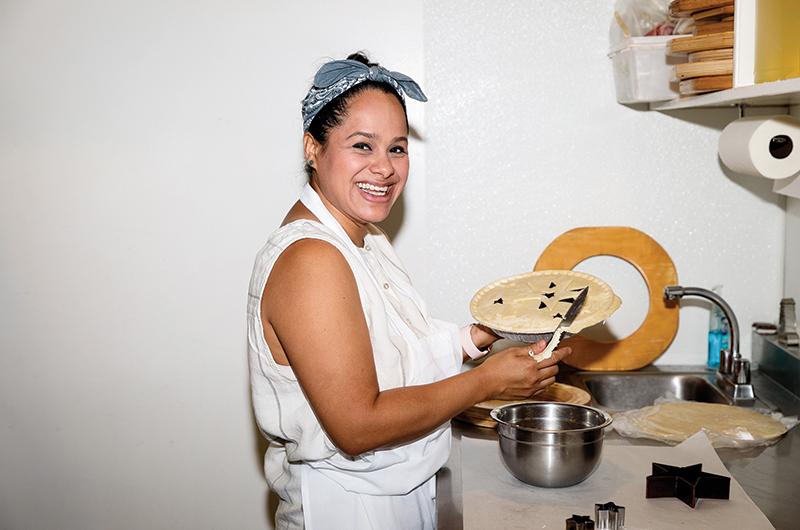 She met and married local carpenter Drew Kinsman and, along with massage work, took a job as business manager for the FARM Institute in Katama. After seven years there, she took stock again. Someone suggested, do what you did when you were a kid. "Well, I baked when I was a kid. I liked that flour meets something and it's yummy. It's just always worked for me."
And as if by cue, Drew mentioned that Bob Skydell at Fiddlehead Farm (now North Tisbury Farm & Market) in West Tisbury was looking for a source of homemade pies. She found a small commercial kitchen in Vineyard Haven and began dropping off pies to Fiddlehead as well as Cronig's Market and Edgartown Meat & Fish Market. That summer season ended, and a new pie business was born.
The Pie Chicks name came thanks to the collaborative help of her husband's sister, Kristy Maynard. As they talked one day about the business concept, Kinsman doodled little chicks next to a pie instead of her usual drawings of flowers. One of them threw out the name Pie Chicks – and thus the name of the business was born.
Not surprisingly, the transition suited Kinsman. "I study astrology, and if you look at my chart, it makes total sense that I feed people. When I nurture others, it feeds me. It makes my heart bigger. And I've always done that."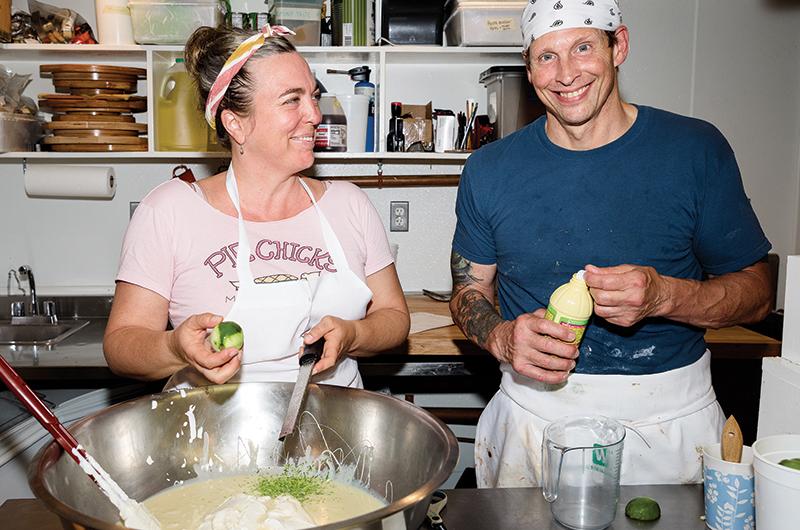 Her Buddhist meditation teacher at the Bodhi Path Center in West Tisbury helped with some additional advice. "He told me, 'Think of all the people eating this pie on vacation with their loved ones, having a moment that means so much to them. You want that to be wonderful for them,'" she recalls.
"I took that to heart. We put a lot of expensive ingredients into our pie – and love," she says. "When you put joy into something, I think people notice. If you're frustrated and angry when you're cooking, your food is going to taste
like crap."
Her pies were a hit. Best-sellers include blueberry in the summer, as well as her Key lime pie. If strawberry-rhubarb wasn't a spring specialty, it might win, she says. Her own favorite is pumpkin pie. With fruit combinations such as blueberry/peach and blackberry/apple, the Pie Chicks pie count now has up to seventy-two varieties. She continued to expand wholesale outlets and joined the West Tisbury Farmers' Market.
Fast-forward to 2019, the year she made 10,000 pies in the tiny rented commercial kitchen where she did most of the ordering, baking, and deliveries herself. She'd already been eyeing a space that previously housed Shepherd's Provisions in the back of the commercial block with Paradise Dental near down-Island Cronig's. She got a call in January 2020 that the space had opened.
"I loved that little patio," she says. "And I like that it's a little tucked away, kind of a speakeasy feel to it."
Still, she had to make a decision to forego the inherent freedom and flexibility of a wholesale business for a public business with set hours, customer expectations, and employees.
"I have pretty serious commitment issues," she laughs. "We knew we needed a larger space – I've needed a larger space for five years. I believe in my product, my business, but it's still a big departure. Is it going to work? Are people going to come?"
She used her life savings, got a loan, and signed a lease in March of 2020. She took possession and began an arduous task of turning the space into a bakery with new walls, plumbing, and electrical work, making way for the giant floor mixers, multiple refrigerators, ovens, and sinks she would need.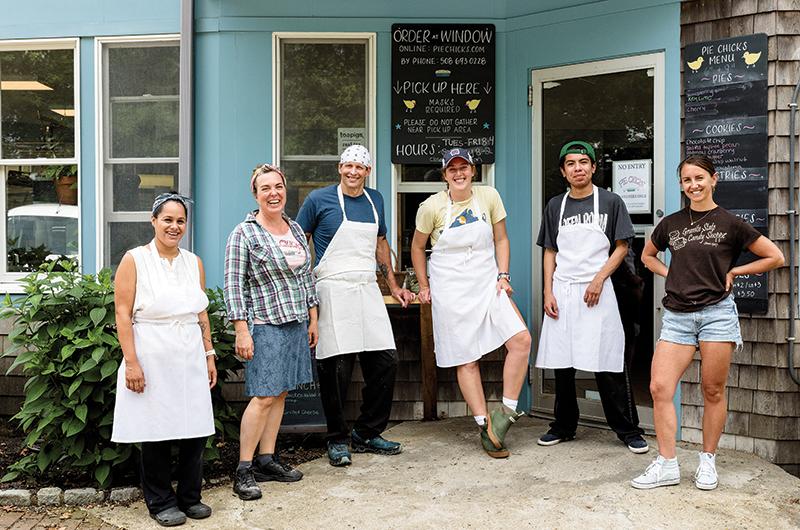 Right around the same time, the country went into full Covid-19 lockdown. She recalls the day she and Drew wrangled two 650-pound ovens into the space themselves because there was no help. Eventually, once certain Covid restrictions were lifted, she hired Mike Sisco and his crew to help finish the move. The new bakery opened a year ago in July, and still the pandemic raged.
"It was a pretty wild year, I'm not going to lie," says Kinsman. "It took a lot of prayer. My staff is the absolute best."
When I visited just before Christmas to spend a day in the bakery for this story, it was a humming factory, with six or seven bakers and workers, all masked up. The place was filled with warm fragrant smells of pumpkin spice, cinnamon, and chocolate. Dozens of pies were going into the oven, as well as whole trays of cookies.
Someone was making soups, including her mother's chicken soup recipe. They'd branched out into quiches, bread, croissants, and muffins – even dishes such as chicken pot pie and lasagna. And there were some stunning holiday cakes on display, including a multi-layered chocolate cake with peppermint buttercream and dripping chocolate ganache, garnished with pieces of peppermint.
This season Kinsman has not been immune to the staffing issues that have plagued businesses all over the Island. The menu, therefore, has sometimes morphed to match the talents of what can seem like a revolving door of talented chefs and bakers.
But Kinsman seems fine with that, and encourages her employees to play to their strengths and bake the things they love to create and eat. As she puts it:
"Do the things they love and have fun."
As long, that is, as all of the pies get made.