On page 188 of his new cookbook How to Grill Vegetables: The New Bible for Barbecuing Vegetables over Live Fire (Workman Publishing, 2021), Steven Raichlen sums up what he calls Raichlen's Rule: If something tastes great baked, fried, or sautéed, it probably tastes better grilled. That page features two stacks of eggplant Parmesan atop a cedar plank, layers of grilled eggplant oozing with cheese and sauce.
In the case of vegetables, Raichlen says, live fire adds smokiness and a supernatural sweetness. That just sounds delicious, and so do nearly all of the 125 recipes in this latest cookbook.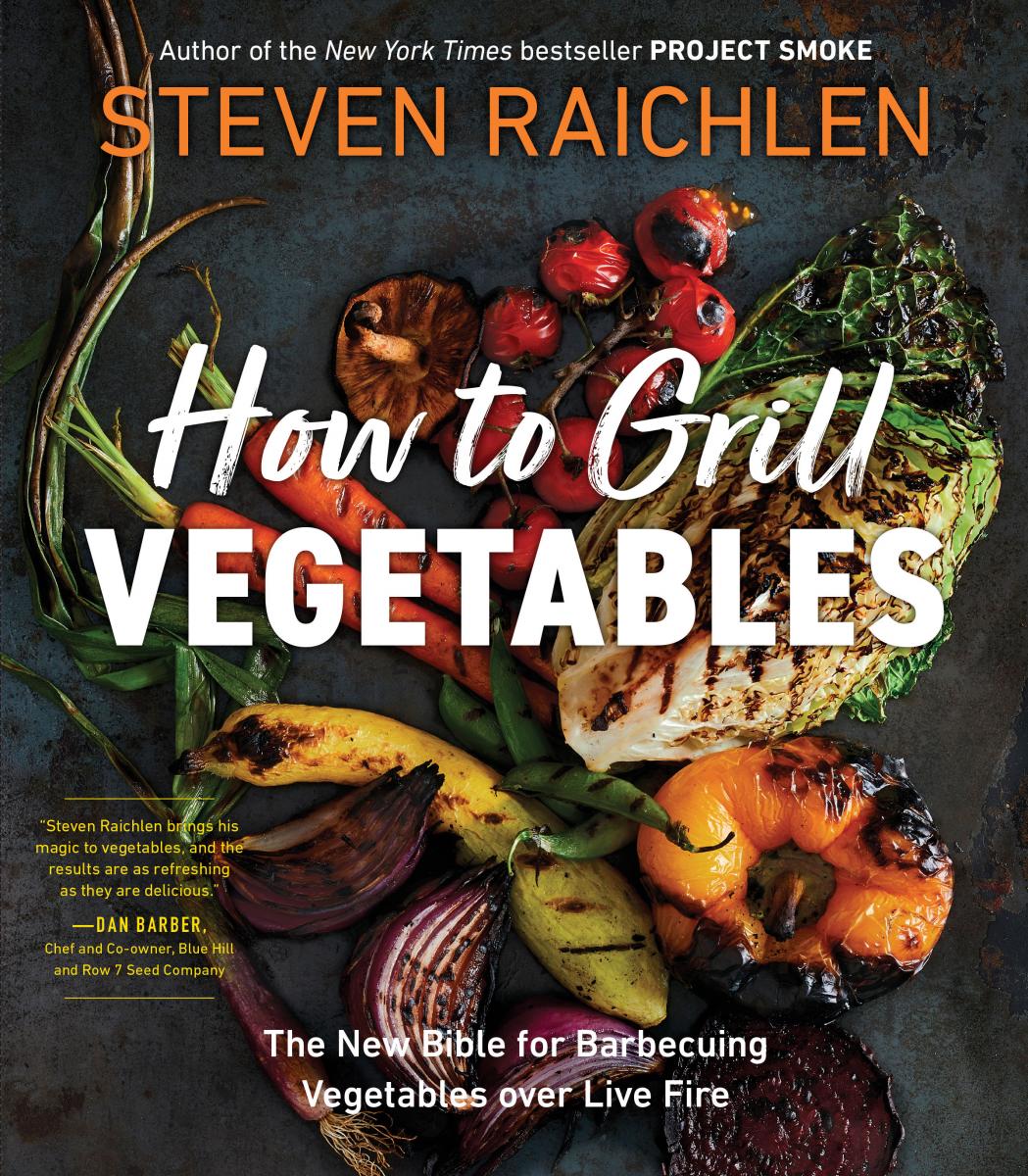 Whenever I've run into Raichlen on the Island, it is always at one of the local farms or at the West Tisbury Farmers' Market on Saturdays, so I know he's a big veggie fan. But the rest of the world knows him primarily as a barbecue and grill master – the meaty kind – where he's earned such monikers as "the gladiator of grilling" from Oprah Winfrey and "the Michael Jordan of barbecue" from Howard Stern. He has dozens of cookbooks to his name, including The New York Times best-sellers Planet Barbecue! (Workman, 2010) and Project Smoke (Workman, 2016), along with cooking shows and a line of rubs, sauces, and wood chips. He even defeated the first Japanese Iron Chef in a Tokyo cooking competition. I learned there's a Barbecue Hall of Fame, and Raichlen is in there, inducted in 2015.
His TV shows include Steven Raichlen's Project Fire and Project Smoke, Primal Grill, and Barbecue University on public television. Raichlen, who splits his time between Miami and Chappaquiddick, considers himself less a chef and more of a teacher, chronicler, and anthropologist, especially on the origins of cooking by fire, which he says have fascinated him since he was a boy. Several of his projects have taken him literally around the world to document how and what people cook on live fire and those who do it best. One project took him to fifty-three countries, from Azerbaijan to South Africa, and resulted in the cookbook Planet Barbecue!, which is jammed with 300 recipes and plenty of stories and people.
We caught up with the busy Raichlen as he arrived for the season on Martha's Vineyard and quizzed him about his life in food.
Catherine Walthers: This isn't just grilled corn, tomatoes, and zucchini. You have grilled whole artichokes, bacon-style shiitakes, a slow-roasted German-style potato salad, feta dip with fire-charred chilies, smoked chickpeas – there's really a lot to learn about grilling vegetables.
Steven Raichlen: You can say that again. I've been grilling vegetables since I started traveling the world's barbecue trail to research The Barbecue! Bible. I quickly learned that there is no better way to cook most vegetables than by grilling – the high, dry heat of the fire caramelizes the natural plant sugars, adding a haunting, inimitable smoke flavor you simply can't achieve indoors.
Grilled veggies are also healthy – both for us and for the planet, requiring far less energy and resources to raise than livestock. The explosive growth of plant-based "proteins," like the Beyond Burger and Impossible Burger, bear out the newfound importance of plant foods for mitigating global warming.
Finally, there was also an element of self-defense in my writing this book. My stepdaughter is a vegetarian and my wife, Barbara, has strong vegetarian leanings. This book was a way of keeping everyone happy around the grill.
CW: Reading through, I want to make so many of the recipes, but I'm not the best grill person (though you do offer lots of tips, thank you). That grilled vegetable paella, for example, looks amazing, and I wondered if I could do it justice.
SR: If Homo erectus (the human ancestor who discovered cooking with live fire 1.8 million years ago) could, of course you can, Cathy. Humans have been grilling this way for 99.9 percent of the time we've dwelled on this planet.
That being said, it's important to note that you don't grill all vegetables the same way. Soft, moist vegetables like summer squash and zucchini call for direct grilling. Large, hard vegetables like potatoes and acorn squash require indirect grilling. Wet vegetables like tomatoes are great smoked. Round, smooth-skinned vegetables like eggplants and bell peppers become unbelievably tasty when cooked by a method I call "caveman" grilling – that is, roasted directly on the embers. You can even spit-roast large vegetables like cauliflower on the rotisserie.
Don't worry, Cathy: all these methods are explained in the book. That's why the first chapter is a crash course on vegetable grilling, starting with how to buy, fuel, and light a grill, covering the necessary tools and accessories, grilling techniques, and how grilling vegetables differs from grilling meats.
CW: You have traveled and covered grilling and barbecue in sixty countries! What are a few of your favorite food destinations that you recommend, and is there anywhere you haven't traveled to that you would like to?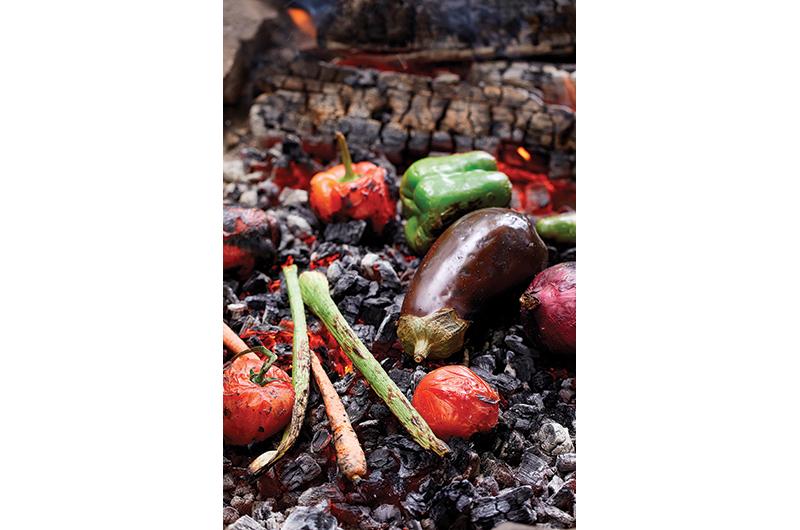 SR: I have loved almost every place I have visited to research live fire cooking. I have a special fondness for the grilling of Asia (perhaps because I was born in Japan). Asian barbecue features big flavors, measured portions, and a high ratio of veggies to meats, which is how we like to eat at home.
I have not yet visited the Republic of Georgia and Armenia, which are great grilling hot spots in the Caucasus Mountains. I was scheduled to travel there while I was writing Planet Barbecue! But Russia invaded the Republic of Georgia and I had to cancel my trip.
CW: You just finished taping season 3 of Project Fire with field trips and guests for public television. And it looks like there's another TV series where you travel through Italy to find the best grill masters. How do you determine the next projects, and is this all as enviable as it looks?
SR: I don't know about enviable, but it's sure been a great ride, and I wouldn't change careers for the world. Taping during Covid (which we did for season 3 of Project Fire) was challenging and supremely satisfying – even though the set was locked (no one on; no one off), the crew was masked, and we had to practice social distancing, which is antithetical to the spirit of barbecue. We had to cancel our guests and field trips. We had a great location – the 180-acre Pearlstone Jewish retreat center just north of Baltimore. They have a huge garden, and we grilled their veggies, fruit, and herbs in the show.
It was especially satisfying to shoot in Baltimore as this is the city where I grew up. In one episode, "Charm City 'Que," we pay homage to Baltimore's celebrated pit beef. Another show, "Maryland Crab Feast," we showcase the crustacean for which my hometown is famous, including smoke-grilled crab cakes and wood-fired Maryland "steamed" crabs.
But to answer your question, the location becomes part of the story in my shows, so we choose a different destination every year. We've shot in Steinhatchee in northern Florida and Solvang and Palm Springs in California. Several locations in Arizona. Our show is taped entirely outdoors, so we look for locations with minimal rainfall for the two weeks we're shooting. That's one reason it would be a challenge to shoot on Martha's Vineyard. However, I still hope we can shoot a show here someday.
CW: When you worked for Boston magazine as a restaurant critic from 1980 to 1990, you came to the Cape and Islands on assignment and eventually built a house here on Chappy. But you've stayed! Do you and Barbara still generally spend six months here and six months in Miami?
SR: Yes, it was part of our marriage contract! I moved from Boston to Miami to marry Barbara. She promised we'd return to New England – at least part of the year. We fell in love with Chappy when we were courting. (I brought Barbara to the Vineyard on one of my restaurant reviewing trips.) We vowed we would have a house here someday, and quite amazingly we do. For the last twenty years, we've spent half the year in Miami and half the year on Martha's Vineyard.
CW: Is How to Grill Vegetables book number thirty-one or thirty-two you've written?
SR: Number thirty-two.
CW: What's the next book on the docket? You've done two cookbooks on Latin cooking and Miami (your home half the year) – where's your Vineyard-based cookbook?
SR: Hmm. Maybe that will be number thirty-three. In terms of next projects: in 2012, I wrote a novel called Island Apart, recently re-issued with its original (and to my mind better) title: The Hermit of Chappaquiddick. It's a food-themed love story set on our tiny island. (No, I'm not the hermit, but there's a fair amount of my personal story in the book.) Fiction writing is very different than writing cookbooks – I loved the experience, and I have another novel in the works.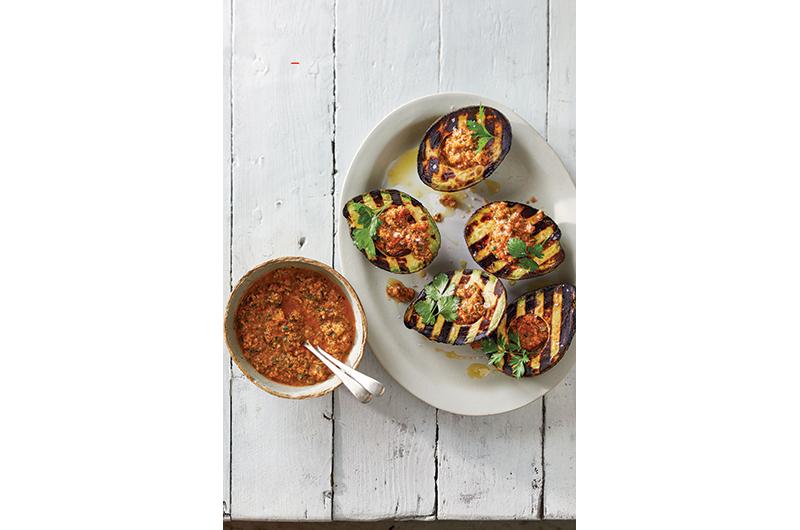 I'm also working on a book on the history of barbecue. It's really the history of humanity itself viewed from the perspective of live fire cooking. I'd like to turn that into a TV series too.
CW: Last time I interviewed you in 2007, you had fifteen grills at the Chappaquiddick house, and you had collected food, even dug clams, for a July 4 Vineyard-style barbecue. What's new at your Chappy home?
SR: We still have a lot of grills, including a new cool wood burner called a KUDU. Since your last visit, we've added a smokehouse, which I built when I was writing Project Smoke. We smoked just about everything in it, from fish to ham to butter to honey.
CW: How did you transition from restaurant critic for Boston magazine to world-renowned barbecue and grill guy?
SR: I took a convoluted career path, that's for sure, but somehow it all worked out. Which is to say that looking back on it, my transition from French literature major to journalist to Boston magazine restaurant critic to wine and spirits columnist for GQ to author and TV host makes perfect sense now. But at the time, each venture was a complete unknown.
Happily, I was guided by three great mentors along the way.
One was Anne Willan, founder of the La Varenne cooking school in Paris. One day Anne said to me: "You know, Steven, you'll never make a living writing cookbooks." I vowed on the spot to prove her wrong.
Another of my mentors, Peter Workman (founder of my longtime publishing house, Workman Publishing), encouraged me to write what he called "category killers." The idea was to take the time – four years in the case of The Barbecue! Bible ­– to write the definitive book on a subject. That book ran 554 pages, and that was after a lot of cutting.
Most important: when I had just started writing, a third mentor, Julia Child, urged me to pick a topic I felt passionate about and with broad appeal (barbecue certainly fits that bill), but to take a highly personal approach that was uniquely my own. For me that approach involved the intersection of food, history, travel, and culture, and to some extent I've been doing it ever since.
The following recipes were originally published along with this article:
Cedar-Planked Eggplant Parmigiana