Best Beach: South Beach
Atlantic Drive, Edgartown
Runner-up: Lambert's Cove Beach
Lambert's Cove Road, West Tisbury
South Beach is a mile-long stretch of soft sand, wind-swept dunes, rolling waves, and the pervasive aroma of suntan lotion. It epitomizes the Island summer vacation experience. Highly trained lifeguards in red, free parking, and porta-potties: what's not to like? Laid-back Lambert's Cove Beach offers calm, cool water and a scenic view of the Elizabeth Islands. It's open to West Tisbury residents and renters.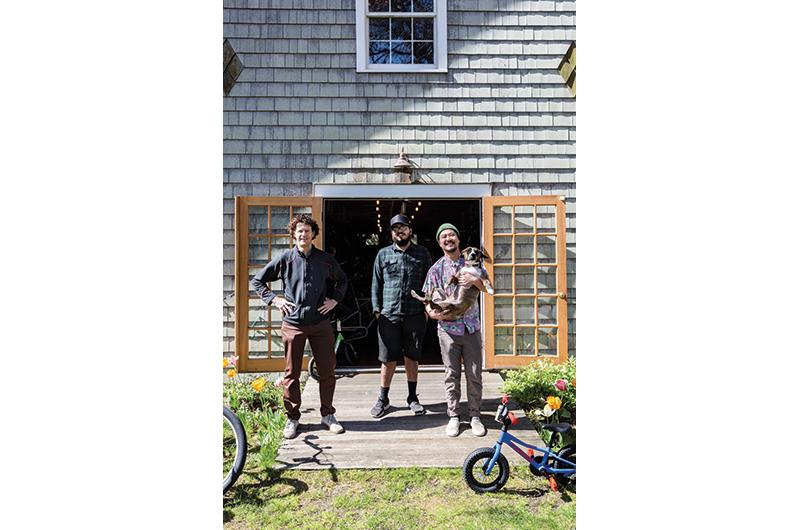 Best Bike Rental/Shop: Edgartown Bicycles
212 Upper Main Street, Edgartown, 508-627-9008, edgartownbicycles.com
Runner-up: Wheel Happy
8 South Water Street, Edgartown, 508-627-5928, wheelhappybicycles.com
With sales, service, and rentals, Edgartown Bicycles will get and keep you rolling around the Vineyard. Whether you're planning a short pedal to town or the beach or tackling challenging Island trails, you can count on their quality and professionalism. Wheel Happy is a full-service family-run shop that welcomes cyclists of all levels.
Best Fishing Charter: Skipper/Vineyard Sound Charters
Slip 74, Oak Bluffs Harbor, 508-693-1238, mvskipper.com
Runner-up: Tomahawk Charters
Menemsha, 508-645-3201, tomahawkcharters.com
Head out of picturesque Oak Bluffs Harbor with Captain John Potter at the helm of the Skipper for a fun-filled fishing experience where scup, black sea bass, bluefish, and fluke provide plenty of excitement – and good eating. Captain Buddy Vanderhoop of Tomahawk Charters knows his home waters off Aquinnah just about as well as the big stripers and bluefish do.
Best Nature Walk: Cedar Tree Neck Sanctuary
Obed Daggett Road off Indian Hill Road, West Tisbury, 508-693-5207, sheriffsmeadow.org
Runner-up: Felix Neck Wildlife Sanctuary
100 Felix Neck Drive, Edgartown, 508-627-4850, massaudubon.org/felixneck
One of the jewels in the Island's network of conservation properties, Cedar Tree Neck's trail system encompasses thick woodlands, a small pond bordered by a barrier beach, and a classic boulder-studded shoreline overlooking Vineyard Sound and the Elizabeth Islands. Felix Neck offers four miles of nature trails on a quiet down-Island oasis overlooking Sengekontacket Pond.
Best Place to Kayak: Sengekontacket Pond
Runner-up: Lagoon Pond
In the mood to explore? You'll find lots of coves and salt marsh crannies within the confines of the 745-acre Sengekontacket Pond, separated from Nantucket Sound by a barrier beach. The occasional sight of an osprey or striped bass add to the experience. Lagoon Pond is as varied as the two towns that share this waterway, which stretches from the drawbridge to a herring run at its upper reaches.
Best Sailing Charter: The Black Dog Tall Ships
Vineyard Haven Harbor, 508-693-1699, theblackdogtallships.com
Runner-up: Catboat Charters
1 Dock Street, Edgartown, 508-524-6903, catboatcharters.com
Step aboard the Alabama, close your eyes, and be transported back to a time when Vineyard Haven Harbor was a forest of ship masts. The Black Dog Tall Ships offers one of the best traditional sailing experiences available, including day trips, week-long summer camps, and private charters. The quintessential Edgartown Harbor experience is a sail aboard Catboat Charter's restored 1927 catboat, Tigress.
Best Summer Camp: Camp Jabberwocky
200 Greenwood Avenue Extension, Vineyard Haven, 508-693-2339, campjabberwocky.org
Runner-up: Fern & Feather Day Camp at Felix Neck
100 Felix Neck Drive, Edgartown, 508-627-4850, massaudubon.org/felixneck
A beloved part of the Vineyard community, Camp Jabberwocky offers children and adults with a wide range of disabilities summer days filled with adventurous activities and experiences that are safe, empowering, and exciting. Fern & Feather Day Camp introduces children to the natural world through fun outdoor programs.