It was Monday, March 16, 2020, and the hallways and classrooms of the Martha's Vineyard Regional High School were empty. Three days earlier, the scene at the school had been vastly different. Classes were in session and students, teachers, and staff were going about their day, but gossip and speculation about the Covid-19 pandemic was spreading, much like the virus across the state, country, and world.
"I actually remember that day they were talking about shutting down school," Larissa De Oliveira said, thinking back on that Friday more than a year earlier. "We were in the library, and we were joking around, like, 'Oh, vacation for two weeks.'"
Michael Trusty remembers making bets with his friends that they wouldn't be in school come Monday. By late afternoon he had won that bet: the superintendent's office officially announced that all Vineyard schools would close for a two-week hiatus due to the threat of Covid-19.
But the excitement of a mini vacation quickly wore off for the then-juniors, now seniors. Since March of 2020, the pandemic has significantly altered the final year and a half of their academic lives. With the help of senior class advisors Nell Coogan and Erin Slossberg, I reached out to a cross section of students to see how they have handled the ups and downs of their final year at the regional high school, and what their plans are for the future.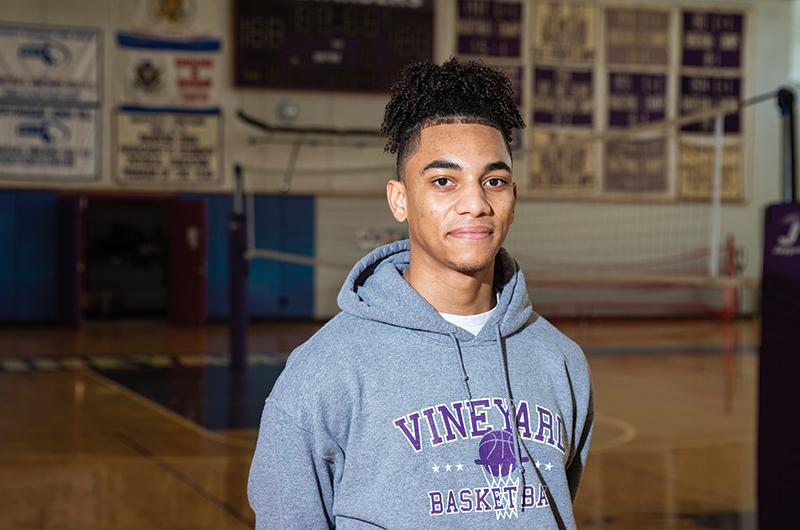 "I thought that [the pandemic] was going to be a temporary thing," Vitor Lage said. "I didn't take that into context and how that was going to affect our school lives."
"We never thought it would be our whole lives revolving around it," De Oliveira agreed. "But it's the new normal, I guess."
The "new normal" for students Island-wide quickly became remote learning. Through Zoom or Google Classroom, the high school students would log on at various times during the day for one-hour classes. Many of the students I talked to admitted to feeling that they neither learned nor retained anything in those last few months of the 2020 school year, but it wasn't clear what the precise cause of that may have been.
"Most kids were not trying," said Trusty. "I feel like teachers were giving a lot of busywork. And it wasn't really work that benefited us," said Owen Metell. "Everyone was just struggling to adapt with this new way of learning," said Amanda Moraes.
It wasn't long before the cancellation of extracurricular activities also began. There was no spring season for sports. Class trips, such as a ski weekend to New Hampshire and the Model United Nations to New York, were called off. And for the class of 2021, that meant their junior prom was in jeopardy.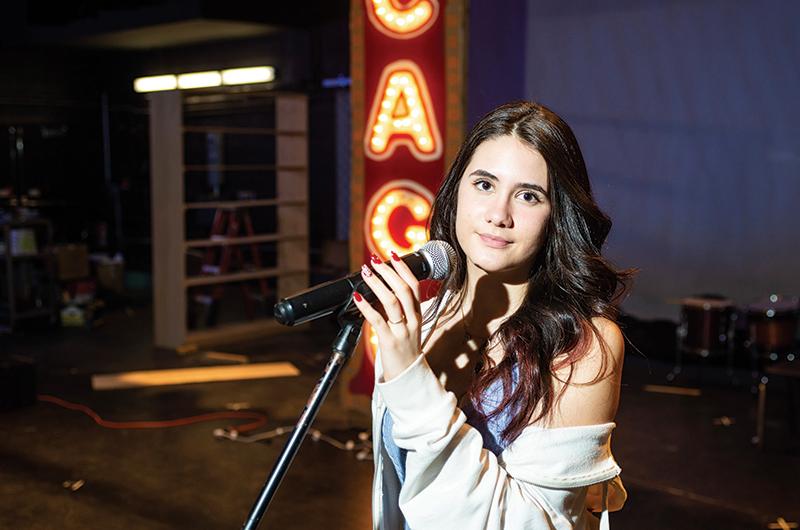 "We were all lined up," said advisor Slossberg, who teaches Spanish. The venue, food, and music were secured. Students had a group chat where they could share photos of the dresses they bought so that there would be no duplicates. "We tried to remain hopeful for the kids and supportive," Slossberg said. The date was pushed back, and back again, but in the end, prom, too, was cancelled.
Metell, who has been on the student council since he was a freshman, had been fundraising for prom for the past three years. "It is really disheartening that after all of this – the fundraising and everything we have done – all the hours and stuff, that [prom] is not going to happen," he said. "It's like a tradition," said Lage. "We are all waiting to get our turn on it. And when it's finally time to do it, we can't."
Not that the students didn't understand the bigger picture of what was happening around the world. "We are conscious of the pandemic and that is why we don't want to risk anything and have these [kinds of events]," said De Oliveira. "It's just sad to see all these things we were supposed to experience not be there."
It was also hard for the students, like so many others, to grasp just how long the pandemic would last. "I was thinking at the most that it would be a little bit into the summer," said Chloe Combra. Lage agreed: "I just thought it was going to be quick, either like a month off or take until the end of the summer, and once we came back it would be normal again."
But summer came and went. The first day of school – September 17, 2020 – arrived with little fanfare. Instead of students driving into the parking lot at the front of the school near the performing arts center, cars were queuing up for Covid tests at the Quest Diagnostics site that took over the area back in June. There was no first-day buzz in the air. Except for a select number of students who either didn't have access to remote learning tools or required specialized in-person learning, most of the Class of 2021 – the Covid Class, if you will – continued their virtual schooling from the confines of their homes.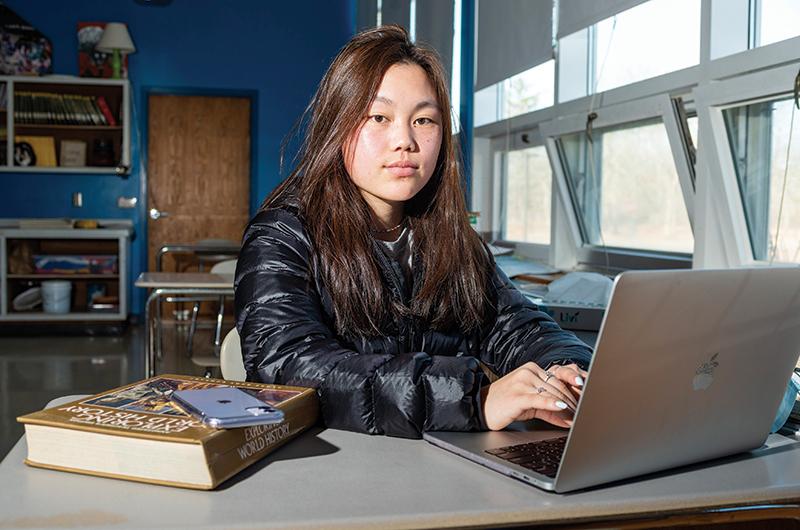 Outside of academics there were, however, a few signs of normalcy reappearing. A couple of fall sports teams were allowed to practice, even though they were not allowed to actually play against opponents. Football, outdoor track, cheerleading, and unified basketball seasons were pushed to a "Fall Season 2" slot, which began in March. And the Minnesingers, the student chorale whose spring 2020 concert had been cancelled, were allowed to gather and prepare for their fall show. "We had to rehearse outside until November," said Moraes, who has been a Minnesinger since her sophomore year.
With Covid numbers still relatively low in the fall, the Minnesingers held onto the hope of presenting some iteration of a live show. But at the end of October, case numbers of Covid began to rise. "We cut our show in half and just recorded it with us standing six feet apart," she said. The show, which featured holiday favorites from multiple traditions, was broadcast in December at the drive-in behind the Martha's Vineyard Ice Arena, followed by the theater students' virtual production of It's a Wonderful Life: A Live Radio Play.
At the end of 2020, after much debate between the Martha's Vineyard Regional High School Committee, school officials, and parents, the committee voted 8-1-0 in favor of students returning to the high school after winter break. Beginning January 11, those who felt comfortable going back into school were put in either Cohort A, which would attend classes on Monday and Tuesday, or Cohort B, on Wednesday and Thursday, with Friday remaining a remote day for everyone.
Not surprisingly, perhaps, not every high school student was eager to return to the classroom. "It's not as many as I would have thought," said advisor Coogan, who teaches English and career exploration rotation and also serves as a student-student and student-staff mediator.
No one is discounting that some students may have been uncomfortable with the notion of gathering indoors. Ciara Hoyt was one of them. "I just know that there are more people out there that are being less cautious than I am," she said. "I'm not perfect with it either…I just don't trust some kids around me." But it wasn't only a safety issue that kept Hoyt from returning to the school. "My entire friend group decided to stay remote….So there was no point for me to do it," she said.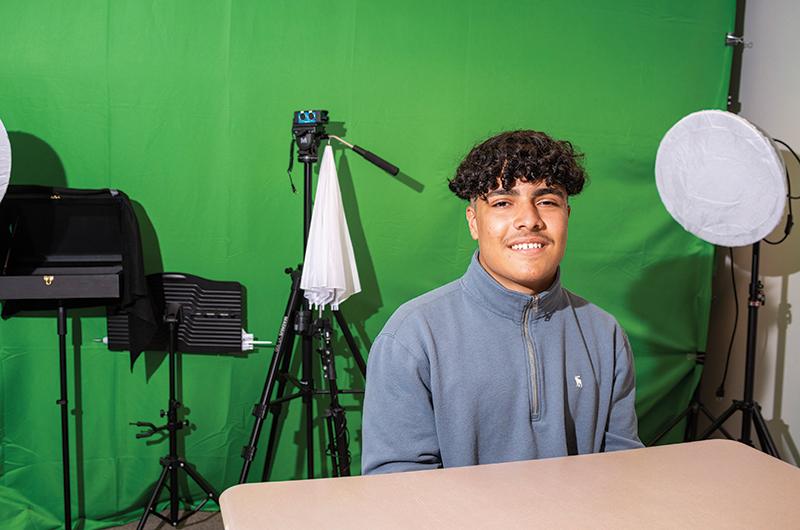 Some students, on the other hand, were now tasked with staying home to serve as caregivers to younger siblings, or, with the newfound flexibility of remote learning, were attending classes while holding down a job. Coogan, who has taught high school students for five years, also figures "it's much easier to roll out of bed and Zoom in and not deal with coming into school."
"I don't feel like there is a mad rush of seniors grasping for their last days," echoed Coogan's fellow class advisor, Slossberg. "They might just be deflated and taking advantage of a more college-type future."
There were some scholars, however, who persevered, determined to make the most of their final year at school. Combra, who is co-president of Interact Club, president of Best Buddies, and co-editor-in-chief of the High School View newspaper, wasn't going to let the pandemic disrupt her duties. "Everything was hard but manageable to a certain point," she said. She and her fellow club members were able to pull off a few Covid-safe fundraisers and events, and the newspaper, which comes out weekly throughout the school year, was produced remotely.
For Lage, who moved to the Island from Brazil when he was ten years old, helping out the overall Vineyard community has been a common theme throughout his high school career, and one he has stuck with in his senior year. Fluent in both English and Portuguese, Lage has served as a volunteer translator for the incoming Brazilian students. He is also a familiar face on The GrapeVine, a weekly webcast students produce themselves that gives an update on the various happenings around the school, from sports and volunteer opportunities to interviews with staff and students, and even birthday shout-outs.
But for Trusty, whose passion is basketball, the excitement of actually having a season this past winter was marred by the possibility of not being scouted to play for a college team. On varsity since he was a freshman, he earned the title of captain this year and was a consistent top scorer, helping to lead his team to the Cape and Islands league championship at the end of February where they defeated Falmouth. "My senior year, I was hoping to get recruited…but then our season was iffy and then it got moved short," he said.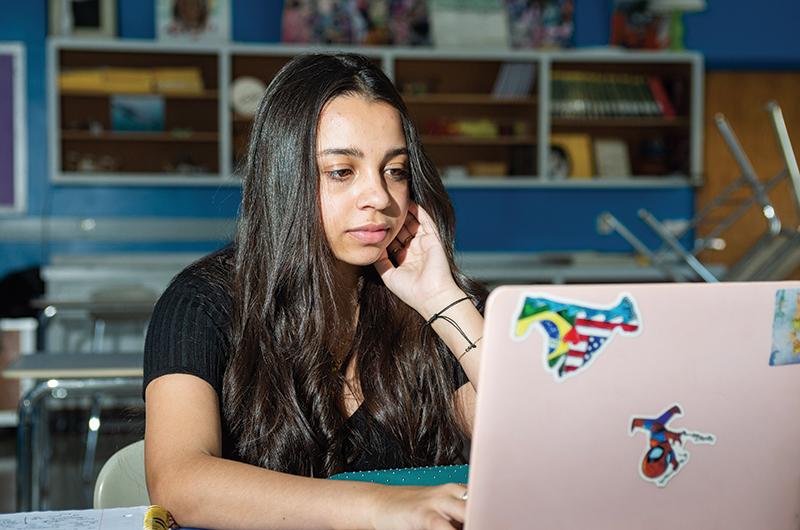 Trusty's plan when I originally spoke with him was to either complete a postgraduate year at a prep school or go to junior college. But after following up with him a few weeks later, he told me that he had been accepted to Bridgewater State University and was in talks with the basketball coach there. In general, he has reservations about what the new school year, beginning in September 2021, would bring. "If it is fully Zoom, I don't think I will be able to do it….I cannot learn over Zoom," he said.
It's a sentiment shared by many other students who have endured the difficulties of remote learning over the course of the past year and a half. And it begs the question: what are the long-term ramifications?
While it is clear that the end of the 2020 school year left many feeling drained from spending their days staring at a screen, when it came time to begin the new year, teachers were prepared to help their students be more engaged. "This year, we as a staff spent an incredible amount of time preparing to make our online learning platforms as meaningful and effective as possible," said Slossberg.
Yet even with the extended effort from teachers, there are other factors to consider when it comes to learning remotely. "On the one hand, students have had to be more resilient," said Coogan. Slossberg agreed: "The students, though it is clear they miss being in person, have exceeded expectations and risen to the challenge." "On the other hand," said Coogan, "online is a huge struggle for those with attention issues and/or those who really benefit from more hands-on, in-person experiential learning and discussion."
Nothing, it seems, can really compare to the experience of in-person learning – be it for the social, emotional, or educational aspects. "Although it has been incredibly frustrating how quiet and, at times, distant my students are, the year feels like a success to me," Slossberg said.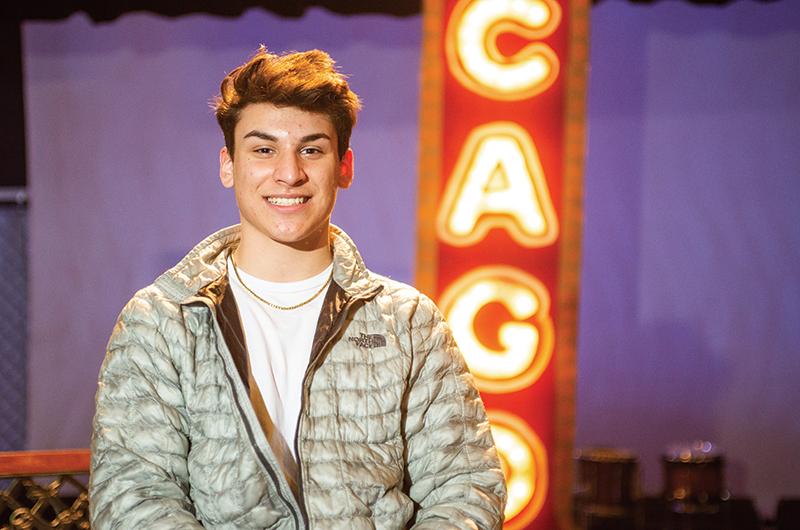 As of this writing, Covid-19 vaccines were being distributed to some members of the community, including teachers, and there were indications that vaccines would be available for all in the coming months. Seniors with an interest in going to college still had time to decide whether to attend or defer. The hope, for most, was that with the vaccine rollouts, some aspects of life might begin to return to normal, such as in-person learning at the college level.
"I think when I go, they will have it more under control, so I think more classes will be in person than online," said an optimistic Hoyt, who will attend Purdue University in the fall to study aviation.
Widespread community vaccination also meant that graduation was still expected to take place in early June. Where it could safely be held, though, had administration and families going back and forth. Many hoped it could take place at the Tabernacle in Oak Bluffs, where it has been traditionally held. But, said advisor Coogan, the audience would have to be very limited in that venue compared to normal years. It was finally agreed upon that the varsity baseball field, better known as the Shark Tank, on the high school's campus would be the best venue.
While many school districts in the commonwealth have had to remain remote for most of the 2021 school year, Vineyard students can count themselves lucky for eventually getting the opportunity to return to in-person learning. But there is still the question of how far into the future remote learning will remain the main platform for education, both on and off the Island.
Except for Hoyt, all of the seniors I interviewed decided to return to the high school for in-person learning when the option became available. Even so, many were weighing their options for next year and trying to determine how big a role remote learning could or should play in their future. "I don't see the point of paying full tuition just to sit at home or in a dorm on Zoom," said Metell.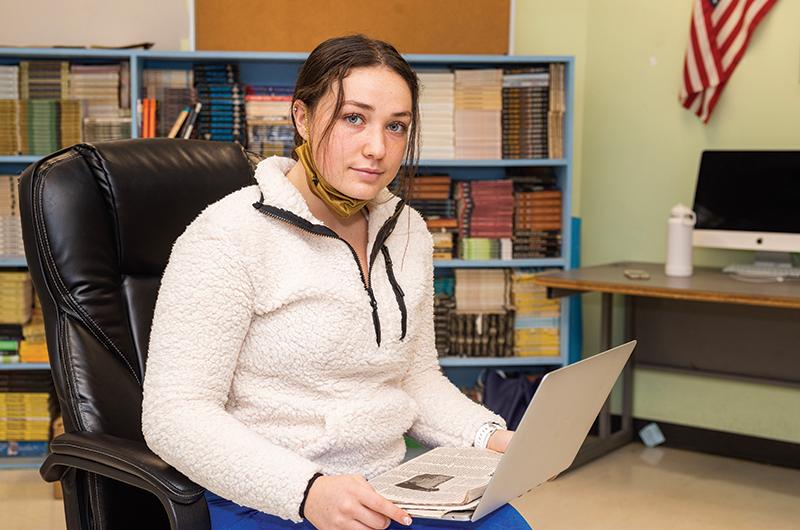 "This year is supposed to be our transition," said Moraes during our original interview. "And with Covid, for me personally, it has made me feel stuck and just so unmotivated to look into that future and try to figure it out." After following up with her a few weeks later, Moraes said that, so far, she has been accepted to two schools, including the University of Massachusetts–Amherst, one of her top picks. "I still need to go visit the campus somehow, or at least attend the Zoom visits and information sessions," she said. "So, my plans are not concrete, but they are there."
The same goes for De Oliveira. "I haven't committed yet because I still want to visit [UMass–Amherst] and hear back from other schools," she said. "But I'm really excited about the future and college."