It's 10 a.m. on a Friday and the door swings open. A twenty-something man in Carhartts enters.
"Bom dia!" Sonia Destefani calls to him warmly. He passes a display of artisanal holiday chocolate pops, reaching instead for a warm chicken empanada, complete with a braided crust and cracked top. Sonia is ready at the register, wearing a white apron, hairnet, pink Sweet Bites T-shirt, and, this year, a mask. Looking much younger than her fifty-three years with her dark pink hair and red fingernails, she has a quick, spirited conversation in Portuguese with the customer, rings up his order, and bids him, "Tchau!"
Next, in comes a woman with two boys seeking refuge from winter cold. They order in English, hot cocoas and pecan tarts. Everything at Sweet Bites is made from scratch, sold, and served all within a Lilliputian 652-square-foot space. Since co-owner and chef Sonia opened the place four years ago with her husband, Valerio, the bakery café has won a loyal following for its wares – both sweet and savory. Brazilian and not so Brazilian.
In one display case, brigadeiros, bite-sized Brazilian treats that resemble truffles, are artfully arranged. Depending on the day, flavors may include dulce de leche, caramel, strawberry, coconut, and more. In Brazil they are a staple for parties, as are the traditional Brazilian snacks called coxinhas (pronounced "cosheenas"), which are a mixture of rice flour, carrots, onion, cream cheese, and chicken. For a quick and flavorful lunch there are hand pies and acai bowls. Meat and potatoes types can order standard American fare, such as turkey clubs and apple turnovers.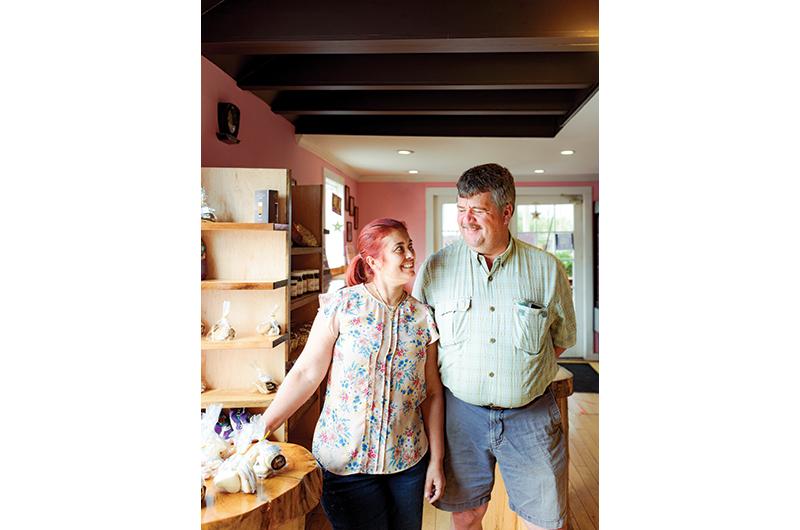 So while many other Island eateries had to fully overhaul their menus for the summer of enforced takeout, Sweet Bites was in the enviable position of being pretty much ready to go. "July, August were great! Great!" Sonia reported. "Very good amount of customers. We blew up!" Additional outdoor seating introduced this year was such a hit that she hopes the town will approve it every summer.
And yet the year was not without its hardships. "Everyone adapted. It's not easy to work in a hot kitchen with a mask all day long, but we're doing it," said Sonia. She is quick to thank those who helped her and other Island businesses stay afloat. "Customers came from NY, NJ, PA – so many new customers this year. We felt huge support. I want to thank the summer people who have come to support Island business. I want to thank the locals. I want to thank everybody. MV Bank helped us with their Lift Certificate program. It was huge."
Sweet Bites is actually the second of three eateries that she and her husband have launched. They opened the popular Brazilian-style cafeteria Bite on the Go on Circuit Avenue in Oak Bluffs in 2012 before moving to the Shell station in Vineyard Haven in 2014, and they recently ventured across the Sound with a Bite on the Go in Falmouth. (The Vineyard Haven spot closed this summer after the lease ran out and the owners decided they no longer wanted a kitchen at the gas station. The Destefanis are looking for a new location.)
Like her cafés, Sonia, at five feet, two inches, is petite, sweet, and vibrant. She decorates with signs such as "Love is All You Need" and "Keep Calm and Eat Brigadeiro." And though she clearly embraces her native Brazilian culture, offering a well-rounded menu is important, she said. Pointing to the lime tarts and cheesecake, she said, "Those are not Brazilian. On Martha's Vineyard we have people from everywhere come in the summer….You have to show them a little bit of everything. Something they already know, something to try."
"Everybody bakes in Brazil," Sonia said. "Making cheese breads, Brazilian cakes, brigadeiro, it's just how you grow up, with families making their own food."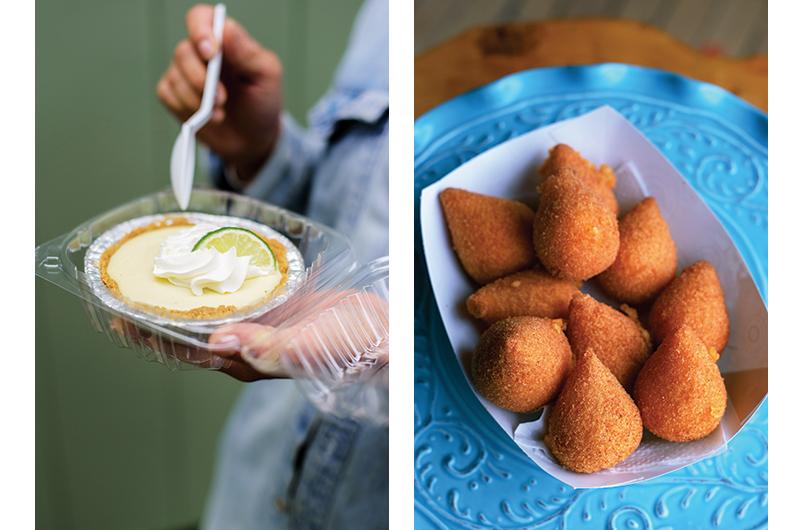 Still, she never imagined herself one day running her own food shops in America. Growing up in southeastern Brazil's Espírito Santo, a region known for its beaches and mountainous nature preserves, she enjoyed playing with dolls and her two brothers and three sisters. Church was and still is an important part of her life. But after marrying Valerio, the two began dreaming of the opportunities America offered, especially schooling for their three young children.
Valerio arrived on Martha's Vineyard in May of 2000 after working for a car dealership in Boston and hearing about the Island. Eight months later Sonia followed. They both had their start at Cronig's Market. Sonia spent fourteen years in the meat department where she says she was treated very well. After two years they were able to bring their children to America and bought a home. "We wanted them to feel at home in a different country," she said of the importance to her of buying a home. "My son, he used to cry – he didn't know English. We had no day offs."
When Valerio first started Bite on the Go in Oak Bluffs in 2012, Sonia managed a small dessert section. "People were ordering cakes. It became very popular. My husband asked me to quit Cronig's." The growth came in stages. In 2014, they moved the operation to the Vineyard Haven location. "We hired a chef. Then hired another." Soon, they had outgrown their space. In 2016, Sweet Bites came up for sale and they wondered about making the investment. "We made an offer. In three months we bought it, renovated it, and hired staff. We started creating new recipes, cakes. Everybody was from Brazil and had the knowledge."
With a pause, a roll of her eyes, and a small smile, Sonia says running a business with her spouse is mostly smooth, because their roles are so distinct. Valerio runs Bite on the Go while she runs Sweet Bites.
"We may pass each other during the day for a delivery. At night, we'll talk about business over dinner and then say, 'That's enough!' and we watch television or read."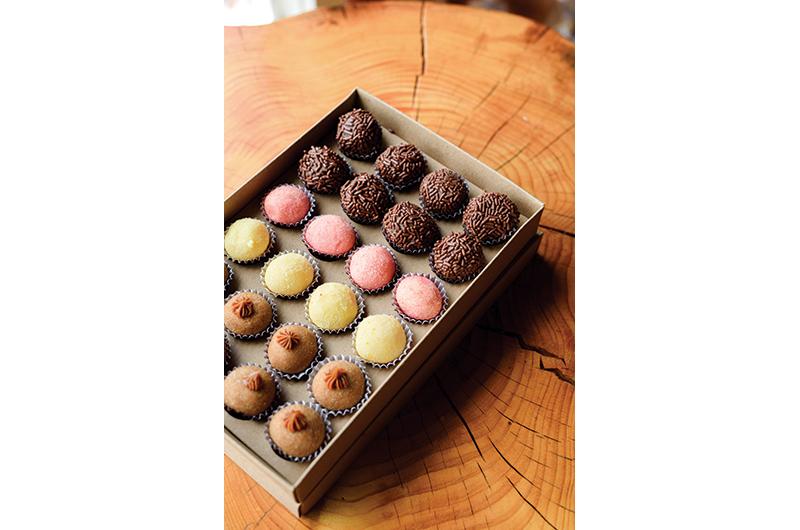 It took sixteen years of applying and reapplying for visas, but in 2017 the couple earned green cards and became permanent residents of the United States. And now that her children are grown with professional jobs of their own, Sonia enjoys spending time with her seven grandchildren, often decorating doughnuts or heading to State Beach together. And sneaking in some travel to new and familiar places. After not having her siblings around for seventeen years, these days she visits them almost annually.
But there is no question that the Vineyard, and America, are home. "It is important when you live in a small community to feel supported as a new business," she said. "When I drive the Sweet Bites van, people know me and wave." They don't just know her from Sweet Bites, it might be added. "I make things for the hospital, Windemere [nursing home], [Martha's Vineyard] Boys & Girls Club, Possible Dreams auction, schools….When you give something, God gives you back. Definitely." In the winter she donates scratch soups to the homeless through the Houses of Grace Island Winter Shelter program, and last year she also taught a workshop on how to make pão de queijo (traditional Brazilian cheese bread) to Island school cafeteria chefs.
It seems the Destefanis always have something on the horizon. "Experimenting keeps you growing," said Sonia. She has been catering a bit more, and her new vision for Sweet Bites' patio includes an extension where, with proper permits, they can host a limited number of events. Valerio, meanwhile, is considering expanding their business with another location.
For Sonia, however, what's happening now is enough. Placing her hand over her heart she said, "When you hit a certain age, you have to work consistently and be satisfied by a certain amount. Doing good [with] what you are doing. And enjoy life." She notices how many hours Americans work and tries to consciously pull back.
America is a warm country, she says, which in her opinion makes it different from Brazil. "There, the government is corrupt and there is no opportunity. America is a trust country – they trust you and give you opportunity. With a little English, someone here will give you a chance. Be intelligent and work hard. Doors open for you when you do the right thing.
"The community makes us feel comfortable to grow," she added. "It doesn't matter where you come from. When there is a wedding or a police department function, when people have an event, they come to us. It makes us feel like home."