The name V. Jaime Hamlin is synonymous 
on this Island with big, extravagant 
parties. Presidential birthday celebrations, 
nonprofit galas, star-studded soirées – she's tackled them all. Hamlin is also arguably the leading caterer for the sort of 200-person lavish weddings that in recent years have become more the norm than the exception on Martha's Vineyard. One taste of her tomato tart is enough to understand the reason for her continued success.
Of course, there's another reason too. While big events mean big business, they can mean more space for big problems. But you wouldn't know that if you hired Hamlin or attended one of her lively affairs. Over the course of four decades in business, she has developed a reputation for her ability to oversee even the most complicated gatherings. Last-minute head count change due to a nor'easter? No problem. Kitchen equipment breaking on site during the party? Hamlin's got it handled. Her expertise has even resulted in a new entry in the Vineyard lexicon: 
"Jaime jobs," meaning a job that Hamlin has well in hand, a 
job at which one can be sure that everything will be executed 
to perfection and the host is free to relax.
"Jaime is a legend," said P.J. Kron, a seasoned restaurant veteran who has worked in the Island food industry for the 
last twenty years, and for V. Jaime Hamlin and Sons for the 
last decade. "With 'Jaime jobs' everything is taken care of. 
All the t's are crossed, all the i's are dotted, plain and simple. She provides a great work environment and has an answer for everything. I've never once seen a stressful situation, and Jaime is so approachable and easy to talk to. She always has an answer and if she doesn't, she finds one."
Still, nothing could have prepared Hamlin for the questions she'd have to answer earlier this year: What do you do when the parties stop? When, due to the raging coronavirus pandemic, most of your major events have been postponed, or at best, have been reworked from big celebrations into teeny-tiny ones? When, as a result of state emergency orders, parties for large groups aren't even allowed?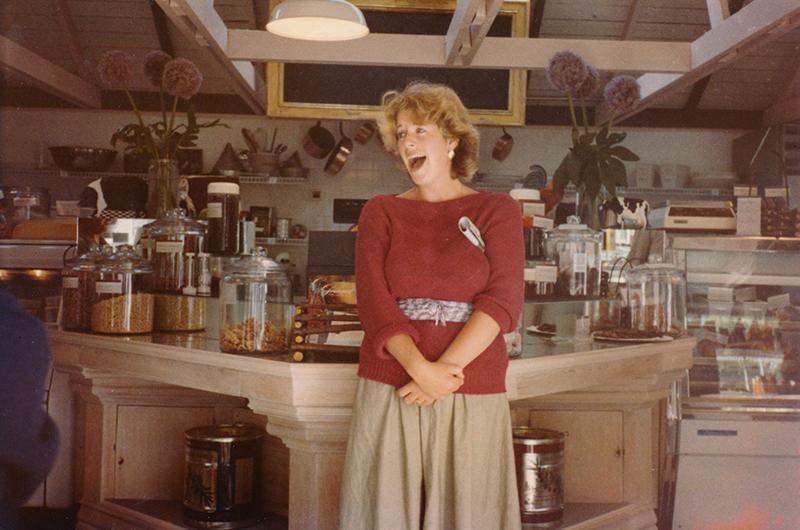 "Could I have ever prepared for this?" Hamlin asked sarcastically one recent summer afternoon when reached on the phone. "No," she answered. "No. No. No."
Her voice sounded a bit hurried, her tone stressed – unusual for a person known for her grace under pressure. And yet business as usual had recently been turned on its head and the pressure dialed up. Two months earlier, she had introduced a new business model, V. Jaime Hamlin at Home, a delivery service that brings her food to your doorstep. The work was intensive. The money brought in would be just a drop in the bucket compared with larger celebrations. But it would keep her and her sons working. Faced with a challenging situation, she did what she has always done: she pivoted. It's what a Jaime job is all about.
In the spring of 2019, before the coronavirus pandemic hit and life was fairly normal, I met Hamlin, a tall and confident woman with broad shoulders and golden-strawberry hair, in her sun-drenched commercial kitchen cottage with the front door propped open. Behind her stood her thirty-eight-year-old identical triplet sons, Alex, Nick, and Duncan. All six feet tall exactly, with brown hair and thick eyebrows. All dressed the same, wearing black catering T-shirts bearing the logo for the family company: V. Jaime Hamlin and Sons Catering & Party Design. The kitchen they were standing in was uncluttered and tidy, with everything labeled and so neatly organized it could give new meaning to mise en place.
"This used to be where the nanny lived when these boys were little," Hamlin said of the seemingly calm and peaceful space, which is now where she and the "and Sons" get most of the prepping done for the forty to sixty events they do each season. "Event" is not an overstatement: in the height of the wedding season she typically manages a staff of about sixty-five, many of whom started working for her more than a decade ago. The "and Sons" started longer ago than that, almost as soon as they could hold a potato peeler. "These boys are hard workers," Hamlin said proudly.
It's obvious the sentiment is returned threefold, as nobody 
is more proud of Hamlin's accomplishments than the triplets, who took a little time off here and there to leave the Island to earn college degrees and pursue other possible careers, but 
have all returned home to work for the family business.
The family business exists because Hamlin is, by all accounts, driven. While a large portion of her business now revolves around upscale dinner parties and weddings, her story has a classic start-from-the-bottom, work-your-way-to-the-top narrative. Fresh out of college, an eager-to-work Hamlin first came to live on Martha's Vineyard after graduating from Northwestern University in Illinois with a degree in radio, 
television, and film. Her sister, Cynthia, had a summer home 
on the Island.
In the mid-1970s, Hamlin came to the Vineyard looking to work on the filming of Jaws. "But I was too late and all the jobs were taken," she remembers. "So I looked for a job in the Vineyard Gazette and saw an ad for a dinner cook."
She was hired by Carol Brush, then owner of Martha's Cheese's in Edgartown (in the space that is now Alchemy). They rechristened it Martha's Restaurant after Brush saw an opportunity to buy the business and partnered with Hamlin to create something new. Shortly after that, both women got married and eventually Martha's Restaurant closed. But Hamlin wasn't done with the restaurant business. "I met my now ex-husband, Raymond Schilcher. We got married and opened a place called Feasts" – a restaurant that was first in Edgartown, then moved up-Island to where the Chilmark Tavern is today. "But there was no liquor license and you can't make any money without a liquor license."
In 1981, the need to make money became even more 
important when Hamlin learned she was pregnant. "Three identical boys, I couldn't believe it!" Hamlin said of the triplets, who were born in March of 1982. The next year, Hamlin expanded what had been a small side catering company. "I had met Patrie Grace, a wonderful event planner, and we just sort of clicked." Although both women had their own businesses, they collaborated to execute dozens of parties, which eventually grew to be hundreds and hundreds of celebrations. Grace, who has four children of her own, handled the staffing and the front of the house type of duties, while Hamlin created the menus and executed the food in the back. Hamlin's husband, meanwhile, opened a popular restaurant in Oak Bluffs called The Oyster 
Bar (where Rockland Trust is now).
"But then things got real," Hamlin said. In 1994 she and Schilcher divorced. By then she had a fourth son, Mac, who was three years younger than the triplets. "The [older] boys were twelve and I looked at them and I thought, 'Well, we can either lose the house and fall apart, or we can all pull together and work together.'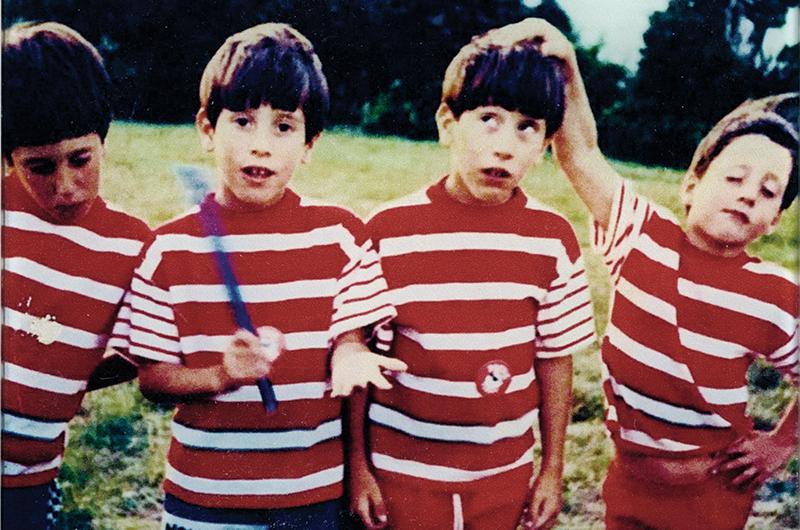 "So we pulled together," she said softly, smiling at her sons.
The triplets started helping out by observing what their mother did to prepare for an event. They watched her plan, then cook, and finally execute events for people all over the Island. And once they got a taste of the business, the three older brothers were hooked. Only Mac, the younger brother, decided not to go into the catering business: "He's always been known as the one who isn't a triplet, so he's liked to distinguish himself and do his own thing. He likes to brew beer, and that's great," Duncan explained.
Part of the excitement came from meeting cool clients. Chances are good that if a celebrity has been to an event on Martha's Vineyard, Hamlin has catered it. "Our first job was a big one," Duncan said proudly, his brothers and mother ad-libbing in agreement.
It was August 31, 1997. The boys were fifteen and Hamlin's catering company had been hired by President Bill Clinton and First Lady Hillary to cater an intimate dinner party. "I'll never forget that day," Duncan said. "Nobody will," echoed his mother. The brothers all looked at one another as if they knew what each other was thinking, an occurrence that happens often, probably because they do know what each other is thinking.
"Okay, I'll tell the story," Duncan said. "We were working this party, and all of a sudden I noticed people going into another room where the TV was." This was a time without smart phones or social media at your fingertips. "I've always been a news buff, and TVs were how you got breaking news," he continued, his voice getting a little quieter, his posture, along with Nick's and Alex's, switching from relaxed in their chairs to leaning forward.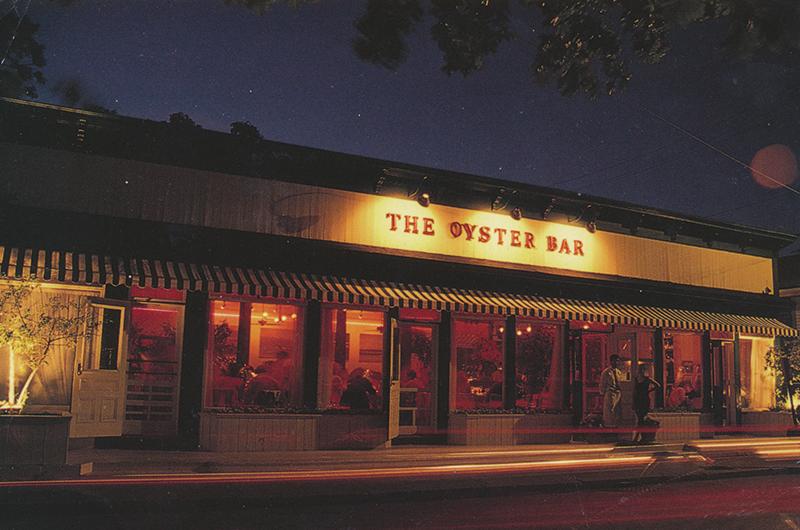 "Princess Diana was in a car crash," Duncan said.
"Princess Diana had died!" Nick chimed in.
"It was scary, it was sad, it was crazy," Duncan continued.
"All of a sudden the news flashed to a reporter, who said the president was at a private dinner party on Martha's Vineyard and would speak on the matter soon," Duncan said, his eyes widening at the same time as Nick's and Alex's. "I looked over, and Clinton is right next to me with his top advisor guy and I'm thinking, 'Holy shit, no kidding, the president is at a party on Martha's Vineyard and I'm right here next to him!'"
By the time the triplets graduated from the Martha's Vineyard Regional High School in 2001 and headed off to the University of Massachusetts at Amherst, they were immersed in the business, even if they didn't yet know it. "Cooking is in our blood," said Duncan. "Our mom is a chef, our dad is a chef, this is just what we were meant to do."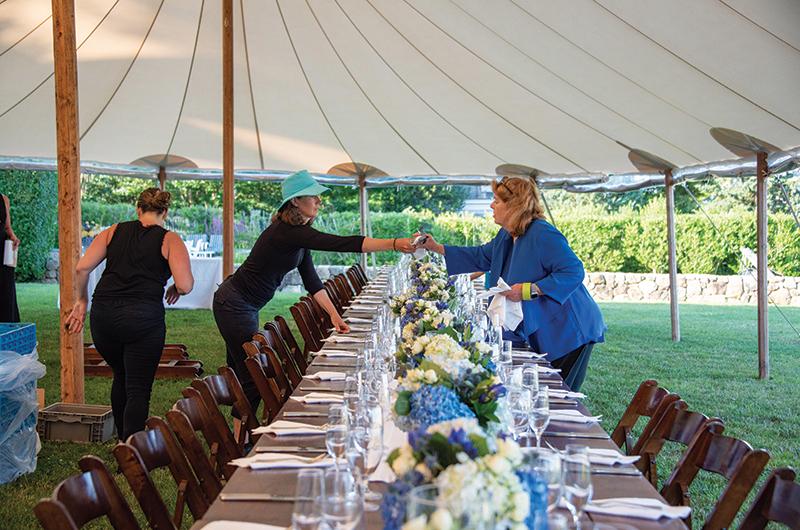 Alex nodded his head and smiled. "I majored in business and wanted to go into sports management, but I ended up working as a manager at a sports bar," he said with a laugh. But this experience only helped him become a better caterer, and he ultimately decided to join his brothers and mom back home.
"Mom's a good boss," Duncan said, as his mother tilted her head sideways in adoration. "It's true! You're very organized," 
he continued.
Her sons aren't the only ones to note the importance of organization, and how that, along with a no-fuss attitude, easily translates to success at party after party.
"It was a thrill to work for her," echoed Ali Berlow, a former employee, now an author and food activist. "The level of pressure Jaime faced at every big event – she did so with grace, a sense of humor, and delicious food. I've great admiration and incredible memories from it all. And the leftovers were pretty fabulous too."
These days, there aren't many leftovers to go around, and no robust crowd of servers waiting for their opportunity to dive in. Then again, in some ways it's never been easier for someone to sample Hamlin's food without working for her or hosting a major event.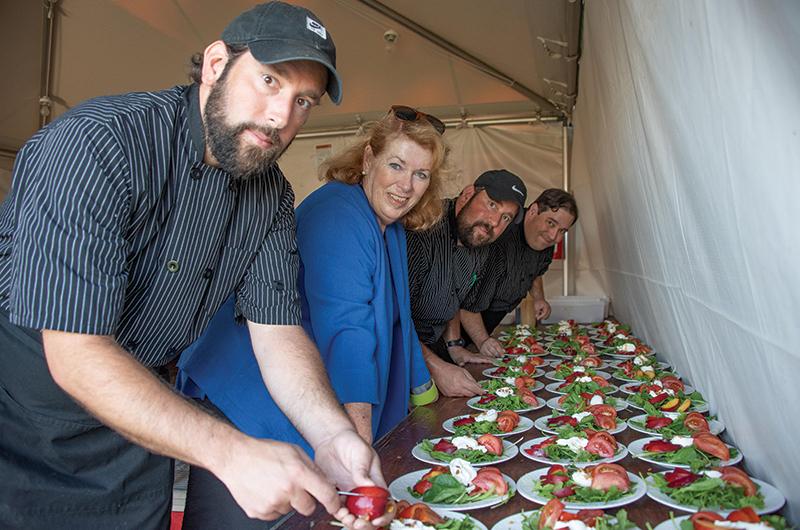 "It's me and the triplets right now," Hamlin said when I reached her by phone earlier this summer to find out how she was faring in a post-Covid-19 world. "And we've made a big change for this season."
That change included a new website, vjaimehamlinathome.com, a new contactless meal drop-off operation that follows all the current state, local, and CDC guidelines for food delivery. Hamlin rolled out V. Jaime Hamlin at Home in April.
It's not what they envisioned – or wanted – for what was supposed to be one of their biggest summers to date, but they are making the most of it. "This is three times as much…no, ten times as much work, all for very little money," she said. But Hamlin never considered cancelling or putting the business on hold. "These guys need work and we need to keep going; we need to keep our name out there," she explained.
V. Jaime Hamlin at Home offers three-course-per-person meals for $50 with a two-person minimum and the ability 
to add on extra entrées, sides, soups, and desserts à la carte. Deliveries are made on Thursdays, Fridays, and Saturdays, 
and delivery is free – even if you live down a bumpy dirt road 
in Aquinnah.
"We saw people were doing takeout and people living in Chilmark didn't want to drive to OB or VH, so we thought because we are charging premium prices, a free delivery to 
their doorstep would be something we could market, could be appealing," Hamlin said.
"We make all the food and then the boys get in the car and drive it around and then I stay back and work on the next set of orders," she said.
A lot of her V. Jaime Hamlin at Home customers are past clients she's catered for, but she's also seen a host of new people. "It's a great opportunity for us to get our food out to people who wouldn't necessarily have the chance to try it."
In the end, of course, it's all about the food. Hamlin is well known for her surf and turf, which is probably the most requested entrée at the weddings and dinners she caters. "My mom's cooking style is coastal New England with a French flair, like a Julia Child of the Vineyard," Duncan said. But surf and turf is hard to execute for takeout, let alone delivery. So, much as she's been doing all throughout her career, she assessed the problem and readjusted, brainstorming a creative Jaime-ish menu to offer customers.
The menu changes weekly, with favorites including dry roasted sage-thyme baby back ribs, Tuscan chicken over toasted Italian couscous, roasted miso-glazed Faroe Island salmon, and grilled medium-rare tri-tip steak tagliata. Earlier in the season she offered the original Oyster Bar chocolate bread pudding with espresso cream for dessert, a nod to her past.
Interestingly, the triplets are all vegetarian, so creative vegetarian options are on the menu too. Dishes like red-pepper-and-spinach-stuffed summer zucchini, vegetable lasagna made with earthy baby portobello mushrooms, mezzaluna salad, classic potatoes dauphinoise, green beans with roasted tomato butter, corn pudding, gazpacho – the list goes on. "I want to list them all for you but there's so many, and I have to pack the car, so just go and look it up on my website," Hamlin said.
A year ago, pre-coronavirus, Hamlin and her triplets sat with me in their living room for twenty minutes naming all their favorite foods. After they did that, Hamlin recited the recipe for her standout tomato tart. (The recipe can be found in the Morning Glory Cookbook.)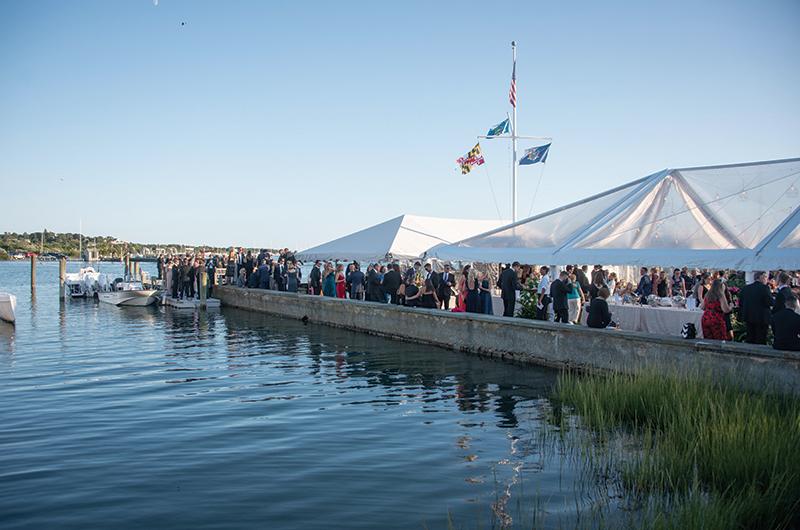 But on this day there would be no time for such recitations. Despite a significant decrease in volume, Hamlin was busier than ever. "It's just as much work to do a party for twenty-five as a party for 125," she explained. Since state regulations have started allowing caterers to drop-off dinners for slightly larger parties, she's added that to her list of business to-dos, and they've been popular and successful. Still, it's a far cry from the sixty-plus events she had slated for this year, many of which had guest lists topping 200.
"We're doing everything one day at a time," Hamlin said. "We don't have a choice. We have to do everything by the rules, and we never know when they'll change or what the future 
will hold."
Hamlin said she's eager to resume a business that allows her to cook for larger crowds. But that may not happen until next year. Almost all of the events she had slated for 2020 have been rebooked for the same date in 2021.
Thankfully, all of her clients understand the unique situation wedding vendors are going through, and one specific client understands it firsthand.
"My son Nicky is getting married this summer, the last week in August," Hamlin said. "So we'll have a small ceremony and a dinner with immediate family this year, followed by a big party next summer, an anniversary party!"
That seems to be the plan for most couples who were expecting to wed in 2020: they are either postponing both the ceremony and reception a year out, or doing a small ceremony and a reception with a handful of close family members, and then celebrating with everyone a year later for a big anniversary blowout. That gives her hope that large, blowout events will eventually resume, and that life will return to normal – or 
some new version thereof. "Twenty twenty-one will be the year of the anniversary party," Hamlin said confidently. "I'm calling that now."