"This isn't necessarily where I saw myself," Everett Whiting said of his decision to come on board last year as a partner at The Fish House in Edgartown. After running his own high-end catering business, and working under chef Hal Ryerson at The Sweet Life in Oak Bluffs, he wasn't sure his next best step was to "start slinging fish sandwiches." But he was excited by the potential of the market, its location at the airport in what was once the legendary nightclub The Hot Tin Roof, and the opportunity to begin to redefine Island takeout.
His new partners on the other hand, the husband-and-wife team of Tyler Gibson and Shane Laderoute, who along with original partner Alec Gale had opened The Fish House in 2018, had no question about the move. The primary idea for the business was simple: to connect Island customers with local fish. In addition to working as a commercial fisherman and a chef, Gibson also ran his own contracting company. He oversaw the extensive renovations, transforming the space into a bright and airy retail market, which now has a large kitchen with a processing area in the back. "After that first summer, we started daydreaming about having a kitchen and wondering who we could get to cook," said Laderoute, who brought years of experience managing the Menemsha Fish House to her new position as The Fish House general manager. "From the beginning, it was always Everett."
The menu is often informed by 
whatever Gibson is bringing in from 
local or regional fishermen, keeping the operation as efficient and sustainable as possible. "I'm always thinking, 'What's 
Tyler got that he's got to move out of the fish case?'" Whiting said, adding: "The kitchen always gets top priority." Yes, there's a fish sandwich on the menu, but it's joined by less traditional offerings such as an oyster po' boy and a raw or blackened tuna poke bowl.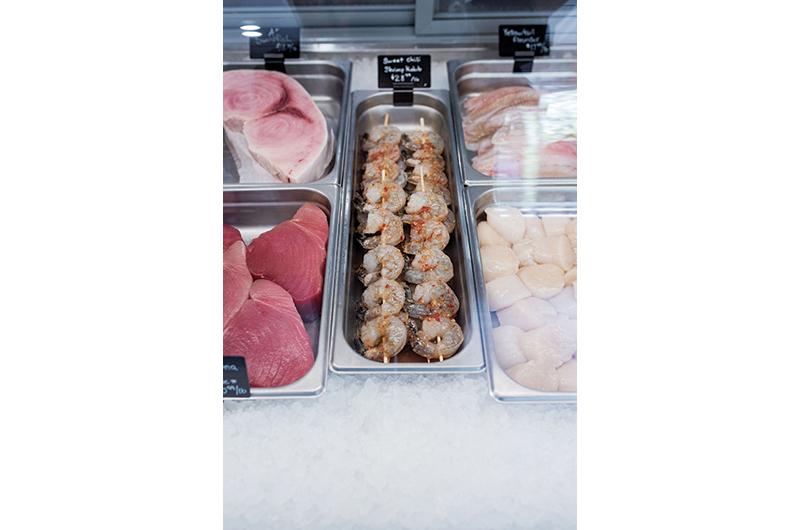 For his part, Gibson is in charge of the market's retail operation, interacting with fishermen and vendors and keeping the fish case freshly stocked. "He also built the place," laughed Whiting. "And he's the one who fixes everything when it breaks." The two men have been friends for years and have settled into a comfortable groove working together. "It helps that we like all the same things," said Whiting, listing shared hobbies of fishing, hunting, and cooking.
Last summer was a bit of a race to the finish line, as renovations took longer than expected and a delayed opening made for a short but busy season. This year, opening day was delayed once again due to the pandemic. But while most restaurants have had to get creative to offer takeout-only alternatives in order to meet health and safety reopening standards, The Fish House was already set up to provide high-quality meals to go at a time when their customers needed them most.
The pandemic also stalled their plan to add a catering component to the business this summer, but after last season's frenetic pace, the three partners are grateful for the opportunity to focus on the heart of the operation – playing with the menu and keeping the fish case stocked with the freshest and, where possible, most local varieties of fish. "Our hands are full right now," Laderoute said.
She and Gibson anticipate that things will only get busier: the couple is expecting their first child this fall. "We have a hard time finding balance," she admitted. "We're here 24/7." But with new front-of-the-house and kitchen staff hired and learning the ropes, all are hopeful that the height of summer will see them running like a well-oiled machine. "It's already feeling much better after opening," Laderoute said. "We're not running around like chickens with our heads cut off anymore."
In the kitchen, Whiting is well prepared for things to get wild. He was surprised early on to find that his past experience running Local Smoke, a well-loved booth at the agricultural fair, every summer had trained him for keeping up with the pace of a popular takeout market.
"It's like the fair on steroids," he said.