Chick Stapleton, owner of Island Spirit Kayak, was supposed to have time to talk to me. It was a blustery, overcast Tuesday morning, and one would have thought people would rather have stayed in bed than gone out on the water. But it was August on Martha's Vineyard [last August, that would be, and the only masks in sight were for snorkeling] – and there were two walk-in adult tours, eleven children floating out on Sengekontacket Pond, and me wanting an interview. I found Stapleton helping a customer back his massive SUV into a tight spot. "Everything's happening!" was the first thing she said to me.
Island Spirit Kayak has been in business for two decades, and business was busier than ever. Stapleton grinned beneath her wide straw hat, "I feel like we're killing it this year."
I shouldn't have been surprised about people ignoring the weather, she told me when she got a second after the SUV guy was squared away. The week before, a tour had gone out both before and after a freak storm produced a waterspout on Nantucket Sound. The Island Spirit crew had watched the funnel from the mobile office, apparently without fear. What's a waterspout compared to peak season?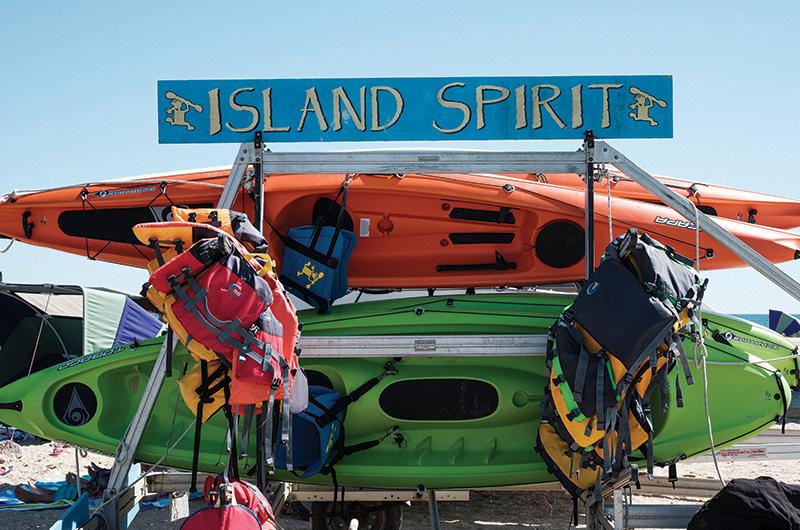 Maddie Henson, one of the intrepid crew members who was in her third summer on staff at Island Spirit, was working the booth on the day of my visit. The rest of the eighteen-person crew was engaged with clients, coaching them on paddling technique and checking out the osprey that had just had babies across the pond. "Sometimes we have a line outside the shack," said Henson from the booth, joining Stapleton's and my conversation, "but even then it's like, people are pretty chill when they come to kayak." Henson's pretty chill too. Everyone's pretty chill. The other week a regular workday stretched on to fourteen hours. No problem. Stapleton brought everyone margaritas and they all got to watch the sunset.
"It's never really bad," said Henson. Admittedly, Henson was talking to her boss, but Stapleton doesn't really feel like the boss out here on the shore. She's more like a star member of the team, and the team is all enthusiasm. Aggressively enthusiastic. Killing it. Killing it!
Stapleton and I made it to a bench across the road away from the action, and I asked her how all this got started. "I was bartending at [the now-closed Oak Bluffs restaurant] Lola's. And I had two kayaks," said Stapleton, who grew up in the town. "And so I would convince my bar customers to go take a private lesson with me the next day….Then I bought another kayak. And then I bought another kayak. And then I started doing groups. And then it just grew." She learned to paddle (this is the term of choice for any activity involving human-powered watercraft) on the Vineyard. In 2000 she received her Greenland Skills Training Certificate (i.e., O.G.-style, badass style, the style named after the Inuit and Scandinavian people who skirted themselves with sealskin into those long, low-slung kayaks to hunt the arctic waters) on Walden Pond before going to Nova Scotia to earn her BCU (British Canoe Union) Certificate.
Back then, she would take ambitious clients out to the Elizabeth Islands, Chappaquiddick for the day, eight-hour paddles to the Aquinnah cliffs. In the off-seasons, she would take her Greenland skills around the world. "I went to Asia for six months and then would come back and do my business for six months. And then I did Australia for a couple years. Anywhere it was different than our season," she said. She paddled like a boss at home as well. "I was a pretty competitive racer." In 2017, the Island Spirit team won the Run of the Charles four-man canoe division, a nineteen-mile race along the length of the Charles River in Boston. In 2018, Stapleton placed third overall and was the first woman to cross the finish line in the single sea kayak division. "We had to portage five times. Carrying your boat down the highway."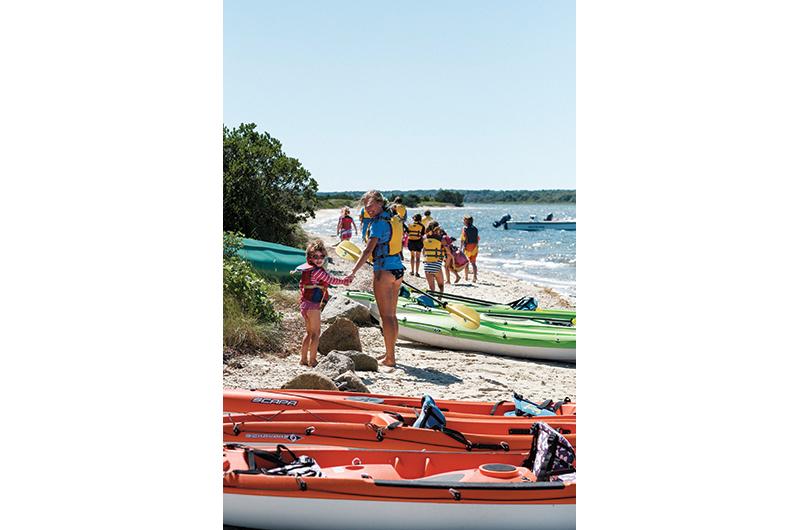 "You know Burma?" she said thinking back. "The Mergui Archipelago? It had just opened to the public. And so I was one of the first people ever allowed in there. I was working for Paddle Asia, and they were given the rights to do extended trips in the Mergui Archipelago. And I was sent out there with armed guards and machine guns, 'cause there are so many pirates out there, to explore possible float plans for our trips. So I went out there and I designed the perfect trip –"
"Hey, Chick!"
Henson entered the conversation, arriving from the other side of the road. "Just so you know, the kids' tour is headed back in if you want to see that."
"Alright, thanks," said Stapleton. Henson trotted off.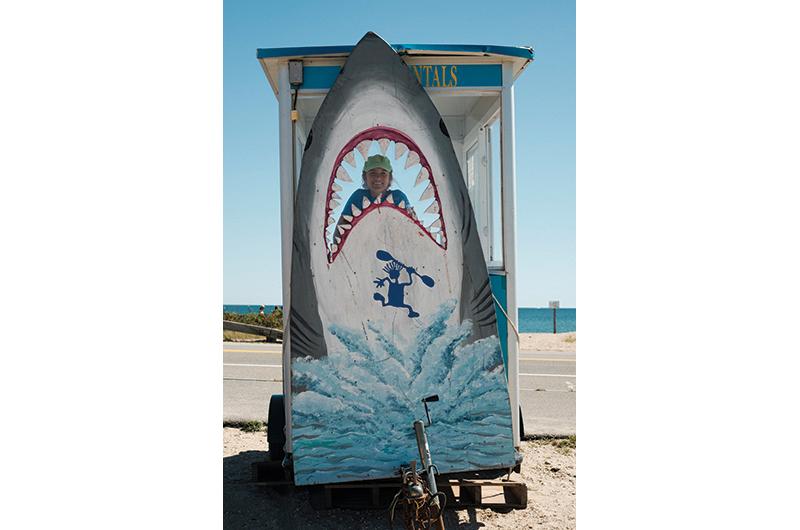 Where were we? Oh, yeah. Burma. Archipelagoes. Pirates. "So that was my plan for the next year. To go lead these trips. And then…I met my husband."
She grinned. Wink-wink. Also, her business was growing. She was adding kayaks. And staff members. So Burma didn't happen. And soon she added two sons whom she doesn't get to see enough during the season at home anyway. "I just can't leave this. I can't. Not even for half a second. I just cannot," she explained. "Like, sometimes we'll have a sunrise tour, I do all the sunrise tours, so I'll be out of the house at 4 a.m. And then we have a 9 a.m. and a 10 a.m. and an 11 a.m. and a 12 and a 1 and then 3 and 6 and 8 and then a 10 p.m. for LED and I won't get home until 1 a.m." That happens twice a week.
I ask if she ever has nostalgia for the Lola's days. Just her and a boat or two. She grinned again. She knew this question was coming. "Yeah. It used to be so different. Like my vision for the company was way different than what it is. Like, I always imagined, you know, the kayak trip I was telling you about, like when I was a guide in Nova Scotia, that's what we did. We did these sea kayak trips that went from camping location to camping location. And we were capsized by whales. There were bears. Crazy. By the end of a trip like that, you're bonded with these people. You have this experience….But there's just not that market here. It's more families. And so to be able to make a living…it's changed. Sit-on-top boats and day trips. But that wasn't the vision."
That isn't to disparage what the vision has become. While it's not often epic Greenland trips, running Island Spirit Kayak is a gratifying experience for Stapleton. "As much as I'd like to teach [more] people Greenland style," she said, "the rewarding part is seeing people love kayaking."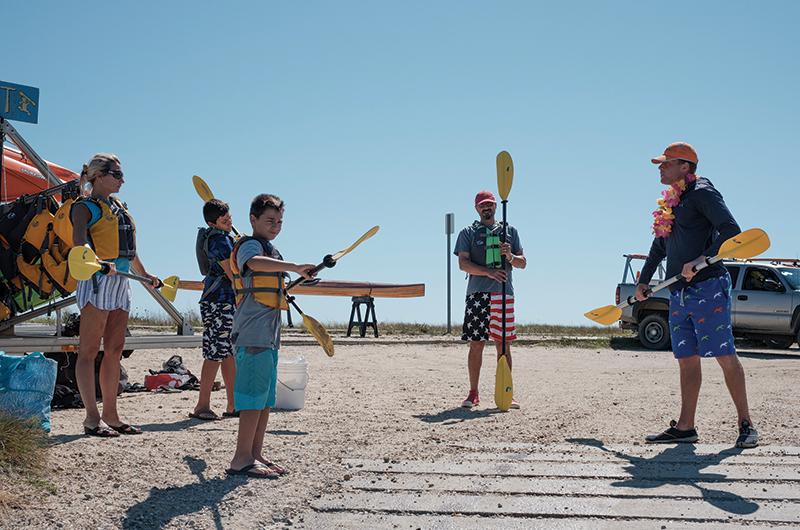 Especially kids going out on the water for the first time. "So we give free kayaking to every fourth grader on the whole Island every year. And that's when it happens the most….They come out and they're just psyched. They love it….That's what I really like the most. Because it's a whole new generation of people who I, at least, am not giving Greenland experience to, but that doesn't matter….That's just not for everybody, and it takes so much training….It took me like seven years to get there. You know?
"But what is for everybody is getting out on the water, and just feeling the joy of being on the water, and being quiet and with nature and non-disturbing and nonintrusive and appreciating the beauty of the Island from the water….That's just very special. And it gets in your blood. And you can't take that away from somebody."
Still, there is a way the deeper knowledge of this paddle-master, who used to teach the guides how to be guides in exotic waters, gets passed on: the staff. "Those are the ones I get to teach," she said. "Whenever we have downtimes, I make them do rolling lessons with me." Rolling. Greenland style. This season the guides, many of whom return to work at Island Spirit Kayak for many summers, are going for a record in synchronized rolling. Each spring they do a group trip as well, out to Falmouth or the Elizabeth Islands, where they train for the season. And in the off-season, just like Stapleton before them, the guides adventure.
"My team goes to Bali, Australia, Colorado. I mean they all just poof. Travel the world. And do crazy adventures. Surfing adventures. Kayaking adventures. And diving….So they go do this and then they come back." Plus, there are Stapleton's two sons, seven and nine, who are almost ready to accompany their mother across the Sound. "I cannot wait till they paddle to Cuttyhunk," she said.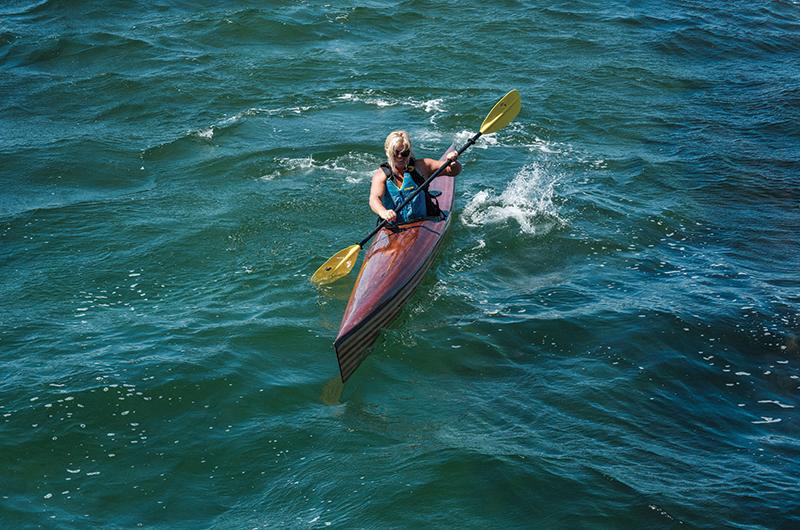 This pandemic summer, things were quieter at Island Spirit, but Stapleton had no time for gloom. "What good is not being positive?" she told me in June. "It doesn't get you anywhere." With the support of a Paycheck Protection Program loan, she was able to spend the early season fixing up equipment and bonding with her staff – this year made up of eight veterans, down from eighteen. "We've actually had the opportunity to do so many things we've always wanted to do because we're not rushing at this crazy, insane pace," she said.
Instead of crowds of day-trippers, long-term Island residents came out to enjoy the less jam-packed waters. Equipment was sanitized after each paddle. Life jackets were dunked in ocean-safe cleaner on the beach. People learned to stroke standing safely apart in hula hoops marking social distance. "It's not as difficult as I thought it would be," said Stapleton.
In June, I asked if there was any chance she was anticipating a summer without any traffic jams on Beach Road.
"Absolutely. I'm definitely looking forward to it," she said.
Who knows? She may even get the chance to take the hypothetical trip I asked her about last summer: where she would paddle to if there came an August day when, God forbid, all the bookings canceled, and the family was out of town, the staff off, and the sky free from waterspouts.
"I can't tell you," she grinned. "I would never take anybody there....Because it's absolutely spectacular and no one's there. And there's a lot of birds. And a lot of nesting grounds. So the more people go, the more disturbed the area will become...I only found this last year – I was like what? I could not believe I had never been there before and that I didn't even know it existed. It's not on any map."