When Dan VanLandingham 
was a high school student, he went to the Granary Gallery in West Tisbury and boldly said to owner Chris Morse: I want to show my work here. "I was taken by his enthusiasm to his craft," Morse recalls of that conversation years ago. And although Morse was impressed by the teenager's ambition, he told him not yet. That statement would kick-start VanLandingham's journey to becoming a Granary Gallery artist – a feat he accomplished in 2019.
VanLandingham's love for art started at a young age while he was a student at the West Tisbury School. His art teacher, Janice Frame, saw his interest and talent and encouraged him any chance she could. Coincidentally, the year he became a freshman at the high school, Frame also moved to the high school, and his world of creating grew. She introduced him to oil paints and helped him hone certain techniques. "She kind of pushed me to want to go to art school," VanLandingham said. "And I just jumped into it."
He attended Green Mountain College in Vermont, where he received his bachelor's degree in painting, and studied abroad for a semester at the University of Aberystwyth in Wales. His summers were spent back on the Island, representing himself at the Vineyard Artisans Festival at the Grange Hall in West Tisbury, where he sold his Vineyard-themed landscapes.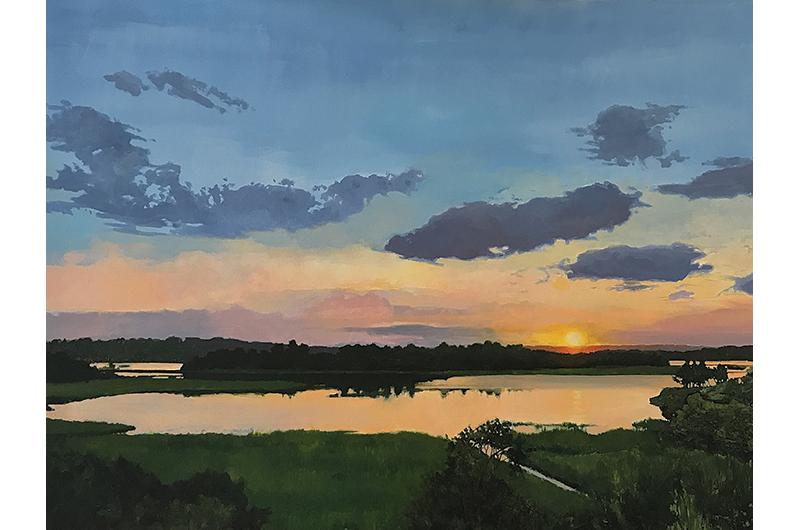 Most of the inspiration for his Island paintings come from his favorite spots around Martha's Vineyard. "I basically try and make them a timeless version of those places," he said. "I take out as many references to time – like people, cars, and modern elements – and just make them these idyllic Island scenes."
From the sleepy fishing village of Menemsha to open pastures with ancient stone walls running through them, VanLandingham creates versions of the Vineyard that appeal to him, and to other lovers of the Island.
"I did [the artisans festival] for fifteen years, consecutively," he said. "And every year I would have repeat customers, clients that to this day will buy new work every year."
This slow cultivation of fans and 
dedication to putting himself out there as an artist led VanLandingham to having his work displayed at various Island galleries. But after a couple of years living full time back on Martha's Vineyard, he was ready to expand and push himself with his art.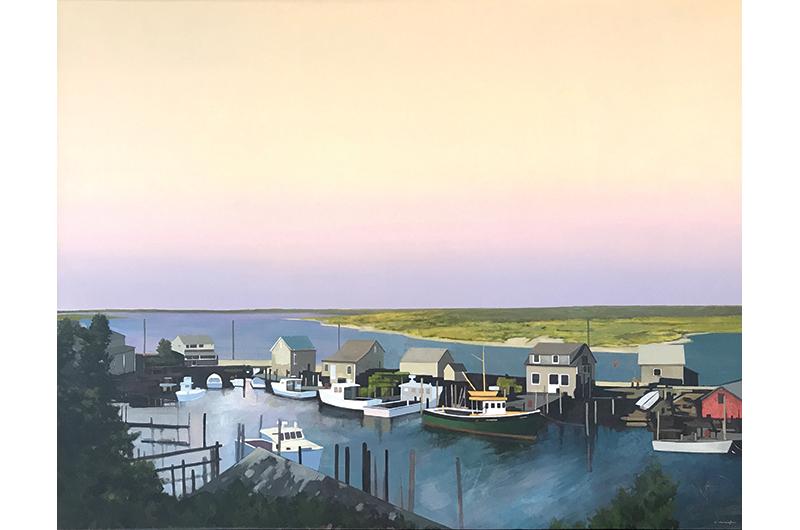 "I just wanted to give a little more depth and experiment," he said, "learn a lot more about contemporary art….I wanted to be a part of what is going on off the Island as well, which is a much bigger scene, much more conceptual."
In 2009 he enrolled in the Savannah College of Art and Design (SCAD) in Georgia to get his master's in painting. It was there that he met his girlfriend, Lauren Coggins-Tuttle. "We had studios almost right across the hall from each other," he said with a smile at the West Tisbury home where the two now live and work together.
Over the two-year master's program, VanLandingham explored a more conceptual style of art – creating landscapes that incorporated more human elements and showcasing the relationship between humans and their natural surroundings.
It was a big step away from the bucolic Island scenes he had been creating of the Vineyard. But along the way, techniques he stumbled upon and used in his contemporary work have made their way into his Island paintings.
The main one is the use of dried acrylic paint to add texture.
"It was kind of just a trial-and-error thing," he admitted. While at SCAD, he only had one glass palette on which to mix his paints. "I wanted to have it clean every day and not just have it build up. So I would scrape off the acrylic paint that would dry and I would get these, like, giant skins, and you look on the reverse side and there were these beautiful abstract paintings, the unexpected random mixture of paint. And I started to think, 'How can I use this?'"
That "how" came in the form of acrylic decals. After painting the background of a scene – say, an up-Island field – VanLandingham will mix colors together on a palette to become decals for a stone wall. "I'll cut out hundreds of little stones...and then lay them, and almost pretend I'm the stonemason laying them in place because I'm cutting them to fit and lock into place like a stonemason would," he explained.
He will move the decals around on the canvas before committing to their placement by using a clear acrylic paint to "glue" them into place. "Since [the decals are] on an atmospheric background, it really makes things pop and have depth," he said.
A closer examination of his larger-than-life pieces shows what he means: decals of clothes hanging from a clothesline in a backyard have a slight shadow effect; a deer in a field pops out against the line of trees in the background. "I like working really big," he said of his work in general. "I think it has more of an impact to the viewer."
Inside his home studio this past winter, VanLandingham was slowly and steadily preparing for his second show at the Granary Gallery in July. After almost two decades of representing himself as an artist, and even owning and managing The Workshop Gallery in Vineyard Haven with Coggins-Tuttle and a couple of other Island artists, he was grateful to be able to just focus on his art.
"I had represented myself and been independent for so long that I just wanted to be represented by the gallery and just make art and cut out all the other aspects of the business," he explained. "I made it work for a long time. But there are just so many things that it became a headache. It takes away from the creative studio time."
With the easy accessibility of his home studio, VanLandingham can create whenever he wants. "Normally there are six to a dozen paintings going at once and I kind of just jump around," he said. One day he might focus on perfecting the water of one piece, the next day, laying down the background layers on a new canvas.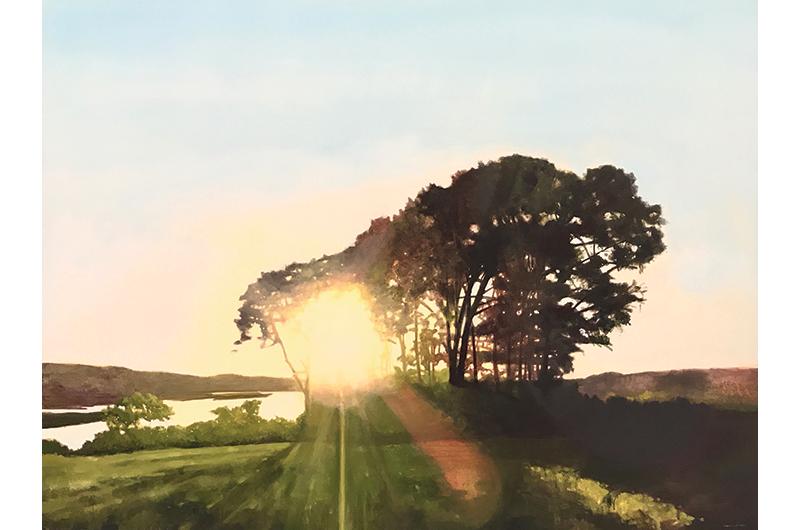 And if he ever feels as if he is slacking on a piece, Coggins-Tuttle will set him straight. "She is my best critic by far," he said. "She has seen so much of my work that she knows when I'm getting lazy and trying to call a painting finished when it's not."
The studio where they both work encompasses the first floor of their home. Sliding barn doors at one end make for easy transportation of large canvases. Windows on the three outside-facing walls allow natural light to stream in. VanLandingham's paintings lined one wall, while Coggins-Tuttle's are on the other. Pieces of wood destined to be made into frames were scattered about in the center. A giant glass palette at one end featured different dried acrylic skins waiting to be shaped into decals.
In progress were two Menemsha scenes. One was fairly close to completion, while the other was in its earliest stage. "I usually do a grayscale drawing with acrylic just to get the composition before I add any color," he explained of how he begins each piece. Next he applies layers of paint, slowly bringing the scene he wants to life.
The paintings for his upcoming show at the Granary Gallery will be a continuation of what he displayed last year: atmospheric scenes of his favorite places on the Island. Morse knows they will be admired by patrons both at the gallery and online. "It's easy to sell his work," Morse said, "because it's comfortable and attractive and it checks all of the boxes for what someone would want of a somewhat contemporary Vineyard landscape."
"Even though a lot of them tend to be the same scenes – I've painted Menemsha so many times I can't even count – every one is different," VanLandingham said of his work in general.
"I'm never going to run out of inspiration here. This place is beautiful."
To view more of VanLandingham's available work, 
visit granarygallery.com.