It was May and nearly fifty days into the coronavirus pandemic on Martha's Vineyard. If you headed out, the markers of the unsettling time were everywhere. At the Steamship Authority terminal in Vineyard Haven, cars and passengers were greeted by a flashing electronic billboard alerting new arrivals to "Stay Home for 14 days." The picnic benches in Menemsha were gone and a strict fifteen-minute parking limit was being enforced because groups were gathering at lunch and for the specular evening sunsets. Put on your mask and gloves and head to the grocery store, and the cashiers, also masked and gloved, rang you up behind Plexiglas sheets. A note on the doors of St. Augustine Church in Vineyard Haven announced that public Masses were canceled and directed parishioners to the website of the Good Shepherd Parish in Oak Bluffs for online services.
It was late spring on the Island, in other words, but the usual hustle and bustle were gone. Main streets normally abuzz with store openings, deliveries, and returning retail traffic were quiet. Down asphalt roads 
or dirt, there were none of the seasonal armies of 
landscapers, painters, or carpenters. The construction ban had been newly lifted, but restrictions on travel and the number of workers permitted on job sites still slowed the tempo.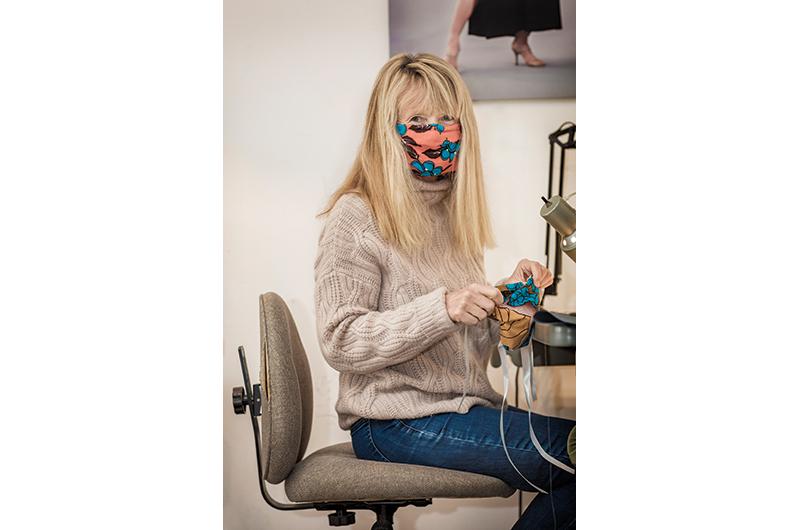 Not that people weren't busy. Lorraine Parish, Stina Sayre, and many others, including a homespun gang calling themselves The Corona Stompers, were making and distributing masks. Wes Brighton's seventy-seven-foot Martha Rose sold scallops directly off the boat. Dozens of Island restaurants and stores stepped up their takeout and delivery offerings. There were innumerable acts of kindness, volunteerism, and neighbor-to-neighbor check-ins going on in every neighborhood. And, of course, hospital workers, first responders, journalists, police, and public school teachers found ways to continue providing their services.
By Memorial Day there were fewer than thirty individuals on the Vineyard who had tested positive for the virus. It was a blessedly small number, but one that gave no comfort to Denise Schepici, president and CEO of the Martha's Vineyard Hospital.
"I'm worried sick about it," she said. "I know the volume will be less, but people are still going to come. I know people are champing at the bit, but with more people here and out and about, it's just more bodies and much greater chance for contagious spread. We are not letting our guard down."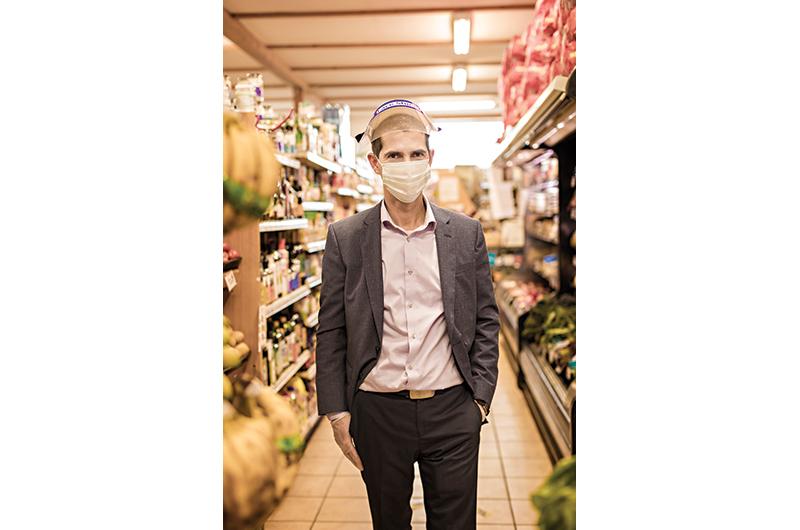 For a while almost everything seemed out of whack. A car drove through the window at Edgartown Meat & Fish Market, fortunately after hours. A boat slammed into the dock at Menemsha. The Steamship Authority warned that it was running out of money for normal operations at the same time that it said it had to budget $750,000 to fix the Oak Bluffs wharf in time for summer landings. Daily trips were cut in half and boat traffic plummeted.
The boats that did run carried more people to the Island than away from it. According to an analysis by the Vineyard Gazette and confirmed by the Steamship Authority, there were approximately 4,600 more people who arrived and stayed on the Island this March than in March 2019. The sudden arrival of seasonal residents of the Vineyard and Nantucket was so pronounced that it prompted the CEOs of both Islands' hospitals to release a joint letter in mid-March urging people to stay home and not look to the Islands as an escape, due to the smallness of their medical facilities. Soon thereafter, Massachusetts Governor Charlie Baker amplified that message. Fear was in the air, and the commentary online (and occasionally out on the street) 
was at times notably unfriendly to anyone perceived to be from out of state, particularly New York.
And yet, against the hailstorm of jarring news and sometimes hostile chatter, there was an outpouring of largesse. On-Island, volunteers from all walks of life answered the call from nonprofits facing new demands in a challenging environment. At the same time, some wealthier members of the seasonal community moved quickly to ensure that a lack of resources would not be the obstacle to care, and that needed service segments of the Island's social infrastructure would ultimately survive the shutdown and the certain economic tailspin that will linger for months. (Full disclosure: I sit on two Island nonprofit boards and my wife, Rebecca Haag, is executive director of Island Grown Initiative.)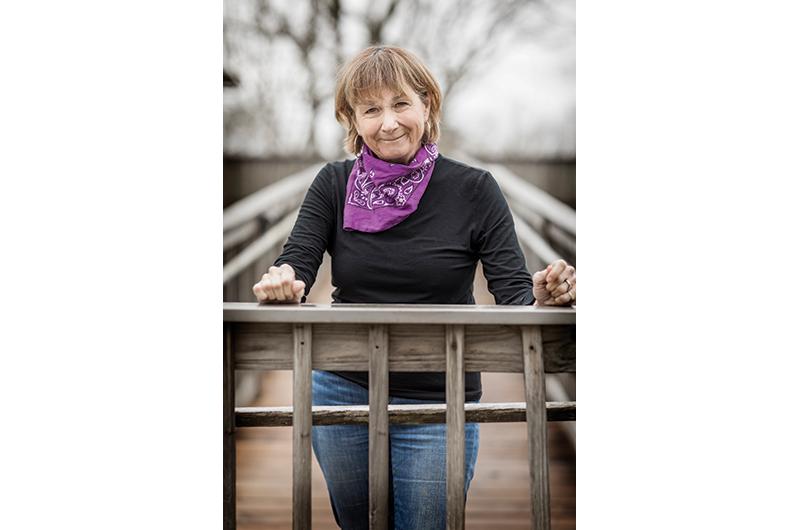 "The philanthropy has been outstanding," said Julie Fay, the executive director of Martha's Vineyard Community Services (MVCS). "We saw needs that were spinning out of control. We can be creative with emotional and clinical support – we have the expertise to do that – but we needed to combine that with resources so that we can find solutions."
MVCS operates six programs that form the core safety net for Islanders dealing with issues ranging from behavioral health, domestic and sexual violence, substance abuse, disability services, and family and youth services and intervention. Turning their 100-plus staff of educators, clinicians, and caregivers into a remote army of support for clients and their families was not as simple as flipping a switch.
One immediate need was fifteen laptops for clinicians that could be downloaded with TeleHealth software and synced with the hospital, police, and first responders. On March 17, Laura Seguin, the capital campaign officer for MVCS, emailed Ed Ludwig, a seasonal Edgartown resident since the mid-eighties and the former board chair, CEO, and president of BD, a global medical technology company. Now splitting his time between Naples, Florida, and Edgartown, he and his wife immediately donated $15,000 for the laptops.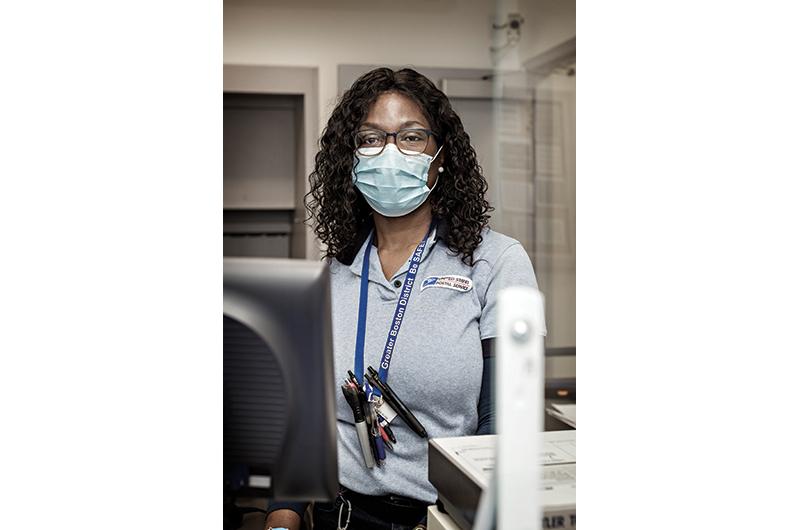 "Call back if you have difficulty finding the computers," he also said, which was fortunate because apparently there was an early rush not just for toilet paper and paper towels, but refrigerators, freezers, and computers. The online shelves were empty and the big box stores were largely cleaned out in days. Ludwig, back on the horn, reached out to a neighbor in Florida whom he had recently met on the golf course. That neighbor, Richard M. Schulze, is the founder and former CEO of Best Buy. Schulze in turn contacted the current CEO, who connected Seguin at MVCS with the company's supply chain operative. By sourcing several locations, the organization quickly received its fifteen laptops.
Nor did it end there. When MVCS saw a huge need for baby formula, staff hit another wall. It was impossible to find in large quantities. Another call to Ludwig, who sits on the CVS Health board, led to a quick call with Jon Roberts, another seasonal Edgartown resident and COO of CVS.
"You're just working with a certain sense of urgency now," said Roberts. "I called our VP who has stores on the Cape and it was that simple. We put the baby formula on the boat that day."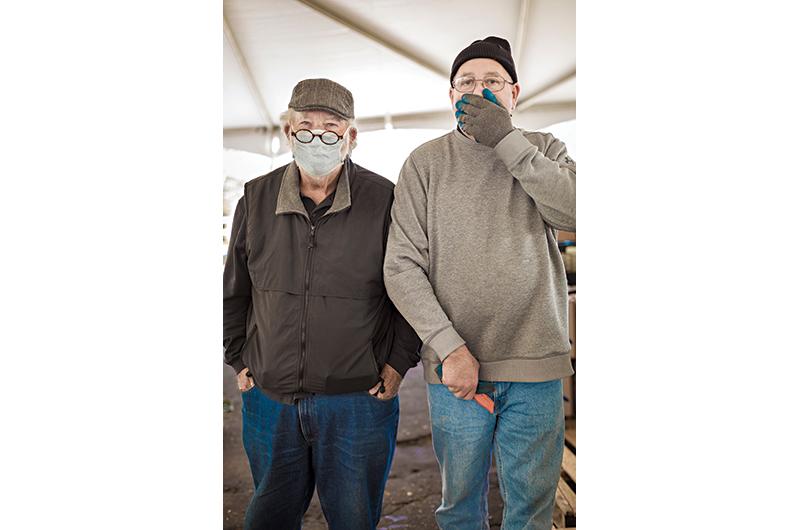 Ludwig understands the sentiment of some on the Island who want seasonal folks to stay away. "I get it," he said. "People are scared, and there's only that small hospital, and they can't handle anything like a surge. And times like these bring out the best and worst in all of us."
The medical front, meanwhile, also saw an increase in donations. In May, Edgartown seasonal residents Steve Rusckowski and Deb O'Hara-Rusckowski unveiled a plan for Quest Diagnostics, of which Steve is president and CEO, to partner with boards of health to provide Island-wide coronavirus testing. Martha's Vineyard Bank donated $100,000 to fund testing for the uninsured. And over at the hospital, twenty iPads were donated by one patron to connect isolated patients with staff, thereby sparing personal protective equipment (PPE) for both social and medical check-ins. "People who gave us $2,000 in the past are dropping checks for $100,000," Schepici, the hospital CEO, said. "I am not soliciting. These are people calling us and asking, 'How can we help?'" One $188,000 donation bought ten new cardiac monitors. A new $100,000 ultrasound unit arrived, and many others made donations large and small to ensure that medical staff have the PPE needed to take them through any surge. The response has been a lifesaver, Schepici added, because with most elective functions suspended and the added costs of separating care to avoid infection, the hospital was losing about $3 million a month.
While the shutdown meant demand was down at the hospital, it was up at the Island Food Pantry, which distributes food to those in need. The first problem executive director Kayte Morris faced wasn't just a lack of supply, but the loss of all but four of the eighty regular year-round volunteers who did everything from delivering food, to fetching it off-Island, to serving those who come to the Stone Church in Vineyard Haven three times a week. Because most of her volunteers are retirees, almost all of them felt the need to strictly adhere to stay-at-home measures.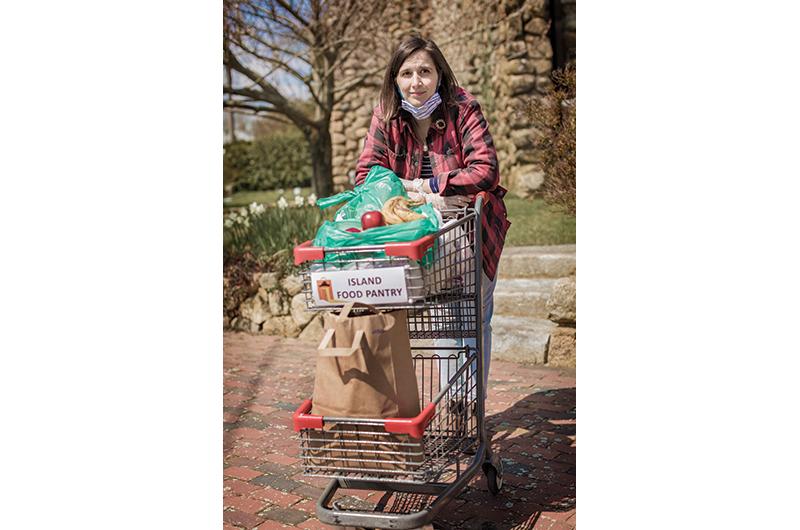 At the same time, the numbers of needy were staggering. In February, before the pandemic hit, the pantry was serving 1,200 Islanders or 500 households. That was already a doubling over a year earlier, and then March and COVID-19 arrived. By April, the pantry was serving 2,038 individuals in 810 households. Similarly, the Good Shepherd Parish in Oak Bluffs, long a staple of giving food bags twice monthly for the food insecure, moved to weekly distribution. The demand was so great that on the Saturday before Easter, 200 families showed up for groceries. Another ninety Easter meals were delivered by Family to Family, a Vineyard Committee on Hunger program, which operates out of the First Baptist Church parish house in Vineyard Haven.
In the midst of training a new corps of volunteers, the food and transportation costs for the Island Food Pantry doubled from $12,000 to $24,000. Part of the rise was due to a changed service model. Rather than allowing people to roam the shelves in the church basement and individually select items, it was now necessary for the food to be preselected and bagged to reduce person-to-person contact. The dramatic rise in demand also introduced challenges for refrigeration and storage, which could not be met in the church basement. Donors not only responded to the pantry's budgetary explosion, but the Permanent Endowment Fund for Martha's Vineyard awarded a $25,000 grant for a new refrigerated truck to ease logistical challenges.
To help meet the supply needs, staff at Island Grown Initiative (IGI), which works with schools and farmers to combat food insecurity, redeployed school workers to the forty-acre former Thimble Farm in Vineyard Haven to expand production. Rebecca Haag, the executive director, said the additional planting will produce 35,000 pounds of produce at less than $1 a pound. The crisis also put to the test and proved the value of a coalition IGI and other local groups formed in 2016 called the Food Equity Network, bringing together nonprofits, faith communities, volunteers, and business owners with the goal of avoiding duplication, reducing expenses, and offering support.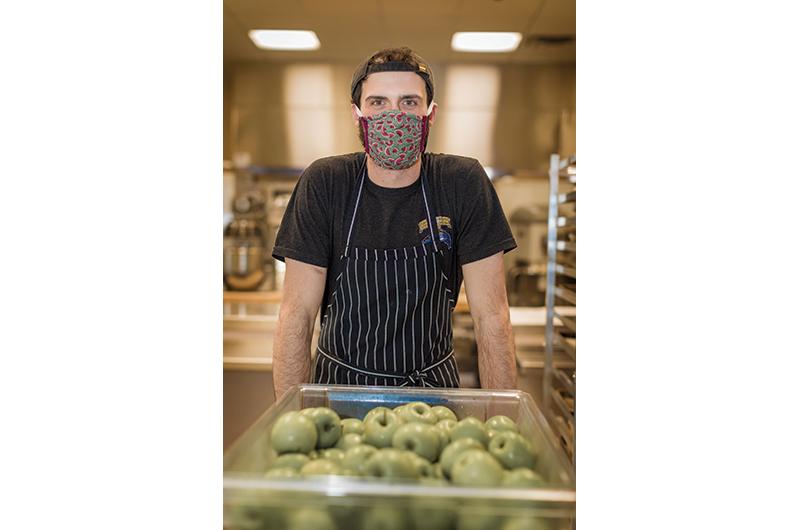 "We're in constant contact with each other," noted Morris. "And if we're not able to fill an order from Island Elderly Housing, then another group can fill those orders. We're really all in this together and we've doubled down on that coordination."
Like the Ludwigs, Jesse and Betsy Fink of Colorado and Edgartown understand why some year-rounders want seasonal residents to postpone their return to the Island. But they too nonetheless upped their longtime financial commitment here. In addition to giving both to IGI and the Permanent Endowment's Emergency Response Fund – a repository for Island nonprofit donations that has exceeded $250,000 – the couple also seeded a program run by the Martha's Vineyard Fishermen's Preservation Trust to buy any excess catch from local fishermen and donate it to local emergency food providers.
"I feel like even though we don't live on the Island year-round, we feel very connected to it," said Betsy Fink. "It's a special place with special people and we feel we should put some of our energy and resources there."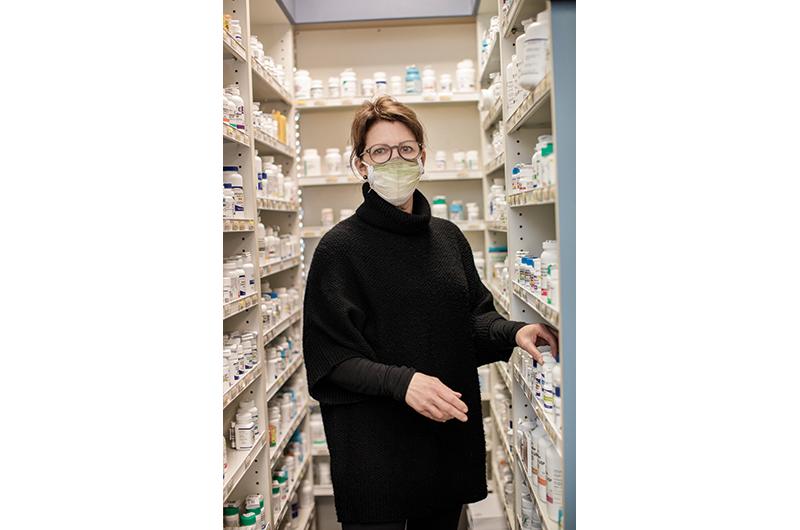 "When we do these things," added Jesse Fink, "we do it so that others will join. Contributing ten or twenty thousand dollars is not going to solve a problem long-term, but we can go talk about it and find other donors who will join us."
Over at MVYouth, the powerhouse association of donors that focuses on issues impacting young people on the Island, the fate of the Island's day care providers rose to the top of the priority list. Closed with the shutdown, these often small, home-based centers, along with the Early Childhood Center at MVCS, form the backbone of early childcare on Martha's Vineyard. Lindsey Scott, the executive director, labeled it "our call to arms." To that end, the organization invested $500,000 in Island nonprofits answering the need: $200,000 to MVCS, $36,000 to the Island Food Pantry, $14,000 to IGI, $200,000 to the YMCA of Martha's Vineyard, and $50,000 to create the Early Childcare Providers Emergency Fund.
The latter fund, which aims to help with immediate financial needs and assist providers in applying for available government programs, was immediately doubled with a matching donation from Brooke Couch Freeland, a longtime Chilmark seasonal resident and the board advisor and managing director of the Couch Family Foundation.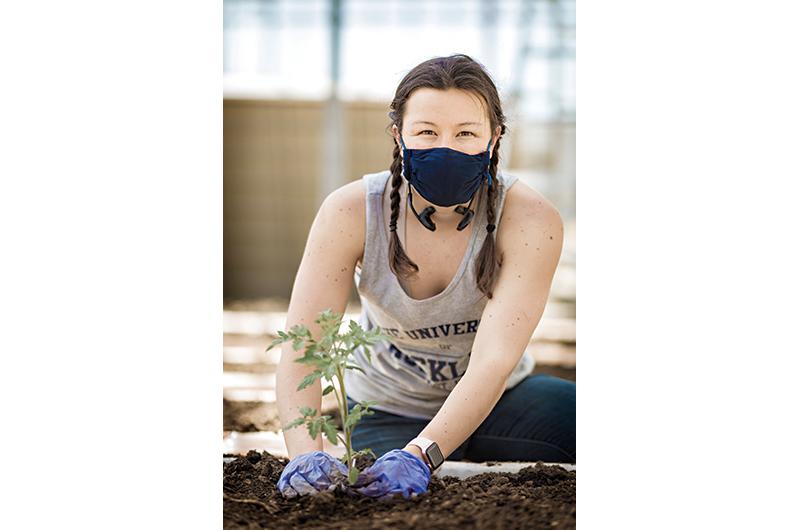 "We need to have a healthy early education sector, which will be vital to getting the economy back," said Freeland. "I see this as a first phase in helping to build this sector and support it on the Vineyard. The silver lining of this crisis is now we can support providers in a coordinated approach that will have a much deeper and long-lasting impact."
The silver lining. There were weeks of rain and wind and relentless bad news this spring when a person might be excused for thinking any kind of lining at all seemed washed away. But through it all, on-Island and off, lovers of the Vineyard did what they could. And are doing what they can. It would be impossible to catalogue a complete and impartial listing of the innumerable responses to the challenges brought here by this pandemic, to capture all the contributions, from financial gifts large and small to daily acts of volunteerism and things as simple as calling a neighbor to check in.
It's a pandemic that nearly all Island service providers see as having long, unsettled economic coattails. Still, those on the front lines see enduring gains.
"We're finding that a lot of our new donors are people who have a relationship with their local food pantry but had no idea of the need here," said Morris. "They're just realizing there's food insecurity on Martha's Vineyard. I have a feeling at the end of this we'll have a better relationship with the summer community not only for financial support but for volunteers."
"COVID has tested our humility, wits, and humanity," said the hospital's Schepici. "I don't care what class of society you're in, disease is a leveler. Yes, we've had people write checks, but we've also had Islanders making signs thanking our health care workers and our first responders. It's been a wonderful turning point and the more we can do to carry it forward, the better."