Joe Solmonese is used to high-profile, high-pressure gigs. He was president of the Human Rights Campaign, the CEO of Emily's List, and the transition chair of Planned Parenthood Federation of America as it searched for a permanent executive. Along the way he also wrote a book, The Gift of Anger: Use Passion to Build Not Destroy (Berrett-Koehler Publishers, 2016), which explores harnessing anger to achieve productive outcomes.
But his current assignment as CEO of the Democratic National Convention in Milwaukee this July might take the cake, coming as it does at a particularly anxious time for Democrats. When he's not in Milwaukee, Washington, D.C., or traveling as part explainer, part ambassador for the Party's biggest party, Solmonese, who is fifty-five, can usually be found recharging back at home in Chilmark with his husband, Jed Hastings, and their dog, Owen. We caught up with him there.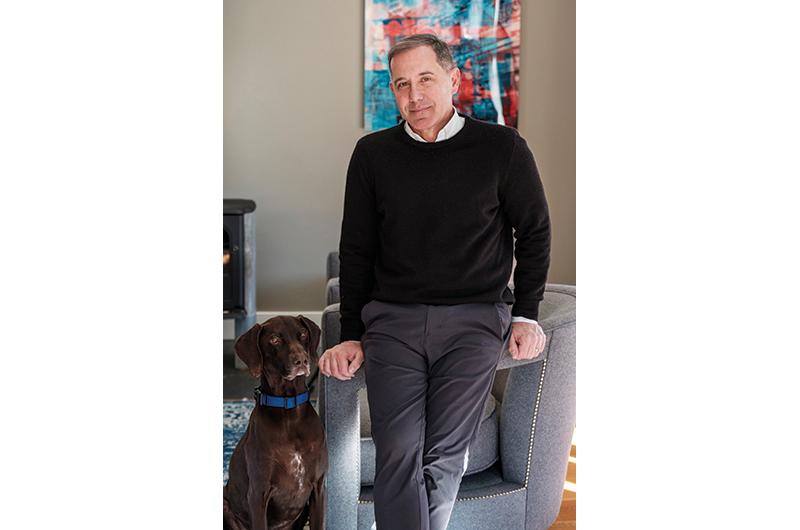 Martha's Vineyard Magazine: What do you think made you stand out for this particular year-long assignment?
Joe Solmonese: This is a major organizational job, but it's also complicated. And I think I have a history of managing complicated entities, whether it's HRC [Human Rights Campaign] or Planned Parenthood, both of them national organizations with local affiliates that demand balancing multiple personalities and competing agendas and priorities.
MVM: What has been the most interesting aspect of the job?
JS: What's been both surprising and interesting is to view the convention from the perspective of the people of Milwaukee and the state of Wisconsin. And they view it as a major happening, and a lot of people are drawn to it because of its huge economic impact. I find striking the balance between the local and national lens to be the most interesting aspect of the work, as well as the most important for the convention to be successful.
MVM: What's the difference between a Republican and Democratic convention?
JS: The Republican convention tends to be formulaic. They have a model and teams who come in and just put on an event. And they have half as many delegates: they have 3,000 and we have 6,000 delegates. So, it tends to be cut and dry and much more simply event management.
For the Democrats, like all things we do, it's a much more collaborative and inclusive process. There are many more stakeholders and constituencies. People have a point of view about sustainability, or accessibility, or what we say about pay equity or do about minority businesses, for example. So, these constituencies have a say and a role. It makes it much bigger than executing a four-day convention for, say, the National Association of Realtors.
MVM: We're speaking prior to Super Tuesday, so what happens if the Democrats don't have a declared nominee by July?

JS: In every convention there are all sorts of contingency plans in place, whether it's security or cyber issues or a brokered convention. You name it. Operationally, this is something we've planned since day one regardless of the size of the field. So, it might mean building out for two or three possible nominees in terms of rooms and office space rather than one, for example.

We put a lot of time into building content and finding people in Wisconsin who are grappling with particular issues, whether that's health care or pay equity or whatever. And we put these ideas forward as suggestions. If there is a nominee early on, then he or she will spend a fair amount of time building out a program. If we don't have a nominee until much later, then we'll be doing much more work to build out the program content than any convention committee has had to do in the past.

MVM: And what about those parties?

JS: There are two major parties that open up the convention. There's the media party on Saturday night and a delegate party on Sunday night. Those are hosted and sponsored by the Milwaukee host committee. These are parties for about 10,000 people each night, so they are a ton of work and the expectation that they be more fun and original than the last convention is huge.

The bar just gets raised convention after convention. And then probably from the time you get up until you go to bed, there are parties and receptions. There will be about 1,000 events over the four days. The timing is funny because the convention gavels open at four in the afternoon, so there are brunches and lunches and cocktail receptions that start at two o'clock for delegates. And then another wave for donors and people who generally don't show up until around seven each night. Then there are parties – hundreds of parties – that start at ten after the convention is closed and last until the wee hours of the morning.

The party I'm really looking forward to is the quiet afternoon I'll be having on my porch in Chilmark come August.