For more than thirty years, Island children have looked forward to particular packages on birthdays and holidays, wrapped in shiny red paper and decorated with custom stickers. The telltale wrapping was the handiwork of BeeBee Horowitz and her staff, who sold gifts, games, and goodies at The Toy Box in Tisbury Marketplace, the Island's oldest toy store.
Last year, Horowitz sold the shop to Vineyard newcomers Kate and Alex Salop. Longtime visitors to both the Island and The Toy Box, the Salops are on a mission to maintain the beloved history of the store, while introducing updates as they step into their new role as consultants to some of the Island's youngest (and most discerning) shoppers.
"We never planned on owning a toy store," Kate said. She stood behind a counter stacked waist high with displays of miniature toys and figurines, squishy things, hair ties, and humorous pins. Neither Kate nor Alex had much experience in retail; after moving to the Island in 2015 they each kept their mainland jobs – Kate in higher education administration, Alex in marketing – and patched together schedules of weeks commuting and working remotely. But after a few years, Kate realized she was ready for a change. "We moved here for the community feel, and because it seemed like a great place to raise our kids," she said. "We wanted to really put down roots."
And what better way to establish yourself on family-forward Martha's Vineyard than by buying the local toy store? "It started as a pie-in-the-sky idea," Kate said with a laugh. "Gee, honey," she remembered joking to her husband. "The Toy Box is for sale. Why don't we buy it?"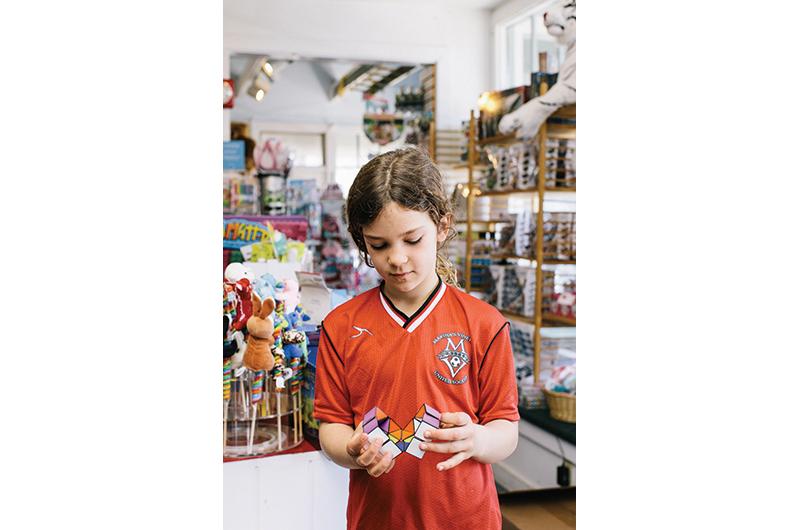 After months of deliberation and lots of support from Horowitz and her staff, the shop, subtly renamed Tisbury Toy Box, reopened in April of 2018. Kate began by rebranding (the new name and logo were joined by new wrapping paper, which Kate hopes will become another Island favorite) and reorganizing some particularly dense areas. "I wanted to bring in more light," she explained.
"I also added more options for tweens," Kate said. As a mother of two children who were quickly aging out of the toy store experience (the younger Salops are now twelve and sixteen), Kate was eager to add some items that might hold the interest of increasingly screen-obsessed older children. "I brought in some hair accessories, and STEM toys for older ages," she said, noting that while she has seen some success, the demographic remains a tough crowd.
Selling toys to kids and families could be seen as a crash course in Island culture. While Kate recognized the diversity of shoppers, particularly moving from high season to year-round, she has been impressed by how much thought Islanders put into their purchases, particularly gifts. "Everyone is really thoughtful and generous," she said.
A recent resurgence in board game sales has also been a pleasant surprise, Kate noted. "It seems that families are truly making an effort to spend time together and combat all of the screen time," she said. Board games are such hot sellers that she often has trouble keeping them on the shelves.
In an effort to update the inventory and bring in more quirky and entertaining products, Kate recently placed a larger order for a new type of kinetic sand called Mad Mattr. "If I'm going to do something new, I want to make a statement," she explained.
As the shipment took longer and longer to arrive, Kate worried that she'd made a horrible mistake. "I thought, 'Am I crazy? I own a toy store on an Island and I'm bringing in more sand?'" The bet paid off: Mad Mattr was an instant hit.
That wasn't the only surprise. Kate admitted she wasn't quite prepared for the endless cycle of ordering and unpacking inventory. Nor was she ready to enjoy it all so much. "It's like Christmas every day," she said.