For gardener, beekeeper, and herbalist Susie Nedley, a life well-lived is a life lived outdoors. A year-round Martha's Vineyard resident for the last decade, Nedley recently launched Bee Well, a holistic endeavor that is part landscape design, part beekeeping, and part herbal consulting, complemented by a line of homemade healing products. Her ability to juggle various professional pursuits will be familiar to many year-rounders, but this native of Brockton, Massachusetts, was tuning into nature in all forms long before she discovered Island life.
"I was always in a tree, and usually upside down," Nedley said of her childhood when we met for an end-of-summer chat.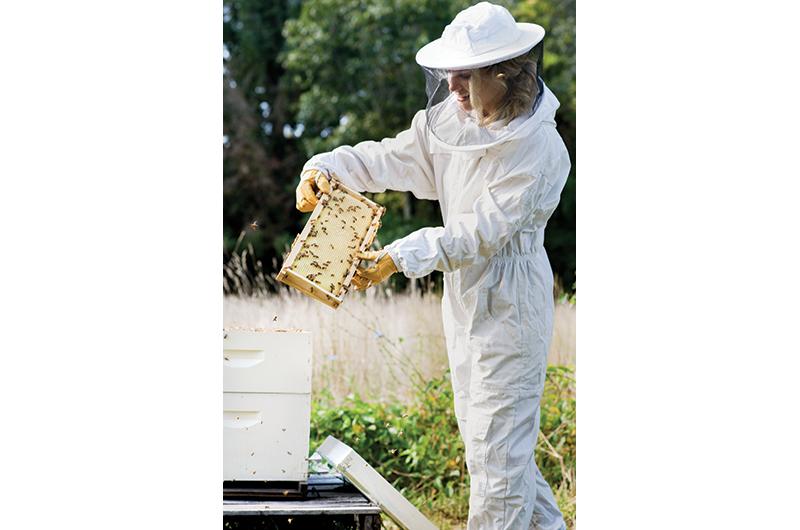 After studying psychology and a stint working at a facility for kids in crisis, Nedley's beloved grandmother passed away. She came to the Vineyard with a friend for a weekend of R&R, and felt immediately revived. "It was something about the air," she said, remembering stepping off the boat for the first time. "I don't think I've ever breathed so deeply."
She returned to the Island for weekends and then ultimately full-time, finding work as a gardener and in retail, whatever she could do to make a life here and follow the childhood passions she'd rediscovered by leaving the mainland grind.
A few years later, however, she found herself caught up in a different hustle: the seasonal song-and-dance of intense work for a short period of time, followed by a lull in activity…and income. When her mother, who had worked as a gardener and florist, passed away suddenly, she began thinking about starting her own business in a way that would combine her interests and honor the memory of her mom.
She started small – literally – by creating terrariums for a few clients. Inspired by annual off-season adventures to India, she also began studying healing modalities such as reiki, Ayurveda, and Chinese medicine. A friend turned her on to an herbalism program at the Boston School of Herbal Studies, where she completed both an apprenticeship and a clinical program and began formulating her own line of tinctures, oils, and balms using local herbs and plants she had learned about while working as a gardener.
It was during this time that she also became curious about bees. Looking for ways to round out her business, she began commuting once a week to a beekeeping course in Bristol County, where she learned all she could about installing and maintaining hives.
"I just love hanging out with them," Nedley swooned when asked what drew her to working with bees. "They have this great, vibrating hum. Even if I'm feeling a bit frazzled with all I have going on, I have to be completely present with them."
Since finishing the course, Nedley has been sharing her love of bees with her gardening clients, setting up hives across the Island (as well as in her own Vineyard Haven backyard).
Though cultivating honey is a motivator – she uses honey, which has natural antibacterial and antifungal properties, in many of the products she sells online at beewellmv.com and at Driftwood Jewelry in Oak Bluffs and Citrine x Trust in Vineyard Haven – she says that for her and her clients, the bees themselves are the main event. "People get really excited about bees," she said. "They get a bad reputation for being aggressive, but they're really not. They're calm and focused; and they each have very specific, brilliant jobs to do."
After a personal battle with Lyme disease, Nedley now works with many clients who are seeking to use herbs, plants, and, of course, honey to help naturally heal the body from tick-borne illness. "It was my body's call to action," she said of her own Lyme diagnosis (which, ironically, she received while taking the Lyme Practitioner's Training component of her herbalism program). Her physical pain was so intense that walking was a challenge.
"When you have Lyme you're kind of on your own," she said, recalling the skepticism she encountered and the loneliness she felt navigating the medical system after her diagnosis. Now, she said, she focuses on helping others with similar conditions as a way to help them feel less alone.
Last year, after launching Bee Well, Nedley hosted a series of Self-Care Sundays, which gave her an opportunity to share all that she learned with others in the community. "I love helping people find ways to care for themselves," she said, and credits these sessions with playing a role in her own healing, as well as helping her to establish her new business venture and find a new kind of balance in the rhythm of Island life. "In the process of showing up for my community, they were showing up for me."