When James Bradberry was just a tyke growing up in 1960s rural Alabama, the Bradberry clan spent summers in a cabin next to a five-acre lake. The cabin, which was built by his great-grandfather, J.G. Palmer, was constructed in a dogtrot style, with two large rooms that were separated by an outdoor central corridor for anything from the wind to rambunctious young-uns to pass through. The place was lively sunrise to sundown, Bradberry recalled, as his grandfather Julian "Doc" Palmer often threw parties for his pals in the hunting and fishing club. Before night's end guests would carve their signatures along the old longleaf yellow pine walls, notching their place in the rich history of the summer sanctuary.
Nearly a century after that cabin was built, far up the Eastern seaboard, Bradberry and his partner, Amy Harper, recently put the finishing touches on the restoration of a new summer home in Vineyard Haven for themselves and their family. They may have swapped out the rustic cabin aesthetic for a modern cottage design, and lake views for sunsets over the Sound, but the emphasis on making the home a family gathering place marked with history remains.
"I wanted a place that when you went year in and year out...you could build memories together," said Bradberry, leading a tour of the home during a sun-soaked afternoon. Natural light streamed through the living room's many windows, reflecting off the personal details and playful artifacts that line the space: a life preserver left by the previous homeowners of more than fifty years, a wooden ship model found at a thrift store, a fish mobile crafted by his youngest daughter.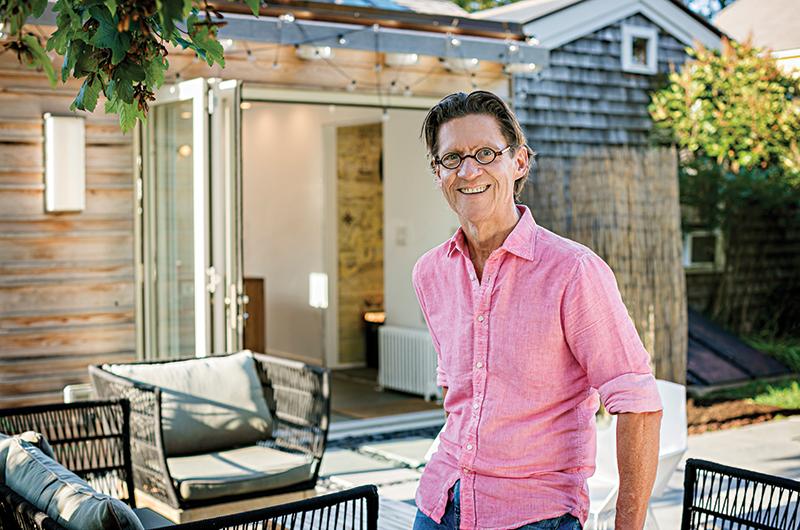 The kids didn't just craft some of the items; they pitched in during the design phase by adding photos to his online Pinterest page, creating a sort of smorgasbord of home décor inspiration. "We had endless Pinterest pages...it's just fun to look at," said Bradberry. "It's different renovating in the era of the internet. It used to be Post-it notes in magazines."
He speaks from not just personal but professional experience. As the sixty-three-year-old proprietor of James Bradberry Architects, a small Bryn Mawr, Pennsylvania–based firm, Bradberry is well-versed in home design and the ways it's changed over the years. Though most of his work over his forty-year career focuses on institutional and academic buildings, he's recently gravitated toward residential work on the Vineyard, where he long dreamt of retiring to an Edgartown colonial.
"I thought, 'Well, maybe if I can become kind of a pseudo-gentleman architect on Martha's Vineyard....'" he joked.
"What's the pseudo, the gentleman or the architect?" chided Harper with a laugh.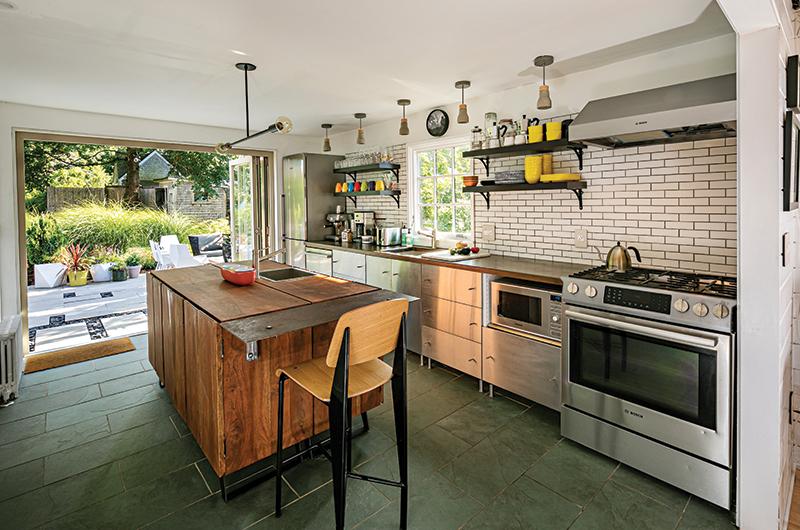 After looking for the right Island home for years, in 2015 the pair was persuaded to choose a quiet neighborhood near Main Street in Vineyard Haven, over Edgartown, where he had envisioned living, due to its convenient location for family visitors. It helped that it was also arguably closer to 7a Foods in West Tisbury, a favorite stop for Bradberry when cycling up-Island to Menemsha. "This wasn't even on my radar," he said. "Once we landed here we realized what a great spot it was. We've just really grown to love it. It's a great spot for jumping off to explore the Island."
In order to make it work, though, they needed to overhaul the outdated home, with its faux–wood paneling, dingy color palette, and shag carpet straight out of the 1970s.
"We basically came in and gutted it," said Bradberry.
"It has been quite a process," Harper agreed.
Because the family resides primarily in Pennsylvania and could make only infrequent trips to the Vineyard, the work was long and arduous. Various design iterations were drawn up and thrown out, and every detail down to the sink faucets was scrutinized, delaying their anticipated early 2017 move-in. Though the couple sometimes butted heads over certain elements due to their differing design perspectives, they agreed the sum of their efforts was better than its parts.
"Jim is form over function always, and I'm function over form. But his form is always so good," said Harper.
"I think the smaller the place is and the more you have to maximize the decisions you make...it makes it more important," added Bradberry.
To make the most of the home's 1,000 square feet, they tore down walls and expanded the living space inside and outside the house. The most significant change was raising the roof, literally. Bradberry, experienced in barn renovations, re-shingled the roof and put the insulation on the outside, allowing him more space to turn the attic into a loft with two beds and to install higher windows.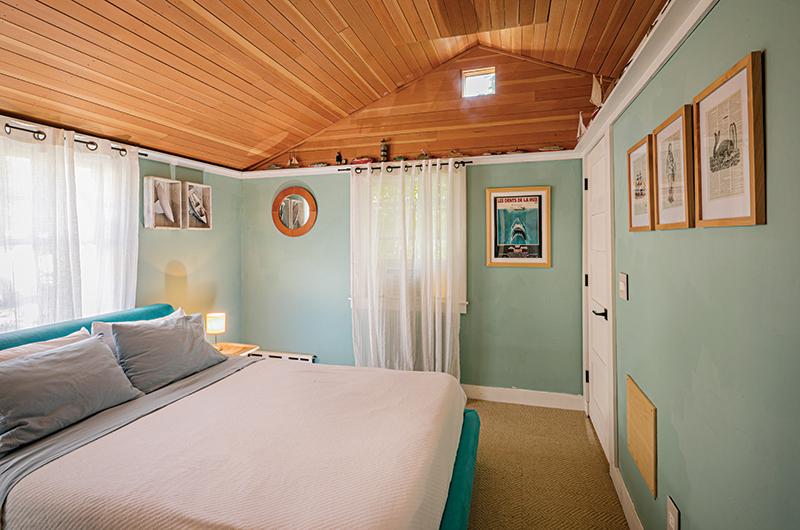 "We basically grew the house and put a roof on top of that," he explained.
Down below, the shag carpet was retired for a light maple floor in the main room, perfect for children and canines to play around on. An exposed wood ceiling and trusses and cozy contemporary furnishings give the common area a warm and inviting feel. The room also serves as a thoroughfare between three small bedrooms on one side of the house and the kitchen and living space on the other, sort of like an indoor dogtrot. Outside the kitchen's large sliding glass doors, the pair installed a granite patio and firepit for backyard barbecues. They tackled many of the projects themselves, such as stripping and repainting the front door and constructing a coffee table of reclaimed driftwood.
The clean design and use of natural materials earned the home a nickname.
"We started calling it The Shack. It's pretty simple and modest. On a nice day it's really quite beautiful," Bradberry said as the sunlight bounced around the whitewashed wood-paneled walls, proving his point.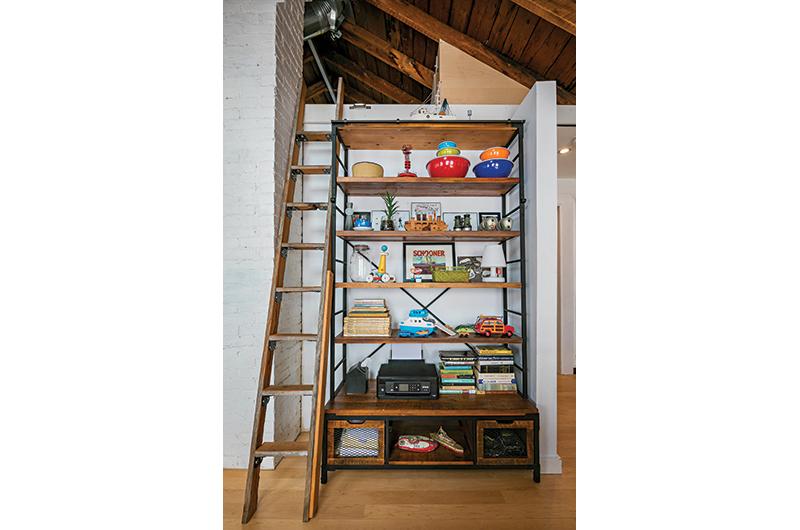 Though the house features many nautical embellishments, including the life preserver, whale wall hangings, vintage sailboats, porthole mirrors, and a wooden sailing map of the Vineyard, Bradberry joked that he didn't want to go too overboard on the beach house theme.
"We wanted the feeling of beach house, but a bit ironic and tongue-in-cheek," he said.
That feeling comes out most in what Bradberry calls the "flow" of the living space, where people can comfortably and casually move about the home and backyard like a breeze on a summer afternoon. Theirs is not the trendiest home in town, Bradberry acknowledged, but neither was that his intent. Instead, he and Harper wanted to create a space ideal for family gatherings, with plenty of room for new memories to fill the walls just like at his great-grandfather's cabin.
"I think a lot of it is just an evolution of your life, and where you are in life, and how you want to functionally use the place," he said.
"It just feels good," added Harper. "It raised a Vineyard family and now it's summerly raising another one."