Painter, designer, musician: Max Decker is a triple threat in the creative world, easily transitioning from one project to the next over different media, never lingering too long on one he isn't satisfied with. In the past year alone he has finished recording a full-length album, started a garment business, and refocused his painting career on a subject that is new to him.
In his West Tisbury studio, a barn-like space at his parent's home that was once his and his brother's playroom, it's as if play has taken on a whole new meaning. The right side of the space is dominated by an industrial sewing machine, a vintage keyhole machine, a drafting table, spools of denim, and jars of buttons and zippers. On the left sits his easel, oil-based paints, oversized palette, and computer. The loft above holds his various musical instruments.
Music quietly drifts through the computer's speakers, while on the screen is a photograph of his wife from which he had been painting earlier in the morning: a woman seated at a table decorated with daffodils, her head in her hands. Just a few months away from a show in August at the Field Gallery, he admits he still has some work to do. He also freely admits that painting took a back seat in his life for a while.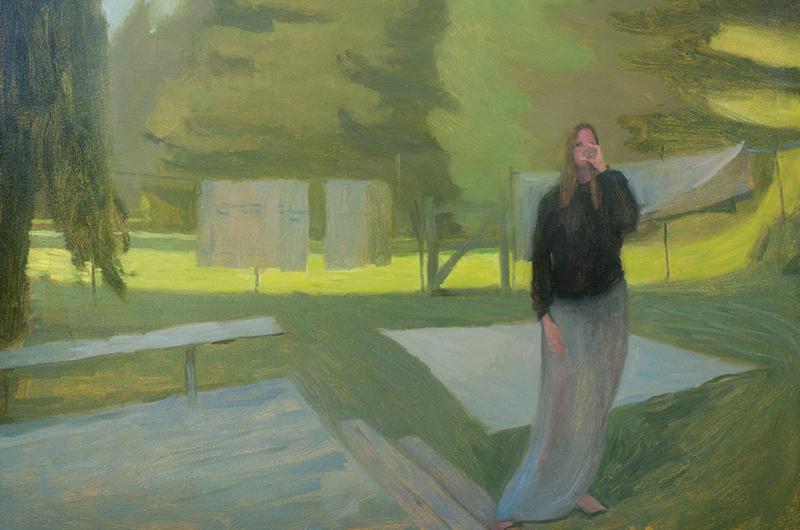 "I basically didn't paint for five years," Decker says with a shrug as he leans back in his chair and crosses his legs. For the past decade he lived in Brooklyn with his wife, Laura Jordan-Decker, a former preschool teacher who now teaches children's music classes on-Island. The pair moved back to the Vineyard two years ago, shortly after the birth of their son, Robin. "The first half of New York was painting. Second half was denim slash music," he says.
Decker started painting while at boarding school in Vermont, after which he attended the School of the Museum of Fine Arts in Boston. Though he did what he describes as "that weird shit that college painters do" while at school, landscapes were his bread and butter when he was on the Island. "Look where we are," he says of Martha's Vineyard. During summers on the Island he would paint as many landscapes as he could to sell at the summer artisans festival. "There is a seasonal crowd who wants to buy them. And I made really good money doing that."
He continued that into the first few years of living in New York. "There were two very different painting worlds," he explains. "The stuff I was doing in New York – the scary stuff – and the very tame landscapes here. And somewhere along the way I took a break and started doing music and the denim."
Decker had experimented in college with garment-related projects, so when a friend who worked at a small denim shop in Greenpoint said he needed help, Decker was primed to jump in. "I just showed up and said, 'I don't really know what I'm doing, and I know you just opened and don't have a lot of business, so if I come in on the weekends and figure out how to use the machines, can you maybe employ me someday?'"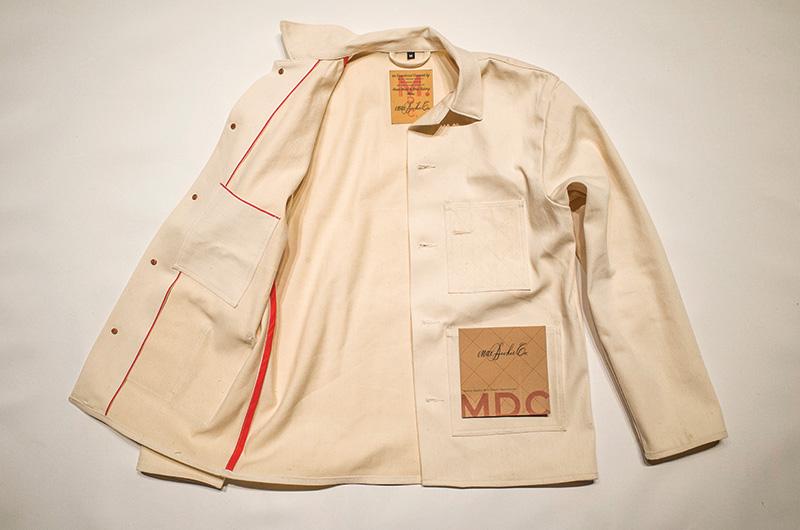 He ended up working in the shop for several years, while also creating music with friends.
"In New York, that was our outlet," he says of his time spent playing and experimenting with electronic music in the band Papertwin. "It's mostly synth-based. Drum machines, stuff that you can record in your own home without needing a lot of live mics," he explains. The band recently finished a ten-song album titled Family Portraits, but Decker is letting his bandmates figure out how to promote it.
"Right now I've washed my hands of it because I have so much stuff going on here," he says.
He is referring not just to his upcoming show, but to the recent launch of his garment business, Max Decker Co. This past winter, after about a year of trial and error, he perfected a simple denim jacket design that is loosely based on a French chore coat. He imports the selvedge denim from Japan and cuts, sews, and hand-treats it in linseed oil and wax. Once he paints the mixture onto the fabric, the jacket sits for about a month before turning into a texture that resembles leather.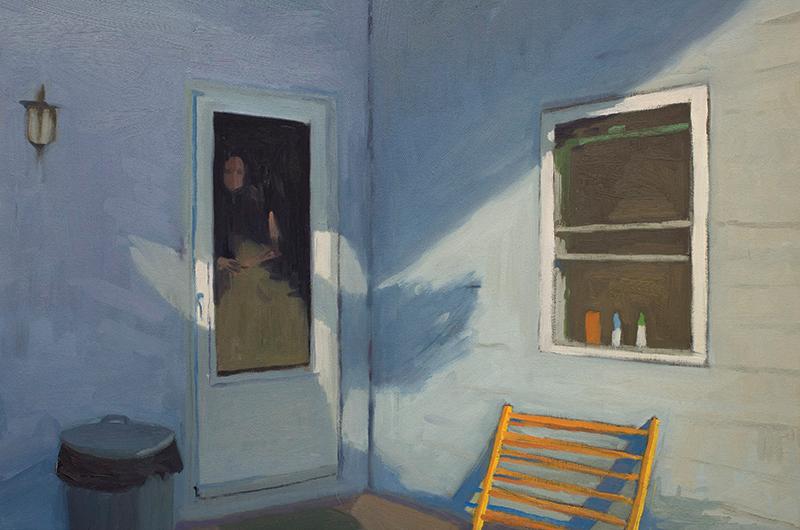 "It's pretty unique," he says of this specific technique called tin cloth. "You don't see a lot of people doing it because it's a pain in the ass."
The finished product is durable, water-resistant, and can be customized with a variety of hardware. Though not technically launched yet, Decker sells them, plus a few other denim styles, via Instagram for between $225 and $275. "I've probably only sold ten of them just in the last couple of weeks," he says. "I gave my dad a jacket and he was wearing it out and one of his friends said, 'Oh man, I want one of those.'" The next step, he says, is getting a proper website up and running.
But first, he has some more painting to do. When patrons head to the Field Gallery in West Tisbury for the opening reception this August, they won't see the typical landscapes for which he is known.
"I've done the 'I'm going to go paint Keith Farm ten times and just sell them,' and I don't want to do that anymore," he says. "I would rather just paint something that means more to me, and it's been a slow process of getting there."
He began finding himself in this new style of painting by creating pieces with sunflowers as the subject. "I thought, 'What could be the most cliché thing to do?' So I started mutilating and cutting them in half and I felt like I found a
different way to paint than I had been."
Over the past few months he has expanded his focus, with intimate interiors being on his mind lately. On the back wall of his studio hangs about twenty paintings: some feature the mutilated sunflowers, others show tablescapes; a few of the paintings feature people. "There is always somewhat of a narrative element," he says.
Laura walks in and immediately is captivated by her husband's work in progress at the easel. "Woah," she says. "Oh, yeah, I did that this morning," he replies nonchalantly. The two banter back and forth about the piece, making it clear that they are both each other's cheerleaders in their personal endeavors.
"Right now I'm getting to the point where I want to take some of these and blow them up," he says, gesturing to the paintings on the wall. "I take Laura's advice on which ones I can paint larger.
"I think for the first time I have kind of found something that is unique to me," he continues. "I'm trying to narrow down the scope or the range of my projects....I don't want to do a lot of things without being good at any of them.
"I'm always walking that line."
Max Decker's opening reception at the Field Gallery in West Tisbury will take place on Sunday, August 11 from 5 to 7 p.m. To view more of his work, visit maxbdecker.com.