If you've strolled down Main Street in Edgartown any recent summer evening you're likely to have noticed a new buzz in the air. That symphony of alfresco diners in easy conversation, throngs of hopefuls waiting for a table, and, later on, live music and indoor revelry, can be traced to a pair of now established restaurants, landing downtown Edgartown on the map as a lively, casually sophisticated, and – look away, Pink Pants – hip dining destination.
The Port Hunter restaurant opened in 2012 and was joined across the street by the smaller, more intimate The Covington in 2016. Both venues are owned by brothers Patrick and Ted Courtney, restaurateurs who came up in the family business of seasonal retail and share a can-do commitment to doing things the Island way.
Growing up just blocks away from the businesses they now own, the Courtneys spent summers helping their parents, Geno and Barbara, in whatever role they were assigned. "We were mostly working and hanging out in the shops," Ted, younger than Patrick by a year and a half, remembered. "They'd put us on a milk crate so we could run a cash register."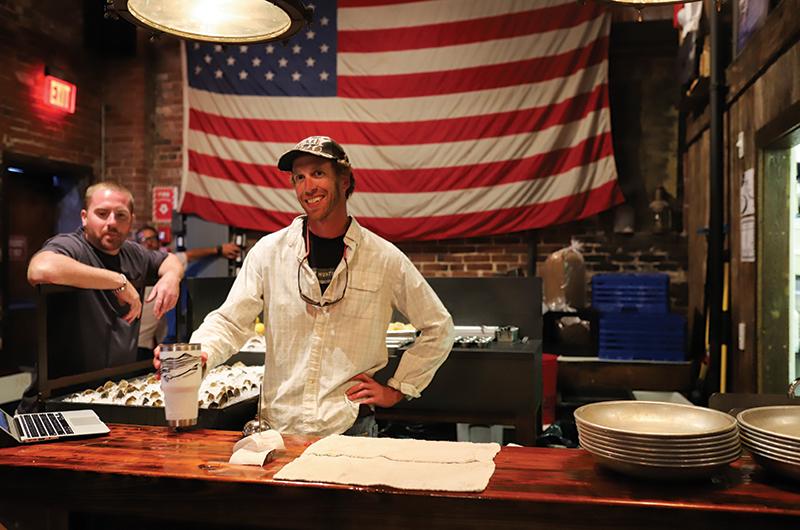 The Courtney dynasty dates back to Geno's arrival on the Island in the early 1960s, when he worked first as a barber and a bartender. As an enterprising twenty-something, the young Geno saw an opportunity for new businesses, first in Oak Bluffs and later in Edgartown, where he bought Willoughby's, now the Edgartown Paper Store. Shirt Tales and Vineyard Scoops followed, and soon, running the family businesses was an all hands on deck operation.
Though the brothers eventually relocated to Florida with their mother, Barbara, for the off-season, they looked forward to returning to the Island each summer, running around town with the neighborhood kids, many of whom they still count as friends today.
"When you end up in a scenario where you're splitting time, but this is the place where you have community and family, this is always home," Patrick said, standing behind a custom-built bar table in The Port Hunter in late spring. The space was nearly empty and still in the process of getting its annual off-season spiffing-up. This year's projects included a new backsplash for the bar and refinished tables and chairs, all of which were hand built by the brothers with help from a craftsman out of Maine.
But before the tables and chairs, before the Main Street leases and trendsetting restaurants, the brothers Courtney were doing what many young Islanders do, spending a winter back home, post-college, trying to "figure stuff out." After graduating from different Colorado colleges, they returned to the Vineyard to help out with the family businesses. It wasn't long before they decided to try their hands at opening one of their own.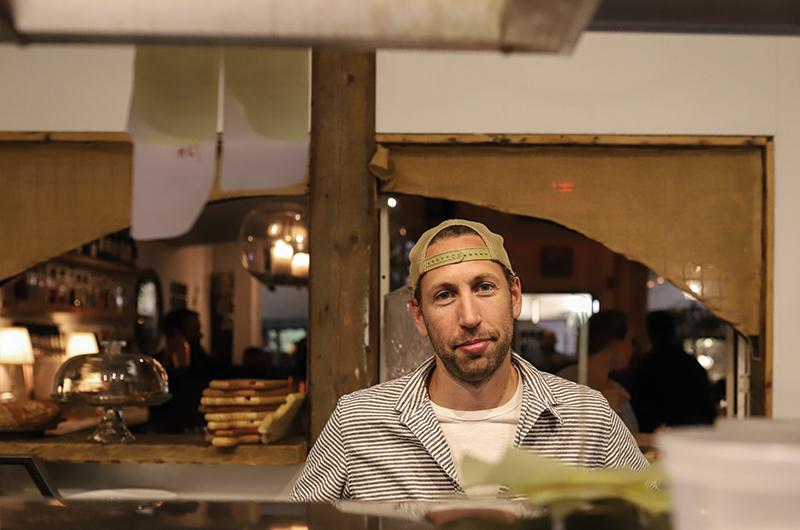 "We had a storage space across from Espresso Love," Patrick said. "We traded rent for the first year to come in, empty it out, and refurbish it." Soon, Backwater Trading Company was born, an outdoor-clothing boutique featuring an alternative to the traditionally preppy uniform of Edgartonians, a uniform the Courtneys found impractical and out of touch with the way they'd grown up.
"You move back to downtown Edgartown out of Colorado, it's different," Ted laughed. "There wasn't anywhere you could buy a Patagonia fleece. We wanted to provide something that was a little more functional, a little bit more like the Vineyard we knew."
As the business grew, an opportunity to move to its current Main Street location presented itself. The enterprising brothers jumped at the potential for better visibility and higher foot traffic. And when the landmark craft shop In The Woods closed in 2011, leaving a coveted corner of in-town real estate up for grabs, the Courtneys were once again quick on the draw.
"We took the lease not knowing exactly what we were going to do," Patrick admitted. "We thought maybe an extension of Backwater, with more hard goods, stand-up paddleboards, that kind of thing."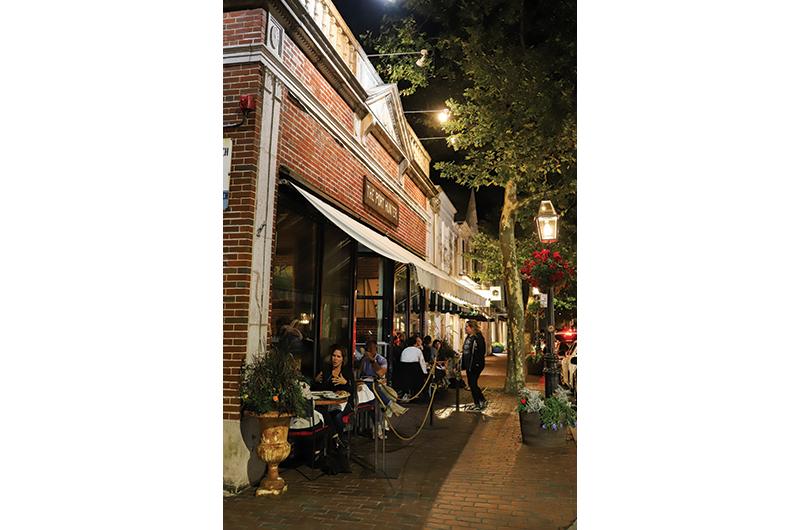 In January of 2012 they began renovating the space, doing all of the work themselves with friends. "The downstairs was a mess," Patrick said. "We knew whatever it was going to be, we were going to have to clean it. We spent the first six weeks pressure washing, pumping…a lot of deferred maintenance."
After long days of scrubbing floors, the brothers often found themselves in a dead-end conversation about what to eat for dinner. "When you're living and working in town, working long hours, you end up eating out a lot," Patrick said.
"We liked different food, I guess, than what most places were serving," Ted added diplomatically. "You had a high-end option, or nothing."
"We just wanted a well-prepared chicken sandwich," Patrick said.
Enter The Port Hunter. In classic quick-acting Courtney style, the brothers worked with what they had (they salvaged most of the wood for the tables from waterfront worker Steve Ewing's wharf building scraps), settled on a simple
six-item menu, and opened in time for the July crowds.
"We had a lobster roll, a chicken sandwich, a burger," Patrick remembered. "We knew we could serve good bread, so a lot of it was based on that."
How did they know they could serve good bread?
"Ted's good at baking," Patrick shrugged.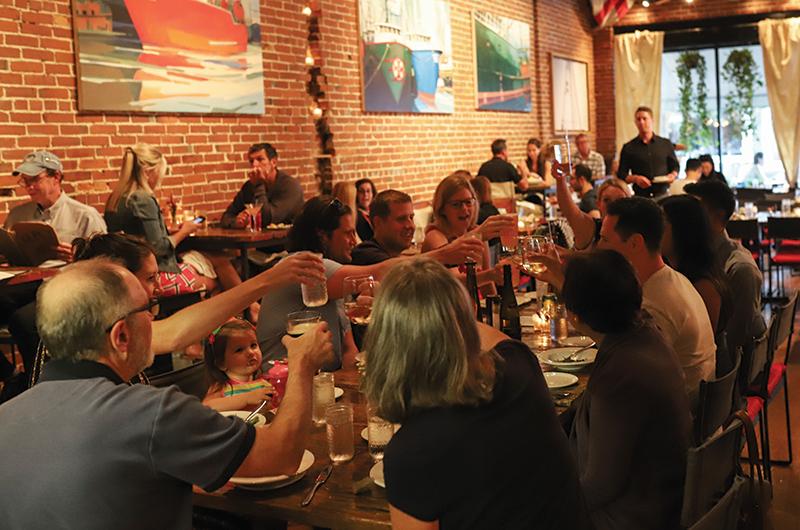 Despite not having any culinary training, nor having spent as much as a stint in a professional kitchen, the brothers took a gamble that a no-frills, reasonably priced menu was just what Edgartown needed. Eight years later, with an expanded menu, a growing wine and cocktail program, and a raw bar featuring local oysters, it's a bet that's paid off.
From the beginning, the brothers' partnership in all ventures has been seamless, likely because they'd had an entire childhood to rehearse. "It was just an extension of what we'd always done," Patrick said. "It's not like one of us in the kitchen and the other one is back doing the books. We both do a little bit of everything. Either one of us can rebuild the bar, hold a shift in the kitchen, work on the floor…"
And, it would seem, negotiate a lease or two. In recent years the brothers have also taken over managing the family's other properties, which include the locations of Shirt Tales, Vineyard Scoops ice cream, and the Edgartown Paper Store.
"They do have their own ideas, but what the hell?" Geno said of the generational transition. The patriarch of the family can often be found sitting on one of the benches at the corner of Main and South Summer Streets in Edgartown. Of the restaurant business in particular he said only: "It's a young man's game."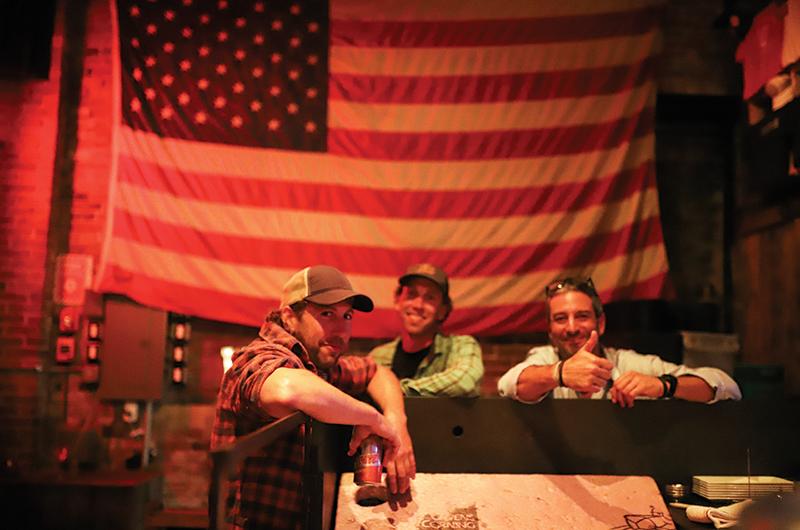 Given their lack of restaurant experience, the brothers knew they'd eventually need outside help. One of their first hires was longtime friend and childhood summer pal Brice Contessa, who had worked in restaurants for years and was just moving on from his first business, a fly-fishing charter operation.
"Brice is fantastic," Patrick said. "We've known him since we were ten years old. We were short-staffed and I begged him to come help for opening weekend."
Eight years later, Contessa now manages The Port Hunter and is in charge of the music program, which has grown from occasional local drop-ins to fully booked seasons showcasing popular regional acts. "Live music has been a major interest of mine since middle school," Contessa said. "I'm a firm believer that great music exists in a huge variety of genres." On any given night at The Port Hunter you might hear rock, blues, bluegrass, jazz, reggae, folk; so long as it's upbeat, with good rhythm, Contessa said any genre is fair game.
Across the street, The Covington is a quieter affair. With the early success of The Port Hunter under their belts, the Courtneys felt ready to solve another problem they'd encountered themselves: what to do when you want to make a reservation?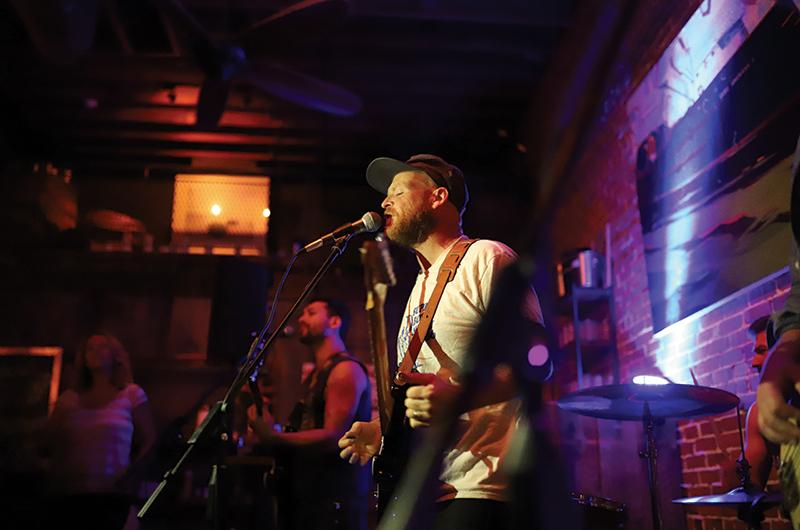 "Early on it seemed too complicated," Patrick said about their decision not to take names at The Port Hunter. "It was one more thing we had to keep track of." But as they got older (now in their mid-thirties, the brothers were twenty-seven and twenty-eight when they opened their first restaurant), they began to appreciate the stability and convenience of booking a table.
When the Edgartown Deli closed and another prime location came up for rent across Main Street, once again they found themselves racing the clock, moving into a space in January with eyes on getting folks in for dinner that summer. "The thought of sitting through a summer with a vacant space on Main Street…not only is it not good for our bottom line, but it's not good for the town."
The idea at The Covington (named, tongue-in-cheek, for the tugboat that crashed into the Port Hunter, a World War I supply vessel stocked with provisions for American troops) was to showcase simple, elegant ingredients sourced from local farms and providers. While The Port Hunter had earned a reputation for well-made casual fare and a popular raw bar, in addition to being a nightlife hotspot, the brothers hoped to take things slightly more upscale across the way. (Where, yes, they now take reservations.)
"There are some nights when I come out and I want to come here," Patrick said of the livelier Port Hunter. "You know the energy is going to be fun, you'll see people you know. Then there are other times when I come out to eat and I know I want to go out with my girlfriend, sit down, and have a more intimate experience."
Not that either brother is taking many nights off, come high season. Ted works three or four nights a week cooking in each kitchen, and Patrick also splits his time, shucking oysters at The Port Hunter or overseeing operations across the street. A street, one might add, that is decidedly busier than it once was.
Though the brothers concede that their particular corner of Main Street is livelier than it has been in the recent past, they are reluctant to take responsibility for any overall shift in Edgartown's reputation.
"When I was a kid, I remember The Navigator, it was super cool," Ted said. "You'd go down and…you couldn't get in, but you could hear the live music."
Heading outside to walk the same block he used to work and play on as a boy, Patrick agreed. "We may have more dining options that we did ten years ago, but Edgartown was always pretty fun."