The woman I imagine is a professional," said eco-friendly clothing designer Angela Sison of her clientele, a smattering of Vineyarders she has studied since moving to the Island in 2016. "This woman could work for someone…or for herself. She thinks about the environment. That's why she appreciates my clothing. She cares where it is made. She doesn't think in just one box."
Sison's Martha's Vineyard–based line of eco-friendly upcycled clothing, called Conrado, first appeared as something of an experiment at the Chilmark Flea Market in 2016. After many visits to the Island with her boyfriend, Noah Mayrand, who grew up here, she began to wonder if the two could relocate to the Island and she could make a living as a designer.
"At the time I was thinking about quitting Old Navy," said Sison. She was working as a merchandiser and later a designer in their online department – not her dream job. "I was fantasizing about moving to the Island, but I didn't know exactly what I would do, so I worked hard on getting a few pieces together. That's when I started at the Chilmark flea, just to see how it would go."
Sison, who had trained in San Francisco, New York, and Paris with various well-known designers, including Jason Wu and Peter Som, drew up ten basic designs for her first collection, mainly fashionable and versatile jumpsuits. She then called her mother, Maria Sison, in the Philippines, who owns a sustainability-minded textile workshop that has made everything from OshKosh B'gosh and Bugle Boy products to cloth diapers, and today, uniforms for Boy Scouts of the Philippines. In collaboration, Conrado was born. The clothes are made using "deadstock material" from established brands and factories that might otherwise be discarded, and are sewn by artisans and seamstresses with skills honed over twenty years.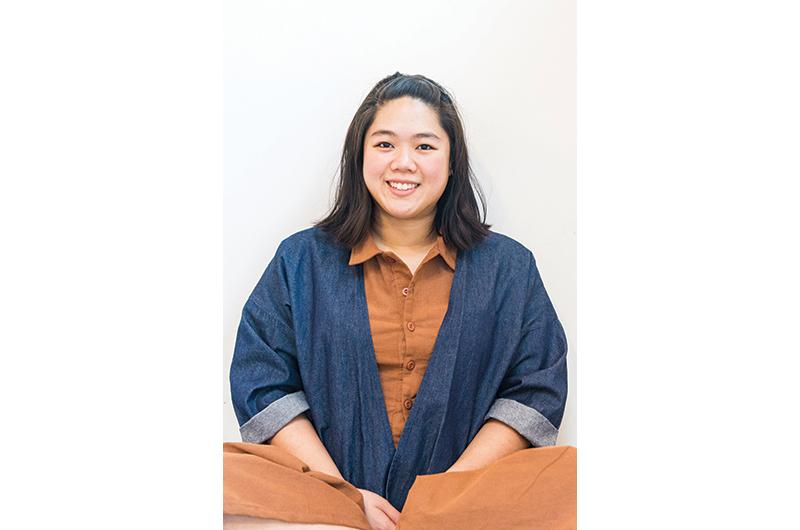 "It was wonderful at the flea; I was surprised," Sison said of that first summer. She left with one remaining jumpsuit after the very first week and demand grew from there. "I think I was bringing something new to the flea that no one had seen."
Based on that early success, Sison took the plunge, moved to the Island, and increased her repertoire, selling at fleas, craft collectives, and at Citrine in Vineyard Haven. She has since expanded to the Vineyard Haven gallery/workspace The Workshop, and now also sells at trunk shows and pop-up shops across the United States and the Philippines.
The latter country continues to play an important role in the manufacturing and inspiration for the brand. Sison named her line after her grandfather, Conrado Caimol, following a dream in which she showed him a tag with a triangle inscribed with the word "Conrado." "The town he grew up in became a naval base in the Philippines," she said. "That's why we were connected to America, because my uncle joined the U.S. Navy when there were U.S. Naval bases in the Philippines.
"That brought them to the U.S. They moved because the naval base that my uncle got stationed at was in Alameda, California." Sison, who is twenty-nine, was born in San Francisco.
"My grandfather always had a good energy with him, a very calm energy," she said. A Coca-Cola employee in distribution, he traveled extensively and "had collections of hats from places he went. Some from Chicago, New York, San Francisco – mostly from America. He had a four-poster bed and all the corners had hats, as much as it can hold, as much as you can see," Sison recalled, laughing. "He also smelled of Old Spice."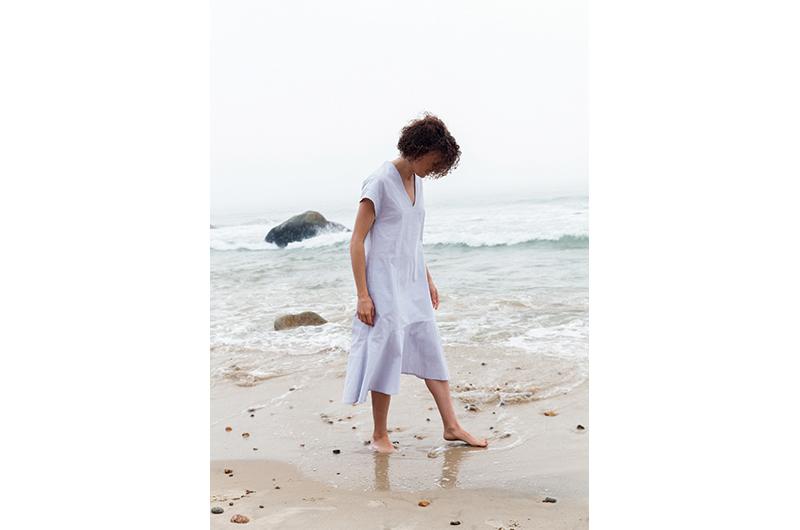 Sison and her mother eventually moved back to Manila, the capital of the Philippines, but San Francisco remained the family's second home. There she spent summers and holidays until moving back in 2008 to attend the Academy of Art University, where she pursued a BFA in fashion.
During her first year she focused on merchandising, but every merchandiser had to take a design class. Her design teacher was surprised she was in merchandising and insisted Sison should be designing instead. "I took her advice," said Sison. "I loved making the pattern. I loved sewing rather than doing retail buying, merchandising, writing reports. So I did switch to design and I thrived."
In need of internship experience for her résumé, she applied directly to big-name designers Jason Wu and Peter Som and was accepted. "It was hard. I was a full-time intern. Not paid. But I learned so much about the hustle." She spent a semester in New York, moved to Chelsea, took classes online, worked at her internships, and spent countless hours researching designs in the library.
"I found a book on the Teddy Boys, this group in England. They were all wearing these long coats as casual wear and I was just drawn to the photographs, the emotions, the look of it," she recalled. "I was kind of inspired by that."
Another internship followed, this one with a menswear designer in Paris, but by 2013 she was back in San Francisco, working for Old Navy in merchandising and seeking ways to get back to design. Old Navy eventually moved her into the design department, but it was a bit of a "be careful what you wish for" situation. "I had it easy in merchandising," she recalled, whereas in design she felt overworked. "Management was horrible. That's when I started doing my side projects by myself.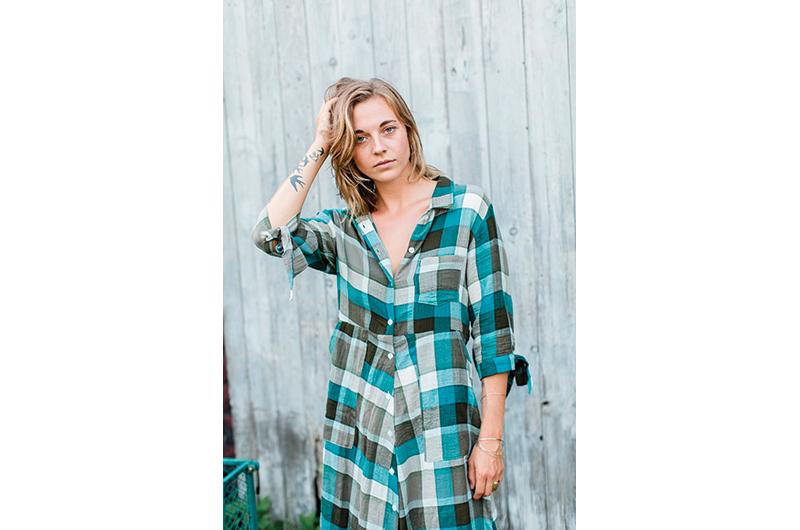 "I would walk past my grandparents' old apartment and imagine their clothes and what they would wear when they walked down that street," Sison said, explaining the inspirations for what would become her earliest Conrado designs. "Nostalgia and stuff."
It was around this time she met her boyfriend, Mayrand, whom she describes as "a renaissance man." A formally trained printmaker and photographer from Martha's Vineyard, he was working as a cook in San Francisco. "We fell in love," she beamed, "because of our love for food."
Mayrand eventually brought Sison to his hometown of Vineyard Haven for a summer, and after two more visits and the successful flea market debut, they made the decision to attempt a full move.
In the three years since, she has become something of a staple in the local design world. She uses Island women as models for her website: dancers Leah Crosby and Colleen Daly, painter Bailey Gardener, and musician/actress Lexie Roth, among others. She has also folded herself into the fabric of the winter Island world, teaching sewing, pillow-making, darning, as well as co-hosting craft nights with other designers.
Sison still draws inspiration from summers in the Philippines and San Francisco, however. "We would go to the beach in the Philippines; even though it was an hour away we would wear the same thing all day," she said. This was the model for the summer sold-out jumpsuit. "I made designs based on myself and how my clothing should be worn."
And, it should be added, based on business input from her entrepreneurial mother, Maria. "I had to get my whole idea straightened up and propose it to her because I wasn't sure at all and wasn't sure she would support me," said Sison.
When Maria started her textiles workshop in the early 1980s, she was a single mom working for a government office that sometimes handled hospital orders. While processing an order for cloth diapers, she had a realization: cloth diapers are really easy to make. She hired a seamstress to help her and was soon able to deliver the diaper orders at a faster pace than the government. More orders began to come through word of mouth. "Orders came in from random places," Sison explained, "nightgowns, pillow cases – and she developed those products on her own too."
Eventually Maria stopped working for the government and started her own workshop, I2 Industries, even making parts for dolls. She began receiving bigger orders for brands in the United States. "Growing up," Sison said, "she was very busy with that."
Sison's mother agreed to produce around 100 pieces for her original Chilmark Flea Market summer collection, and as demand has grown so has the mother-daughter partnership. "Since we were also sourcing fabrics with other friends at factories," Sison explained, "she would help me find the fabrics as well."
Her newest line is a departure from that first versatile jumpsuit. The expansive contemporary collection includes denim, kaftan dresses, puff sleeve jumpers, button-down rompers, wide-leg pants, shorts, and tops. But it's all still sourced from upcycled designer material otherwise headed for landfills.
"The people here on Island are so focused on keeping the environment what it is," said Sison, "and my designs show that."