Best Charity Event: A Taste of the Vineyard
Dr. Daniel Fisher House lawn, 99 Main Street, Edgartown, 508-627-4440, tasteofthevineyard.org
Runner-up: Possible Dreams Auction
Tilton Farm, Middle Road, Chilmark, 508-693-7900, mvcommunityservices.com
The best part of A Taste of the Vineyard is the journey, starting with a stroll through more than ninety tables of the Island's finest culinary and boozy offerings before ending up on the dance floor with live music running late into the night. Island services get a boost at Possible Dreams, where people can bid on priceless Vineyard experiences.
Best Family Activity: Flying Horses
15 Oak Bluffs Avenue, Oak Bluffs, 508-693-9481, vineyardtrust.org
Runner-up: The Barn, Bowl & Bistro
13 Uncas Avenue, Oak Bluffs, 508-696-9800, thebarnmv.com
The historic Flying Horses carousel has been a best bet for more than a century. Generations (and generations and generations) of Vineyarders have selected a carved wooden horse and reached for the bronze ring as the 1923 Wurlitzer Band Organ plays. For bowling, trivia, dancing, and dinner, The Barn, Bowl & Bistro has you covered all year long.
Best Live Band or Musician: Johnny Hoy and the Bluefish
508-696-3007, johnnyhoyandthebluefish.com
Runner-up: Vineyard Sound
866-846-7686, vineyardsound.org
Johnny Hoy and the Bluefish's infectious bluesy rock makes the dance floor come alive, whether at a wedding or at The Ritz Cafe. Good luck not snapping along to the a cappella harmonies of Vineyard Sound, known for their impromptu summer street performances.
Best Live Music Venue: The Ritz Cafe
4 Circuit Avenue, Oak Bluffs, 508-693-9851, theritzmv.com
Runner-up: The Tabernacle
80 Trinity Park, Oak Bluffs, 508-693-0525, mvcma.org
Come early and stay late at The Ritz Cafe, where the best Island musicians and Cape bands mix and match their ensembles every night for a rollicking good time. The open-air Tabernacle fills the Camp Ground with sound and offers plenty of seating on the surrounding lawn.
Best Movie Theater, Festival, or Series: Martha's Vineyard Film Center
Tisbury Marketplace, 79 Beach Road, Vineyard Haven, 508-696-9369, mvfilmsociety.com
Runner-up: Entertainment Cinemas
65 Main Street, Edgartown, 508-627-1076, entertainmentcinemas.com/locations/edgartown
More than just a theater, the Martha's Vineyard Film Center keeps its members engaged with a slew of events, from a video conference with Nina Totenberg, to a Wes Anderson costume party, to a highly anticipated Oscar ballot contest. Entertainment Cinemas is sure to have the latest blockbuster.
Best Off-Season Event: Christmas in Edgartown
Downtown Edgartown, edgartownboardoftrade.com
Runner-up: Martha's Vineyard Striped Bass & Bluefish Derby
Weigh Station, Dock Street, Edgartown, mvderby.com
It hardly feels like the off-season when Santa comes to Edgartown for a weekend-long winter wonderland, drawing huge crowds for the parade, Teddy Bear Trot, and Edgartown Lighthouse illumination. In September, fishermen line shorelines in hopes of winning big in the month-long Derby.
Best Performing Arts Organization: Martha's Vineyard Playhouse
24 Church Street, Vineyard Haven, 508-696-6300, mvplayhouse.org
Runner-up: The Yard
1 The Yard, Chilmark, 508-645-9662, dancetheyard.org
Islanders get their own slice of Broadway at the Martha's Vineyard Playhouse, a year-round home for professional theater known to attract big name talent. The Yard offers creative residencies and contemporary dance performances in the woods of Chilmark.
Best Radio Station: WMVY 88.7 FM
121 Carroll's Way, Vineyard Haven, 508-693-5000, mvyradio.com
Runner-up: WCAI 90.1 FM
3 Water Street, Woods Hole, 508-548-9600, capeandislands.org
The live DJs at WMVY know what Islanders want to hear and never disappoint, mixing and matching local favorites and off-Island discoveries to keep listeners tuned in at all hours. WCAI, the Cape and Islands NPR station, is the
go-to for news from the Cape and beyond.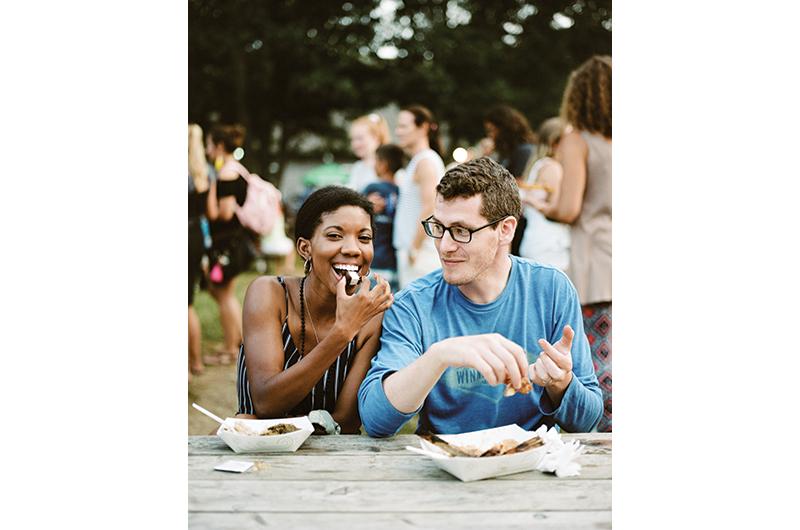 Best Summer Event: Martha's Vineyard Agricultural Society Livestock Show and Fair
35 Panhandle Road, West Tisbury, 508-693-9549, marthasvineyardagriculturalsociety.org
Runner-up: Oak Bluffs Fireworks
Ocean Park, Oak Bluffs, 508-693-0077
Time flies when you're having fun riding the Ferris wheel, cooing over farm animals, judging crafts, and munching on fried dough at the Ag Fair. Thankfully, it runs four whole days. Oohs and ahhs echo through Ocean Park during the annual Oak Bluffs Fireworks show in August, a dazzling spectacle of light.