Few paintings in the history of American art are so American.
Generally speaking, The Granary Gallery in West Tisbury is the Island source for works by Thomas Hart Benton. At any given time the gallery features up to thirty lithographs, pen and inks, and watercolor studies by Benton, who is perhaps the most famous artist with a strong connection to the Vineyard. But it's a special treat when one of his fully realized paintings graces the wall of the gallery.
This past July, Granary owner Chris Morse acquired the 1926 painting Going West and unveiled it at his up-Island gallery. It's a piece that has been shown to the public only two other times: at a gallery show a year after it was created, and again in the 1980s when it was sold at auction.
The oil on canvas features a black locomotive barreling down a track, steam streaming from the funnel, telegraph poles shying away. A tiny engineer sits in the cab of the train easing his beast forward. "It has an energy and sort of a remarkable, physical power to it," Morse said.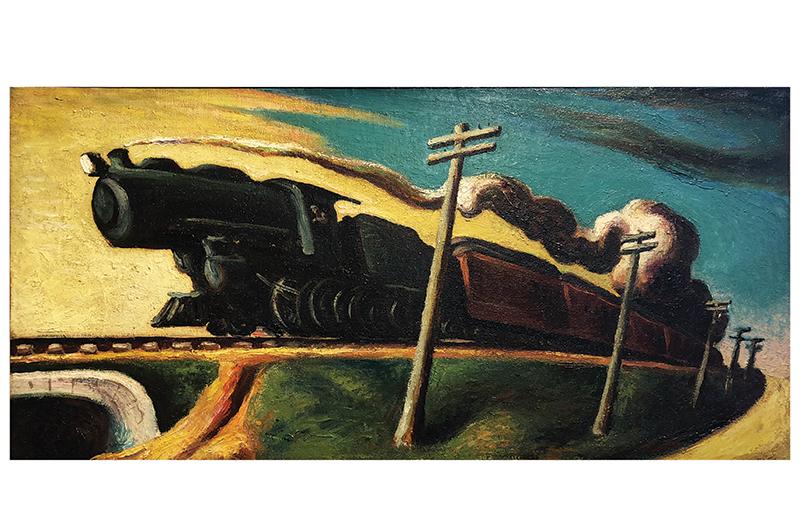 Benton grew up in Missouri and first visited the Vineyard in 1920, where he fell in love with the rural landscape and the people. He would return each summer for the next fifty years, mingling with the likes of Percy Cowen (grandfather of artist Allen Whiting) and art historian Thomas Craven. But despite his connection to the Island, he is best known for his works depicting the people and culture of the Midwest.
The art historian Henry Adams, who has written extensively on Benton, said of Going West: "Few paintings in the history of American art are so American. If you hung it besides Hopper's Nighthawks it would hold its own.
"Other great American artists such as Reginald Marsh made wonderful representations of trains, but Going West is in a class by itself," continued Adams. "Benton in some magical way seems to become the train. In his hands, it becomes a living thing, the embodiment of life, force, energy, and the American spirit."
Morse, who is looking for a buyer for the work, echoed the point: "I think it is one of the more important paintings…in the sense that it's depicting the power of America and of America going forward." It was also painted during a time period that was important to Benton. Morse said that "1926 is really when he was getting traction as a great American regionalist painter."
The painting has attracted a succession of visitors. "People have been bringing their guests to see it," Morse said. "They can't believe they are seeing a painting this important in a gallery in West Tisbury."
Morse has already had a few interested private parties as well as a museum contact him about purchasing the piece. But when asked what the likely selling price might be, he is coy about revealing a number. For comparison, last year the gallery had another iconic Benton from a more mature period in the artist's life on display. Shortly before arriving on the Vineyard, that work, a 1938 tempura and oil on canvas painting titled Roasting Ears, was listed for sale for $4.8 million.
Whatever Going West ultimately sells for, it's safe to say that the painting won't stay in its current station forever. The time is now to go west yourself (depending where you are on the Island) to The Granary Gallery to witness a part of American art history before it leaves the public eye for what could be another five decades.