For lovers of all things vintage, there's new reason to celebrate. Her name is Daisy, and you may have caught a glimpse of her on Instagram, or tooling around town, her smooth gray curves in subtle contrast to the greens and blues of the
endlessly photogenic Vineyard landscape.
Daisy is a 1976 VW Type 2 Transporter van, and she's more than just a pretty face. Hidden inside her shiny retro exterior is a fully functioning photo booth, designed and operated by Island resident and amateur photographer Mark Lacourse. MV PhotoBus, Lacourse's pet project turned-booming business venture, has in its first season been a popular addition to many Island weddings and community events, a nostalgic nod with an updated twist.
"I've always loved photography," Lacourse said when we met mid-summer over coffee, the compact bus tucked inconspicuously into a nearby parking lot. In between seasons captaining Mad Max, the Edgartown charter catamaran, Lacourse, thirty-five, began looking for ways to monetize his creative passion. A rambling Internet search led him to a number of Volkswagen "photo buses" operating up and down the West Coast.
"I'd love to take credit for the idea," he laughed, "but there are tons of them all over the place." With friends in the wedding and events planning business, plus a love of design and a healthy dose of willful curiosity, Lacourse saw an opening for a similar bus on the Island and set to work making it happen last fall.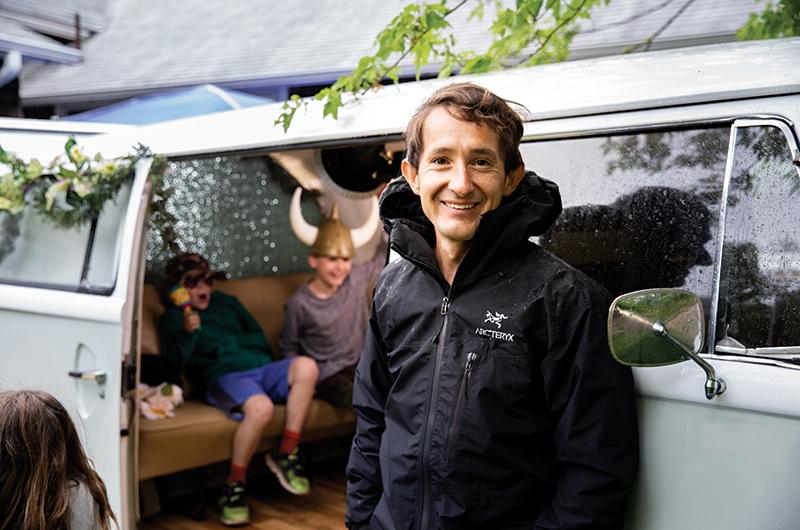 After doing some research and contacting the Cape Cod Community Development Partnership, he secured a small-business loan and was able to purchase a van by early winter. He spent January through March camped out in his father's western Massachusetts heated garage, customizing the interior of the van and teaching himself basic auto mechanics with little more than a wireless connection to guide him.
"You can learn anything on YouTube," Lacourse said of the hours he spent looking up parts and rigging up cost-effective ways to reproduce the classic VW look. "I was going for clean, simple, and elegant," he said. "Like most things in life, the simpler the better."
The original white paint job was supplemented with a stylish gray that he borrowed from another classic automobile, the Renault Dauphine. "It's called Pompadour Gray," Lacourse remembered. "It photographs well next to anything."
Despite this inspiration, Lacourse claims not to have been much of an old car buff. Now, he says, he's found new appreciation for the beloved VW model. He says the reactions of passers-by have been surprisingly supportive, with appreciative honks, waves, and peace signs greeting him whenever he takes the van out for a spin. "People go nuts," he said. "If they're over fifty, they probably owned one, and if they're under fifty, they've romanticized owning one."
The response from partygoers has been just as enthusiastic, which Lacourse credits to a number of factors. The throwback, analog nature of the photo booth is a draw on its own – it's rare these days to have a photograph taken and leave with a tangible strip – and Lacourse's custom-built console box is the perfect mix of high-tech software and DIY charm.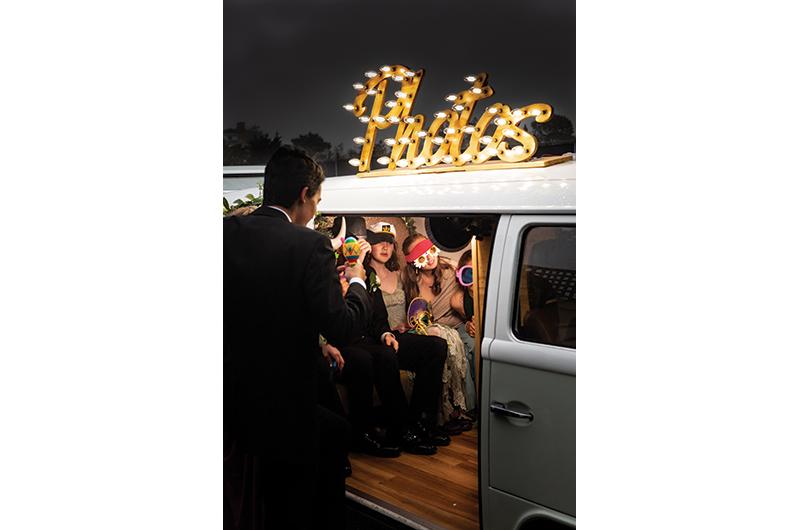 To start, guests can help themselves to a trunkful of costumes and accessories set up in the van's cargo space, while consulting the Hollywood-style vanity mirror. Then they cozy up in the van's built-in bench and choose from a series of filters and
settings presented on the touchscreen display. The software automatically detects how many guests are mugging for each shot, and prints out the corresponding number of individual strips through a handbuilt slot. The event host receives a hard copy of each strip as well as a thumb drive of every photo snapped throughout the night.
During the events – in addition to weddings, the van has made an appearance at preschool fundraisers and other community celebrations, for which he offers a discounted rate – Lacourse takes a deliberately hands-off approach. "Somebody has to be there in case there's a problem with the power," he said, though thanks to low voltage and a carefully rigged warning system, this hasn't been an issue yet. "But it was built so that anyone can use it. Whether it's an eighty-year-old grandmother or a bunch of four-year-olds, it's so easy."
Still, Lacourse attributes the popularity of the bus to more than its appearance or even simple functionality. "It creates a social center at events that's not the bar or the smoking circle," he said. And as a conversation piece, it dispenses with some of the obligatory chitchat that often plagues formal events. As Lacourse puts it: "You don't have to stand around and make awkward conversation."
Instead, choose a hat or feathered boa, strike a classic pose, and leave with a handful of actual photographs for your album or refrigerator door. Talk about nostalgia.