On the bole of an old oak tree along State Road in Tisbury, a simple white board bears the block-letter words GERMAN CHURCH FORMER SYNAGOGUE GLASS WINDOW PROJECT. Nearby, a metal sign reads ZEITZ ART STUDIO. Turn up the driveway most Wednesday nights in July, August, and September, and Barney Zeitz will show you the final set of stained glass windows he's been designing over the past four years.
Taller than a man, they hang in heavy arch-topped frames of steel that he welded himself. The panes have been fired multiple times as Zeitz added layers and fragments of color to the design. Inside the framing, light pours through majestic purple mountainsides and green hills.
It's a peaceful scene in his studio, which makes it all the more difficult to draw a line from Zeitz's glowing windows to Kristallnacht – the "Night of Broken Glass" – an orgy of Nazi violence eighty years ago this November that destroyed more than 250 synagogues across Germany and Austria. But when completed later this year, these windows will head from Martha's Vineyard to a Protestant church in Flieden, Germany, that owns a dark and sorrowful history: it had been the local synagogue until Kristallnacht, when storm troopers and militarized civilians desecrated the ancient house of worship. In 1951 the building reopened as a church.
Zeitz has been working on the church windows since 2015, when he was approached by Marie Ariel, a Cambridge woman whose father had been bar mitzvahed at the Flieden synagogue. Visiting the Flieden church on a trip to her family's former hometown, Ariel had learned the pastor wanted to find a Jewish artist to create new windows as part of a building renovation that would link the present with the past.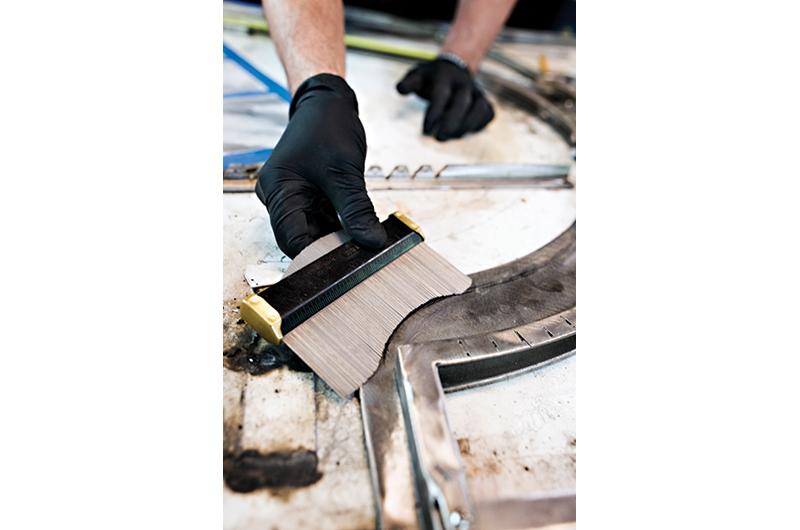 "It's a remembrance," Zeitz said of the windows project. "It's not a Holocaust memorial; it's not really about forgiving anybody; it's not even an apology from the Germans. It's acknowledging that Jews lived in this town for almost 500 years, and now there are none."
Vineyard contacts led Ariel to Zeitz, a Fall River native who moved to the Island in 1972 and taught himself glass art and metal sculpture here. Hailing from an industrious South Coast family – New Bedford's Zeiterion Theatre was built in 1923 by a great-uncle, also named Barney – Zeitz became an artist after he landed on the Vineyard at age twenty-one and decided to stay. "I taught myself how to do glass here, out of a book, on the porch of a house where I was living," he recalled. "I learned how to solder and I made little boxes and mirrors."
The first piece he sold was a lamp – "a little kerosene lamp with a shade," Zeitz recalled. "I put it on David Crohan's piano at the Rare Duck [a former lounge on Circuit Avenue in Oak Bluffs] and it sold that night." That was the night Zeitz became a working artist. Not only did his lamp sell, but friends of the buyers commissioned Zeitz to make them a chandelier.
"It was like this incredible sign to keep going," he said. "It was like this gift, this blessing." In 1985, he purchased property off State Road in Tisbury, and a year later built the studio and home where he lives with his wife, Phyllis Vecchia, a longtime Island drama teacher whose nonprofit Phyllis Vecchia Creative Drama is in its twenty-second year. Their daughter, Kaela Vecchia-Zeitz, a graduate of Martha's Vineyard Regional High School, is studying social work at New York University. "I really did find the place that is right for me," he said. "My neighbor down there, we're good buddies. I make a ton of noise sometimes, but he's had dogs barking. That kind of evened it out."
Along with the Flieden windows, there's a fair amount of interesting clutter in Zeitz's studio – pieces of metal, chunks of glass, empty frames, a packet of incense sticks, sculptural works in progress – just as one might expect of an artist's studio that's been in continuous use since 1986. "You can only be so neat. It would be great to clean up, but whatever. You only have so much time," he said, with a matter-of-fact shrug.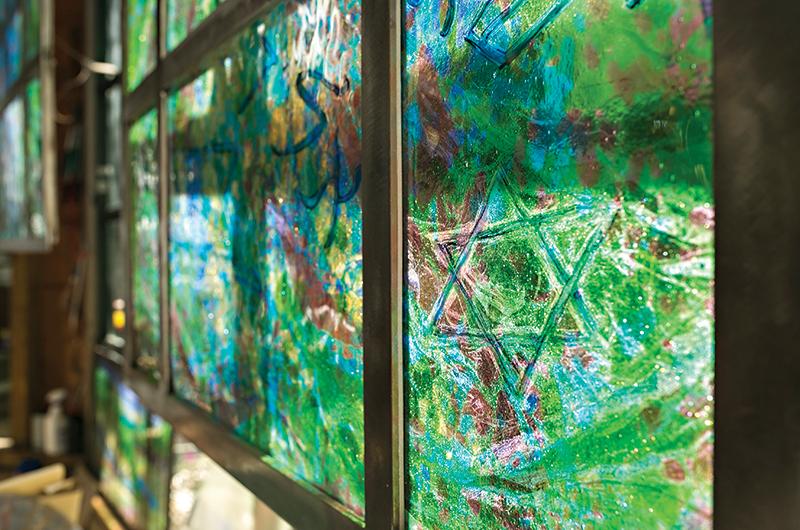 And of course there are his tools, including saws, kilns, a wood stove for warmth, and the welding equipment, an old-fashioned anvil and hammer. "Nothing's really fancy. The welders that I have are from the '80s," he said. "They're really old and they work."
Over the decades as an artist, Zeitz has repaired stained glass windows for three Island churches. "For the recession, it was a lifesaver," he said at his Tisbury studio last spring. Most recently, he cleaned and replaced the leading in nearly forty 1870s-era windows for the United Methodist Church in the Martha's Vineyard Camp Meeting Association. His own glass designs, meanwhile, transform incoming light at, among other places: the Martha's Vineyard Hebrew Center in Vineyard Haven, the Yoga Barn in West Tisbury, the twelve-foot-tall Immigrant Memorial located near Plymouth Rock, and the similarly sized Holocaust Memorial at the Sandra Bornstein Holocaust Education Center in Providence, Rhode Island, as well as at the Rodef Shalom temple in Pittsburgh, Pennsylvania.
In particular, a joyous window called "Enter Into His Gates with Praise" at the Pittsburgh temple appealed to the German building committee that Ariel had convinced to consider Zeitz's work. They also felt that the fused glass technique Zeitz has developed – in which colored fragments and powdered glass are combined in a mosaic without being separated by lead solder – would be the appropriate replacement for windows once smashed during Kristallnacht.
"There's something very fitting about it," Zeitz said. "I start with a plain color and I will literally hit it with a sledgehammer and screen it into different grades."
In 2015, the building committee flew Zeitz to Germany so he could meet with members of the church in Flieden, a small town northeast of Frankfurt in Hesse state. "This little town is a good example of where Jews lived," Zeitz said. "My ancestors were from somewhere near there. The name Zeitz is very German and there is even a little city called Zeitz about two hours from Flieden."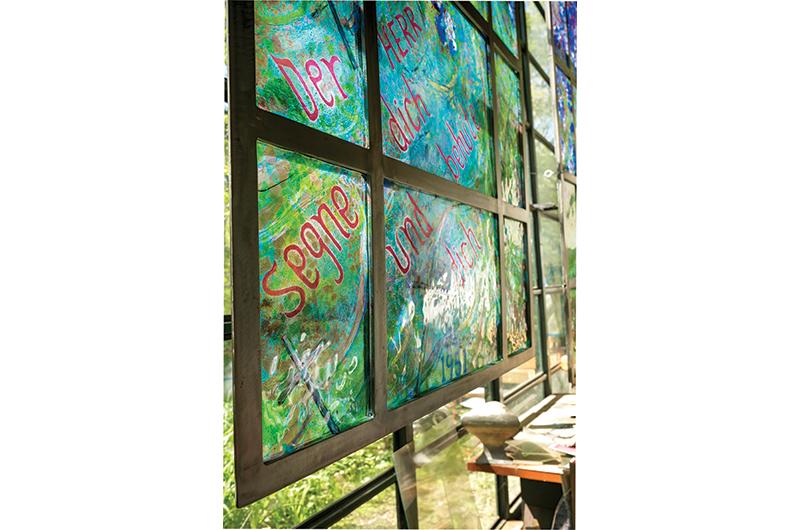 Zeitz reckons that on his next trip to Germany he will visit the city that bears his name, but in 2015 he wanted to spend all his time in Flieden. It was, he said, often an emotional experience.
"I talked to people, and I did a drawing thing where I was available at the church and people just showed up – about seventy-five people, including the mayor of the town and the mayor's father, who was considered the local historian. It was very, very moving. It was very sad."
As Zeitz was sketching in charcoal and absorbing the Germans' desire to honor their lost Jewish neighbors – "it's really a deep thing for them," he said – the church members were smitten with his creative energy. A translation of the Flieden Church Synagogue project website reads:
"It felt a bit like a vacation…as if the big wide world was blowing through Flieden. So there comes one from the U.S. to visit, who has not been in Germany for more than forty years (and never in Hesse) and wants to get to know the place and the people for whom he should work. Then followed four days of extraordinary encounters and a warm welcome. And in the end there was the realization: Barney Zeitz is the right man for a redesign of our church and we are the right place for his ideas."
Working in the studio behind his rural Tisbury home, Zeitz has completed five of six arched windows for the Flieden church. There will be three on either side of the sanctuary, each gleaming with the bright metal oxides Zeitz brushes between layers of glass to create luminous effects.
"It just glows a certain way," he said, gesturing to the panels of the latest completed window. "This gets full sun every day. It will be very brilliant."
Across each set of three windows Zeitz is inscribing the same prayer, in Hebrew on one side of the church and in German on the other. "Originally it was going to be a separate prayer for each window," Zeitz said.
Then a Vineyard acquaintance, seasonal Chilmark resident Arthur Obermayer, suggested a single prayer that is part of both Jewish and Christian liturgies. Obermayer, who was eighty-four and ailing at the time, died just a few months later.
Known as Aaron's Priestly Prayer or The Priestly Blessing, in the Hebrew Book of Numbers it is given by God to Moses to deliver to Aaron and the rest of the Israelites. It reads:
"The Lord bless you and keep you; the Lord make His face shine on you and be gracious to you; the Lord turn His face toward you and give you peace."
Because German reads from left to right and Hebrew from right to left, the two translations in Zeitz's windows will parallel each other phrase for phrase from the front of the church to the back, ending with "peace" on either side. That final word will be emphasized in the glasswork. "'Peace' will sparkle a little more," said Zeitz.
Since visiting Flieden and starting the windows, the artist has become close friends with the head of the church rebuilding committee, Thomas Fendert, who financed the 2015 trip.
"He speaks English perfectly, and we FaceTime every week," Zeitz said. In the fall of 2016, Fendert traveled to the Vineyard to see the first completed window. "We had a service at the Hebrew center and it was incredibly moving," Zeitz said. Vineyard donors have been generous in supporting the Flieden windows, which will cost about $200,000, he said.
Along with private donations and funding from the German state church, the Flieden parish's renovation budget covered the first three windows. Other funding came from donations processed through the Permanent Endowment for Martha's Vineyard, a grant from a German bank, and Zeitz himself selling hand-cut, hand-welded steel angel ($85–$175) and osprey ($100) ornaments.
What ensured the project would make it across the finish line was a grant awarded this past spring by the European Union, meaning Zeitz can now concentrate on completing the final window. His hope is that they will be installed by the spring of 2019.
Which means that if you want to see any of the windows without traveling to Germany, it's time to make your pilgrimage to the bend in State Road, not far west of the Tashmoo Overlook.
The final windows will be on display to the public in Zeitz's studio from 4 to 6 p.m. on most Wednesdays through August and September. For more information, visit bzeitz.com.