Best Charity Event: A Taste of the Vineyard
Dr. Daniel Fisher House lawn, Main Street, Edgartown, 508-627-4440, tasteofthevineyard.org
Runner-up: Possible Dreams Auction
Winnetu Oceanside Resort, 31 Dunes Road, Edgartown, 508-693-7900, mvcommunityservices.com
It truly is a taste of the Vineyard when more than ninety of the finest restaurants, caterers, and beverage purveyors come together to give attendees the best bites and sips they have to offer. Plus, there's live music and a photo couch! It's basically like attending a great wedding – except you don't have to sit through a ceremony and you don't need to bring a gift. The Possible Dreams Auction is celebrating its fortieth anniversary with bigger and better "live dreams" to bid on.
Best Family Activity: Flying Horses Carousel
33 Lake Avenue, Oak Bluffs, 508-693-9481, mvpreservation.org
Runner-up: The Barn, Bowl & Bistro
13 Uncas Avenue, Oak Bluffs, 508-696-9800, thebarnmv.com
For nearly 140 years children and adults alike have found joy riding the Flying Horses Carousel. From the Wurlitzer Band Organ's iconic tunes still playing on paper rolls to the competition to catch the brass ring, it's just good old-fashioned fun for the whole family. The Barn, Bowl & Bistro has been around for only a few years, but it's already an indispensable addition to Island life.
Best Live Music Venue: The Ritz
4 Circuit Avenue, Oak Bluffs, 508-693-9851, theritzmv.com
Runner-up: The Port Hunter
55 Main Street, Edgartown, 508-627-7747, theporthunter.com
The Island's quintessential dive bar is the place to be for floor-shaking live music. In the summer months different bands often play an early and a late show. In the fall, when lots of musicians are on the Island for weddings, the pick-up bands can be fantastic. The Port Hunter has made a name for itself as the go-to spot for live music in Edgartown.
Best Radio Station: WMVY 88.7 FM
121 Carroll's Way, Vineyard Haven, 508-693-5000, mvyradio.com
Runner-up: WYOB 105.5 FM
100 Edgartown–Vineyard Haven Road, Oak Bluffs, 508-338-2242, wyob.org
Driving with the windows rolled down, hair flowing in the sea breeze, dial cranked up – that's the best way to listen to WMVY. Or is it dancing barefoot in the kitchen while the clams steam? Or on the porch holding a glass of wine? Whichever way you tune in, the mix of classics, discoveries, and local music makes WMVY the top station on the Island. WYOB, a learning station run by students, keeps the Island jammin' with reggae music mixed out of Studio 214 at the high school.
Best Live Band or
Musician:
Johnny Hoy and
the Bluefish
508-696-3007, johnnyhoyandthebluefish.com
Runner-up: Vineyard Sound
1-866-846-7686, vineyardsound.org
For almost thirty years, Johnny Hoy has been the frontman for the Bluefish and a leader in the Vineyard music scene. From torch songs, to rockabilly, to classic blues, to hard-driving rock 'n' roll, he keeps the dance floor jumping and the crowd singing along. Vineyard Sound, the ubiquitous summer a cappella group, is a pastel-hued institution.
Best Summer Event: Martha's Vineyard Agricultural Society Livestock Show and Fair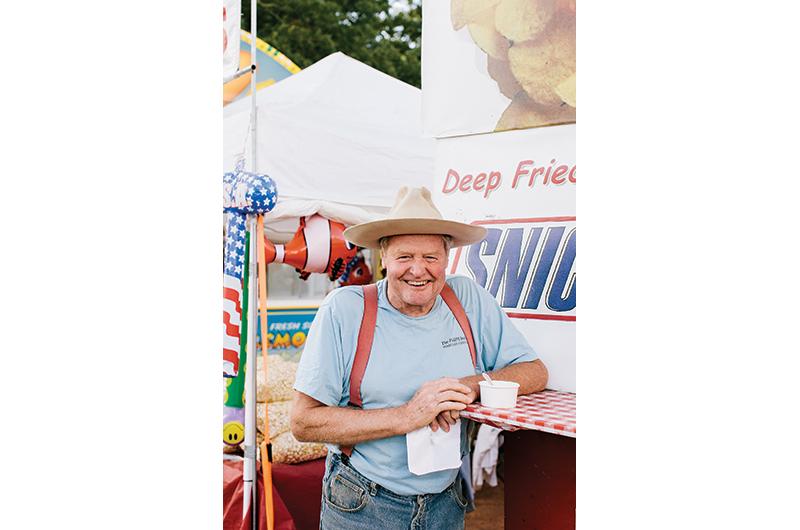 35 Panhandle Road, West Tisbury, 508-693-9549, marthasvineyardagriculturalsociety.org
Runner-up: Oak Bluffs Fireworks
Ocean Park, Oak Bluffs, 508-693-0077
It's four nonstop days of fun when the Martha's Vineyard Agricultural Society Livestock Show and Fair – universally known as the Ag Fair – comes to town. From demonstrations and judged exhibits to tasty food, feats of strength, farm animals, and even a women's skillet toss, one day is just not enough to enjoy it all. Crowds flock to Ocean Park early to secure a spot for the annual fireworks display and Vineyard Haven Band concert – it's Americana at its finest.
Best Movie Theater, Festival, or Series: Martha's Vineyard Film Center
Tisbury Marketplace, 79 Beach Road, Vineyard Haven, 508-696-9369, mvfilmsociety.com
Runner-up: Entertainment Cinemas
65 Main Street, Edgartown, 508-627-8008, entertainmentcinemas.com
It's the Sundance of the Vineyard, the Tribeca of the Island, the Cannes of The Rock, and, also, a darn good neighborhood movie theater. The Martha's Vineyard Film Center hosts five film festivals per year, screens new movies, and brings the classics back to the big screen. Enjoy the high-end selection of snacks and the comfort of the cushy purple seats. Entertainment Cinemas shows the latest releases, as well as Jaws every Sunday in the summer.
Best Off-Season Event: Christmas in Edgartown
Downtown Edgartown, edgartownboardoftrade.com
Runner-up: Martha's Vineyard Striped Bass & Bluefish Derby
Weigh Station, Dock Street, Edgartown, mvderby.com
It truly is the most wonderful time of the year when downtown Edgartown transforms into a winter wonderland. The weekend-long Christmas in Edgartown festivities include a parade, visits with Santa, a Minnesingers concert, and a chowder contest. For Island anglers, the best time of year comes in September, when the Martha's Vineyard Striped Bass & Bluefish Derby ushers in six weeks of major competition. You don't have to catch a fish to enjoy the fun.
Best Performing
Arts Organization:
Martha's Vineyard
Playhouse
24 Church Street, Vineyard Haven, 508-696-6300, mvplayhouse.org
Runner-up: The Yard
1 The Yard, Chilmark, 508-645-9662, dancetheyard.org
The Martha's Vineyard Playhouse isn't your average community theater. From contemporary plays and outdoor performances to poetry cafés, movie nights, and musical revues, there is something going on all year long. You just might spot some big names, too. Performances, community classes, and family events dominate the summer months at The Yard.