According to family lore it was the spring
of 1911 when William H. Hart, summer resident of Oak Bluffs for forty years and president of Stanley Works (maker of those famous tools) in New Britain, Connecticut, walked a stretch of beach to the east of Farm Pond. Standing on the beach, he faced open ocean all the way to Spain. Turning around, he saw a marsh and beyond that farmland. The property was for sale. The marsh could be dredged, he thought, to create an ample harbor with piers and boats and houses overlooking them. Farther inland he imagined a grand summer home, all white, with columns at the entrance and a lawn in front. He would divide the farmland into lots and sell them to family and friends. He would create a new community here and he would call it Harthaven.
The first houses built in Harthaven were those of Hart's five sons and one daughter. Over time, other relatives and friends moved in, uniting the community by ties of kin and propinquity. Children were allowed to run free because the entire community watched over them. William's son, Jim Hart, purchased a half dozen small sailboats and held sailing classes and races over which he presided with a booming voice amplified by a megaphone.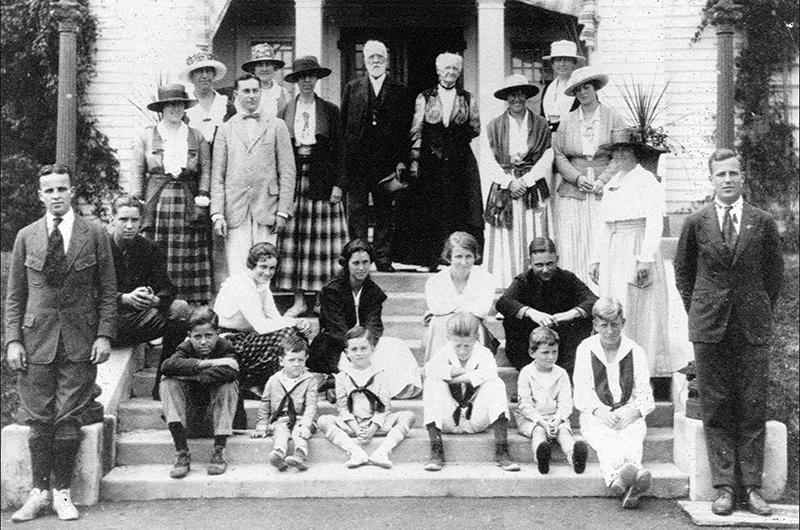 "He was firm with us. He taught us how to sail, but he made it a lot of fun," lifelong Harthaven resident Phronsie Conlin recalls. "The first prize was twenty-five cents, second was fifteen cents, and third was ten cents. He had his megaphone. He'd shout, 'Pull in your sheet!' 'Tack!' 'Watch it – you're going to jibe!' We loved it and we loved him."
I grew up in Harthaven. As a child I spent every day at the community's harbor or beach with a gaggle of other children where we learned to swim, row, sail, dig clams, and catch crabs. I remember returning to Harthaven from fishing expeditions with my father in his Jersey Sea Skiff. Turning toward our pier, I saw my grandfather standing in front of his house. He held up his hands, palms upward: "How many fish?" We held up the requisite number of fingers.
We tied to a dock owned by an uncle – Stan Hart – who kept his boat on the opposite side of the pier. They were many boats over the years, mostly built by Erford Burt of Vineyard Haven – carvel planked with smooth hulls that rose to the bow with a graceful sheer. Each one bore the name of a sea bird: Curlew, Kittiwake, Mollyhawk.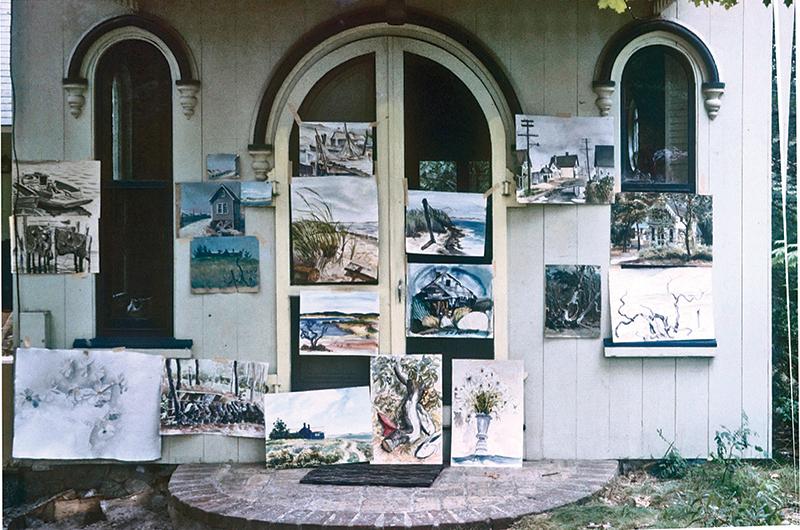 We cleaned our fish on a table nailed to pilings. My father taught me to lay the knife flat along the ribs and slice smoothly, feeling for the bones, leaving little behind. Fish heads and carcasses accumulated in the harbor's clear water, attracting blue claw crabs. I would net them for dinner. At night, the carcasses attracted eels and we speared them in the beam of a flashlight.
For adults there was the constant round of cocktail parties, fishing expeditions, and the annual clambake that drew them close. There was so much to do within the confines of the community that Harthavenites tended to be a little insular, which others sometimes mistook for snobbery.
"Harthaven was not stuffy," wrote my cousin H. Stanley Hart in a years-ago Vineyard Gazette reminiscence. "The older crowd seemed to exude a way of life that was abundant in humor and action and a style that flowed from a Yankee heritage."
What's more, from early on there was always a healthy contingent of somewhat bohemian artists in the mix who leavened the community of businessmen and entrepreneurs. One of these was my father, Sanford (Sandy) Low, a Hawaiian who married into the family and who every summer would convene his "artists group" to paint for a week. I remember them gathering in the early morning smelling of cigars, garlicky food, and often liquor and fish. By seven or so, they were gone to paint all over the Island. They came back with scenes of beaches, boats, houses, lobster pots, gulls, and fishermen. At the end of their stay they displayed their work on the porch of my parents' gingerbread house, which they moved to Harthaven from the Camp Ground in 1938. Everyone came to drink gin and tonics and old-fashioneds and admire the paintings.
Down the road a bit from my parents home was Bill Abbe's house and studio, which looked out over Farm Pond and the ocean. "He painted every day," remembers his great-nephew Dakkan Abbe. "He always had at least one large canvas on his easel. There were newspaper clippings, magazine articles, art books open, and always, always some small toy hanging from the ceiling by a slinky coil that would make it bounce up and down." Abbe's home was an impromptu gallery where his art adorned almost every wall. "They had parties and everyone came, including, of course, the artists," says his niece Carol Abbe. "The house was filled with song – ragtime and songbook stuff."
And high on a bluff overlooking Harthaven's beach, W.D. (Doug) Prizer's home faced the open ocean. "He set up his studio in the screened-in porch that looked out to the southeast with a sweeping view of the beach curving to Chappaquiddick," grandson Paul Prizer remembers. Prizer was well known for his cocktail parties, which attracted many of his neighbors, and he enjoyed the company of the other Harthaven artists.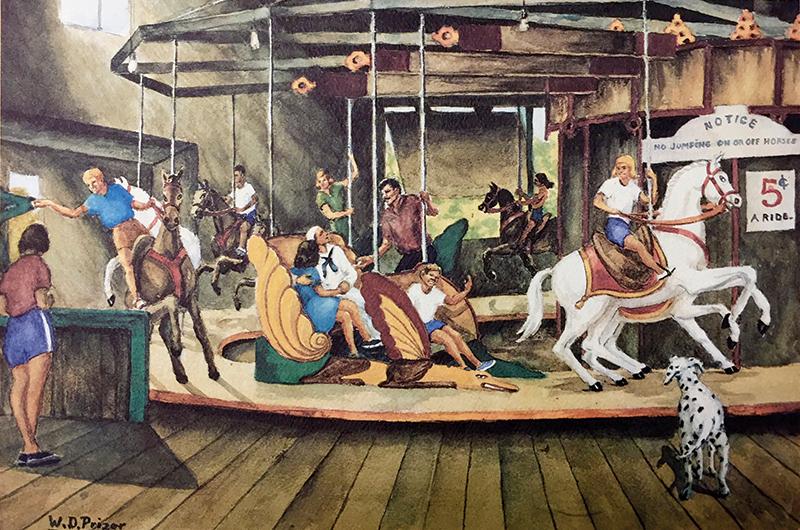 "Doug and Bill Abbe traded ideas and discussed their paintings with each other. Doug painted a portrait of me when I was five and it hangs on my wall today," says Abbe's nephew, Dakkan. "Artists are attracted to places that are beautiful and that nurture them. The Harthaven community loved their artists, buying paintings from them and attending their exhibitions."
There were many others, including Grace Vibberts, Louis Fusari, Martha Pease, Martha Moore, Mila Cenkl, Virginia Low, and Mary Stevens. The family tradition is carried on today by the well-known painter Andrew Moore, whose studio and home are in Harthaven. But in the mid-twentieth century it was Abbe, Low, and Prizer who were the most active of the Harthaven artists, and it is their work that will be featured at a Featherstone Center for the Arts show from July 22 to August 8, entitled
Hart Haven Artists: Abbe, Low & Prizer.
Though the three artists shared a community, they were stylistically quite different. Abbe's early work, created in New York, shows gritty street scenes – construction sites, tenements, storefronts – often rendered in black-and white block prints or charcoal drawings and often somewhat cartoonish. On Martha's Vineyard he loved to paint the colorful filigree of Camp Ground cottages or the flash of white sails in a regatta off Edgartown. One of my favorite block prints is his depiction of the On Time, the Chappaquiddick ferry, when it was pressed into service to bring passengers and cars from Falmouth during the eleven-week-long Steamship Authority strike of 1960. He developed a signature, highly graphic, and geometrically abstract style. Sails, Camp Ground curlicues, architectural elements are shown from many perspectives, collided, and sometimes presented in a time-lapse sequence to render motion. And color – a playful riot of joyful in-your-face color. He so loved to experiment, to play with his art, that he is difficult to categorize.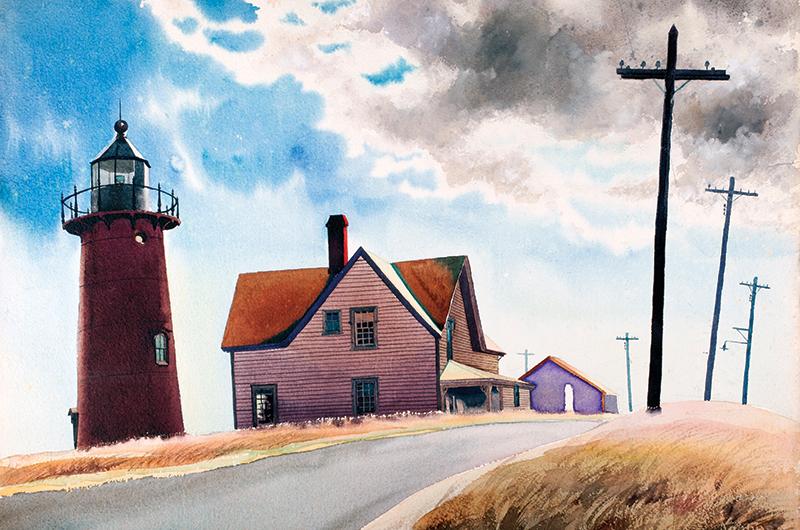 Prizer loved to include people in his work, delighting in their social interaction, telling Island stories. In The Flying Horses at Oak Bluffs, the attendant converses with a sailor and his girl, a young man reaches for the brass ring, a woman waves to
someone, a spotted dog focuses on his owner flying by. He loved color and used it to convey his own impressions rather than always rendering them accurately. Though his medium was watercolor, the delicate art of applying a flow of color on the moist surface to produce a seamless yet nuanced sky or sea, he often laid his colors on the paper thickly. He captured rhythms in the play of shadows and the way his trees reached to the sky. "He did not paint abstractly," says his grandson Paul, "but he was a little impressionistic. He told me that the values of light are more important than the color you use. 'You can paint a face green and no one will care as long as the light values are correct and the lighting looks correct,' he said. He was very liberal with his color palette."
Early in his career Sandy Low painted murals in oil for restaurants, banks, or public buildings, but later also mastered watercolor painting. He delighted in a slightly askew perspective – telephone poles and houses often lean away from each other and he used color to evoke mood; a light wash of blue sky over a leaning farmhouse suggests fading memory, a dark wash of blue-green sky over houses perched on a dark cliff suggests permanence.
"Old places are more beautiful," he once told me when I asked why he always painted sorry-looking, dilapidated buildings. "They contain the memories of all the people who lived in them."
Martha's Vineyard is remarkable for the artists who are attracted here, but also for the intimate neighborhoods like Harthaven, which are now old places themselves and in which artists – and we – are nurtured. Think of the Camp Ground, East Chop, West Chop, Sepiessa, and the Highlands, to name just a few down-Island examples. If we are lucky enough to grow up in such places, we become part of a ribbon of history. We become part of, as Wallace Stegner wrote in reference to the insights of Wendell Berry, "the kind of knowing that involves the senses, the memory, the history of a family...."
Hart Haven Artists: Abbe, Low & Prizer will be on display at Featherstone Center for the Arts from July 22 through August 8.