As soon as each school year ended, Joe Parham was sent to spend the summer on Martha's Vineyard with his grandmother, Carrie White. Though it sounds like the stuff that magical childhood summers are made of, Parham didn't think so. He didn't get along particularly well with his grandmother, who worked as a cook for a wealthy East Chop family. He just wanted to be home in Medford, outside of Boston with his friends – not working odd jobs to make enough money to ride the Flying Horses.
Once he turned sixteen, Parham stopped the routine altogether and didn't return for seven years. But as an adult, he overheard some colleagues talking wistfully about the Island. It occurred to him that he might have overlooked something about Martha's Vineyard, so he gave it a try and bought a house. And then another, and another.
Parham's first Island home was on Perkins Avenue in Oak Bluffs in 1992, directly next to a house his mother had purchased ten years earlier, and near the cottage his grandmother once owned. He eventually sold that home in the early 2000s to his brother, Kevin. In its place, he bought a piece of land on Greenleaf Avenue, where he built a sprawling, nearly 3,000-square-foot dream home and a guest house. "It's a spectacular home with a guest house and I never expected to move or to sell," he said. But that was before a home that he had often noticed next to the lighthouse on East Chop Drive came on the market. He knew he would move again.
"It goes back to my grandmother," he said of the yearning for an East Chop home, a desire that began before he even knew it was there. "In my wildest dreams I never expected to actually reside here."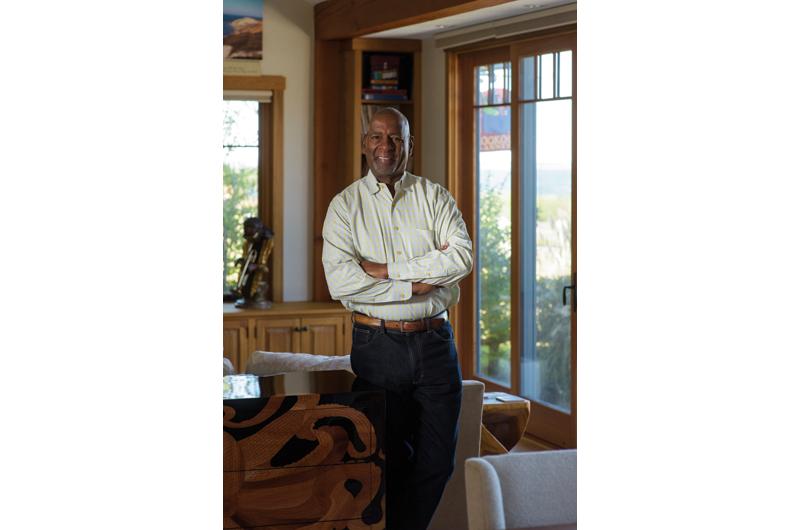 Parham, who has had a long and successful career in various executive leadership roles, would occasionally pass by his current home while walking around East Chop. "I admired the ability to see through the house to the ocean," he said. Still, he surprised even himself when he learned that it was for sale and began to make moves. First he talked to his financial advisor, who encouraged him not to buy the house until he sold the one on Greenleaf Avenue. Next, he asked John Abrams of South Mountain Company, who had designed his second home, to come take a look at it with him. Abrams was equally discouraging, saying that it would take too much work to bring the 1950s house up to date, he recalled
"I then reflected on the advice of my advisor and John and thought, 'Life is about taking risks.' So I made the offer and it was accepted," Parham explained.
At less than 2,500 square feet, the one-level, three-bedroom, three-and-a-half-bathroom home is considerably smaller than his Greenleaf Avenue house. But what Parham lost in square footage, he compensated for with spectacular views and a
dramatic landscape atop the bluff.
He and Derrill Bazzy, who at that time was a designer at South Mountain, immediately went to work reimagining it. "A lot of people asked, 'What are you doing to a perfectly good house?'" Parham said. His vision was simple yet specific: to make efficient use of the space and maximize the view.
"It was a mishmash, construction-wise," Bazzy recalled. "But often the projects with the biggest challenges also come with the biggest payoff."
The existing home covered nearly every inch of buildable space on a long, narrow lot. Expanding was out of the question, but the layout posed some unique design challenges. The house sits prominently on the bluff, and yet is angled in such a way that, in the original layout, the view across the lighthouse property was through the windows of the master bedroom. Honing in on the vistas would mean sacrificing some privacy, an item already in short supply.
After much tweaking, Parham decided to swap the bedroom and living room, which opened up the main part of the house while tucking the bedroom into a quieter corner. The result is a bright, breezy home that feels deceptively spacious. Parham moved in last July. "Third time's a charm," he said with a laugh.
Today, the view of the sound greets you as soon as you walk in the front door, and yet unfolds fully as you settle into the space. The foyer doubles as a home office overlooking a small deck shaded by bright orange umbrellas. In the living room stands a chimney and gas fireplace where Parham displays his record collection and choice pieces of art. Jazz plays subtly and continually.
Just down the narrow green lawn and over the bluff, sailboats, fishing vessels, and ferries go about their seafaring business. You might stop to admire a bronze cast of Miles Davis by the celebrated sculptor Ed Dwight when an unexpected movement of light reminds you of the proximity to the sea.
Attached to the new master bedroom is a wet room with three shower fixtures, copper bowl sinks, and a luxurious soaking tub. The side of the house facing the Sound is lined with windows. Thoughtful landscaping creates a clear boundary between Parham's home and the lighthouse. The living room spills into the kitchen, which is marked by gleaming Imperial Danby marble throughout.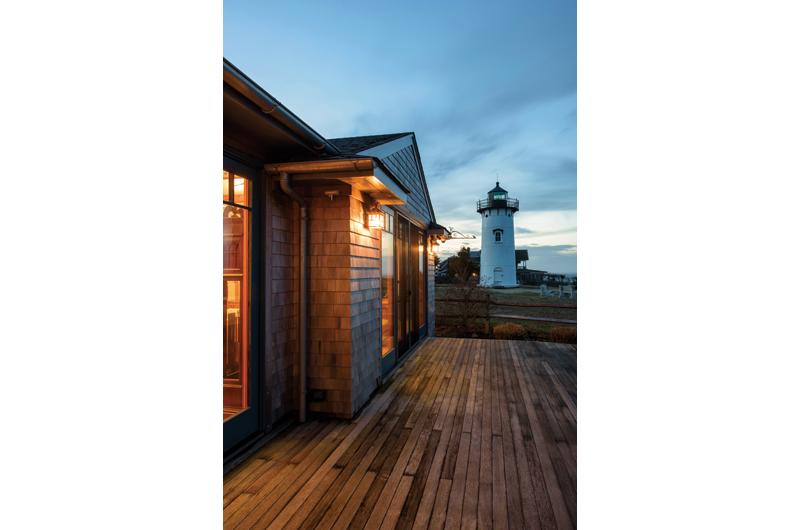 An oversized dining table sits in wait for a dinner party, where guests can enjoy views of the lighthouse and ocean beyond. And while black walnut shelving is in stark contrast to the white kitchen, it is effective in marking the boundary of a new space: a sunny walkway leading to two guest bedrooms and a laundry closet.
Parham and Bazzy both noted that the visibility of the house fits into the social nature of Oak Bluffs. For some, the large, wooded up-Island lots provide an auspicious sense of solitude. "But in OB, it's sociability over privacy," Bazzy said. "The house is really an extension of Joe's love for this place." And he doesn't mind the tourists with their bikes and maps and cameras poking around the lighthouse; they are just a part of the landscape.
Parham's home was the last project Bazzy did with South Mountain before leaving to take a job with the Island Housing Trust. He gushes praise for his old employer and thinks this was his perfect swan song at the company. "That is definitely his house," Bazzy said. "He's the ideal client. Respectful, but he definitely knows what he wants."
Parham's affinity for design, Bazzy said, is akin to his love of jazz. "The spontaneity and the melody. Joe's homes are like three riffs on the same jazz standard."