The land had been a gift outright, from architect Celia Imrey's step-grandfather William B. Dinsmore to her grandmother, Lesley, on their wedding day in 1947. Fifty-two acres of spectacular real estate on Edgartown harbor, which Imrey today modestly describes as "an interesting piece of ground," advancing out to the edge of the bluffs and then gently leading back down. Along with the land came a five-bedroom house, and Lesley Dinsmore christened the property "Witchwood," because she thought the woods surrounding it "looked like witches lived there." In the 1980s the parcel was subdivided. The Imrey family retained only about six acres, including a boathouse and dock built in 1899, and a small, two-bedroom cottage.
"Our family has been sharing the cottage for years, but now that there are three children and six grandchildren, it's just become too small," Imrey says. "So, we decided to build a house that would be big enough for all of us."
And who better to design the Imrey family dream home than Celia Imrey herself? She is the design principal at Imrey Studio in New York City, and has taught architecture courses at Columbia, New York University, Barnard, and her alma mater, Yale. Her clients over the past two decades include the Smithsonian Institution, the Kuwait National Museum, and the New York Public Library. She has received numerous awards for her dynamic yet elegant building designs. On-Island, she designed the new Edgartown Public Library, which is scheduled for completion this summer.
Like the Edgartown land, her talent for architecture is, at least in part, a gift she inherited. "My paternal grandfather was an architect, and I've been interested in architecture since I was very young, when I made my own doll furniture and houses," she says. "I really never considered any other career."
She describes her philosophy as "traditional design, but not a traditional approach." And that approach, she says, is in turn defined by what she calls "three key philosophies."
"The first is designing for emotion. Our buildings should move us; they should delight, provoke, and uplift the human spirit. Second is economy of design. Doing more with less, and connecting the building to its environment."
The third philosophy, she explains, is to approach each project with an open mind. "No preconceived notions or ideas," she says firmly.
Designing her own family's home presented a unique set of challenges for the veteran architect – but not due to a lack of experience with residential design.
"I've designed many residences," she says. "I don't feature them on my website because it's harder to communicate how a design relates to the goal in a private project than in a public project. So it's easier to show my talent and experience by featuring my public work."
The essential difference between residential and commercial architecture, Imrey says, is that "the mission in a residence is personal, while the mission in a public institution is to serve the needs of the public."
Another difference is that "typically, a private client does not have the skill set to articulate larger picture requirements or design goals," Imrey explains. "They think in terms of style, in terms of program (type of room)."
She gives an example. "A private client will say, 'I want a traditional looking house for myself and my three children, and they do a lot of sports so I need a big mud room,'" she says. "As opposed to, 'I majored in poetry and I like to sit where I can look at the garden while I'm reading.' But the flow and orientation of the house, what you want to look at when you're sitting down, is the way your house becomes your identity."
The challenge of designing her own family's home, Imrey admits, was finding a way to create an open, communal environment "where a multi-generational family could spend time together" while still allowing for personal space.
"The overall design of the house and what it was going to look like was pretty easy," Imrey says. "I knew the orientation; I knew it would be cranked on the property to meet the landscape; I knew it would be actively engaged with the view."
More difficult, she says, "was to build a relatively small home with five master bedrooms where each has a sense of privacy and every bedroom faces the ocean."
With that goal in mind, she designed the home's indoor spaces "to delicately interconnect, so that the whole level is one space without feeling like you're rattling around. The sitting area, mud area, fireplace area, foyer, and kitchen are all in one open space."
While there is a concept of community in the home's overall design, its master bedrooms are "designed like suites," Imrey explains. "Everyone spends time together in one big area, but if they need to break away, they can."
The house is also designed to allow for each family member's ease of daily routine.
"For example, we have two outdoor showers, two washers and dryers, two main kitchen sinks, and two dishwashers. This means everyone can always get their stuff done, and not fret if someone else did not empty the dishwasher or is taking a shower."
Imrey adds that the design places one kitchen sink "overlooking the driveway, so you can see people as they arrive," while the second "looks out onto the ocean and seas."
Each room also features what Imrey calls "a singular design strength." Which is to say, "each space has something special about it….No space is 'just a space.'"
To give each room its own identity, she often works with its intrinsic structural features.
"For example, on the second floor we have a roof, and we needed to have mechanical spaces in that roof. So some of the second floor bedrooms have a flat ceiling and some have a vaulted ceiling, and the way the vaulted ceiling works is different in every room."
"The main master bedroom is very symmetrical, so the ceiling pitch comes from three different angles and has a flat center," Imrey continues. "Meanwhile, the kids' rooms have
an angular, asymmetrical expression because they're secondary rooms, but they're very dramatic because of the high ceilings."
Another important design consideration was the land's natural topography and how to connect the new home to its surrounding environment.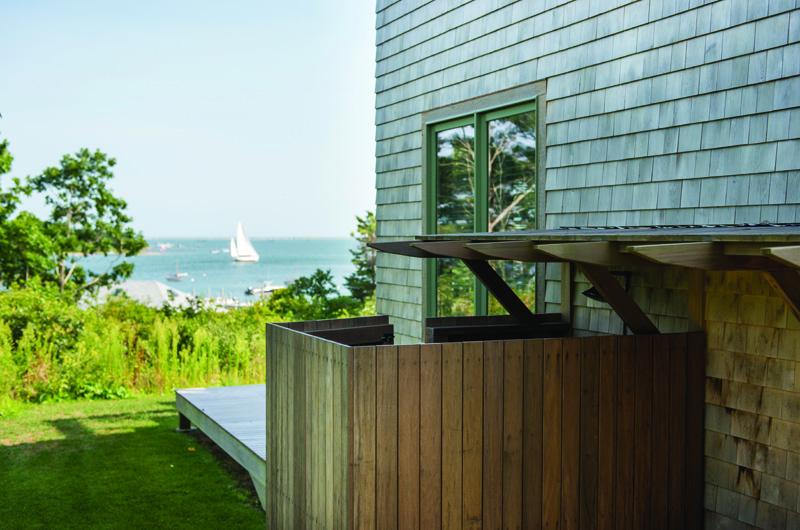 "There were several factors that contributed to the design, and the first had to do with the historic location of the original house at the end of the bluff," Imrey explains. "This land turns southeast and faces toward the ocean, so it was important to build a house that focused its orientation toward the view."
Next was to connect the design to the existing boathouse, which Imrey describes as "a very simple, stately building."
The outcome reflects her family's desire "to live in nature, and to connect the house to the land and its history." It resulted in a "long building that stretches out along the natural curve of the land" and features what Imrey describes as "a gentle connection" to its neighboring dock.
"There's an upper level trim detail that is reminiscent of a tide line, or a rope that ties a boat to a dock," Imrey explains. "It wraps around the second story and releases from the house to form the handrail."
The boathouse's hip roof and shingle exterior are also reflected in the building's design, and the sage green window trim was chosen to further blend the home with its natural surroundings. Inside, the wide-plank pickled oak floors "resemble driftwood in many ways," Imrey says, continuing the oceanic theme.
"Like good shoes make an outfit, a good floor makes a house," Imrey says of the special attention she gives to this detail. "If you have a really beautiful floor, it sets the tone for everything else."
On a larger scale, Imrey says the home's communal design reflects the spirit of Martha's Vineyard itself.
"One of the things that makes the Vineyard so unique is our sense of community," she says. "I consider it integral, because the connection between the land and being together as a family is everything the Vineyard offers in its best state."