The only sounds were the rustling of branches and the crunching of leaves. It was a brilliant late-summer morning, and a herd of goats was having breakfast on a piece of land near Black Point Pond, where Rebecca Brown of Island Grazing was working on a private meadow restoration project. There were tall Kiko and Boer goats stretching up on their legs to grab leaves, and smaller Arapawa goats staying closer to the ground. The goats – fifty-five of them – moved down the road, eating as they went. Two of the Kikos jumped into the bed of Brown's pickup truck and poked around for food, while she worked to set up a new fenced-in area to focus the herd's efforts. The goats couldn't just roam, after all, they had work to do.
Inside the fenced area were thatches of nut grass, bayberry, and tall strands of goldenrod, which seemed to be the goat flavor of the moment. "They're just starting to like goldenrod," said Brown. "They didn't like it in the spring, and then one day, bam, it was stripped."
Goats, the hungry jesters of the livestock world, are having a bit of a moment on the Island, as individuals and organizations alike begin to tap into the power of the natural landscapers. Last summer, two conservation nonprofits – the Martha's Vineyard Land Bank and the Sheriff's Meadow Foundation – partnered with local farms in successful open space restoration and invasive species management initiatives. And since then, three new landscape management businesses have launched on the Island, all of which feature goats in their arsenal of eco-friendly lawn care tools.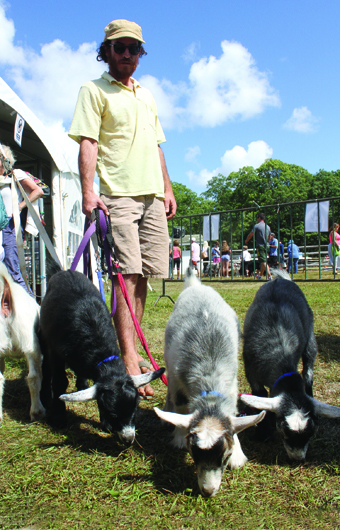 Goats eat invasive plant species and "mow" grass. They love snacking on poison ivy, and disposing of branches and other woody plants is no big deal for the ruminants. They create better soil by trampling dead plants into the earth and liberally sprinkling droppings everywhere, which can balance pH. And they do it all in a completely carbon-friendly manner. No herbicides or heavy machinery required.
Plus, they're pretty cute.
It's not just on the Vineyard that goats are the livestock du jour. In July, Boston turned four goats loose in Hyde Park to clear the space of poison ivy. Last summer, goats were used to clear plants that were imperiling gravestones in Washington, D.C.'s Congressional Cemetery.
"People have been doing this since the dawn of agriculture," said Brian Lawlor, who founded Earthly MV, an environmental consulting and ecological design business, in the spring of 2014. "What is novel is that people are starting to do it in suburban and urban areas...it's starting to take off."
Lawlor has six goats that he uses for small clearing jobs: two Pygoras, a small breed known for its high-quality fiber, and four Pygora-Pygmy mixed breeds. The goats first started clearing poison ivy at the home of author Cynthia Riggs in West Tisbury. Today, Riggs's homestead serves as sort of a base camp for the herd, and they travel to other assignments when needed.
Lawlor first saw goats used in combination with sheep in a pasture restoration project in Belmont, Massachusetts, where what was historically grassland and open space had been invaded by shrubs and trees. A similar process has taken place on the Vineyard; according to Harvard ecologist David Foster there is about twice as much forest now as there was in 1850.
A similar sheep-and-goat combo was used last year at Waskosim's Rock Reservation off North Road. The land bank traditionally mowed the area to manage it, but grew concerned about running over box turtles during the summer nesting season. The solution was to team up with the Farm Institute, which operates Katama Farm in Edgartown. Farm Institute goats and sheep were brought in and appeared to get along just fine with the turtles, while making quick work of the returning shrubs and forest.
But sheep are picky.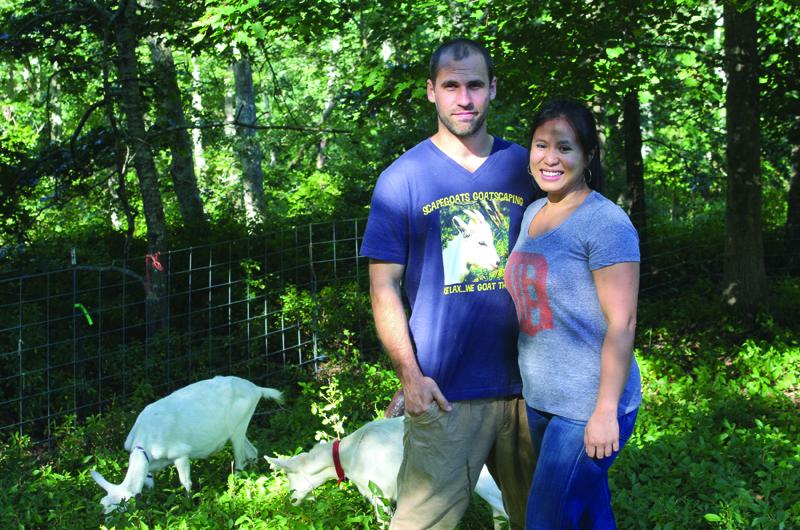 "Sheep prefer grass," said Rebecca Gilbert of Native Earth Teaching Farm in Chilmark, whose goats have been used to clear land at the Cedar Tree Neck Wildlife Sanctuary in West Tisbury. Goats, she said, "get bored with the same thing. They need variety." Goats are ruminants, like sheep and cows, and have four-chambered stomachs that help them break down plant cellulose. It's how they get nutrients from tough, woody bark and branches. Unlike sheep and cows, they are browsers, not grazers. They move from plant to plant, or plant to shrub, or plant to tree. They have their preferred foods, just like sheep, but if they're left in an area long enough, they'll clear it. Thus the reputation for eating everything in sight. (Gilbert noted that despite what old-timey cartoons may say, goats don't actually eat tin cans. There's no cellulose in those.)
And if there's variety, the goats will clear a property faster, echoed Kristine Patnugot of Scapegoats Goatscaping. Patnugot and Joe van Nes founded Scapegoats Goatscaping last fall. It was a natural process for the couple after their small group of dairy goats expanded unexpectedly – a month after buying their first goats, one of the new arrivals had two kids.
"We decided to make the goats pay for themselves," van Nes said. They launched Scapegoats, which proved successful enough to return for a second season. Their herd of Alpine, Nubian, and Saanen goats is now fifteen strong, and expected to grow.
"Basically, the difference between lawn mowers and brush cutters and goats is when you go in with brush cutters, you're just resetting the threshold," van Nes said. But goats eat leaves, cutting off photosynthesis; they eat seeds, cutting off reproduction; and they eat bark and branches. It's a more comprehensive type of land management – although mowing is still needed sometimes to account for the random tufts left behind. According to Gilbert at Native Earth Teaching Farm, if you really want to clear a patch, the best practice is to bring in a group of piglets after the goats are gone. Piglets will go after the roots of plants.
"We're allowing other things to flourish where invasives were," van Nes said.
"What I do is manage the whole ecosystem," echoed Becky Brown. "So what I'm really targeting is the soil biology." She took over the land bank grazing project this year. Island Grazing sprang from that first job, as she added to the herd of Farm Institute goats used at Waskosim's Rock Reservation.
Today, she owns a total of seventy-five goats and about fifteen sheep and hopes to have a herd of at least three hundred eventually, all rotating through pastures to improve the micro-environments. It's an admitted change of tune for an agriculturalist who grew up on her family's farm in Edgartown and was raised not to like goats "because they cause trouble." (This was in the days before portable electrical fencing.) Seeing how goats can effect change "makes so much sense ecologically and economically," she said.
Lawlor similarly was surprised by how efficient his Pygoras were, particularly with poison ivy clearing. "It's incredibly interesting to watch how they work," he said.
Still, cute and practical as they are, goats are not for the faint of heart. They are smart, and they do cause trouble if left to their own devices. They're also practiced escape artists: several winters ago a pair of goats named Jekyll and Hyde broke into a Chilmark summer home and moved in for a time. Part of the reason the goat landscaping businesses have been successful, no doubt, is they allow their clients a way to reap all the benefits without committing to owning a personal herd.
Prices range from $8 to $15 per goat per day, says Lawlor. But all jobs are site-specific – what he describes as "writing a prescription" for the land.
"We go to the place, we give a consultation, we set up a temporary shelter for rainstorms, and [the goats] do everything else," said van Nes. "Everything on the inside of the fence is fair game for the goats."